I've always loved reading. I was the kid who carried a book with me everywhere I went. My family members, however, are not big readers and I always felt like a little bit of an outcast.
Fortunately for me, I met my best friend in fourth grade and she came from a family of fantastic book lovers. I loved being in their house and learned so many things I knew I would incorporate into my own household when I became a mother. For me, books are an escape, they inspire me, they give me comfort, they entertain me, and I want my kids to feel the same way. I've worked deliberately from the time my kids were babies to raise them to be readers.
This post may contain affiliate links. As an Amazon Associate I earn from qualifying purchases. For more information, see our disclosure.
I have five kids, three boys and two girls and I can proudly say that my three oldest are avid readers (the two youngest love books, but aren't reading on their own yet). It makes my mama heart happy to see my kids choosing to curl up with a book every day. Here are 6 things you can do to raise readers and create an atmosphere that encourages reading.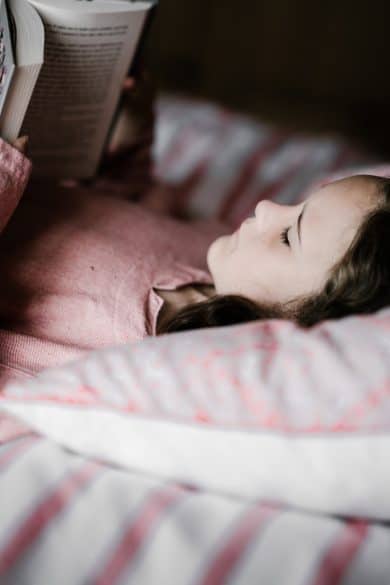 Make it cozy
Reading in an uncomfortable chair or at a table will not promote long reading sessions. Every time we read I try and make our kids very comfortable. This might mean snuggled up on the couch under a cozy blanket, reading in mom and dad's bed (when I'm reading to several kids at once) or lying in the sun on a hammock. The environment in which your child reads can have a big effect on how much they enjoy it.
My best friend's house had an adorable reading nook with lots of pillows. We've set up reading corners in my kids' rooms with either a chair or a beanbag and some pillows and a blanket. Make sure the area is well lit and add in a snack and a drink of water (in a non-spillable cup for younger kids) when your kids are reading.
Include reading in your traditions
Make raising readers part of your family traditions. One of our favorite traditions is a Christmas Book Countdown. I have 25 Christmas picture books that I wrap up in November. Each day in December, the kids take turns picking a book and I read it out loud to them. Even when they get to be teenagers, my children still enjoy this simple reading tradition.
I absolutely love this summer reading tradition shared by MeckMom. It involves secret reading locations and lanters…check out the Secret Couch Potato Book Club here.
Another simple way to add reading to your traditions is by purchasing or borrowing books for each holiday. I started this when my kids were babies. When it gets close to a holiday I get our special books from the top of the closet and we read those in anticipation of Valentine's Day, St. Patrick's day, Easter, Halloween, Thanksgiving and Christmas.
Since these books are only read once a year the kids are excited to see them.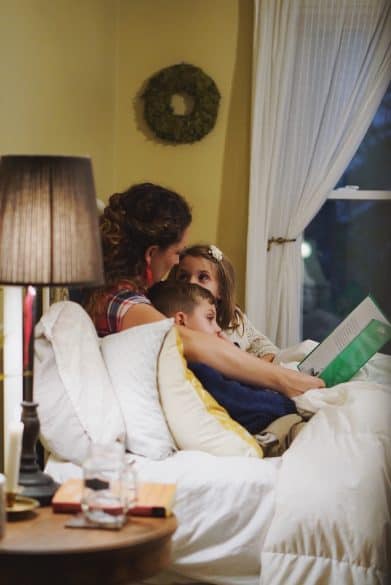 Photo by Mark Zamora on Unsplash
Make reading rewarding
We use reading as a reward in our house, not a chore. I've found that positioning reading as something fun and exciting to do, not something we HAVE to do makes my kids enjoy it more.
I do this by making reading an incentive. If my kids are in pajamas, with teeth brushed by a certain time, they get to stay up and read for 30 minutes in their beds. On Saturdays when we are working hard to get chores done, I offer up reading as a reward once our work is completed.
Reading is a special time for connecting with my kids each night. Some months we will read a longer book out loud together, other months I have each little kid bring two or three books into my bed and we enjoy our reading time together.
When a child reaches school age, many teachers assign a certain number of reading minutes to complete each day. My kids never see this as homework because it is something we do every day and most importantly something they enjoy doing!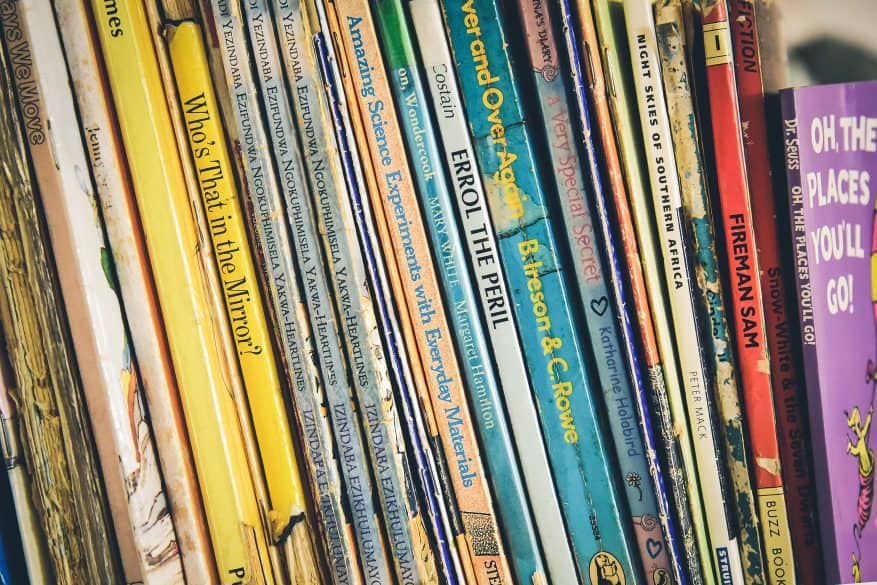 Photo by Robyn Budlender on Unsplash
Let your Kids take the lead
This might be the hardest tip for moms because it makes reading with kids a little less fun for us. Make sure you are reading, borrowing or buying books your kids enjoy. I have read HUNDREDS of books on subjects that I don't particularly care about (dinosaurs, sharks, bugs, animals etc etc) in the name of encouraging my kids to love books.
For boys, I have found that comic books and graphic novels can help bridge the gap between early reading and chapter books. I don't love graphic novels, but my boys do…so I make sure they are available!
Show them the different areas of the library and let them pick books they love. And be ready to read them OVER and OVER and OVER again until you know so much about dinos that you could write your own book.
Books before movies rule
This is a hard and fast rule at our house. We made the decision that if our kids want to watch a movie based on a book, they have to read the book first. I have found that kids are less likely to read a book after seeing the movie because it takes all of the fun and imagination out of it. If a movie trailer looks especially good, research to see if it is based on a book and read it before the movie premieres.
The Harry Potter series, in my opinion, is the ultimate tool to create passion for reading in kids. Not only do my kids have to wait to see each movie until after reading the corresponding book, but I also make them read these books on their own. That means my kids are not into the Harry Potter as young as other kids, but without fail Harry Potter fuels their interest in reading into an absolute fire.
Raising Readers Daily
When you make reading a comfortable, cozy and rewarding habit, it is something your kids will look forward to every day. Decide on a time of day that you will read and stick to it! When I had tiny kids we would read in the afternoon before nap time. Now with older kids we choose to read at bedtime.
Also, make sure your kids see you reading on your own. Yes, there is most likely a dishwasher ready to be unloaded or some laundry to fold, but setting the example of reading for 30 minutes is definitely more important. Take some time for self-care through reading and don't feel guilty about it.
The love of reading is a gift you can give your children that will enrich their lives. They will perform better at school, be more educated about other people and cultures and have a simple self-care tool available 24/7.
I'm so grateful for the example of a healthy and loving reading environment set by my best friend's mom. It is so rewarding to be raising readers! I love to see my kids learn, grow and truly love reading and I know I will treasure every minute I spend cuddled up reading with my babies. I hope these simple tips will help you on the path to raise readers in your own home.