We all probably have someone on our gift giving list that has everything. How do you buy a gift for someone that really doesn't need anything? I like to try to find something they love and buy them a quirky gift. If the gift is unique enough they will remember you everytime they use it or see it in their home.
Sometimes it is very obvious when someone is a collector and sometimes their love of a certain thing can be more subtle. This list of gifts is for the pig lover in your life whether they have pigs all over their home, or a secret love of pigs, you will definitely find something unique and fun for them!
This post may contain affiliate links. As an Amazon Associate I earn from qualifying purchases. For more information, see our disclosure.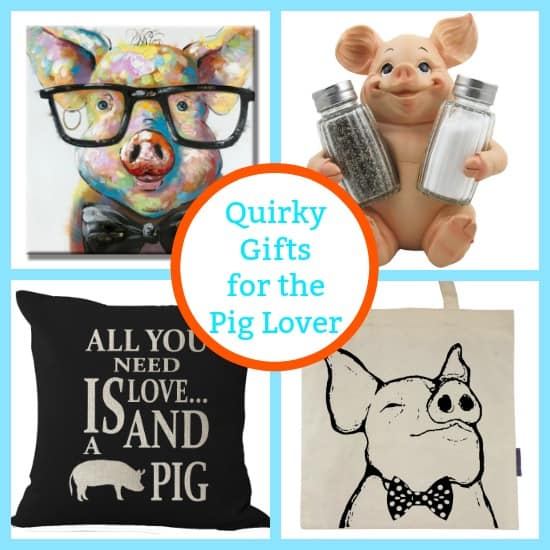 Quirky Gifts for Pig Lovers
Now let's take a look at some unique pig themed gifts for that special someone in your life. These gifts are guaranteed to make them squeal with joy!
It is very likely that a serious pig collector will have piggie salt and pepper shakers. But we couldn't resist this cute guy! He would make the perfect gift even for a non-collector.
I might just buy this pig for myself! He looks so handsome and smart. The biggest challenge will be deciding where to put him!
This pig tote bag would make a great gift. His name is Nathan after an adorable rescued pig. Created by artist Stephanie Conrad. The bag is 14in by 15in and the perfect size for carrying books, notepads or to pack up some treats and toys for a day.
Adult coloring books are so popular right now. This book contains 40 fantastic Pig coloring pages in paisley, henna and mandala style designs that promote stress relief and relaxation. It is great for beginners and and those who already love coloring as a pasttime. Pair it with some new colored pencils and it would make the perfect gift.
A fun decorative pillow for a couch or bed. All anyone needs is love and a pig right?!? Also available for the cat lover on your list if pigs are just not their thing!
These cute little piggies attach to the back of your cell phone to create a stand. They are darling and come in several colors. The younger pig lover on your list will love them!
These three little pigs are nothing like the three little pigs from your childhood. They would be perfect for your kitchen windowsill with some herbs or succulents planted in them! They come in beautiful painted pastel colors.
There are many jewelry options with pigs but this bracelet is special because it can be personalized. Your loved one's birthstone and initial can be added. Stack bangle bracelets to make a statement. This bracelet is made a sterling silver.
Last is the piggie bank! Everyone needs one right? This would be a cute option for a little girl's room. If she isn't already a pig lover this may make her one! If your pig lover is not a little girl there are many other color options and styles of piggie banks.
Hopefully one of these gifts will be perfect for you or your pig lover! If you don't know someone that already has a love of pigs one of these gifts just might spark a desire to start collecting.