The front door of your home is the gateway between your home and the outside world. When the door closes, your family is home. With that, backpacks are dropped, coats are hung and shoes are kicked off. While it is great to be home and you will always want everyone to feel at home, it is also important to keep this area organized. When it comes to that pile of shoes on the floor, we've got some shoe organization ideas that can help:
Use the Door Itself
This post may contain affiliate links. As an Amazon Associate I earn from qualifying purchases. For more information, see our disclosure.
Hanging a behind the door shoe rack could just be the thing you need to get that pile of shoes up off of the floor. You can get creative with this type of shoe organization in many ways! Sites such as Amazon, carry a wide assortment of these hanging shoe racks. You can find one that can fit just about any home decor too!
Most behind the storage hangers hang by putting the latches on top of the door. When it comes to a front door though, you will want to make sure that the door can shut flush with these latches on top. If not, it can effect heat exiting the house and cold entering it as well.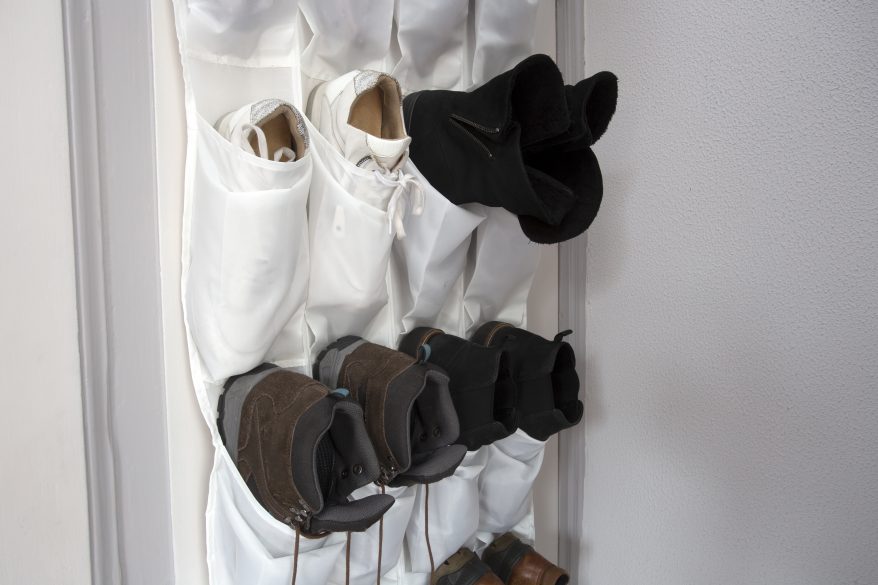 Get Creative With Boxes
If you have the space for a row of 3-4 storage boxes, you can use them as shoe collection bins. The boxes can be wooden, fabric, plastic or whatever other material you feel will work best for your space. If you want the boxes up off of the floor, you can nail or screen them into the wall near the front door too. Just be sure to line the boxes up in an aesthetically pleasing manner so that the space looks more organized.
In the same theme as boxes, a small storage bench or hope chest might be a better fit for all of the shoes if you have the space for either of these bulkier pieces. One nice element of both benches and hope chests, is that they can be tailor made for your space.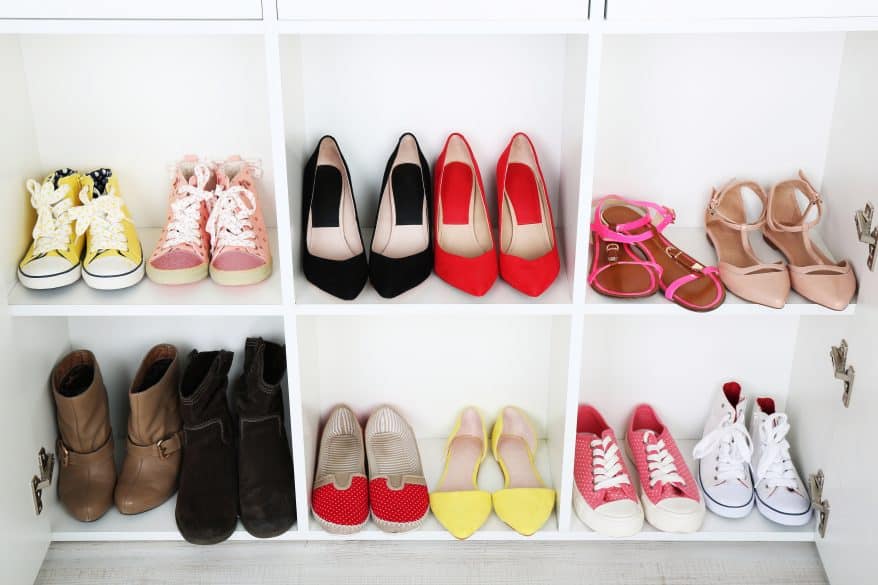 Hooks and Mats
Probably the easiest shoe organization idea, is a simple vinyl or plastic shoe mat. Getting the family in the habit of setting their shoes on the mat to dry as soon as they come through the door will keep the area more organized. If you want to get really crafty, do a search on Pinterest for unique drying mats that aren't just a piece of plastic laying on the floor. There is a wide variety of DIY mats.
Mounting hooks on the wall is another way to keep the shoes out of a pile! Shoes can be hung by their laces or simply put on the hook backwards.
Another tip to keep shoes out of a pile on the floor is to continually rotate out shoes by the season. For example, don't keep your boots and galoshes by the front door long after the snow and muddy seasons are over. Also, limit everyone in the family to two pairs of shoes that can be kept by the door at a time. These tips alone will keep that pile of shoes at bay!