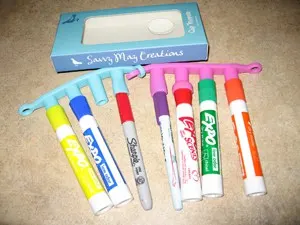 I have a wonderful beautiful 2 year old daugher… who has a fun white board… who NEVER and I mean NEVER replaces the caps on her dry erase markers. She is so anti-caps that she will take all the caps off of the markers and then line the markers up for whatever reason (it really couldn't be the fact that she has an overly organized Mom so she knows that the markers must be lined up exactly right!) The caps end up in Maddie's special hiding place which I have yet to find (which is actually housing a few other missing items in the house including the ring that goes in the microwave to help the table thing turn) The markers become "broken" as we say to Maddie and we end up buying new markers so she can return to her love of drawing.
The good news? We have FINALLY found a solution! It's called a Cap Trapper TM, and basically holds all the caps in the same device and you can just take the marker off and replace it when you are done. Maddie is even enjoying putting the marker back in! She has also been spotted parading her set of three makers all trapped in their cap trappers. Once those caps are in there good it would take a great bit of tugging to get them out! On the website they are described as "Cap Trappers™ are a simple, inexpensive solution to keep caps together, and markers moist and organized." You can link them together like this, or just hang them from your dry erase board like this. They have these nifty little holes on either end so they become so much more handy!
This post may contain affiliate links. As an Amazon Associate I earn from qualifying purchases. For more information, see our disclosure.
Hopefully now we will be able to wait at LEAST 6 months before we have to buy new dry erase markers (as opposed to 2 weeks). She also has a blog too, so definitely go check out her site www.savvymaycreations.com