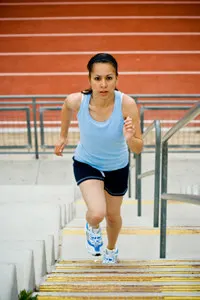 There is a good rule of thumb when picking up your house, that my wonderful husband never seems to do. His method for cleaning the kitchen is placing everything in the drawers or cupboard of the kitchen. This rule is the "One Touch Rule" This means that when something is on the floor the best most efficient method for dealing with it is to touch it once. Pick it up and put it in it's correct place. Otherwise clutter could end up in piles all over your house. Say something is on the floor downstairs, and it belongs in a bin upstairs. So you pick it up downstairs and put it on the stairs, then you are going up the stairs to do something else so you pick it up again and move it to the top of the stairs. Then you pick it up again and put it in the room it belongs in. Then later you go in that room and finally move it to the bin where it belongs. How much time did you waste dealing with the one piece of clutter? If you are going to pick something up put it away right away.
The exception to this rule is if you are cleaning the whole downstairs and you have several things that belong upstairs. Then you can grab a little bin and stick everything that goes upstairs in the bin and bring the whole bin upstairs and put everything where it belongs.
This post may contain affiliate links. As an Amazon Associate I earn from qualifying purchases. For more information, see our disclosure.
You might be thinking that walking all over your house and up and down the stairs all day might actually WASTE time instead of save it, but I promise in the long run it will be better. You will eliminate the clutter piles at the top and bottom of the stairs or in other areas of your house, and you might even improve your figure with all that stair climbing!