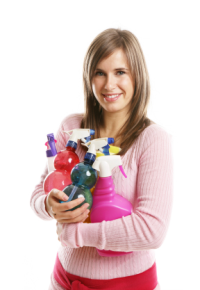 Do you have a cleaning product you are particularly fond of? For me… it's ZAP. It's a fabulous product that for the life of me, I cannot find anymore. Does anyone know where I can find some ZAP? I used to be able to pick it up at the grocery store but no longer. ZAP was my best bathroom friend. It kicked hard water's butt. Alas, ZAP and I are to forever be parted.
The moral of the story? If you find a cleaning product you love, stock up! That's right, hoard it.*
This post may contain affiliate links. As an Amazon Associate I earn from qualifying purchases. For more information, see our disclosure.
Cleaning products are on my mind because today begins the staging part of selling my house. Anyone have any advice on how to get your home clean and de-personalized? My husband doesn't believe me that our home will sell better if we move all of the furniture out of the bedroom except the bed. But come on, I watch HDTV. I know a small room with lots of big furniture = no sale.
Here are some of the cleaning products I would be lost without:
Powdered Cascade – not just for dishes. Cascade and warm water is the magical formula for cleaning blinds, walls, and baseboards. I have one box for my dishes and one for house cleaning
Clorox wipes – How did we live before these? I don't recommend Lysol wipes because they leave a residue. Clorox Citrus are my favorite. Good for walls, floors, fridge, outer toilet, sinks, counters… you name it.
Pledge Clean & Dust (Citrus) – The best stuff for dusting because it cleans too. Also it smells SO good! Good on any wood surface or anything else you dust. Don't use on knick-knacks or computer/TV screens. Do use on stainless steal, leather, marble, and granite.
Magic Erasers – I hope you have all discovered just how magical these are. Great for scuff marks, oven vent grease, walls, sinks, bathtubs, removing crayon, marker, or pen from any hard surface.
Soft Scrub – Great for sinks, tubs, toilets (inside and out – if you drain it first), oven surfaces, anything greasy.
What are your favorites?
*This is the only time you'll get hoarding advice from the Organized Moms so… don't expect this to happen again.