We've all heard the expression "I'll get around to it" or "I need a round tuit." And usually when we hear it, it's in reference to something that we're procrastinating on. But what if there was a way to turn this procrastination into motivation? Enter the round tuit.

When we were growing up we had a wooden round chip with the word "Tuit" on it. As a child I didn't understand what it was all about, but I totally get it now. This little wooden chip was for anytime someone would say… "I'll do that when I get around to it".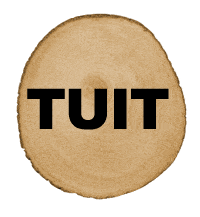 Someone would say that phrase, and we could give them the chip and say, "here is your round tuit, now go do it." Sometimes this external item helps motivate you to accomplish the things you need to do.

Here is an example, you ask your Husband to take out the trash. He says "I'll do it when I get around to it." You give him the round tuit, and voila he gets up off the couch! OK, so it doesn't quite happen that way every time, but the little extra motivation is sometimes just the ticket.

I also leave things where I can see them to help remind me to do things. For example, I want to remember to read every day, so I place the book I'm reading somewhere I'll see it. Instant reminder! The catch here is to make sure you don't have a whole lot of clutter "reminders". I limit my external reminders to either small items, or a note somewhere, or ONE small item that is in a visible (yet tidy) location.
What is a round tuit?
This post may contain affiliate links. As an Amazon Associate I earn from qualifying purchases. For more information, see our disclosure.
A round tuit is a small, circular piece of wood or plastic with the words "I need a round tuit" written on it. It's a play on words, of course, but it's also a hilarious gift for anyone who could use a little help getting organized. And as it turns out, the round tuit can actually be a great motivational tool!

The round tuit can help you get things done in two ways. First, it can serve as a reminder to actually do the things you've been putting off. Whenever you see the round tuit, it will remind you to finally get around to that thing you've been meaning to do. Second, the round tuit can help motivate you by giving you a sense of accomplishment. Every time you complete a task, you can put a checkmark or sticker on the round tuit. Seeing your progress will help motivate you to keep going until all of your tasks are complete!

Sometimes small reminders are just the thing we need to stop procrastinating our tasks, and finally just go and get them done!

So, if you're looking for a funny gift that can actually help someone get organized and motivated, look no further than the round tuit! It may just be the thing they need to finally get around to all those things they've been meaning to do. 😉