I have found that a lot of home organization projects can be done in a short time (read some ideas here). However, there are some projects that just get so big and out of control that they require a lot of time and effort. The results from these organization projects are very rewarding and can make a huge difference in your home. Like this one I just completed in our home office.

This post may contain affiliate links. As an Amazon Associate I earn from qualifying purchases. For more information, see our disclosure.
Our office where both my husband and I work (he works full time from home) had previously been a bedroom (thus the floral wall) and had been slapped together 5 years ago. The mess had grown yearly with no one taking the time to do anything about it. Notice the supplies and junk completely filling under both desk areas and out into the floor space. I no longer worked in there. It was just a place to charge my laptop and store supplies. The whole room and atmosphere was just stressful for me. So, it was my first project of the summer and it was a BIG one! I love the result and have started working in there again. My husband loves it too, even though he was reluctant about me invading his system.
If you have a BIG project to tackle in your near future, here are some tips to help make it success:
SET GOALS
You need to have a clear picture of what you want your finished project to be. For example, in my office project my goals were
decor more suitable for an office
2. NOTHING on the floor; home for everything
3. clean
4. easy to maintain in the future
5. frames and hanging for plaques and personal items that were on the floor in a pile.
Having goals helped me, especially as I shopped for some new furniture and organization products. It also helped with time management as I mapped out my plan.
HAVE A TIME LIMIT
These kind of organization projects can go on forever and ever and ever. You will get the best results if you block out a stretch of time and get it done quickly. I'm off work for the summer so I gave myself 4 days to get this done (while my husband was at scout camp!). I worked long and hard days, but now it is done and I can enjoy and move on. If your work schedule won't allow consecutive days, commit yourself to work on it every Saturday for a month or something similar.
Once your time limit is set, you can map out a day-by-day plan. It could look something like this:
day 1: clean out/ prep for paint
day 2: paint
day 3: shop for furniture or other needed items
day 4: put back together and organize/personal touches
Putting yourself on a schedule will ensure your project gets finished. It's going to get messier before it gets cleaner, so you need to follow through and finish!
DECLUTTER!
You want your project to be a permanent change. Yyou do not want to find yourself facing the same mess in a year. Thus, you must eliminate "stuff". One of the big things we had been hanging on to was unused electronics . These and their accompanying desks and gear were taking up a lot of space. Your first step in your project will generally be to empty the space as much as possible. As you do so, make 3 piles: keep, trash, donate. Get rid of your trash and donate piles as soon as possible. Then focus on what you need to put back and finding a home for everything. If you need some inspiration to declutter, read this book for some great ideas. If every item in your space has a home, then it is easy to put things away and keep the space organized.
BE SPECIFIC IN YOUR SHOPPING
Don't head out shopping for "something to organize". Refer to your goals and take a look at what you need to find a home for. Decide specifically what you want to shop for and what your budget is. As I worked on my office organization project, I knew that I wanted a tall, thin bookshelf that would fit between our two desks and give my husband a place to store the oodles and oodles of paper files he needs for work. I also knew that I wanted a smaller desk with some drawer space. Those specifics helped keep my on track as I shopped rather than spending money on things I didn't really need. You may not need to shop. You can organize a lot of things just using shoe boxes. Be creative with what you have at home.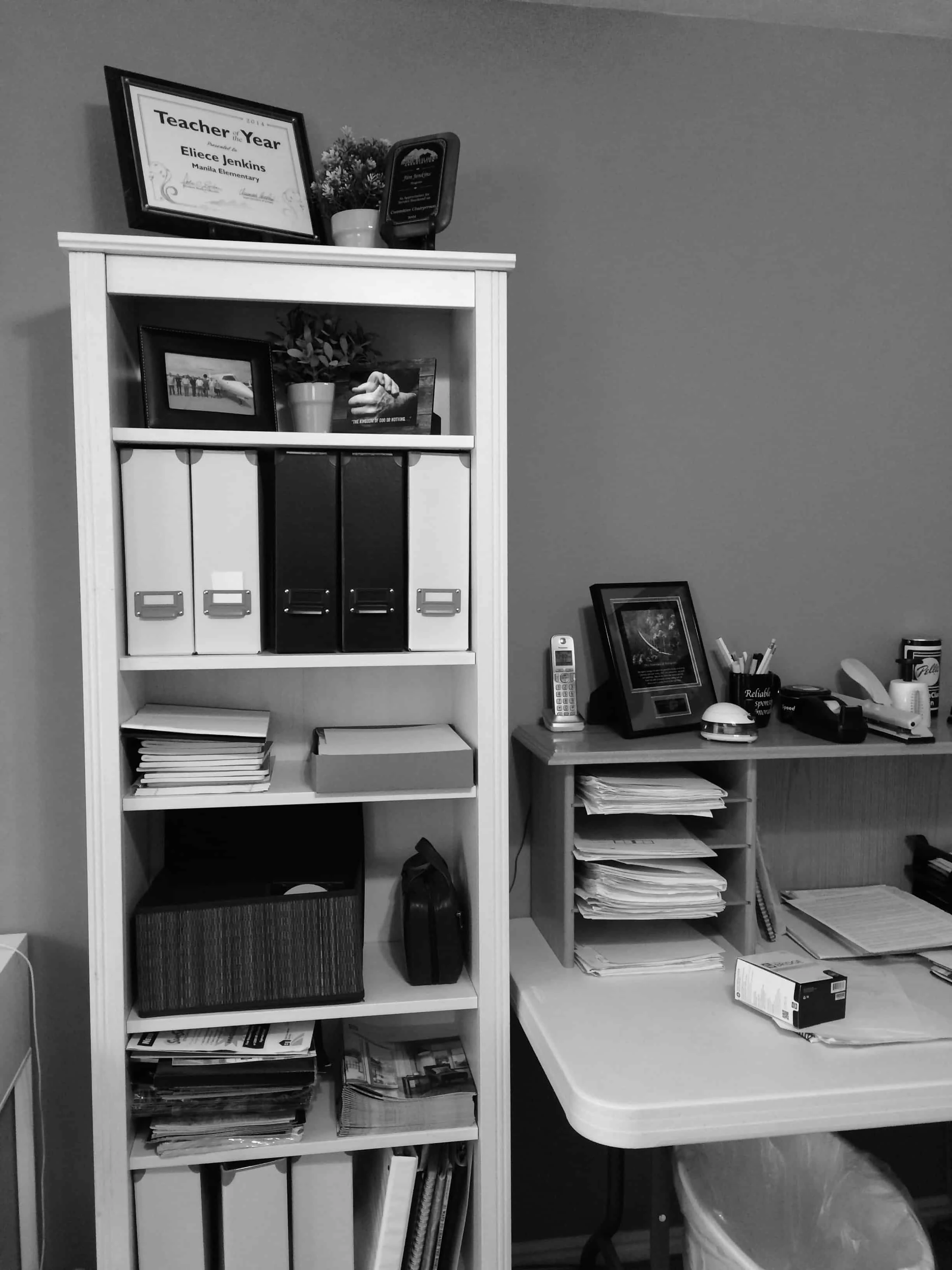 CLEAN AS YOU GO
When your project is finished, you want a sparkling clean space. So whatever you are organizing (room, garage, closet). Make sure you keep a bucket of soapy water handy. Wipe everything down as you go. Everything will feel fresh and clean when you get done. Remember to grab a stool and get high corners, light fixtures, etc.
PERSONAL TOUCH
As your organization project comes together, the fun part is adding your own personal touch. Even in a closet you can add some colorful shelf liner, good lighting, or a favorite photo. For my office project, it was hanging plaques and photos that had long been piled under a desk. A dear friend of my husband's had given him a piece of original artwork that we had never framed. My final touch was to frame it for him and hang it in our new office.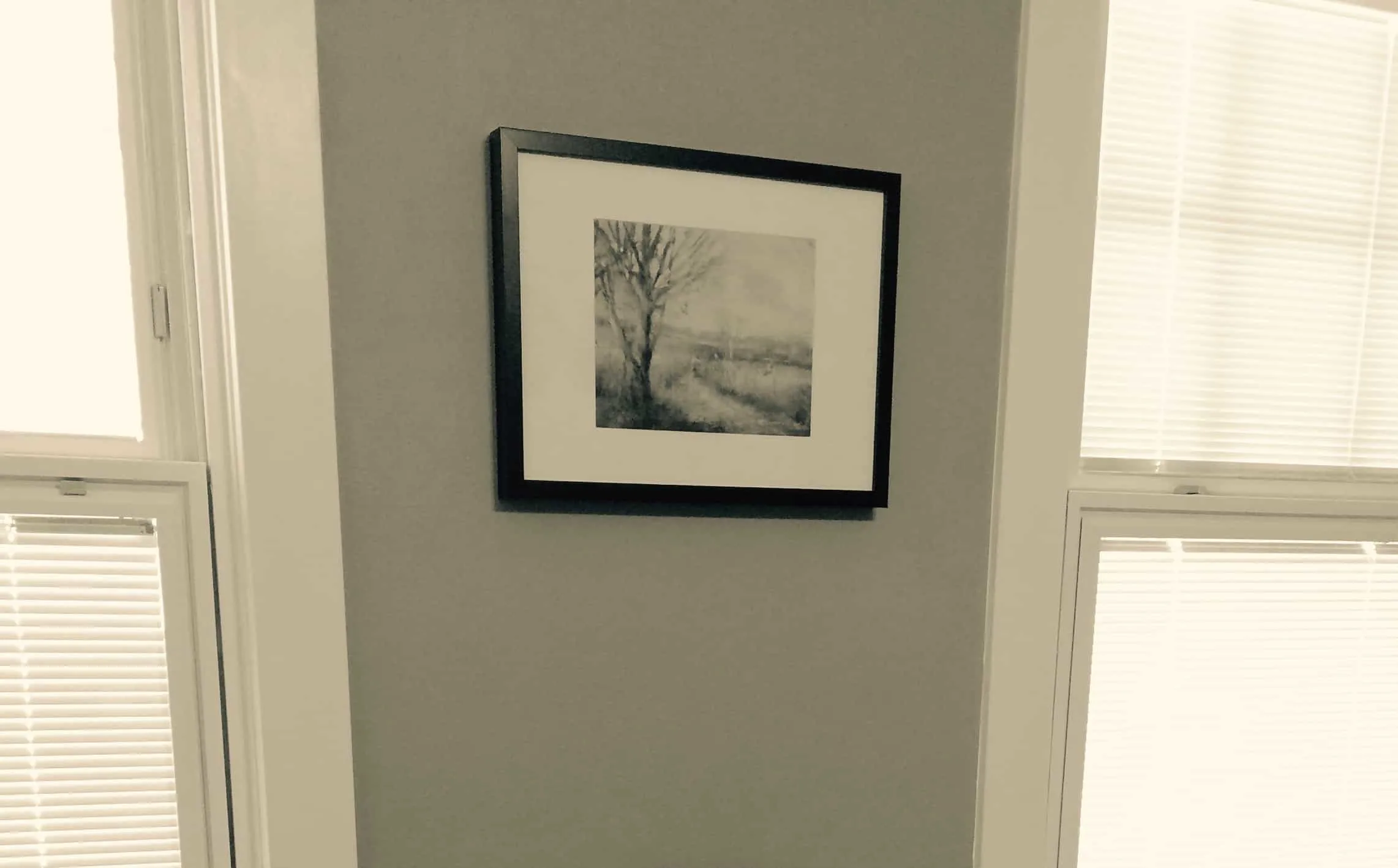 While BIG organization projects do require a time commitment, they do not need to be overwhelming. Break them down with a plan and get started! I am so happy every time I walk into my office. Your project can be a check on your to-do list too!