While the temperature is still quite warm here, it is officially fall. Hence, it's time to start thinking about Halloween! Decorating for Halloween is a lot of fun because there is such a wide range of options.
Halloween Door Decoration Ideas
Here, I have rounded up the top 15 Halloween door decorations. Because Halloween decorations can take so many different forms, I have broke them down into three separate categories: spooky, kid-friendly, and pretty.
This post may contain affiliate links. As an Amazon Associate I earn from qualifying purchases. For more information, see our disclosure.
In each category, I have collected the top 5 ideas. So, let's get started!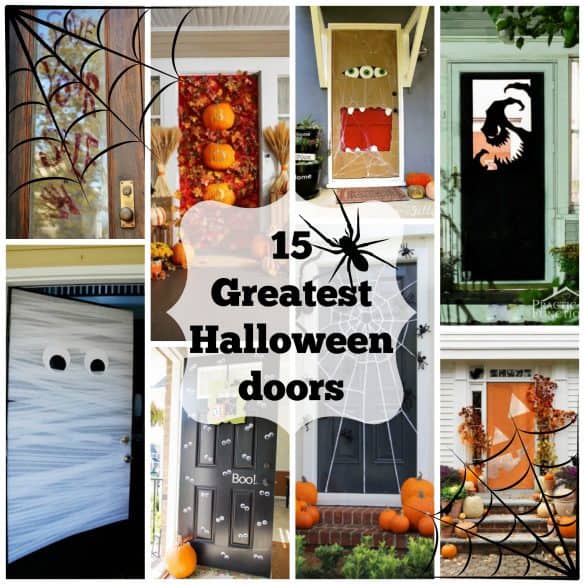 Spooky Halloween Door Decoration Ideas
For some people, decorating for Halloween is all about being as scary and creepy as possible. Since these decorations embrace the dark side of the holiday, screams are the best compliment they can get. If this sounds like you, here are some ideas to get those spine-tingling juices flowing.
1. Escaping Zombies
Zombies are very popular right now, and what is creepier than zombies trying to escape from your house?
This door idea might make those trick-or-treaters think twice about knocking. But, if you are looking for that perfect scare factor, this door from Dave Lowe Design is a great addition to your Halloween decorations.
2. Message Written in Blood
If your door has a window in it, try this idea from Inspiring Pretty. Make your own fake blood and then use it to write a message on the window. You could also leave bloody handprints on the glass to add to the effect. If you are hosting a Halloween party, this would be an easy way to create a whole bloody crime scene in your house for it.
3. Cemetery Entrance
Do you want to create a really ominous entrance for the Halloween? Then this cemetery archway from Home BNC is for you! It is made using old cardboard boxes and paint. This simple project makes a big, bone-chilling impact due to the fact that it completely transform the front of your house. And, it's cheap and easy to make. How perfect is that?!?!
4. Boogie Man Shadow
Is there anyone who's not afraid of the boogie man? You can create a scary first impression by adding this boogie man shadow to your door. Jess over at Practically Functional can show you how she created this great shadow out of black vinyl. It's a fun way to add a little eeriness to your front door! With the lights on behind it, this idea will pack a big punch, even from the street.
5. Skull Arch
Halloween is all about ghosts, goblins, and skeletons. So, why not set the scene right from the front door by adding an archway that is adorned with skulls and chains? Tony over at My Fun House Projects can show you how to make this awesome and intimidating entrance. It is made of foam, so it is lightweight, but it looks like real stone. Talk about your first impressions!
Kid-Friendly Halloween Door Decorations
Some people think kids and candy should be the focus of Halloween. In this case, the holiday decorations should be less scary and more fun. For those of you with this philosophy, little laughs are more appealing than blood-curdling screams. To impress those munchkins, try these kid-friendly ideas.
6. Monster
Home Jelly's paper bag monster is a cute way to add some Halloween cheer to your door. It is a fun way to capture the spirit of the season without being overly imposing.
Little ones will love knocking on this door to ask for candy. And this comes with an added bonus: according to Home Jelly, it only costs about $7 to create this door decor thanks to it being made out of recycled paper bags.
7. Jack 'o Lantern
For a fresh take on an old classic, try this simple jack 'o lantern door from Women's Day. It is elegant, yet whimsy and will appeal to kids and adults alike.
Theirs is made using gold glitter paper for the eyes, nose, and mouth, but you could switch it out for a more traditional black if you don't want that much bling. Either way, this understated decor will add just the right touch of the holiday to the front of your house.
8. Mummy
Another easy, but traditional Halloween decoration is a mummy. Take a look at this cute idea to mummify your door from Honey and Fitz.
It's made simply with contact paper and white streamers. This inexpensive project will be a piece of cake to put together. It would be a great last minute project too because it can be put up in mere minutes.
9. Googly Eyes
Kids love things made with googly eyes. So, why not cover your entire door with them? This eye-catching door from Craftaholics Anonymous makes for a fun, not-so-scary entrance ready for trick-or-treating.
You can make this idea as simple or as intricate as you want. You can start by adding as many, or as few, of the googly eyes as you want. You could leave your door its original color, or cover it with black paper before adding the eyes for an added pop. For added interest, you could compliment the googly eyes by adding words like "boo" or "eek." As a silly twist, you could also add in some funny mouths.
10. Spider Web
To add just a little bit of the Halloween creepy crawly feel to your holiday decor, this spider web door, found over at Jane Can, is just the thing. The spider web can be easily created using yarn. Once you have your web, you can add in the spiders.
These can either be made, as they did over at Jane Can, or you can add some store bought ones. The beauty of this idea is that the spiders can be as big or as small as you would like. You can also change the feel of it by changing the number and/or positioning of the spiders that you use.
Pretty Halloween Door Decoration Ideas
Not everyone, however, wants to go all out with their Halloween door decorations. Some decorators want to use the colors and icons of the holiday to create a front door that has a more subtle nod to the season. If you are looking for some inspiration for a design that is almost too pretty to be for Halloween, here are some ideas for you.
11. Green Garland and Halloween Trees
Check out this pretty door decor from My Litter. She used some green garland to frame her door to start. Then, she accented it with spiders. She then turned two mini Christmas trees into Halloween trees and topped them with witch's hats.
The trees sitting on either side of the door complete the design. The best part of this idea is that all of the things she used came from a local dollar store. How great is that!
12. Witch's Hat Door Hanging
Heather over at The Spohrs Are Multiplying created a beautiful Halloween inspired floral door hanging. Because she wanted to make it look like a witch's hat, she started with a cone-shaped basket as her container.
She then used black fabric to turn it into a witch's hat. She also accented it with a fake rat and some spiders. It is pretty and sophisticated ode to Halloween. It's just enough without being over-the-top.
13. Black, White, and Orange
The ladies at Show Me Decorating built a wonderfully inviting Halloween display using a traditional color scheme of black, white, and orange. They started with black garland framing the door.
To that, they then added a lot of patterned ribbon and orange and white ball ornaments. Finally, they finished it off with some adorable pumpkin and ghost elements. It has a lively and playful feel to it without coming across as being too childish.
14. Boo Sign
Sometimes, a simple word can capture the whole spirit of the season. If you favor basic and straightforward over busy and cluttered, then this is a great option for you. Elise at Hunters of Happiness crafted a boo sign using wooden letters, paint, and ribbon. What an understated but fun way to celebrate!
15. Pumpkins and Fall Leaves
For a quirky twist on the traditional pumpkin topiary, take a look at this idea from Women's Day. They took some plastic pumpkins, cut them in half, and attached them to the door. They then used garlands made of fall leaves to cover the remainder of the door.
Finally, they added the word "boo" to the pumpkins for a holiday greeting. The end result is a tower of pumpkins buried in leaves! It is such a fresh take on some basic Halloween decorations!
Amazing Halloween Doors
So, there you have it. No matter whether you prefer scary, kid-friendly, or just plain pretty, you are sure to find inspiration in this collection of some of the best Halloween door decorations on the web. I hope you can use some of these ideas to make your Halloween better than ever! Happy Halloween!