Sometimes even a mom can throw the biggest of tantrums. I admittedly had one last week when I discovered my 11 year old son had broken my favorite pair of headphones. Not again! Turns out he had tried to separate two pairs that has been shoved inside a desk drawer, and accidentally pulled one of the ear buds completely out from it's internal wiring.
I think it's time to organize the head phones.
This post may contain affiliate links. As an Amazon Associate I earn from qualifying purchases. For more information, see our disclosure.
The members of my household are far outweighed by electronic devices. And each device coincidentally was purchased with accompanying ear buds or earphones. So, I set myself to work getting everyone's headphones organized. But before I could do that, I had to untangle and sort.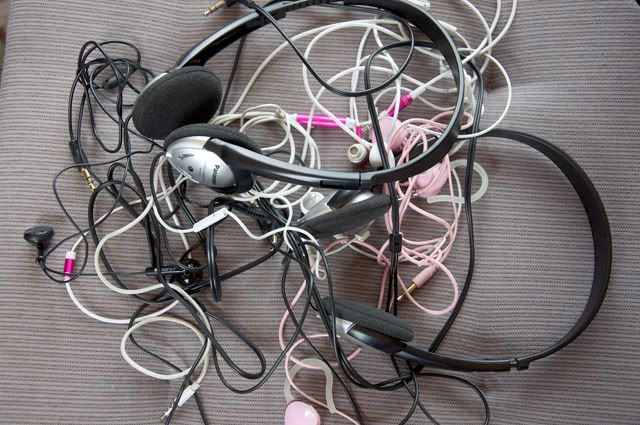 Scary. No wonder my husband had pink headphones on a few days ago. He couldn't even get to his own pair!
I decided to put the headphones into two categories. Ear buds will be stored in a desk drawer, and headphones will be stored in the kids rooms (except for an extra pair or two near the desk for homework).
I decided to wrap the earbuds in colored rubber bands. Each color represents an owner. Blue is my husbands, pink is mine, and orange our teenage daughter.
The rule will be that you only use the ones that have your colored rubber band. No swiping a different color. (My husband and I actually have a second pair in our cars, so this is where we will store extra.)
Our other children prefer to wear headphones, so I needed to put them somewhere accessible to little hands. I knew stuffing then in a drawer would just lead us back to where we started, so I came up with a solution.
I took a piece of old wood and attached hooks for hanging the headphones on the side of the desk.
Now they can hang without the cords getting tangled, and the height is perfect for teaching the kids to hang them back up. The best part is, you can even see they are there from the front of the desk.
My son rarely uses the computer, he prefers to use his headphones when he listens to music in his room before bedtime. (And by music I mean play Angry Birds.) I didn't want something to stand out, so I created a hook with an old piece of wood flooring and and old spigot knob. I love how it compliments how his room is decorated instead of standing out of place.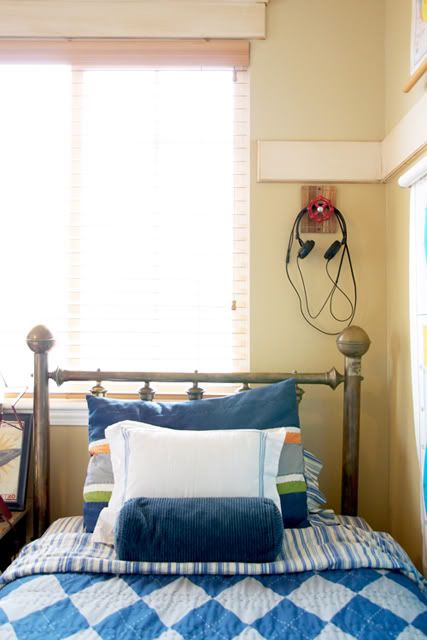 Another great place to hang headphones is somewhere near your child's bed if they like to listen to music at night.
The back of a bedroom door is also a great place. By hanging them up high, you have plenty of room to hang the cord without getting it tangled.
I'm so thrilled to have all of our headphones organized. Now I have plenty of room to add more the next time we bring home a new electronic device. Bring on the iphone 4S!