In this digital world, it seems like most of our communication is done electronically. But, we are all still getting copious amounts of good old fashioned snail mail – and it's making our homes a mess!
Mail seems to be a source of clutter for most homes. It never stops coming in! As soon as you get one day sorted, another day's worth comes in. Plus there never seems to be a good place to store the mail! It often gets dropped on a kitchen counter, entry table, or desk and just left there. This doesn't make for a pleasant sight as you enter your home.
However, mail is necessary. We can't ever completely get rid of it. But there are some things we can do to help the situation.
Get Less
Every time you receive a piece of junk mail, call or email that person and ask to be removed from the list! This definitely takes some work, but over time you'll notice a smaller pile in your mailbox.
Also, for every letter that comes in, try to figure out if you can receive that information electronically. Are you getting a monthly bank statement? Call your branch to see if you can see your statement online and stop receiving the statements. Are you receiving a lot of medical bills? Call the billing office at your doctor's office and see if you can be notified of bills via email or text.
Don't Delay
As soon as you get the mail, go through it! Don't put it off; it will only pile up. Recycle, shred, or trash anything that you don't need. For letters and bills, you do need to deal with, remove from the envelope and take care of them right away. Or, file away until you have time.
Use An Organizer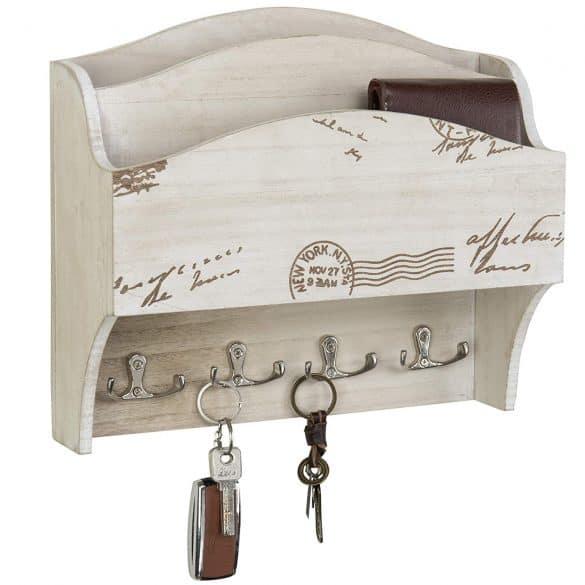 If you don't already have one, invest in an organizer like this one from Amazon. After you recycle or toss junk mail, remove important letters and bills from envelopes and store in your organizer. Even if you don't have time to go through the mail as soon as it comes in the house, storing it in an organizer looks much better than tossing it on the counter.
There are several types of organizers so find one that works best for your home. Wall organizers are a great way to save on space. They'll keep all your important post off of your entryway table, desk, stairs, kitchen counters, or where ever else they normally pile up.
So take control of the mail today! Just because our mailboxes are full every day, doesn't mean that we have to live with cluttered piles of paper everywhere!