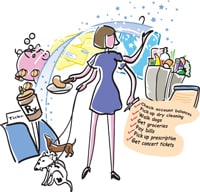 Who can name the movie my post title is from?  Multitasking has become more common place than shoes now!  I recently had a conversation with an older friend of mine, who hasn't quite joined the technological age, and we were talking about what "my world" was like.  Meaning, when we have access to things so instantly now, what becomes our patience threshold?  Like when a web page doesn't load within 2 seconds, how likely am I to move on and do something else?  Very likely.  We don't have or TAKE time to wait for things anymore.  If there is waiting time, we are off doing something else.  Sometimes you can go overboard with the multitasking though, so you have to be careful. 
The best way to multitask is to combine like tasks. Clean the family room while you watch TV, plan your meals once you've got dinner in the oven, clean the shower while you take one! If you try to clean the shower while you plan out your meals for the week, you aren't going to be a very efficient multitasker. I am notorious for multitasking on the computer, that sometimes I even overload the computer. As I wait for a web page to load I respond to an email, as I'm waiting for a DVD to burn I'm checking out blogs and editing images and checking out the latest mobile phones and cameras. The computer is definitely a great place to get a lot of multitasking done.
Here is the pitfall…. trying to do TOO many things at once.  If you overdo your multitasking you could end up with 5 half completed projects, and no time to complete them.  You need to be able to read yourself and know when you've stepped over that line.  If you are starting to feel stressed out instead of feeling like you are accomplishing tasks, then it's time to back off of one or two of the items you are doing.
What tasks do you like to combine?