Journal Keeping Ideas for Recording Your kids Memories
It's the start of a new school year, and there are so many things you want to document! With today's technology however, it's impossible to know what method you not only like, but that you'll stick with for 18 years of their life. My kids love reading through journals I've kept on their behalf. They find their own things they did as a child as so funny, and so do I! Forgetting these things is easy when it isn't documented.
This post may contain affiliate links. As an Amazon Associate I earn from qualifying purchases. For more information, see our disclosure.
So, here's my best round up of Journal keeping ideas that you can hopefully stick with!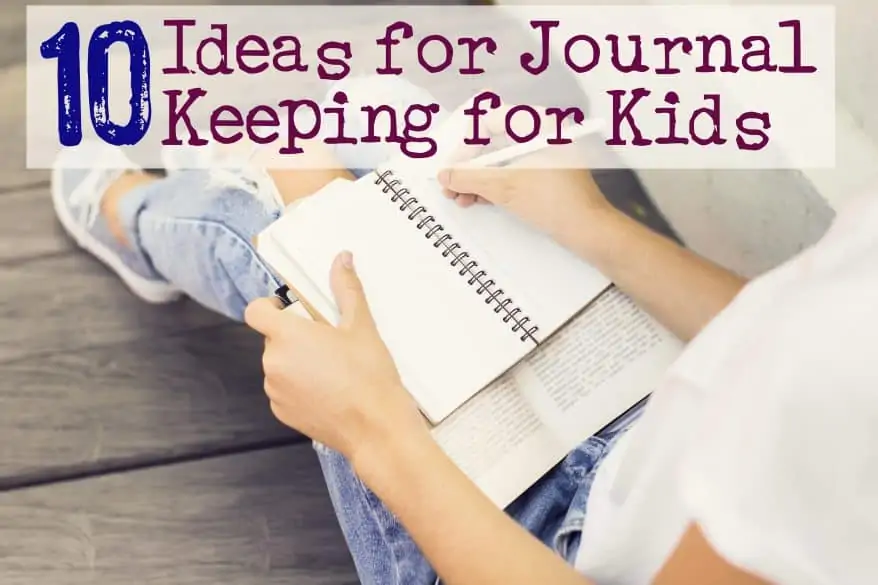 Digital Photo & Text Ideas
1) Digital Journal Apps – One of the easiest ways I've found to keep a journal for my kids is right on my phone! Apps like Journey allow for you to write a quick entry each day as well as attach an image. I've taken this to an even easier method and used my voice to text keyboard to "write" the journal entry. This takes literally only a few minutes and I'm done!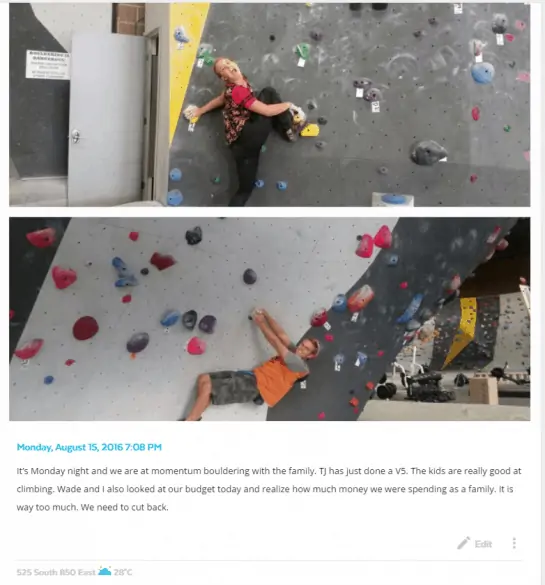 The example above, I had my phone while we are at the bouldering gym, and literally, spoke the words into my phone while I was standing and watching the kids climb. So easy to keep up with!
2) Instagram–Another easy way is to use Instagram! With the easy logging into multiple accounts now, it would be easy to set up a private account for each child and update with a daily or weekly snapshot of what they are doing and what they are going through. What an amazing record they could have if you kept this up for 18 years of their life! They could see how they've changed and grown with one glanc) e at an account.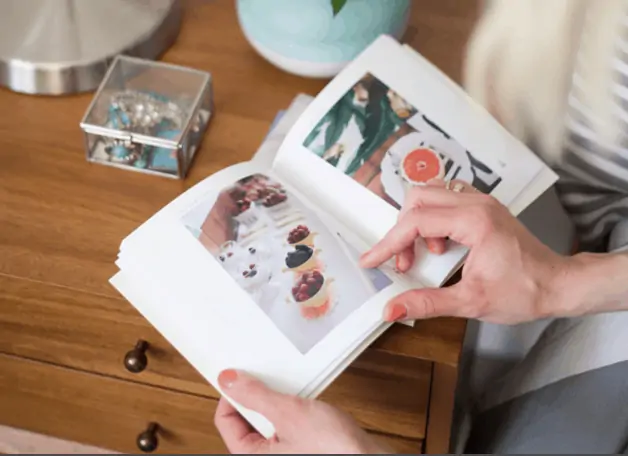 Then, you could print them books periodically from Chatbooks.
3) Audio clips to keep. If you need (or want, prompts, try services like Kid Chatteroo! Short snippets of questions to ask your child and a recording device to hear their clever answers. Or simply hit record on your phone while asking a new question every day like: What makes you frightened. Who is your best friend? What's your favorite sport, etc. Here's a list of 180 prompts if you want to try audio recordings!
4) Photo Books– The best Christmas present I ever got was when I was a senior in High school and my mom made a scrap book for me of my entire life! I love this book! Although mine was only photos, I'm in the process of making an 18 year photo book with captions for my oldest son for graduation. I love how easy Shutterfly is to use, and have been using that for years for our annual photo books.
Video Ideas
5) Short Clips– Recently I heard a Ted Talk from a guy who recorded 1 second from his life every single day! He was able to string them all together and watch 4 years of his life in 24 minutes! Crazy, but also kind of fun! Can you imagine if you recorded one second of your child from birth to 18 years old, how FUN that would be to watch!! I'm sooo bummed i didn't think of that when my 18 year old was a baby. Although, back then, without a smart phone, It wouldn't have been so easy. Now, I would TOTALLY start that!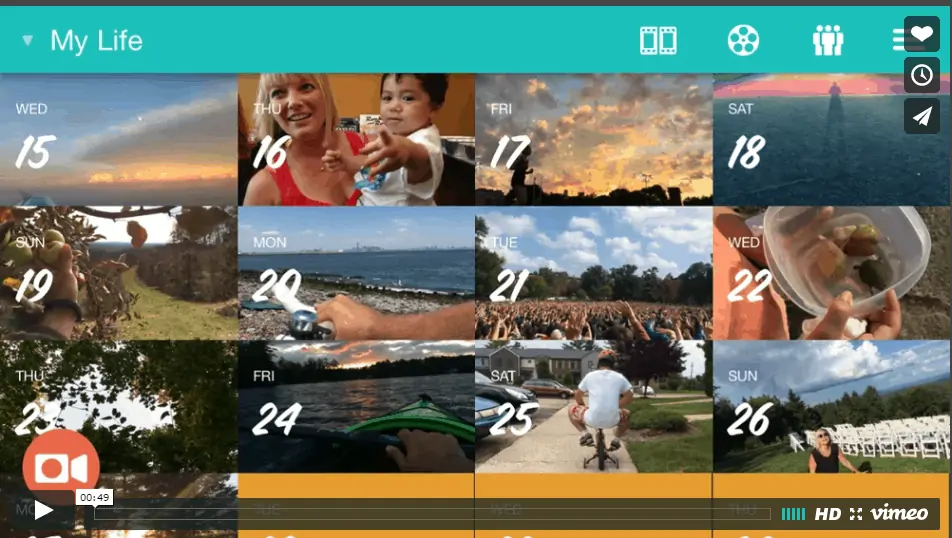 6) Annual Tradition– Even though I haven't kept a video of my child every single day, we do have an annual New Years Day tradition, where I set up a camera and let them tell me what happened the past year, and what they are looking forward to the coming year. Those clips are SO fun to string together and see how they grow.
7) Videos from Fun Trips! If you enjoy putting together video from a vacation, make it short and sweet so everyone will want to watch it. This could be fun to string together when they are 18 years old of all the trips you've taken as a family. Here's one I made from a trip we took this summer:

Paper Solutions
8) Notebooks– And finally, no journal discussion is complete without a good old, traditional notebook! To keep up with your notebook journal, I found it's important to keep committed to doing this once a week, like on a Sunday. When I've told myself I'll write it in as things come up, it never happens. Instead, Make things come up! Don't wait! WEEKLY is ideal in my opinion! Here's a funny page from one I kept about 15 years ago for my oldest child.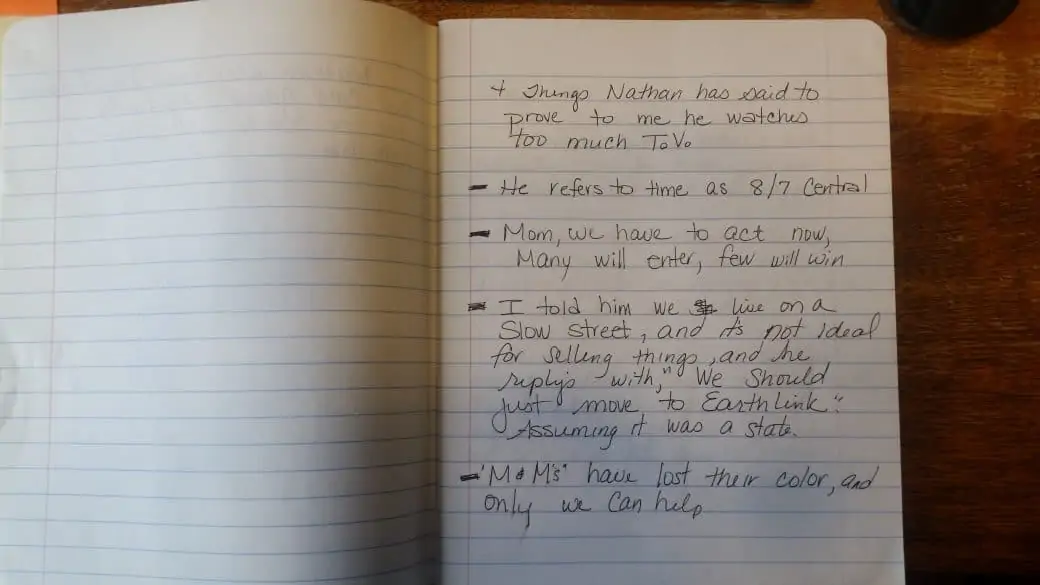 9) Calendar– Keeping a simple calendar with places you've been is a super simple, yet effective idea to create a timeline for your child's life!
10) Their own Diary– I actually have been keeping my own diary since I was 8 years old! I HIGHLY recommend this as it's some of the funnest things for me to read myself. Ideas I had in my head that my mom would have never known to write, are there in pen, on paper. It's so classic, and I LOVE reading from it! Here is MY actual journal from 1982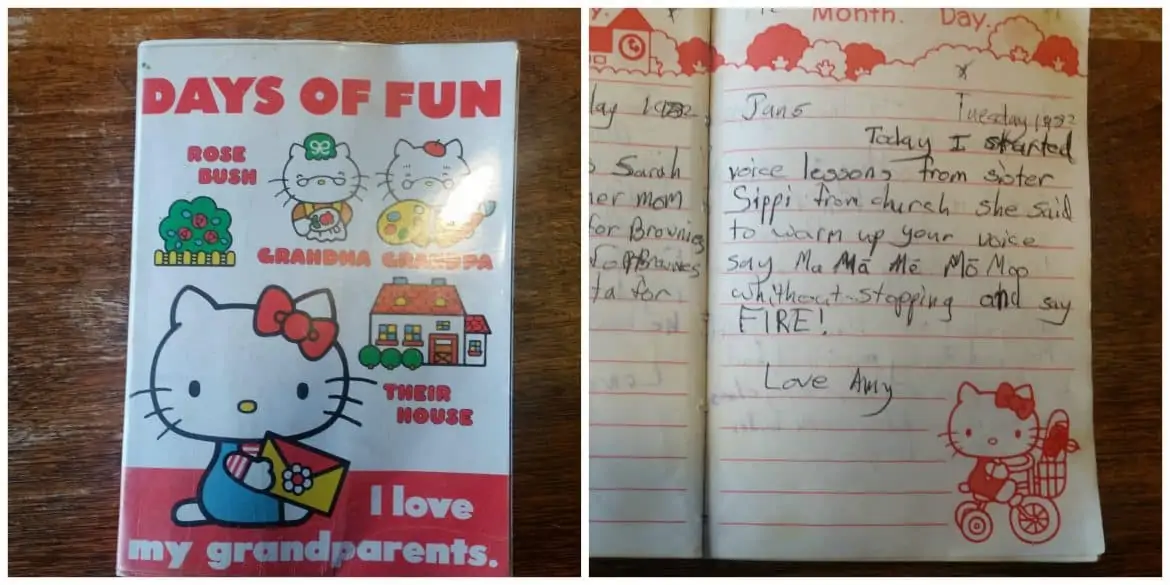 Are you excited? Which method do you think will work for your family? What are you doing now that works?