Who doesn't love a good cleaning tip? Cleaning the house is a lot easier when you have a few secret weapons up your sleeve. You've probably gathered these tips from the wisdom and experience of family members. Perhaps your grandma knows how to make bathroom towels extra fluffy. An aunt has shared the easiest way to clean tile grout. Your mom has a famous homemade glass cleaner recipe.
But thanks to social media, we now have access to everyone's secret cleaning tips. We've gathered some of our favorite quick tips and hacks from Instagram. Ready to expand your cleaning knowledge? Read on and get ready to tackle that to-do list.
This post may contain affiliate links. As an Amazon Associate I earn from qualifying purchases. For more information, see our disclosure.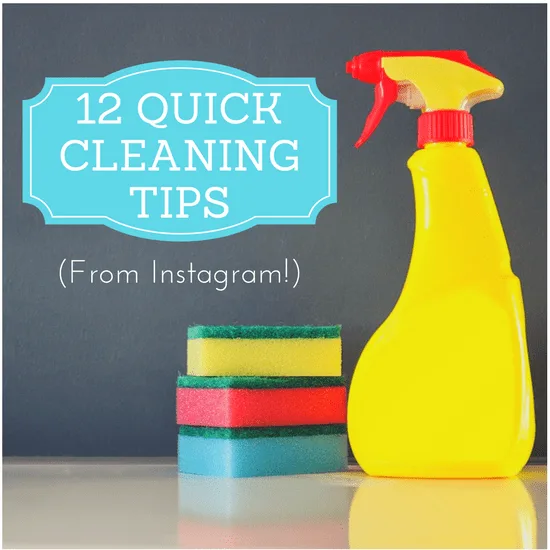 1. Clean the microwave with a bowl of water and baking soda
We love this tip – the steam does most the cleaning for you!
2. Get rid of grimy shower door tracks
Shower doors are one of the hardest places to clean, but it's nothing baking soda and vinegar can't fix.
3. How to clean oven knobs
This tip is genius! Oven knobs can get covered in grime over time, removing them and cleaning all at once makes the job much easier.
4. Make your own garbage disposal cleaners
No need to spend money on store-bought garbage disposal tablets. Frozen vinegar cubes work like a charm.
5. Use kitchen tongs to clean window blinds
Is there anything more tedious than cleaning dusty blinds? Dusting cloths attached to kitchen tongs makes this job a lot more fun.
6. A Post-It note can clean your keyboard
Use the sticky side of a Post-It note to clean the nooks and crannies of your keyboard.
7. Dust window screens with a lint roller
This is a great idea for your spring cleaning tip. While you're washing the windows, take a moment to clean the screens as well. Use a lint roller to easily remove cobwebs and dust.
8. Freshen your cutting boards with lemon and salt
You'll be amazed at how much cleaner your cutting board is using this method. Lemon is a natural disinfectant and the salt scours the surface of the wood.
9. Clean crown molding with this broom hack
Don't forget your walls and crown molding! Get to those hard-to-reach places with this broom hack!
10. An onion can clean your grill
https://www.instagram.com/p/BF-UGy4yHBs/
Who knew an onion could be used as a cleaning tool? It's a great natural solution for a greasy grill.
11. Use a fluffy sock when you run out of Swiffer wipes
If you've run out of Swiffer refills, or you're just trying to go green – use a fluffy sock instead!
12. Use baby oil to clean stainless steel
If you have kids and a stainless steel fridge, than you know about the constant struggle of little fingerprints. Try baby oil!