The entryway can be a tricky space to decorate. Obviously we want the first area our guests see to look stunning, but it's also a place that often gets abused. Aso it becomes a dumping ground for backpacks, purses, shoes, and anything else the family wants to drop the second they walk in the door. So what's the solution? Proper entryway organization. With the right system in place, you can ensure that everything is put away, and your entry is free to look beautiful and welcoming. From a simple set of hooks, to more complicated mudroom set-ups, here's a few of our favorite entryway organization tips to fit any home.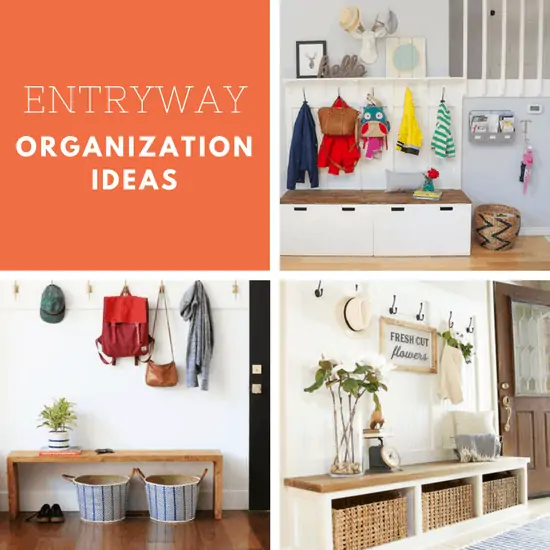 1. Clean and Minimal
This post may contain affiliate links. As an Amazon Associate I earn from qualifying purchases. For more information, see our disclosure.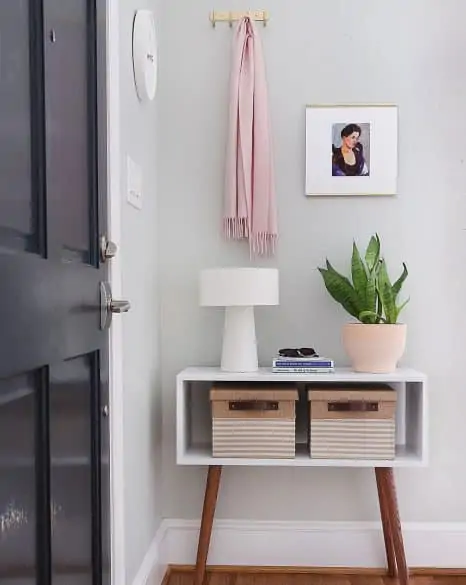 Source: Sunny Circle Studio
Organizing your entryway doesn't have to be complicated. Maybe a sleek table, a couple of boxes, and a tray for keys and sunglasses is all you need. Then add a small set of hooks for purses and scarves and you've got a simple yet functional system.
2. Hooks, Hooks, Hooks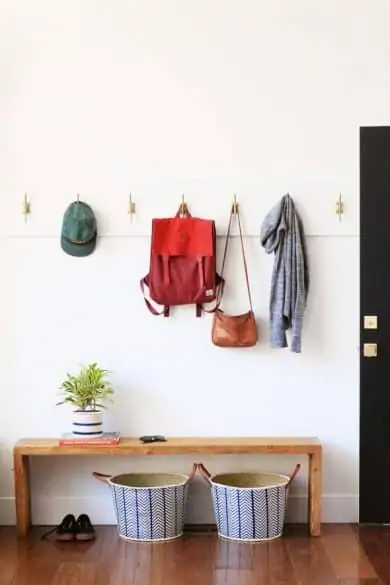 Source: Little Green Notebook
Speaking of hooks, the more the merrier! With multiple family members, don't skimp on the hooks. Plus, a row of gold hooks like this one can make a chic statement at the entry. Remember this space not only needs to be organized, it needs to make the right first impression. Think outside the entryway table, and go for a bench. Lastly a couple of buckets provide storage for shoes, dog leashes, and more.
3. Built-In Shoe Storage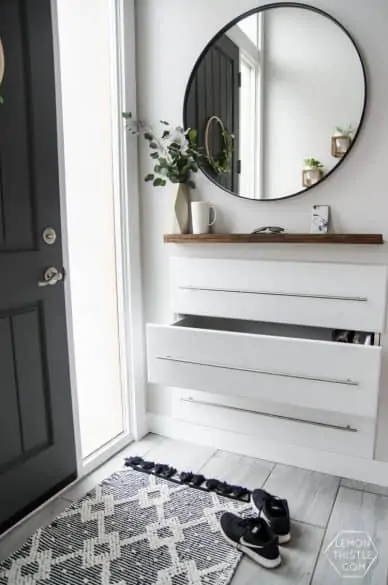 Source: Lemon Thistle
If your entryway is tiny – consider built-ins. Originally this small entryway was constantly cluttered with shoes. Now it looks clean and streamlined thanks to shoe drawers that were built by cutting into the drywall, saving precious floor space. In addition a slim shelf is great for keys, cell phones and other small items.
4. Multi-Functional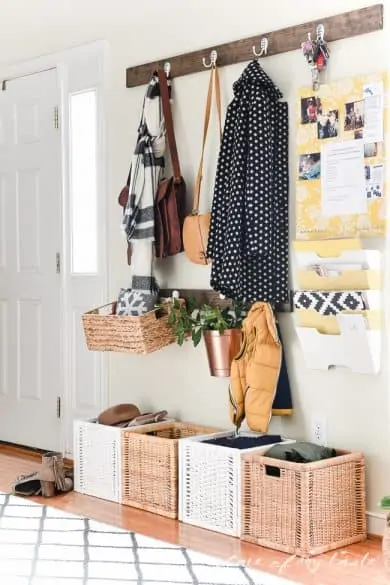 Source: Place of my Taste
Another idea is to turn your entry into a family command center with hooks, baskets, and a place for paperwork or mail. A row of hooks ensures little ones can reach and put their things away on their own.
5. DIY Mudroom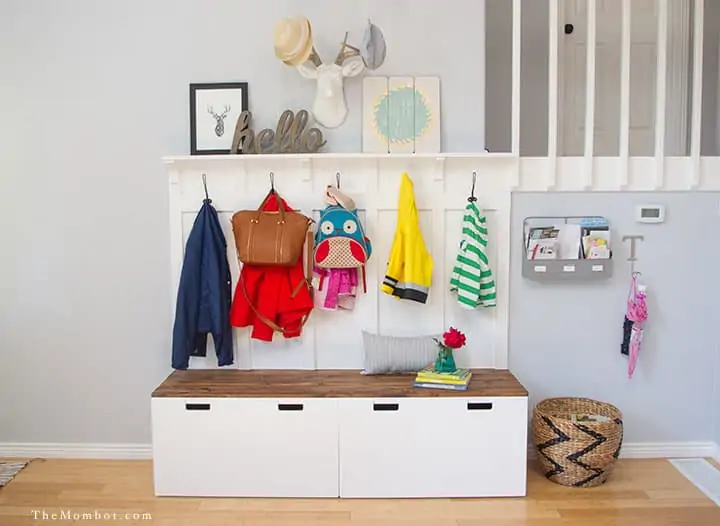 Source: The Mombot
If you're not lucky enough to have an entryway and a mudroom – combine the two! Actually this cute and functional bench, hook, and shelf combo is an IKEA hack. Finaly we love the addition of the basket and the spot for mail.
6. Eclectic Yet Organized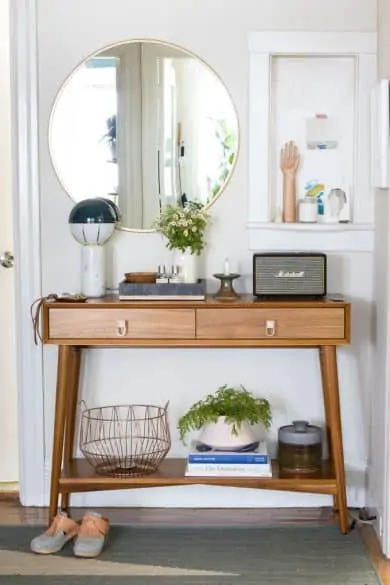 Source: Cup of Jo
What we love about this entryway is that it's organized but it's not the first thing you notice. Instead it's a well balanced eclectic space with hidden organization helpers. The table has drawers for storage, a chic wire basket is available for shoes, and a cute tray corrals small items on the tabletop.
7. Built-In Bench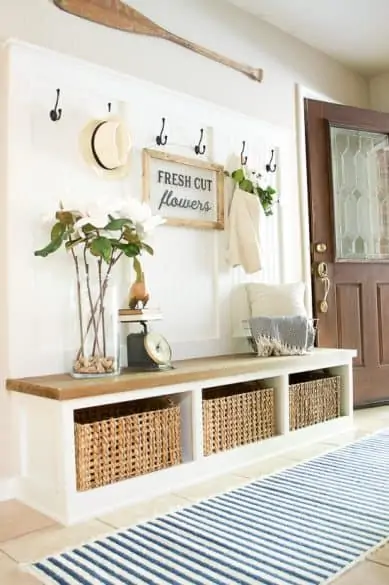 Source: Little Red Brick House
Another idea for an extra streamlined space, is to go for a built-in bench with basket storage. Most of all the built-in bench ensures everything can be stowed away in the large baskets, freeing your entryway for decoration! We love the farmhouse style of this particular arrangement.