Welcome Fall and all things Pumpkin!
I love everything pumpkin! Fall is my favorite season and maybe that is due to the fact that I celebrate my birthday and my favorite holiday (Halloween!) during this time of year. I have even thrown myself several pumpkin-themed birthday parties over the years which means I have tried out a TON of different pumpkin recipes. Don't get stuck on the idea that all you can make with pumpkins is pumpkin pie. There are so many possibilities! I would like to share some of my favorites and also a few I've been dying to try.
This post may contain affiliate links. As an Amazon Associate I earn from qualifying purchases. For more information, see our disclosure.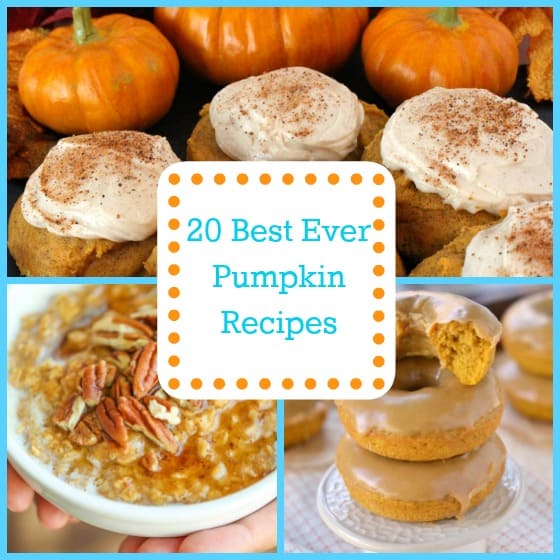 Pumpkin Chocolate Chip Cookies

— Of course this is at the top of my list! These are a classic that I like to make all year long. Who said that pumpkin is limited only to the Fall?

Peanut Butter Pumpkin Bread with Chocolate Chips — Speaking of pumpkin and chocolate chips, how about trying this decadent quick bread? It also has peanut butter which, strangely enough, works with the other flavors.

Mini Pumpkin Pie Croissants — The thing I like about these rolls is that they are SO easy! They work for breakfast, a snack, or side for a meal. They are sweet but not overly sweet.

Honey Butter Pumpkin Dinner Rolls — Speaking of rolls, here's another recipe I've been dying to try. I think it would make a great side for Thanksgiving dinner!

Marbled Pumpkin Cheesecake — Okay, so two of my favorite things are pumpkin pie and cheesecake so I just had to try this recipe. I made this recipe for Thanksgiving a couple of years ago and it was so good! Very, very rich (like I could only eat one slice) but good.

Traditional Pumpkin Pie — And for you traditionalists out there, here is a traditional pumpkin pie recipe that you can't go wrong with.

Dinner in a Pumpkin — My mom made this meal every Halloween night and it was such a fun tradition! There are some variations of this recipe but this one is my favorite.

Harvest Pumpkin Soup — I think that we sometimes forget that pumpkins can be used for savory dishes as well. I love a good bowl of soup in the fall and this recipe is a winner.

Pumpkin Gingersnap Parfaits — I love the combination of gingersnaps and pumpkins! This is a great no-bake dessert option.

Pumpkin Snickerdoodles — Another great mash-up is the combination of pumpkin with the classic snickerdoodle cookies.

Perfect Pumpkin Seeds — Don't forget about the seeds! I never liked eating pumpkin seeds until I tried this recipe. You can also try some variations for seasoning them such as cinnamon and sugar or garlic salt.

Pumpkin Spice Baked Donut Holes — I have yet to make any pumpkin donuts but it is on my to-do list! These ones look especially delightful and I like that they are baked and not fried.

Baked Pumpkin Spice Donuts with Maple Glaze — Here's a donut recipe with a maple glaze that looks absolutely scrumptious.

Pumpkin Dump Cake — This is a recipe that a roommate shared with me years ago and I was amazed out how easy it was to make! It is definitely a good one to have on hand when you are feeding a large group of people.

Pumpkin Pie Oatmeal — How about pumpkin for breakfast? My husband has been eating a lot of oatmeal lately so this is one that I've been wanting to try.

Pumpkin Waffles — Another breakfast classic with a twist. If adapted slightly, this would also be a great recipe for pumpkin pancakes.

Pumpkin Cream Cheese Truffles — I've been looking for an excuse to make these. Perhaps for a fall bridal or baby shower?

Pumpkin Spice White Hot Chocolate — I love a warm drink on a chilly autumn night! This recipe only has 3 ingredients and is super easy to make.

Skinny Pumpkin Pie Dip — For those of you on a diet that still want to get their pumpkin fix, try out this easy dip recipe. Perfect for dipping pretzels, gingersnaps, apples, or graham crackers.

Pumpkin Spice Cookies with Cinnamon Cream Cheese Frosting — I have to end with a recipe that is somewhat nostalgic. My mother used to make this recipe growing up so I have some fond memories of it. And anything with cream cheese frosting is a winner in my book!
Any other pumpkin recipes that you absolutely love?