As this school year wraps up, many families will begin planning their summer vacations. Traveling to a far off destination has its own perks, but it can also be quite spendy. Many families will choose to stay closer to home and find fun staycation activity ideas to do locally.
Obviously, where you live impacts the selection of activities offered in your community. But usually you can find at least a few free events if you do a little research. And if you are able to spend a little money during your staycation, your options will greatly increase.
Here are 20 staycation activity ideas.
Concerts/Movies in the park
This post may contain affiliate links. As an Amazon Associate I earn from qualifying purchases. For more information, see our disclosure.
Contact your local park and recreation department to see what kind of free events will be offered during the summer. Many will sponsor free concerts in the park or movies at sundown. Some will sponsor swim free days at local pools.
Library events
Many libraries hold educational events for children throughout the year, but especially during the summer months. From storytime, to sing-alongs, crafts, and stem activities, your libraries are a great resource for free events. And also don't forget the plethora of books, audio books, and movies you can check out for free while you are there.
Splash pads
Cool down in the summer heat by checking out your local splash pad. These are often open free to the public, and are perfect for little kids who aren't quite ready to hit the pool.
Camping in the backyard
You don't have to venture far from home for this one! Throw your tent up, grab your sleeping bags and have a backyard camp-out. Grab the flashlights and read together in the dark, or tell spooky stories. If you have a backyard fire pit, top the night off with some s'mores.
Fishing
Ask around at your local outdoor store for a great fishing spot for kids. If you don't have the gear, put out your feelers in the neighborhood and see if someone will loan you gear for the day. Check with your local Fish and Game office to see if you need a fishing license. In many states, kids under a certain age can fish for free as long as a parent has a license.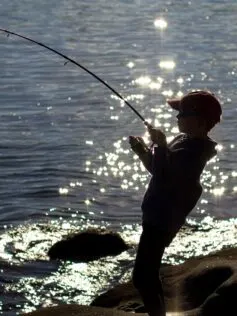 Camping
Find some local campgrounds in your area and spend a few nights in the great outdoors. If you don't want to rough it in a tent, find an RV rental company. A quick google search will bring up several options.
Go for a hike
Pack a picnic lunch and explore some local hiking trails for the day. Just remember to bring plenty of extra water, sunscreen and bug spray.
Bowling
This is a fun family activity for even the little ones, now that bowling alleys have bumpers for the gutters and a ball roller that will guide the ball down the lane for them. Many bowling alleys now have special nights where they offer black light bowling.
Laser tag
This is a great family activity when your kids are older and can navigate the laser tag course by themselves. But little kids also will have fun teaming up with mom or dad or an older sibling as they make their way through the course.
Roller-skating
As a child of the 80s, roller-skating was my jam. Although maybe not as popular as it once used to be, it is still a fun way to get some exercise with your kids. Some roller rinks will allow you to bring your own in-line skates (dust them off if you have some buried in the garage!). If you have a roller rink near home this is one of our favorite staycation activity ideas!
Escape rooms
These have become increasingly popular over the past few years. With an escape room, you have to work together as a team to look for and solve cues to help you "escape" before time runs out. It can be a fun team building activity for families and if you have older kids, you can turn it into a fun competition to see who can escape first.
Explore local lakes and rivers
This is a perfect way to cool down on a hot summer day. Find a nice sandy beach area for the kids to play while you relax in your favorite beach chair. Some lake resort areas offer kayak, paddle board, or peddle boat rentals if you want to get out onto the water. Remember to bring along life jackets for everyone, even if you don't plan to go too far into the water.
Mini-golf
This is a fun activity suited for a wide variety of ages (though I would probably suggest 3 and over).
Regular golf
If you enjoy playing golf, take your kids to the driving range with you. My 8-year-old accompanied his dad last summer and we were both surprised at how much fun he had and how quickly he improved his swing. Now he begs us to go to the driving range, and it has become another family activity we can all do together.
Zoos/Aquariums
Even if there isn't a zoo or aquarium in your local area, it might be worth a few hours in the car to visit one. If you have younger kiddos, just be sure to pack a stroller, because little legs tend to get tired at these places.
Trampoline park
A great way for kids to get their energy out and for adults to feel like a kid again! This is a great activity when the whether is super hot and you want to find a fun indoor activity.
Water park/Amusement parks
Whether indoor or outdoor, water parks and amusement parks are usually a big hit with kids of all ages. This might also be worth a few hours in the car if you don't have one in your local area.
Spend the night at a hotel
Even if you aren't planning to travel anywhere, staying a night in a hotel can be super fun for kids, especially if there is a hotel pool involved! Order room service, stay up late watching movies together, spend time at the pool, and enjoy a change of scenery.
Drive-in movie
While certainly not as common as they used to be, drive-in movie theaters still operate around the country. Pack your snacks, drinks, and blankets and enjoy this unique experience as a family.
Attend a local sporting event
Professional sporting events can be pretty expensive. If you want something a little easier on the budget, support your local semi-pro team. Ticket prices and concessions are generally much cheaper at these games.
I hope your family staycation is full of laughter and fun and provides wonderful memories for years to come! Be sure to add some (or all!) of these staycation activity ideas to your family's summer bucket list!