We all know the kind of messes kids can quickly create, especially when it comes to art projects. Perhaps even the mention of the word glitter has you doing a full body shudder. Trust me, I get it. But, there are a few art supplies every child should have.
But I also believe it is worth putting up with a little bit of mess in order to encourage our children's creative thinking. (And glitter is definitely not a necessity!) In a time when many elementary schools have had to cut their art programs, it is even more important for parents to provide their kids with opportunities to flex their creative muscles.
Here are 5 art supplies that every child should have.
Paint
This post may contain affiliate links. As an Amazon Associate I earn from qualifying purchases. For more information, see our disclosure.
I know from personal experience that paint can get messy really fast! But paint is so fun for kids! Throw down some newspaper for easy clean-up, and have your child wear an old t-shirt to protect their clothes. Have wet wipes available to clean hands and brushes.
Two paints that are great for kids are tempera and watercolor. Many kid-friendly water color sets will come with the brush included. Finger paints are also a big hit with both of my kids.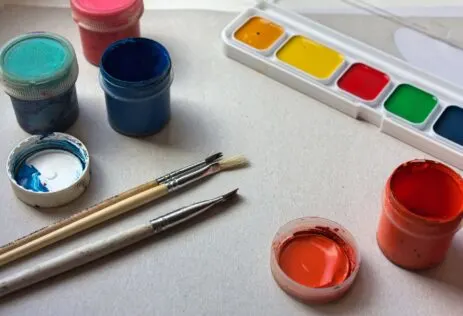 Variety of Paper
Not only is paper essential for coloring and painting, but it can also be used in other creative ways. My oldest son has really gotten into origami and my youngest loves to design paper airplanes.
You can check out instruction books for these activities at the library, or find videos on YouTube. Better yet, let your kids use their imagination to design their own! Stapled half sheets of paper can be used to create stories or comics.
Molding Clay
Most kids love to make things with their hands, but this is especially fun for kinesthetic learners. There are all types of molding materials designed for kids. Some of our favorites includes kinetic sand, Play-Doh, modeling clay, and play foam.
Provide your kiddos with rolling pins, cookie cutters, dull plastic knives, and pizza cutters to add to the fun.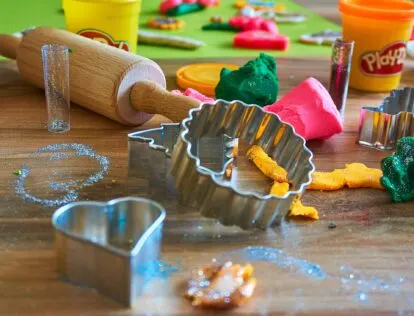 Markers, Crayons, and Colored Pencil
Most kids love to draw, and having access to a variety of drawing materials can encourage even more creativity. I would recommend getting different sizes of markers (there are even scented ones…those were my favorite to use in art class!).
For smaller kiddos, you can purchase fatter crayons that are easier to hold onto.
Beads
My kids love perler beads. With these beads, you create a design on a pegged board. Once your design is finished, the beads are ironed and melt together. Perler beads come in a variety of colors (including glow-in-the-dark) so the possibilities are endless!
A helpful hint: if you buy a big tub of assorted beads, dump a little out into a baking pan. The sides of the pan help contain the beads while your kids are sorting out colors.
Pony beads are another fun item for kids. Use string with pony beads to make necklaces and bracelets. Or use pipe cleaners with pony beads to make ornaments or wall hangings.
Crafting with beads is a great way to practice fine motor skills!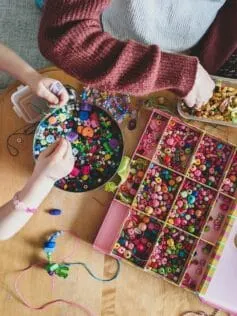 It is important to give our kids opportunities to use their creative thinking skills. Every child should have these art supplies to allow them to get their creative juices flowing!