Are you looking for the easiest crockpot chicken and dumplings recipe around? This recipe uses canned biscuits in your slow cooker, and takes next to no effort at all to make! Best of all this is a meal loved by all that is simple and cost effective.

Easy Crockpot Chicken and Dumplings with Canned Biscuits
This crockpot chicken and dumplings is what I like to call a total cheat meal. It is super simple to put together and make, and great for when you don't feeling like putting a ton of effort into dinner. Let your crockpot do the work for you.
This post may contain affiliate links. As an Amazon Associate I earn from qualifying purchases. For more information, see our disclosure.
Load up your slow cooker with chicken breasts, onion, chicken broth, cream of chicken soup, and your favorite seasonings like salt, pepper, garlic powder, and Italian seasoning, then let it cook for 4 hours on high.
The most complicated thing about this recipe is remembering to add the dumplings and vegetables like peas and carrots. You can also add corn too! The great thing about this recipe is you can add exactly what everyone likes.
We chop up our favorite canned biscuits and put them on top, then cook for another 2 hours on high. If the slow cooker is looking dry, be sure to add some water.
This is a great one pot meal that is simple to make, with an easy cleanup. What could be better than that?
Have questions about making this recipe? We have answers.
Can I use chicken thighs instead of breasts?
You bet! You can even mix and match chicken thighs and chicken breasts. The cooking time will be the same.
The one caution I have is to not use bone in chicken in a dish like this. Since the chicken falls apart, it is difficult to get the bones out.
What other vegetables are good in chicken and dumplings?
The classic for chicken and dumplings is usually peas and carrots, fresh or frozen, whatever you have on hand.
Some other favorites when it comes to slow cooker chicken and dumplings are corn, broccoli, diced potatoes, or even cauliflower.
Remember, you'll add the vegetables after most of the cooking is completed, so you can add just about anything you want that this point. Many times it ends up to be whatever we happen to have on hand at that time!
What kind of canned biscuits should I use for slow cooker chicken and dumplings?
This comes down to your personal preference. Each different type of biscuit is pretty similar, but with some subtle differences. The answer here is whatever you happen to have, or what is on sale when you go shopping!
Looking for some more easy family chicken recipes? Don't miss some of our favorites!
Yield: 6
Easy Crockpot Chicken and Dumplings with Canned Biscuits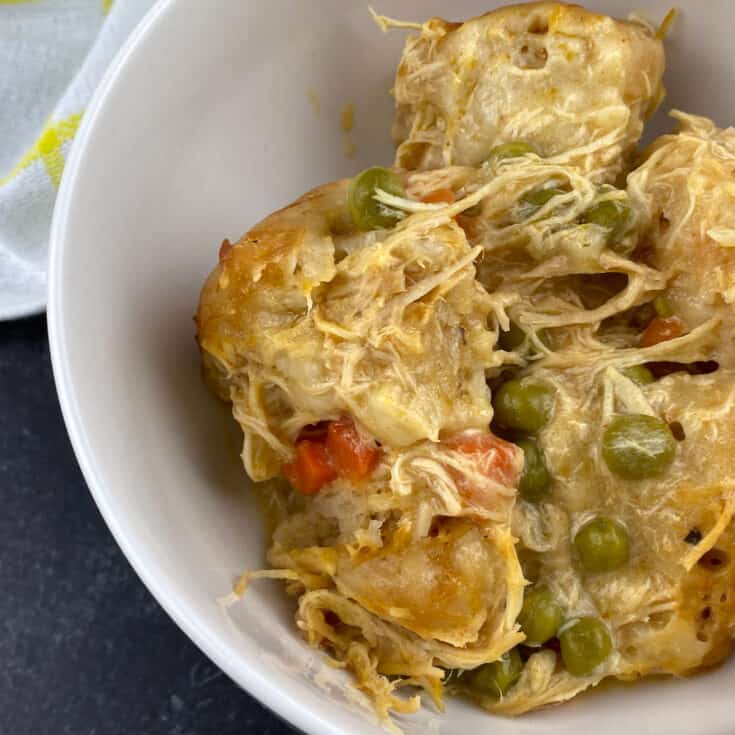 This super simple crockpot chicken and dumplings uses things you already have on hand like canned biscuits, frozen vegetables, and chicken stock to keep it easy! Start it in the morning, add the biscuits and vegetables four hours later, and you will have a delicious and cost effective meal with little effort.
Total Time
10 hours
10 minutes
Ingredients
1⁄2 onion, diced
3 chicken breasts (or thighs, or a mixture of both)
1 teaspoon salt
1 teaspoon pepper
1 teaspoon garlic powder
1 teaspoon Italian seasoning
1 can cream of chicken soup (10.5 ounce can)
2 cans chicken broth (14.5 oz cans, or 29 ounces total)
1 can instant biscuits
1 one pound bag of frozen peas and carrots (or fresh)
Instructions
Gather ingredients for first stage of cooking: onion, chicken, salt, pepper, garlic powder, italian seasoning, chicken broth, and cream of chicken soup.
To the crockpot, add onion, chicken breasts, salt, pepper, garlic powder, Italian seasoning.
Add chicken broth and cream of chicken soup.
Cook on HIGH for 4 hours.
Using a fork, shred the chicken by moving your fork around in a circular motion.
Add frozen peas and carrots to crockpot.
Chop biscuits up and layer across the top.. If the crock pot seems dry, add more chicken stock or water.
Cook on HIGH another 2 hours.
Serve and enjoy!
Notes
This is a great, easy meal. Feel free to add whatever vegetables you would like at the second stage of cooking, fresh or frozen. Some of our favorites are corn, diced potato, broccoli, and cauliflower.