If you have ever moved, you know what an all-consuming job it can be. When you add kids to the mix, it can become even more challenging. Between selling your house, buying a new one, packing everything up, and getting it all unpacked, it is a lot of work! If you find yourself on the verge of a move, I hope this article can help make your move go more smoothly.
Here are 5 tips to make your move go more smoothly.
Purge what you don't need before you move.
As you are packing, try to get rid of anything you don't think you will need at the new place. Sometimes, you won't have time to do this step. If you are needing to sell your house in order to move, you might find yourself in a situation where you have to list your house rather quickly. In that case, you might end up just throwing things into boxes or tubs in order to quickly declutter.
This post may contain affiliate links. As an Amazon Associate I earn from qualifying purchases. For more information, see our disclosure.
But if you aren't in a rush, it can be to your advantage to take the time to sort through your stuff as you pack it. The biggest advantage? Less stuff to haul to the new place! Less stuff to pack, and less stuff to unpack.
Consider your big-ticket items as well. Are you going to need all the same furniture, or can you get rid of some it? Are you going to keep the same décor? Perhaps your kids will want to share a room in your new place, and you can downsize a bit.
You might be able to earn a little extra cash before you move if you sell some bigger ticket items you don't think you will need at the new place. Craigslist or Facebook marketplace can both be good avenues for selling used furniture. And if you find yourself with a lot of stuff to get rid of and have the time, consider having a garage sell! You can always donate anything that doesn't sell.
Label, and then label some more.
Be as detailed as you can. This makes unpacking so much easier. At the very least, label each box or tub with the room it should go into. As you are bringing boxes into the house, you will know exactly where it should go. It is much more efficient to just move each box once versus moving it all into the garage and then having to move it again.
The more details you can include, the easier it will be to find the things you need as you need them. For example, instead of just labeling a box as "kitchen stuff" you can say "kitchen-silverware, plates, bowls" or "kitchen-baking dishes, cookie sheets" etc.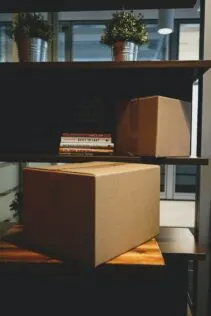 Put together a box of must haves.
Unpacking can take a long time. Moves are drastically different depending on whether you are moving across town or moving states. But during the first night or two in your place, you might find that your stuff hasn't yet arrived, or you haven't had the chance to unpack a lot of it. Having some basics items that are easy to access can be really handy.
Pretend you are going on a trip and pack your suitcase with clothing and toiletry for a few days to a week. (Maybe you are actually going on a trip if you are moving to a different state!) Do the same for your kids. This will take some pressure off of unpacking clothing and bathroom items right away.
Also think about some basic items you might need for the kitchen and bedrooms. Maybe a set of sheets/blanket/pillow for each bed. And a set of plates, cups, bowls, and silverware for each member of the family to use as you unpack. Also consider putting some basic cooking items like a pot and frying pan in the box of must haves.
Eating out for every meal can be really spendy, so having those basic items in your kitchen can give you more options for quick and easy meals until you are unable to access more of your stuff.
Consider using a moving pod.
Gone are the days when a big U-haul or your neighbor's truck are the only moving options. Moving pods have become very popular, and for good reason.
Pods are delivered right to your front door from the company. You can then pack at your own pace and when you are ready to move, the company will come get the pod and move it for you. If you are just moving across town or a couple hours away, they will deliver it the same day.
If you have to wait to move into your new house, they can store the pod for you until you are ready to have it delivered. Or they can also move it across country for you and have delivered to your new location. This can be a great option instead of having to rent and drive a huge rental truck.
Even if you are only moving across town, pods allow you the extra time to pack and unpack so you don't feel like you have to pack everything into the U-haul and unpack it the same day or within a couple days. This can certainly help with the stress of your move.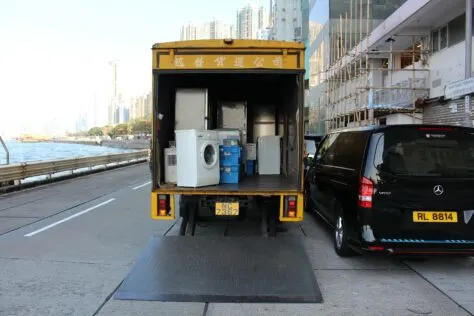 Take your time unpacking and settling in.
Don't feel like you have to have everything put away and in its place the moment you move, especially if you are also trying to work full-time and take care of kids on top of everything else. You can set small goals, like unpacking a few boxes every evening, or trying to complete one room over the weekend. Try not to stress yourself out with this process.
The same goes for if you need to buy any new furniture. Allow yourself to take your time and shop around to find what you really like. You don't have to buy the first thing you see.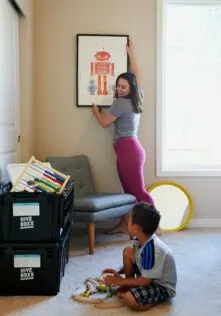 I hope these 5 tips will help to make your move go more smoothly. Good luck, and don't forget to change your mailing address with the post office! 🙂