In the last six years, I have moved my family four times. The last three times with young kids. When I was a young single adult moving meant throwing my clothes in garbage bags, my few pieces of furniture in my dad's truck and hitting the road. Moving a family of four is a whole different experience. And with each move, I've gotten better at packing and organizing for a smooth transition to our new home. To share what I've learned, here are five ways to stay organized during a move.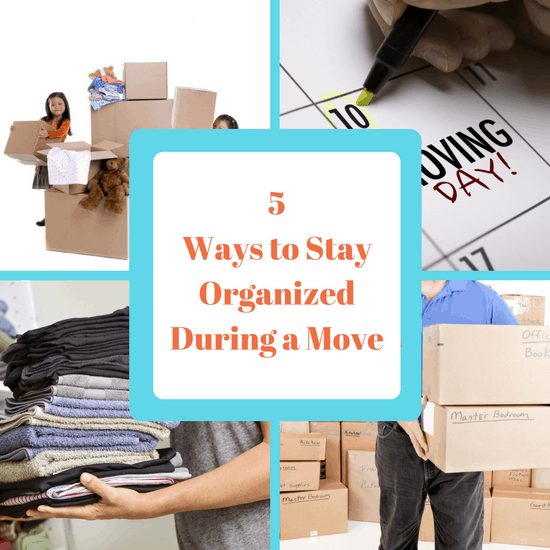 5 Ways to Stay Organized During a Move
This post may contain affiliate links. As an Amazon Associate I earn from qualifying purchases. For more information, see our disclosure.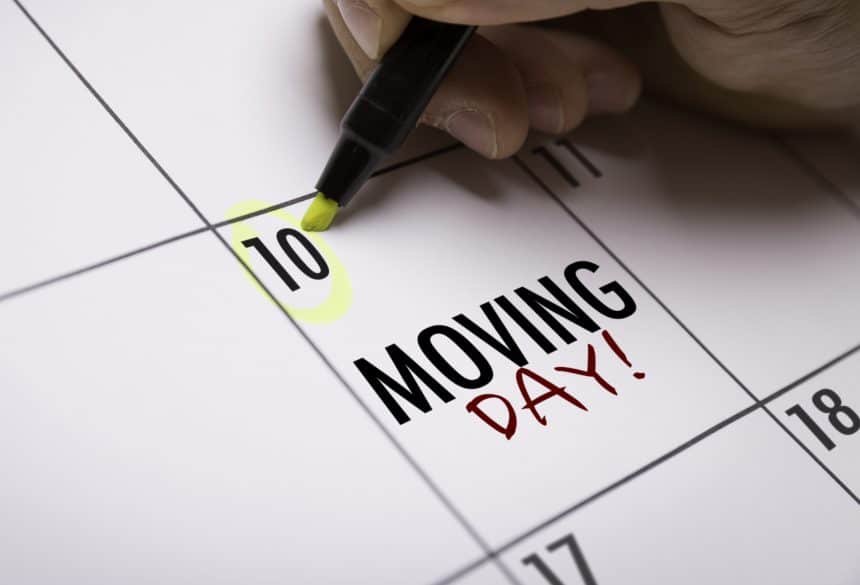 1. Plan Ahead
Planning ahead may seem obvious but more than once I have found a moving day sneaking up on me without my being fully prepared. I want to help you avoid that with these pre-planning must-dos.
Book Your Movers
If you plan to schedule movers, make the call as soon as you know your moving date. If you're planning to enlist family and friends, give them as much notice as possible. You don't want to be looking around on moving down and finding out it's just you, your spouse, and your kids as the moving crew.
Stock Up on Supplies
Before you begin packing you need to gather supplies. Figure out what you need to pack up your household. Moving boxes are probably a must. But you may also need packing tape, a label maker and labels, a furniture dolly, garbage bags, and other supplies. Running to the store in the middle of a move can be a huge inconvenience. You'll be glad you planned ahead.
Prepare Your Kids for Moving Day
For babies and toddlers, it is probably a given moving day will be easier if you have childcare. But even if your kids are school-aged and able to help with the move, consider how much packing, unpacking, and general work they can handle in one day. Especially if they are experiencing some emotional stress around moving.
Can you arrange a play date or an activity for part of moving day to give them a break? Or have some new activities or toys to keep them busy while you unpack? Consider your kids' needs and what might make the day easier for all of you. If they are spending moving day helping out make sure to plan regular breaks, snacks, and meals. Trying to work out childcare and kids' meals on the fly mid-move is a recipe for chaos.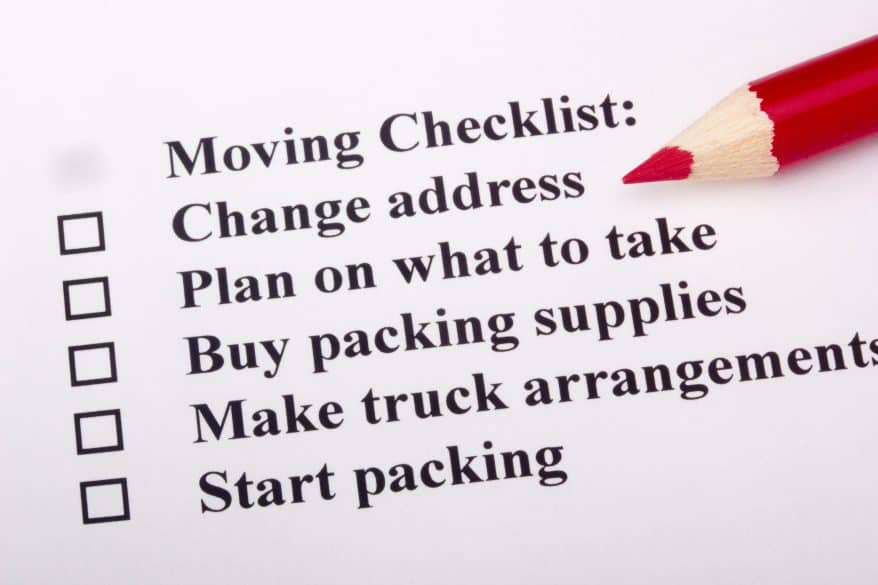 2. Printables & Lists
A to-do list is a must for an organized move! Don't put pressure on yourself to remember everything, write it down. A simple notebook and pen or list making phone app can be a lifesaver when trying to stay organized during a move.
If you're looking for something more detailed than a simple list of to-dos, search online for a printable that can help you stay organized during a move. Here is one of my favorites.
A good moving checklist will have a to-do list, probably broken up and organized by date. And there should be space for making notes and storing important contact information. A detailed checklist can make all the difference when it comes to staying organized during a move.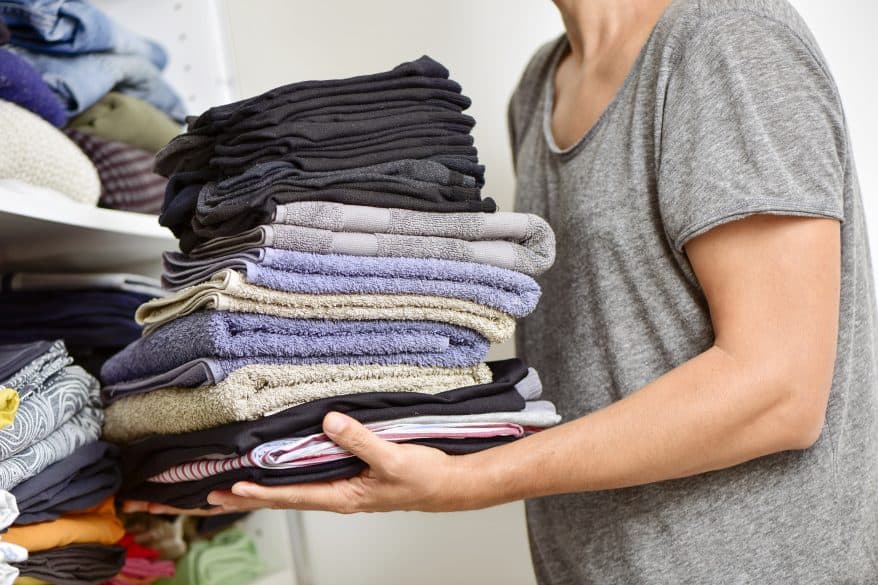 3. Declutter
Packing and unpacking a house is tiring physical work. Make sure you're not wasting energy on things you don't plan to keep. Moving is a great time to declutter and donate items you no longer need or want. As often as we've moved, I've found myself moving boxes from one house to the next that were never even unpacked from the previous move. What a waste of time! I finally realized these were clearly items it was time to let go of.
Streamline the moving process as you pack by organizing as you go and setting aside items you plan to throw away or donate. You'll never have a better opportunity to sort through your belongings then when you're emptying out one house and moving things into another. Make the most of it and keep only what you truly need and love.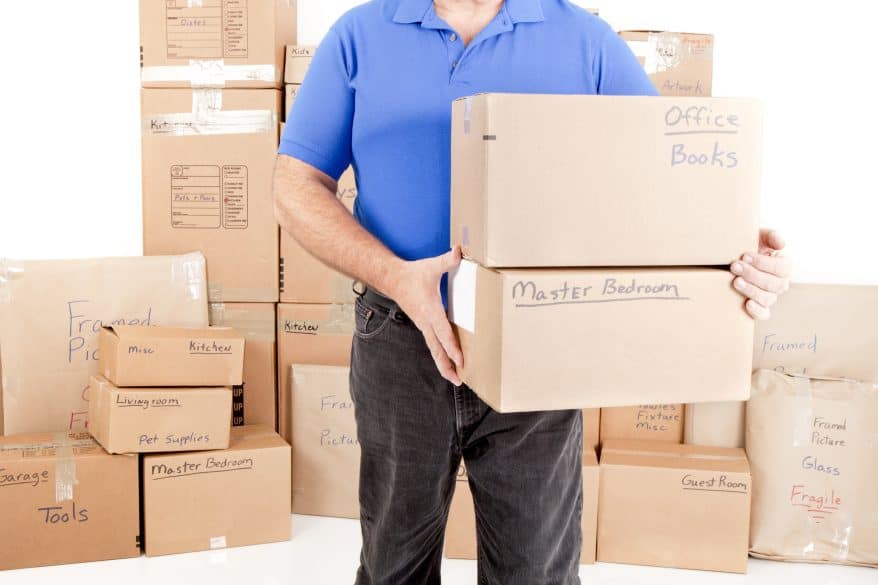 4. Label, Label, Label
No one wants to arrive at a new home and be surrounded by unlabeled boxes with no idea where to start. Labeling is crucial when it comes to an organized move. But a random scrawl of "kitchen stuff" across the top of a box isn't enough if you want to truly stay organized during a move. Detailed labels are a must.
What's in the box?
Label each box with its exact contents. I like to purchase large square label stickers. I write the room the contents came from at the top and below a brief list of exactly what is inside. You can also attach a piece of paper to each box with packing tape if you prefer. But make sure the contents is noted. When you get ready to eat your first few meals in your new home you'll be glad you don't have to open six boxes of "kitchen stuff" to find exactly what you need.
Pack Like Items Together
It may save space to pack every box to the top with anything that will fit inside. But if you're trying to stay organized during a move it is important to pack in an organized way. Put like items together in a box. Books together, plates together, appliances together, will all make unpacking much easier. Think of the hassle of unpacking your kitchen boxes if you have three plates in every box because they happened to fit that way. Packing like items together will save your sanity when it comes time to put your new home together.
Room By Room
Both packing and unpacking will be more organized if each packed box only contains items from one room. Packing room by room and clearly labeling each box allows you to move your boxes right into the room where they will be unpacked. I find this method useful for unpacking. I move through the house setting up one room at a time to keep things organized. This prevents me from leaving any rooms half unpacked when distractions come up. Or leaving boxes in the wrong room for weeks while I search fruitlessly for the contents.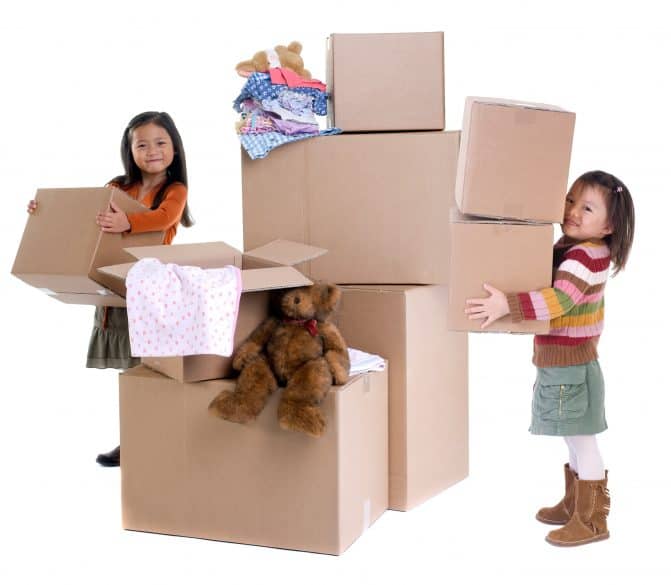 5. Pack Last and Open First
One of the most important reasons to stay organized during a move is so that you and your family have access to the essentials both before, during, and after your move. When you make your moving checklist, be sure to make a list of the items you need access to throughout the move or immediately upon arrival at your new home. These items should be on your "pack last, open first" list.
Set aside a box or two to load with anything you can't pack ahead of time because it's still in use. Or the things you will need as soon as you arrive. For me, this is typically food, especially refrigerator and freezer food. And toiletries, medications, clothes, and purses, coats, wallets, and similar items. Your list may look different than mine. But it's important to have a plan for accessing these items throughout your move between homes.
An Organized Move
Having been through so many moves in the past few years I can tell you staying organized makes all the difference in a smooth transition into a new home. I hope you can use these tips to stay organized and stress-free during your next move.