Fall is the perfect time to get back to routine for the school year. If you're ready to get your family started on a back to school schedule that works, a morning and evening routine is a great place to start. Routines can save you time and stress when it comes to getting everyone out the door on time and in a good mood each school day.
Check out these tips for creating morning and evening routines to get you off to a good start this school year.
Back to School Routine Ideas
This post may contain affiliate links. As an Amazon Associate I earn from qualifying purchases. For more information, see our disclosure.
Need some help coming up with your back to school routine? We have the ideas and tips you need for an easy transition.
1. Determine How Much Time You Have
The first step to creating great morning and evening routines is determining how much time you have. You can't squeeze three hours of activities into the one hour between when you wake up and when you take your kids to school. So don't try.
Consider what time you need to leave the house in the morning. Then determine what time you would like to wake up. How much time does that give you? And is it enough?
For the evening, think about what time you get home and what time you and the kids need to get to bed. That is the window you have to work with.
2. Make a List of Tasks
Although you'll want to make separate lists for morning and evening tasks, there are some tasks that might fit on either list. And you can look at your available time and decide where it fits best. This would include things like packing school lunches and exercising.
If you have more time in the morning it might make sense to put lunches together then. If your morning routine is short on time for the required tasks, move packing lunches to your evening routine.
Other tasks to include in addition to the usual brushing teeth and getting dressed are things like picking up toys before bedtime, picking out clothes, packing backpacks, and checking homework. Don't leave anything out that you want to become part of your routine for the school year.
3. Setup Your Morning and Evening Routines
Take your list of tasks and your schedule for when you'll go to bed, wake up, leave for school, etc and use them to create a morning and evening routine.
The goal of this routine is to save you time and stress. Be realistic about how much you can accomplish in the time you have.
Your evening routine can start right after your kids get home from school, which is something I recommend. Or you can focus on only bedtime routines if that is where your family needs help.
The beauty of routines is that they become a habit. You don't have to think about (and are less likely to forget) to do things that are part of your set routine. And you save time because no one is standing around trying to figure out what they need to be doing.
4. Create a Visual Routine
Once you've created your morning and evening routines you need to make them into a visual. Planning to keep it all in your head isn't going to work when there are multiple family members involved. Particularly when you have children.
Consider creating a morning and evening checklist or daily routine chart. You can make your kids chore chart fancy with magnets and pictures. Or a simple list on notebook paper. But do create a visual to keep you accountable and make sure everyone in the family is on the same page.
If you have young children consider involving them in creating a visual for their routine. It will make a fun project and help you gain cooperation with the new routine.
5. Review Your Routine as a Family
Your morning and evening routines should include everyone in the house. Once you have a plan for your routines, take the time to go over them with your family.
Kids love knowing what to expect. Go over with them what the routine will be and what is expected of them in terms of completing it each day.
Then post your visual routine somewhere everyone can see it as a reminder to the entire family.
Sample Routines for Kids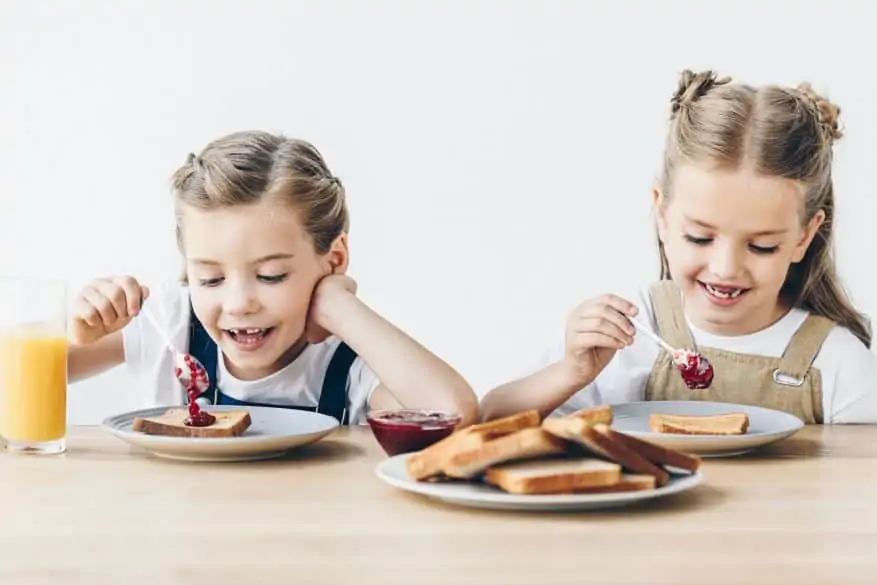 Morning Routine
Afternoon/Evening Routine
4 pm Off the bus from school

Snack

Homework

5 pm Parents Cooking dinner while kids play

5:45 pm Toy cleanup

6 pm Family Dinner

Lay out clothes for the next day

Kids bath or shower

Put on pajamas

Brush teeth

Book or quiet time
Routines Set You Up For Success
Having a morning and evening daily routine chart for kids has benefits for the whole family. Both you and your kids will be more productive. And your kids will feel more prepared for the day ahead. When you have a plan for your day, things go more smoothly. When getting back to routine, there is less need for parental nagging and less tension in the house.
Take some time before the school year starts to create morning and evening routines that set your family up for success.