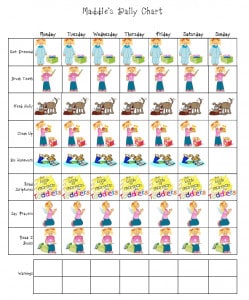 I made a brand new chore chart, or more of a task list for my daughter this past weekend. What can I say, I'm getting into an organizing mood. Tomorrow I'm going to tell you all about what I did to our play area. It's AWESOME!
Anyway, I've actually been wanting to do this chart for a while, and kept putting it off. I finally buckled down this weekend and got it done. First, what I did was think of every thing I wanted her to do during the day each day. Your child's list will probably be different than mine. Things were getting forgotten almost daily, and I wanted it to stop. Also I wanted to come up with a good way for her to earn money.
This post may contain affiliate links. As an Amazon Associate I earn from qualifying purchases. For more information, see our disclosure.
You can see the tasks I've included for my 5 year old daughter are Get Dressed, Brush Teeth, Feed Dog, Clean Up, Do Homework (but not on Sunday), Read Scriptures, Say Prayers, and Read 2 Books on her own. The reason I've done images in each square is because her old task list only had the squares, and she would be confused as to where to check things off for each day. This way she just checks off the picture of the thing she did. It's working MUCH better than the empty squares in the chart. I print a new one off every week and she just puts the checkmark on it when she has completed the task.
If she completes all of her tasks (and has no warnings during the day) she gets 3 coins (you can pick pennies, nickels, dimes, quaters, media money, whatever). If she gets one warning during the day then the coins are reduced to 2, 2 warnings and she only gets 1 coin. If she gets in trouble after 2 warnings, then she won't get any coins for the day.
Not only is it teaching money management (because at the end of the week or month we'll separate all of her earnings into Savings and Tithing and Spending money), but it's teaching work, and good behavior has rewards. Plus it helps her organize her day into the tasks she needs to accomplish. I'm really loving this new chore chart, and think it's going to work out perfectly!
What do you think about it? Would you have any interest in a custom one for $5.00?