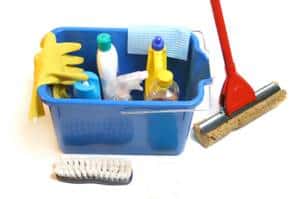 We have a fairly large family. With seven people living under one roof, if we don't stay on top of chores our house can go from tidy to tornado at the drop of a sock. Doesn't everyone like to have a fairly clean and mostly organized house? When my house is cluttered, my brain feels cluttered.
This post may contain affiliate links. As an Amazon Associate I earn from qualifying purchases. For more information, see our disclosure.
Aside from saving my sanity and conserving my energy there are other perks to assigning out some of the household chores. My kids are learning how to clean up after themselves and how to be contributing members of society. Someday their spouses will thank me. It will always be easier to just do everything myself or hire it out, and the end result may look similar, but the underlying lessons wouldn't have been learned.
Here's how we do it around here:
Each child has a basic list of responsibilities and they are posted in a prominent place. (Side of the fridge.)
Kids 1-4 have an additional job that rotates on a weekly basis.
Those jobs are:
Dishes,
Main Bathroom,
Sweeping/Mopping the Kitchen
Living Room pickup.
The oldest three are also responsible for the upkeep of one bathroom.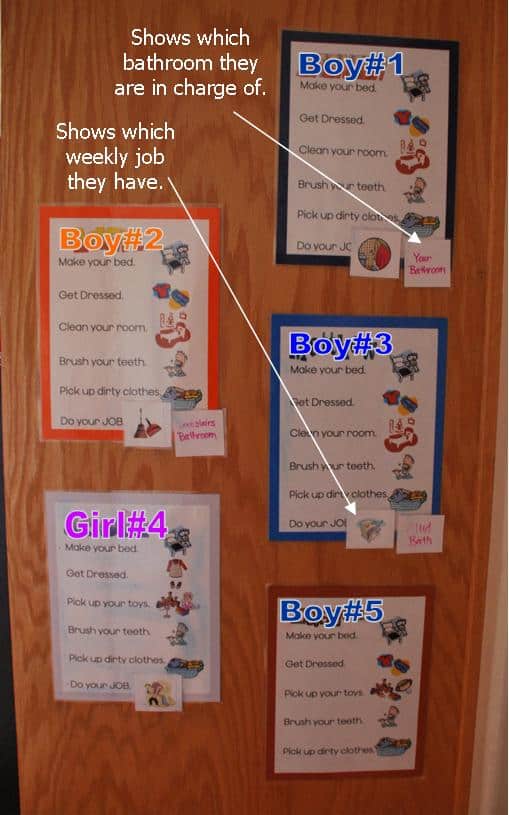 I made the charts using clipart from my computer. They are laminated so sometimes the kids use a dry erase marker to check off the things they have completed.
We have tried several fancy job charts and systems in the past, but this simple one has by far been the most successful. We have been using it for at least 2 years. And while it doesn't necessarily cut down on the whining and complaining, it has proven to be effective in making sure my kids know which jobs are theirs, keeping me from having to remind them over and over again. If they ask to go somewhere, all I have to say is, "Did you finish everything on your chart?" And just like that, they roll their eyes at me and get back to work.