What is the main purpose of doing chores? In my opinion it is less about keeping the house clean and more about unifying individual people into a home. When everyone in the home is pitching in and doing chores everyone is united in a common cause, everyone is taking responsibility for their environment, and everyone has a part of the home that they can take pride in. It will not always feel this way, especially when you have to ask your 16 year old to pick up the living room again or when you have to remind your husband to vacuum for the ten millionth time. However, as my family has kept this purpose in mind we have moved from people who share a house, to people who share a home, to a family.
The purpose of a chore chart:
So what is the purpose of a chore chart? A chore chart is supposed to show you what needs to be done, what has been done, and who has done what. The chore chart that we have right now needs some work. Our chore chart is divided into daily chores, weekly chores, and that weeks dinner menu with a spot at the bottom for us to jot down a quick shopping list. Its color coordinated, every person having their own color, and that's basically it. In a pinch something like this can totally work for you but it has stopped working for us. For one thing, two of the people that are on that board don't live here anymore. For another, there is no place to check off the chores that have been done. Last but not least, I would like a place for weekly family goals and possibly a family calendar.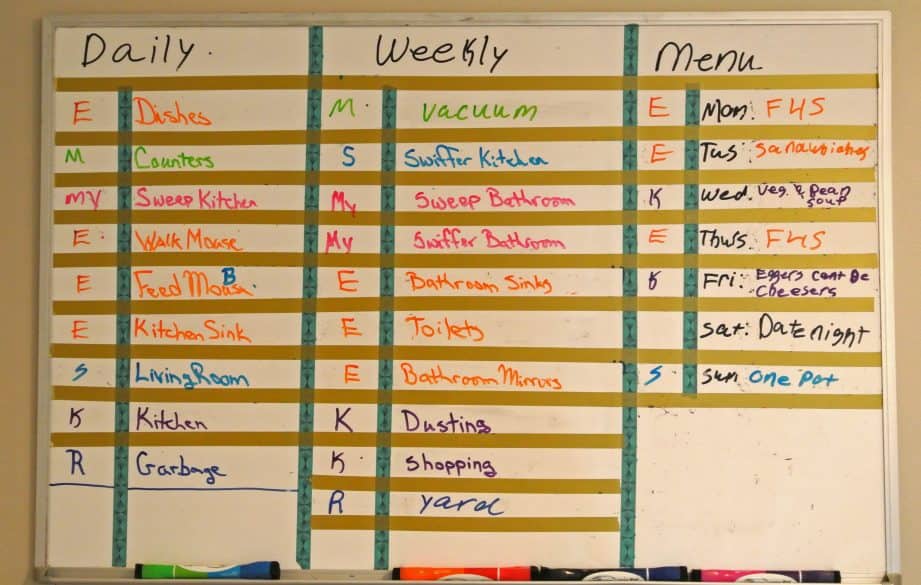 There are tons of chore chart ideas on the internet and loads of chore charts you can just buy, however, I suggest (if you have the time and means) you make your own. Every chart is different because every family is different and will have different needs. In other words, no chart is perfect for everyone. If you have the time, think about what you need and what you want before designing and making your own. If you have an 8 year old, a 6 year old, a 3 year old, a full time job, a dog that you need to walk, dinner you need to make, and a book group that you still need to read the book for I would suggest you go to target and buy the cute one I saw in the clearance section or print off a template from online and make it work.
In my home we have 3 adults (my mom, my husband, and me), 1 dog (named Mouse), and 1 baby (named Fox). We also have family that come for extended visits, and in my home if you are here for more than 10 days you get a chore. Everyone in the house also cooks one, or at least helps prepare one dinner in a week. My husband and my mom both have very demanding jobs which makes it harder for them to do daily chores, but both can still do weekly chores just fine. So if you take all this into consideration my chore chart needs to have some flexibility. I need the ability to assign chores to people who will only be in our home for a month or two and then redistribute when they are gone. My mom and my husband need the ability to ask for help and trade chores if they need to. We need the ability to see who is cooking what on any given day that week. We also need to see clearly what we have done and what we still need to do. Finally, we also need a spot for our weekly goals and ideally a family calendar. This is what I'm talking about when I say think about what your families needs are before you start making one of these things.
When I first sat down with this project I felt a little overwhelmed, then I sketched out a solution.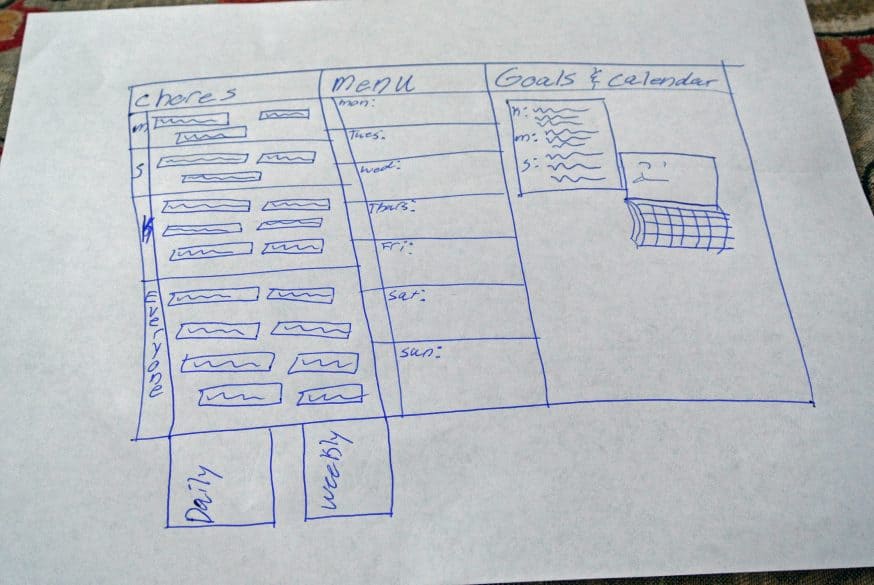 I made a list of what I'd need.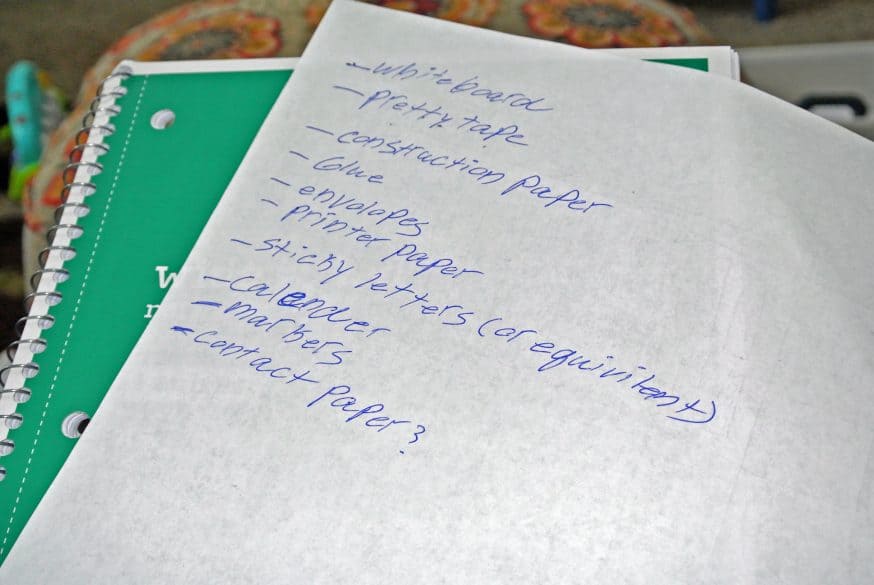 For those of you who can't read my badly spelled and badly written list here is what I needed to make the chart with ** next to what I needed to get from the store:
Whiteboard

Pretty tape

Construction paper **

Glue

Envelopes

Printer paper

Alphabet stickers (shown "sticky letters")**

Markers

Magnetic tape**
There was originally "calendar" and "contact paper" on this list to, but I decided that i could get what i wanted without those two items.
After I got back home and I laid out all my supplies I figured out that my design was actually going to be pretty easy to assemble. I started by typing out two lists of chores, a daily list and a weekly list. I printed and cut the lists and glued each chore onto a piece of construction paper, blue for daily chores and orange for weekly.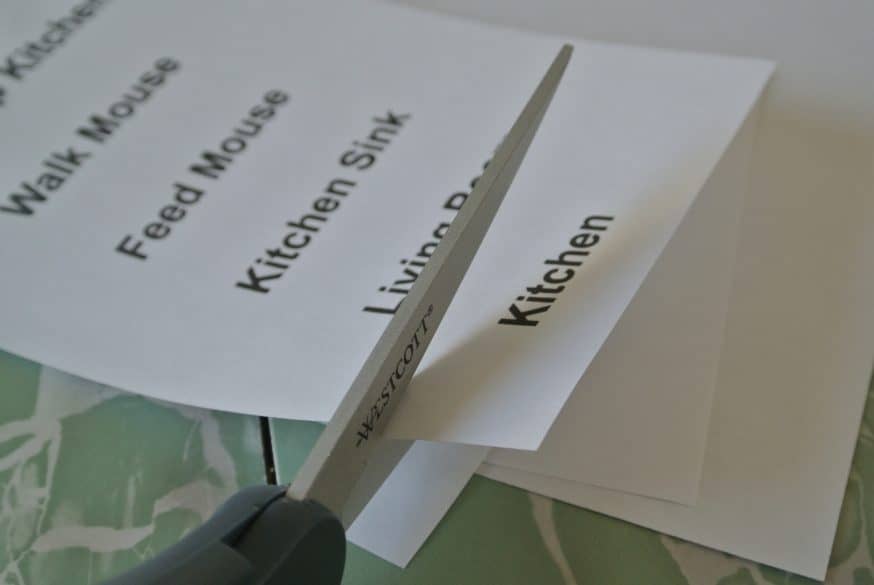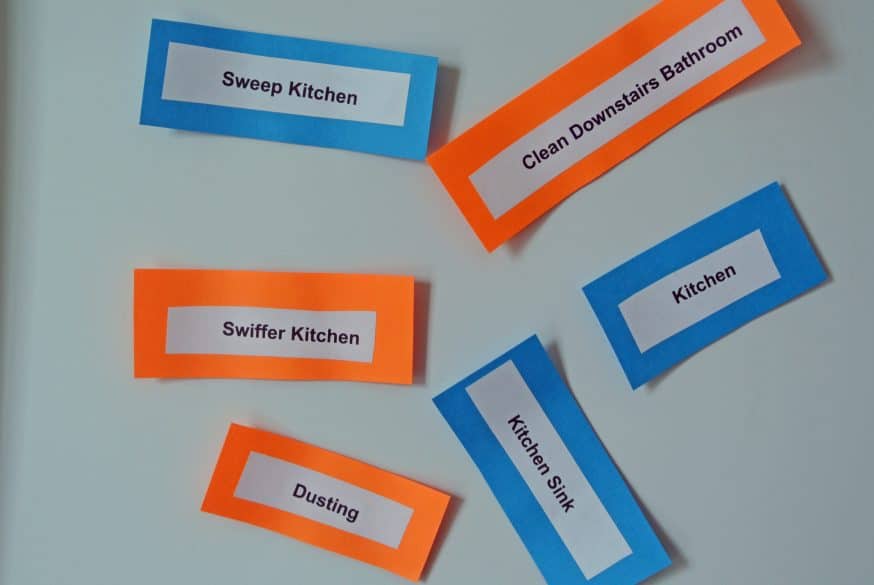 After this I divided my whiteboard into three sections, one for chores, one for menu, and one for goals. Then I divided the chores section into 4 parts, a spot for my husband, my mom, me, and a spot labeled "everyone" for chores everyone can do. Then I divided the menu section into the days of the week. After this I labeled all the sections, taped two manila envelopes to the back of the board, hung it up and put the finishing touches on.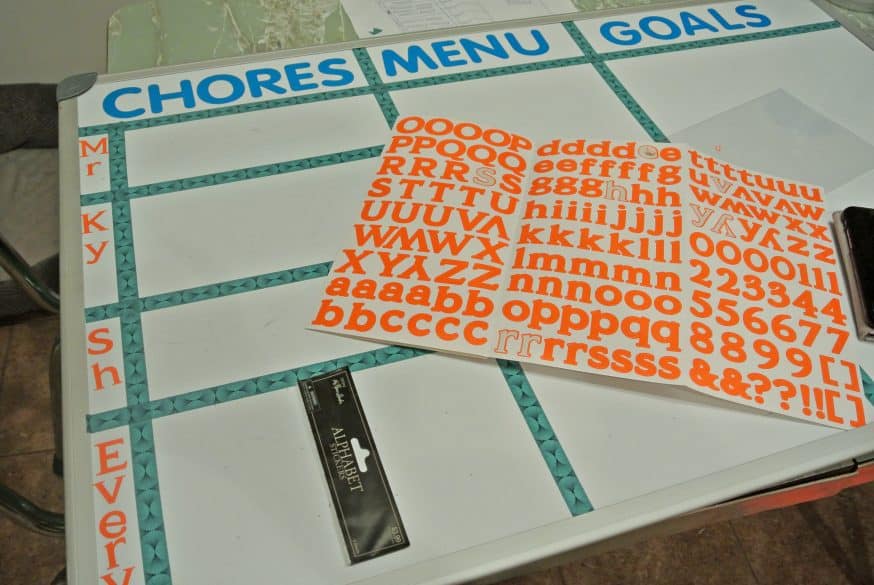 Here is a quick explanation about how our chore chart works. Daily chores are blue, weekly chores are orange. Each of the chore doing people in the house has a section on the chore board, the chores that they need to do are in their section and once they have done them they take them off the board and put them in corresponding envelopes. This board also has a menu space for the week's dinners. If you do something like this you can either assign everyone a color or write names or initials next to the meals they are responsible for. I went for the color coordinated approach because I like it! Instead of putting an actual calendar in the Goals section I decided to just put the weekly goals up and keep a large amount of white space, this way we can still put important dates, family notes, shopping lists, or whatever we need.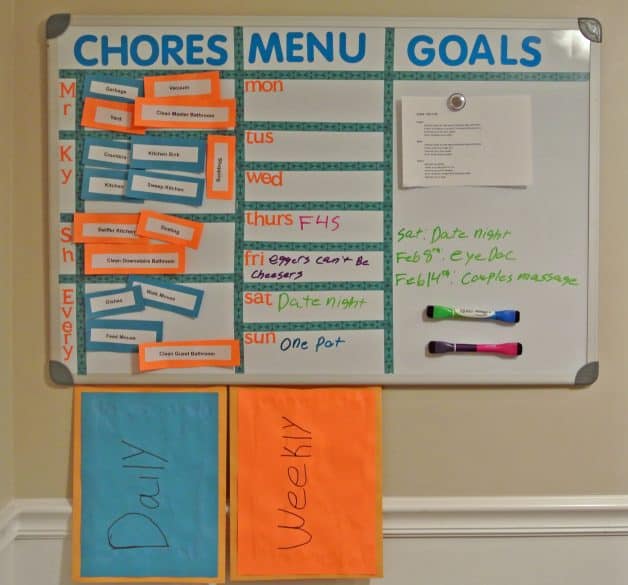 Things to keep in mind if you decided to go this direction, ether get smaller envelopes or cut slits into them so fishing the chore slips in and out is nice and easy. Also, if you have kids who are still learning to read consider putting pictures on the chore slips.