Emergencies come in all forms when you're a mom. From scraped knees to hurt feelings to whiny kids when you need a moment of silence – these are all emergencies in their own ways. The best way to deal? Be prepared. If you like to take family car trips like we do, a well organized emergency kit is an important part of hitting the road. I'm not talking road flares and spare tires here, more the family lifestyle stuff. I've put together a complete kit with all the necessities and it was as easy as a quick trip to the dollar store and an Amazon order.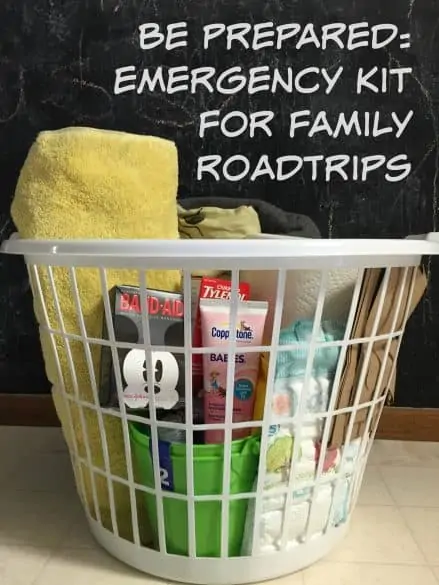 This post may contain affiliate links. As an Amazon Associate I earn from qualifying purchases. For more information, see our disclosure.
Here's what is inside.
Bandages and children's acetaminophen. These are great to have on hand and the standard, obvious items in an emergency kit. Because you never know when one of your littles is going to need it.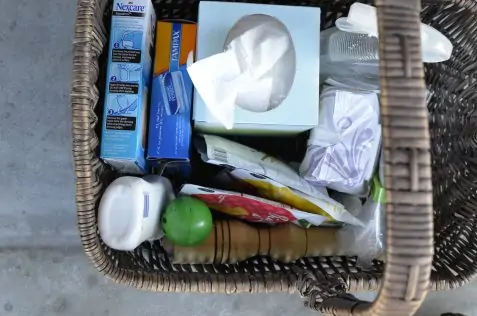 Sunscreen. Another pretty standard, obvious item. My daughter has a little scar on her face that we try to put sunscreen on a few times a day and for us having a stick or small tube on hand is helpful if we forget otherwise.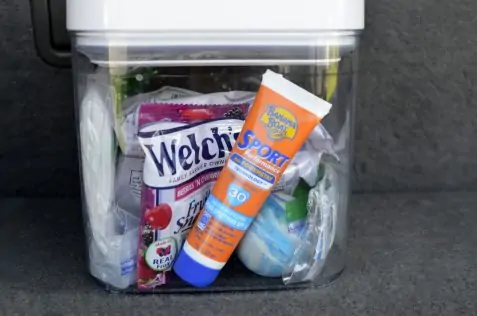 Blanket and a towel. We often find ourselves wanting a blanket to sit on for a quick bite at a park – or end up and some outdoor event and looking for something to sit on. My kids are also quite messy and often like to find water and mud to play in so the towel is important. Also great to lay down and change a diaper just about anywhere. I just grabbed an old one we already had.
Bags. I put two types in my kit. Plastic bags that are meant for on-the-go dirty diapers (they stop the smell from spreading – if you know what I mean. I also put a few brown paper sacks in the kit so that the kids can use them to collect things on hikes if they want – or if there is something else that needs to be put in a bag – but doesn't need the smell protection. 🙂
Tissues and paper towels. Runny noses and kids. They seem to just start out of nowhere so for me tissues are a no brainer. The paper towels are great for quick cleanups or on the go napkins.
Hand wipes and/or hand-sanitizer. I personally opt for both – because the hand wipes can have a lot of uses and hand-sanitizer is just easy (and I think the kids prefer it.) We get the Wet Ones hand wipes via our monthly Amazon Subscribe and Save order so we always have some around and it is easy to refill. It makes it easy to clean hands, face and anything else on the go.
Bucket (medium size). This one is a recent addition. My daughter got sick on a road trip recently and luckily we were coming back from the beach so we had a bucket on hand in case she needed to throw up while we were driving in areas we couldn't just pull over at. Now I've bought buckets just to keep in this kit.
Gallon milk jug filled with water and spray mister bottle. This is not for drinking. This is for pouring over muddy feet before they get back in the car, or using the spray mister to keep cool on a hike or day at the fair in the middle of winter. There are plenty of reasons you might want some clean water. I just want to add – please don't drink this water. When water is stored in plastic containers in the heat it is not good for consumption.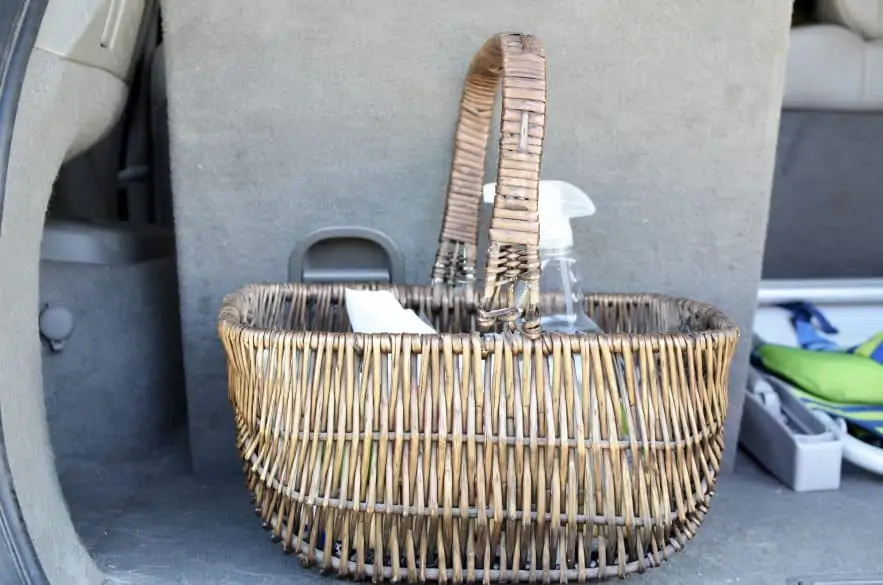 Extra diaper. Only really needed for those with really little ones – but sometimes you forget the diaper bag, or just forget to add diapers, or blow through them faster than expected. I always try and keep an extra one in the car.
A small new toy. I use little dollar store toys and books as rewards when the kids are really good or when they need bribing or some new distraction so we can just get through a meal. I keep one for each of the kids in this kit – in case I need it.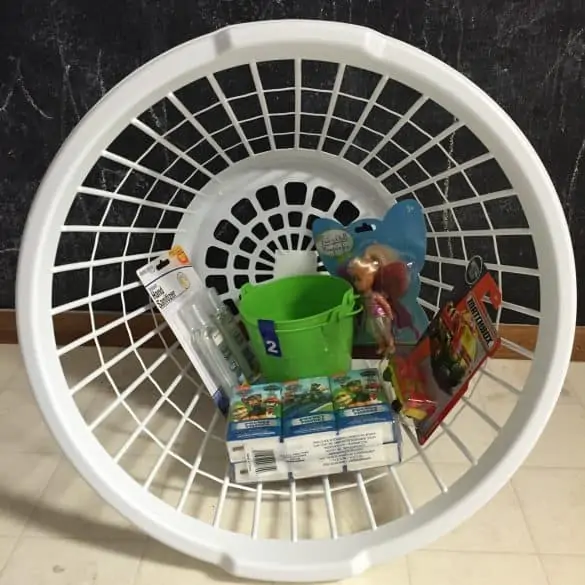 A handful of this stuff I got at the dollar store (see above picture) – the toys, the mister bottle, the bucket, the hand-sanitizer and the tissue in this case. I also got the big basket to hold it all at the dollar store but you could use a big bag, or a basket. But many of the other things might be available there too. I get hand wipes, bandages, paper towels, sunscreen and bags all from Amazon's Subscribe and Save program – so I had them on hand and they will be easy to refill as needed.
The whole project cost me under $20 and was assembled super quickly. Also as a side note, I'm not going to leave this in the trunk all the time – just put it in for road trips or longer outings (so the sunscreen and medicine isn't stored at a too high temperature for too long!)
Cheers to being prepared and having a stress-free family road trip!