If you're like me, you have a bad habit of spending hard-earned money on clothes you never end up wearing.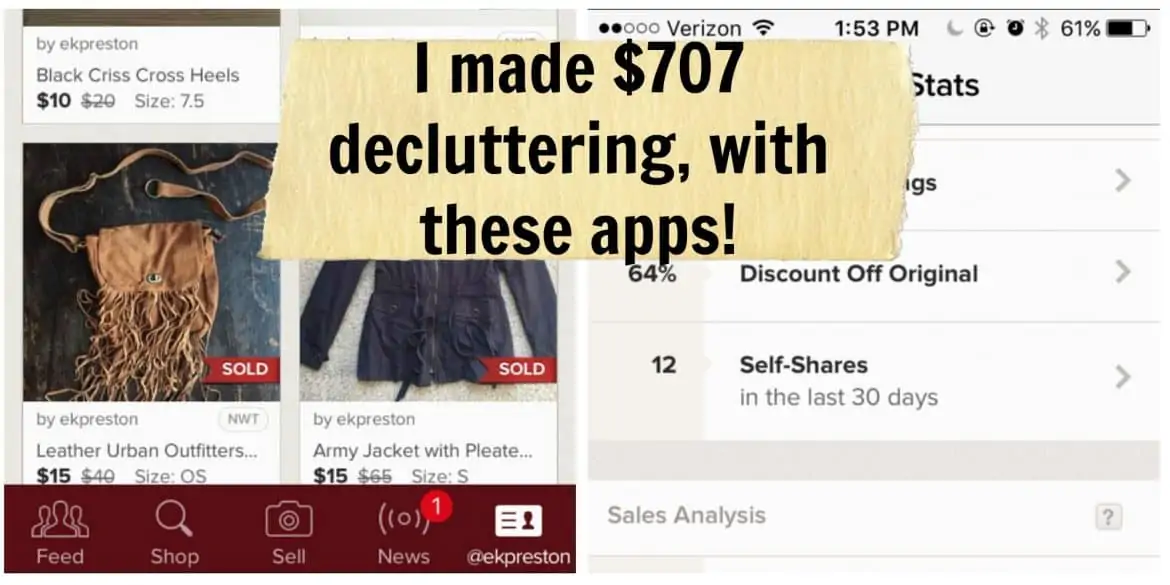 This post may contain affiliate links. As an Amazon Associate I earn from qualifying purchases. For more information, see our disclosure.
You're at Target for just the necessities, then BAM. The clearance section ambushes you! Before you know it, your cart is filled with ripped skinny jeans, a scarf that only matches one thing you own, and five knit sweaters. Nevermind that it's May and you won't even think about wearing them for another four months. Did I mention they were 50% off?
And just like that, you have a closet full of sad clothes with their tags still on and no storage space for anything else.
Luckily for you, I'm the queen of tackling out-of-control closets.
First, you have to declutter.
Be brutal about what you choose to keep. If it's stained or doesn't fit, toss it. If it no longer suits your style, toss it. If you don't wear it all that much, toss it. Focus on quality over quantity. Timeless cotton basics over trendy polyester.
I like to separate everything into three piles: Stuff to trash. Stuff to donate. Stuff to sell.
There are tons of ways to sell your clothes. I've tried most of them and Poshmark is one of the best. It lets you list your old clothes for sale, promote the listings, and stay in contact with potential buyers — easy! When an item sells, Poshmark sends you a shipping label and facilitates the transaction to keep both parties safe.
In a five-month span, I made $707 dollars selling 51 of my well-worn closet rejects on Poshmark. That averages out to about $14 an item – much better than the $4 Plato's Closet would have paid for a pristine Free People maxi.
Oh, and being the bargain shopper that I am, I even made a profit on some things. Are you convinced yet?
Here are a few tips to increase your selling success on the app:
Save valuable time by photographing all your items at once, then listing.

Follow a lot of people. Unlike social media, blind following on Poshmark is encouraged. You'll sell more stuff and give more women the opportunity to snag your old Madewell satchel.

Don't trade. I mean, you can — but it invites a lot of hassle because Poshmark doesn't support it.

Take clear, flattering pictures. It's important you don't misrepresent your stuff, but do your best to make it look good. I like to lay white foam board under items and photograph in natural light. Modeling is effective too!

Regularly share your listed items with your followers. I like to do this once or twice a day when I'm actively trying to sell things. It only takes a few minutes and can happen on your lunch break or while the babies are napping.
Here's a look at my personal stats and some of the items I've had luck selling.
Now that your closet's emptier and your wallet's heavier, we organize!
I have a little Monica Geller in me, so I don't dread this part the way some people do. In fact, I do it for fun sometimes. It's true.
To get started, go ahead and separate your tanks from your winter coats from your comfy tees from your skirts. This helps so much when you're trying to put together an outfit and will highlight the areas in need of a deeper purge.
Enter Stylebook app.
Stylebook is a closet-organizing tool, unlike any I've seen – except maybe that one that Cher used in Clueless. It lets you keep track of your actual clothes and their value, put together outfits, and pack for trips. If you're familiar with Polyvore, it's kind of like that, but with items from your actual closet. By forcing you to be intentional about what you buy and keep, it'll save you tons of money and keep clutter down.
It's a little pricey for an app at $3.99, but is so worth it. I've had it for a couple months and still haven't tapped into its full potential.
Do yourself a favor, go download the apps, and get started!