I am a planner. I may be TOO much of a planner sometimes. I often spend so much time "planning" that the "doing" ends up not happening frequently.
This year in the Church of Jesus Christ of Latter-Day Saints, the members are reading and studying the Book of Mormon in our Sunday classes. Since I just finished reading the Book of Mormon again in my personal studies, I thought it was a great opportunity to start the book over at the beginning of January and follow along with the lessons that will be taught on Sunday.
This post may contain affiliate links. As an Amazon Associate I earn from qualifying purchases. For more information, see our disclosure.
Another goal that members of the church have is to read the Book of Mormon daily. As I looked over the schedule for the year of chapters that will be studied on Sunday, I noticed that not every week had 7 chapters to read. So reading a chapter a day would be out.
So, I searched the internet for a reading schedule that would allow me to read the Book of Mormon daily, but still follow the schedule of lessons in the Come, Follow Me manual.
The internet let me down. I could not find a single one! So, I took it upon myself to create one, and I'm offering it here for everyone for free! Go ahead and download it and use it. Sorry I'm not a great graphic artist, or else it would be much more cutesy.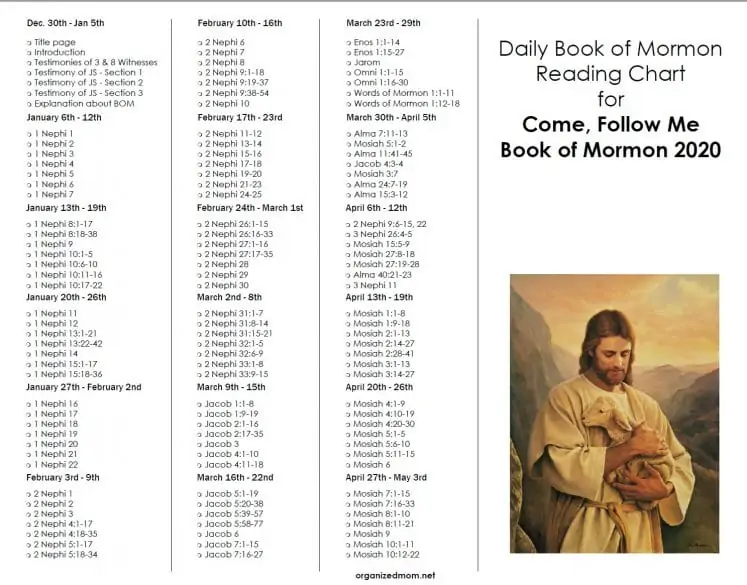 Let me know what you think! I hope you enjoy it.
Pin it to save for later too