Moving from a nursery to a "big kid" room is a huge step for toddlers and their parents. It signals the end of one phase of childhood and the beginning of another. Toddlers are able to express their opinions, wants, and desires (sometimes very loudly!) which can make decorating a toddler's room both fun and maybe a little challenging. These toddler bedroom ideas can help!
Decorating a room can be more expensive than anticipated. But there are ways to save money while still making your toddler's bedroom a fun and inviting place to be.
Here are some budget-friendly toddler bedroom ideas.
Decorate with wall clings.
This post may contain affiliate links. As an Amazon Associate I earn from qualifying purchases. For more information, see our disclosure.
Using wall clings is an easy and cheap way to provide a theme to a room without spending a ton of money. They can easily be changed out as your child's interests change. Do they really love a certain character or movie? Maybe they are obsessed with unicorns or animals.
You can find wall clings online or at craft stores like Michael's or Hobby Lobby. They are quick and easy to apply and come off easily when you want to take them down. And your toddler can help choose where to hang them!
Get creative with paint.
Painting is a relatively cheap way to change the look of any room. You can really get creative with paint. As your child grows and their tastes change, it is an easy thing to change as well. So have fun with it! Y
You can paint each wall a different color or paint the upper half one color and the lower half a different color. Or you could have it all be one solid color and paint something on the wall, like a rainbow. Paint stores sell smaller, cheaper sample sizes of colors so you don't have to spend a lot on paint if you choose to do a mural or image on the wall.
Another idea is to paint the wall a solid color that is fairly light and then splat different colors on the wall by flicking a paint brush. You can get all kinds of interesting patterns doing this, and your toddler can help you choose the colors.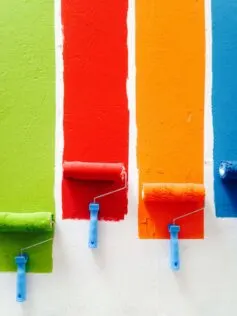 Make a fleece blanket for bedding.
You don't need to spend a ton of money on bedding when your kiddo moves from a crib to a toddler bed. Bedding with a licensed character theme can be a bit spendy.
One way to save money if you do want to create a room with a character theme is to make a fleece tie blanket using character themed material. Most fabric stores have a huge variety of fleece to choose from. You don't need to know how to sew or have a sewing machine to make one of these blankets. All you need is a pair of scissors and a ruler.
Here is a great video to show you how to make one.
Another way to save is to buy inexpensive solid-colored sheets that coordinate with your fabric instead of expensive character sheets.
Create your own artwork.
Even if you wouldn't call yourself an artist, this is something you CAN do! You can find cheap canvases and acrylic paints at the Dollar Store or any craft store. Try to find the kind of canvases that are stretched around a wooden frame. (They are usually about 1/2 an inch thick.)
Find a free simple image that you like and blow it up on a copy machine until it is about the size of the canvas. Then place that piece of paper behind the canvas, hold it up to a window and trace the image onto the canvas. No art skills needed!
You can use a black permanent marker to outline the image once it is painted. This is a lot easier than trying to create a thin outline with paint.
You can also have your toddler create their own artwork to hang up.
Have an art wall.
Most toddlers love to scribble and draw. If you have a little budding artist, one fun (albeit potentially a little messy) idea is to have a designated art wall. You can buy chalkboard paint and paint a portion (maybe a certain section or the bottom half) of the wall to create a large chalkboard.
As your child grows, you can use this wall for various things. Drawing of course, but also teaching them the alphabet, or numbers, or shapes. Or even different words as they start to learn to read. You can also play games like Tic-Tac-Toe or Pictionary.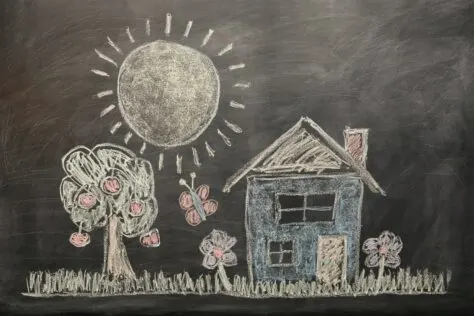 Find gently used furniture.
Brand new furniture can be ridiculously expensive. But you can often find gently used furniture still in great shape if you take a little time to look for it. Consignment shops often have a variety of furniture, and you can find some great deals on Craigslist or at garage sales, or on Facebook marketplace.
If you are in a local FB group for parents. you can post what you are looking for in there and possibly even do a furniture swap or some other trade to save some money.
Some cribs convert into toddler beds, and that obviously will save you some money if you don't have to buy a different bed. But if you do need to purchase a bed, I recommend jumping straight to a twin size rather than buying a toddler sized bed.
Your kiddo will eventually grow into it, and you can take steps to be sure they transition safely to it. One idea is to start with just the mattress on the floor. If they roll off, it won't be a very big tumble onto the floor. The other option is to have the bed at a normal height with the box spring and add a bed rail or squishy foam barriers that can slide under the sheet.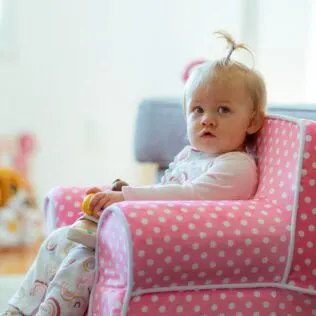 I hope these toddler bedroom ideas will save you some money as you help your kiddo transition from babyhood to toddlerhood. Enjoy this time of toddlerhood! It can be a rollercoaster, but it really will be gone before you know it. Happy decorating!