If you're a bullet journal addict like me, then you're all about finding your favorite things to write with in your bullet journal. There's really two categories of things to think about: bullet journal pens, and bullet journal markers.
Bullet journaling is all about allowing your creativity to flow free, so markers are an essential tool to help you with that. They add a pop of color to just about everything – lists, doodles, habit trackers, you name it.
This post may contain affiliate links. As an Amazon Associate I earn from qualifying purchases. For more information, see our disclosure.
So what are the things to think about when picking markers for your bullet journal? Glad you asked, because I've tried just about everything. Here's what you need to think about.
How to Pick the Best Bullet Journal Markers
First things first, let's talk about what you need to be thinking about to pick a great marker for a bullet journal.
Bullet Journal Paper Thickness
It is important to think about how thick the paper is in your bullet journal, because if you've got a journal with thin paper, some markers may bleed through the pages, or you may be able to see artifacts on the other side of the page.
Do you use the back and front of each page in your bullet journal? This is something to think about if you do.
What I like to do is test markers on the back page of my bullet journal notebook, that way I know exactly what I am in for before I go crazy with a bullet journal spread.
Thickness of Marker
The other thing to think about is how thick the lines of the marker are. Personally, I almost always prefer thin lines, but this is not true of everyone. There are lots of great options out there that make both thick and thin lines.
Type of Ink
There's all different types of inks for bullet journal markers. One of the most popular is water based inks, and you can do some interesting things with them. The downside is that they will run and smear if they come in contact with water.
They also can smudge depending on how you write with them. This is another good test to do on the back page of your bullet journal…but smudging and blending can be a really cool effect to add to your layouts as well.
There's a tradeoff for more permanent inks that won't smudge, like a sharpie, they often bleed through pages depending on their thickness.
Colors
When it comes to the markers I'm going to show you, many of them have a ton of color options, bright colors, mild colors, assorted color packs, you name it. You can even buy the perfect colors individually in any places.
Honestly, focus on a marker you like to write withe the most and then can find the vivid colors you like – if that is what you are looking for of course. For me, I focus on smooth writing even with bullet journal makers, so that's important to me over what color it is.
Awesome Markers for Your Bullet Journal
Now let's take a look at some amazing markers for your bullet journal. These are all markers I have personally tried and loved.
Here is how all of the markers write on thinner 80gsm paper – the bullet journal used was a Leuchtturm1917.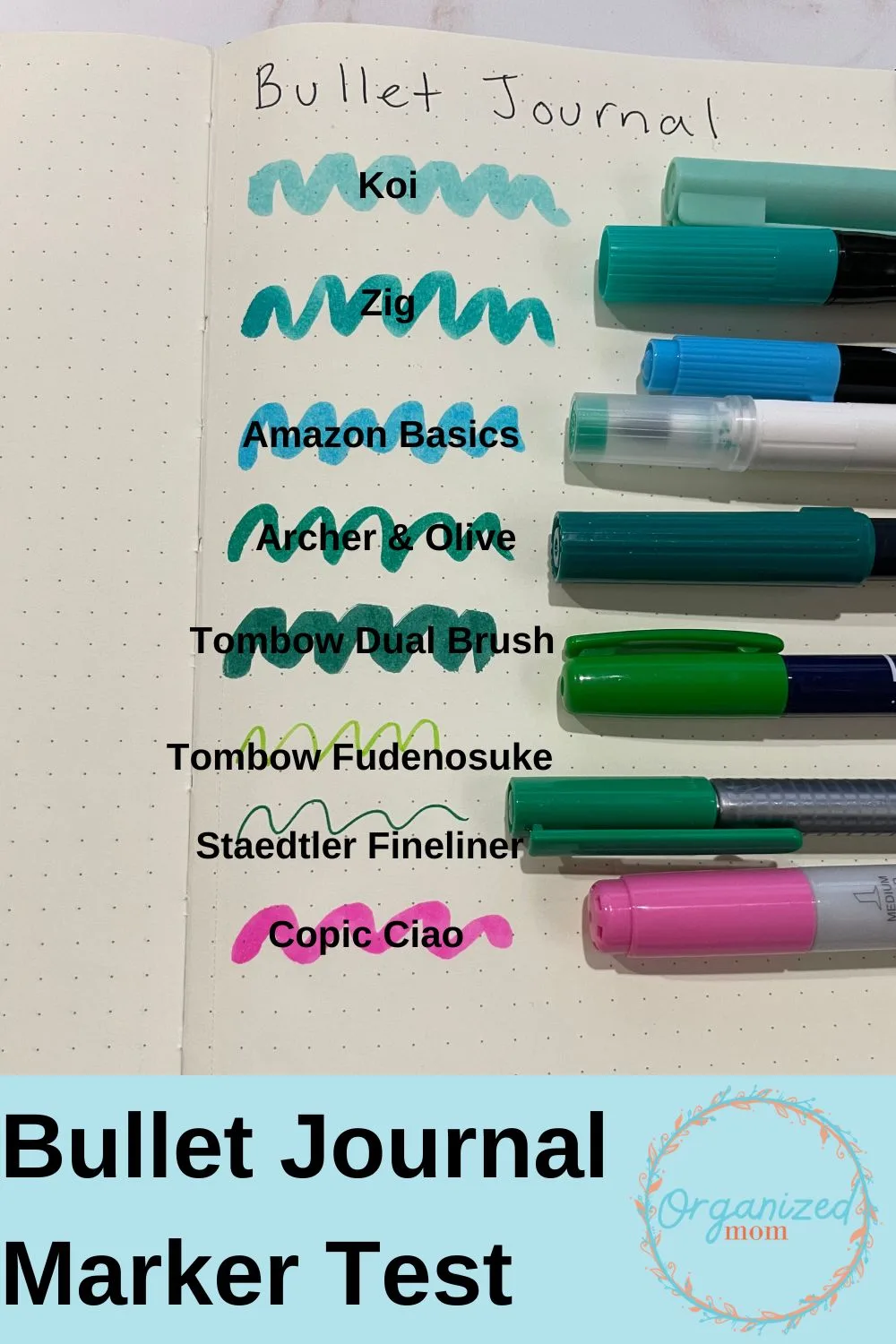 These are all of the markers I use on a daily basis, so let's see what the back of the page looks like. Please keep in mind this is 80gsm paper – aka the THINNEST around so this is the worst case scenario for markers bleeding though pages.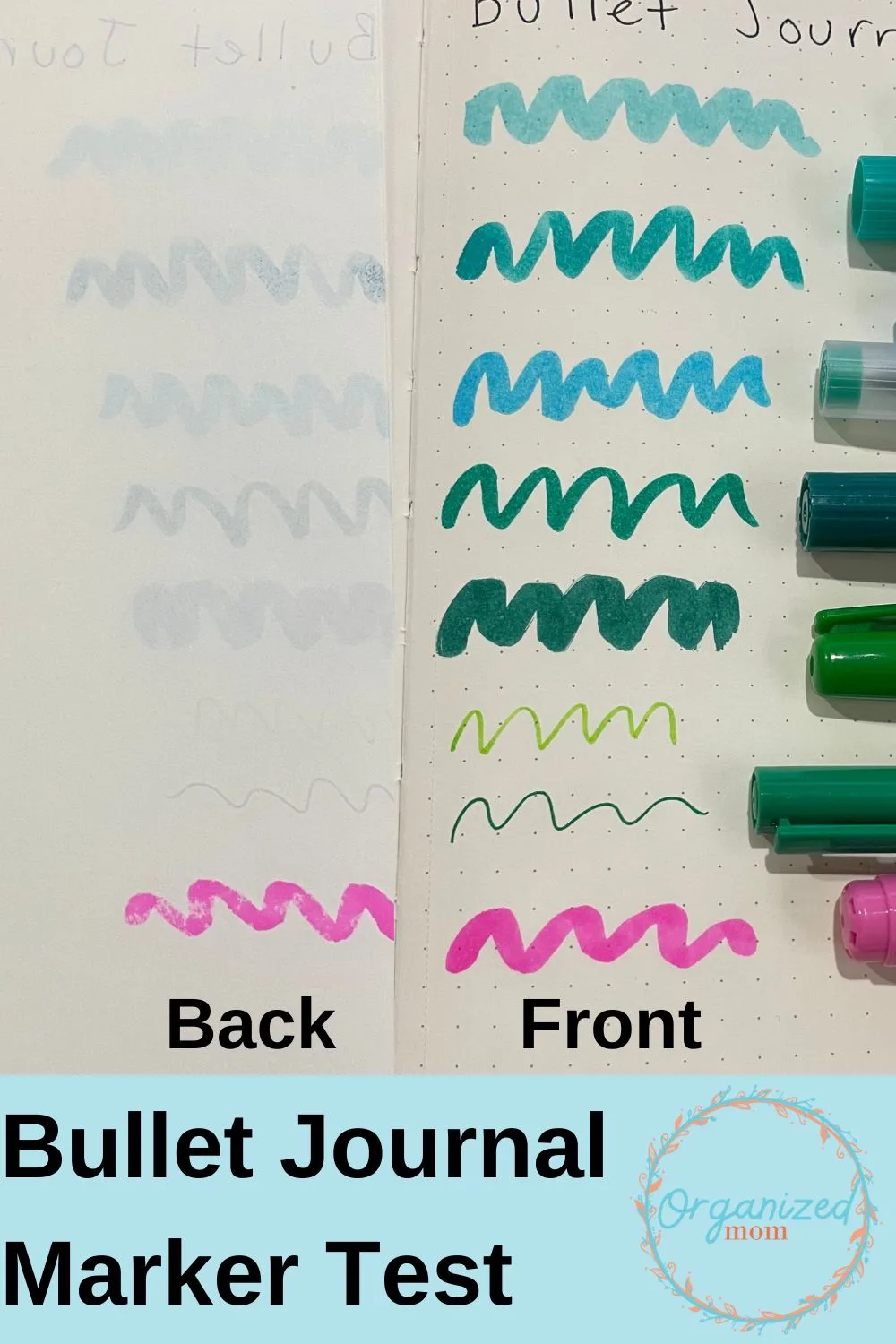 As you can see there is some slight bleeding with the Zig and Copic markers, but you can see the writing on the other side of the page. To minimize this, write quickly and lightly – I pressed kind of hard and went kind of slow here on purpose.
If we put another page on top of this one, this is what it looks like.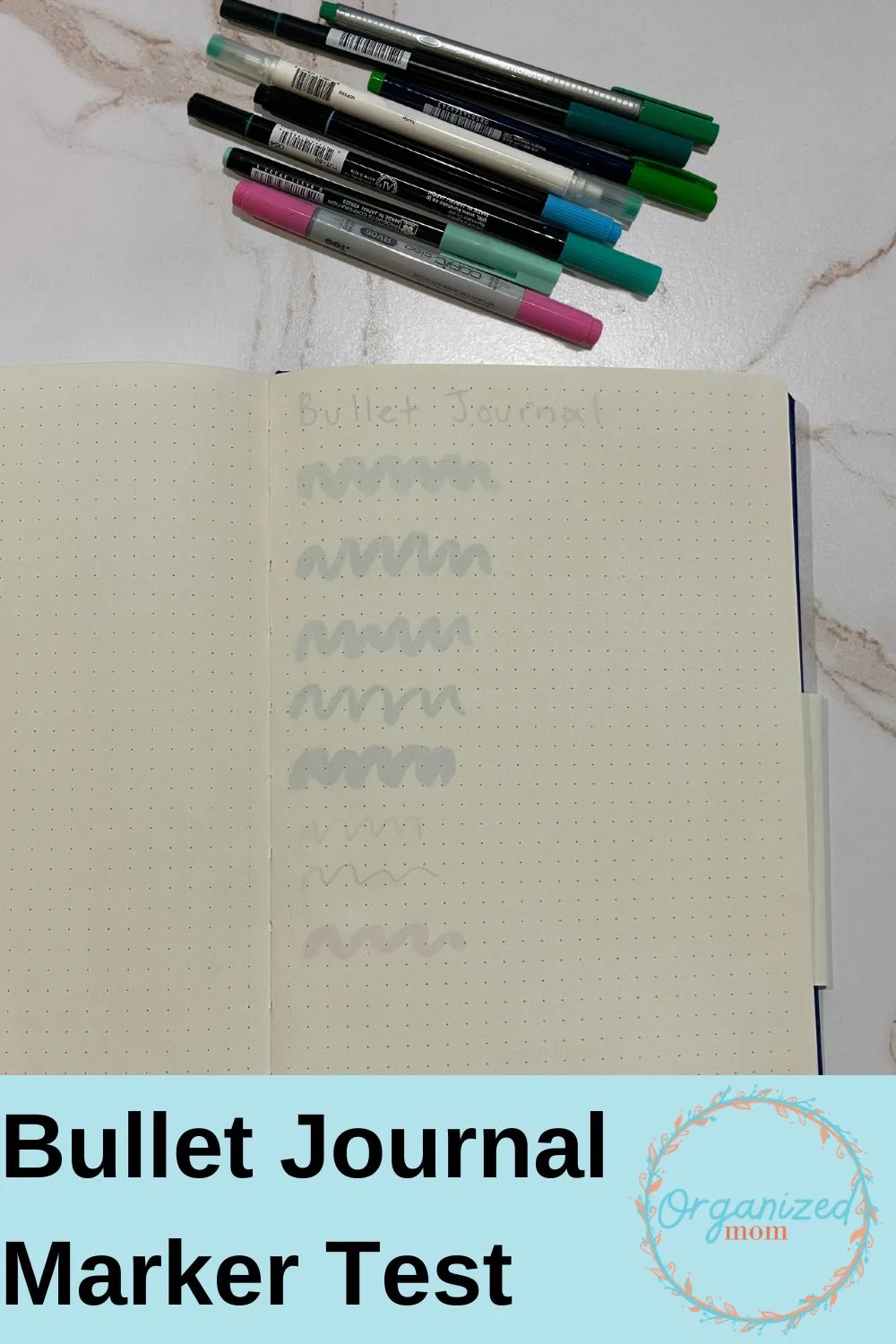 Remember, thin paper, so you can the marker and pen through the pages. Personally I love this look, as long as there is no bleeding.
If you don't like this, you can always get thicker paper, like in the Archer and Olive notebooks (you can read my reviews here). Spoiler alert, the Copic alcohol based marker is the only one that will bleed through those pages, or that you can see on the back.
Here are all the markers I love for bullet journaling.
Frequently Asked Questions About Bullet Journal Markers
I've tried them all, and many people have questions about bullet journal markers before they buy them. Here are some things I have learned along the way.
Are felt tip pens good for journaling?
Yes! Felt tip pens are great for bullet journaling, from doodling to creating layouts to more!
Are Sharpies good for bullet Journal?
Classic sharpie permanent makers are not good for bullet journaling, as they will bleed through the pages. Be sure to pick up the sharpie branded PENS if you want tot use them in your bullet journal?
Are alcohol markers good for bullet journal?
No, alcohol makers are not good for bullet journals because they will bleed through pages.
Can you use Copic Markers in your Bullet Journal?
Copic markers are alcohol based, and not recommended for bullet journals, as they will bleed through even the thickest of pages.
Are Crayola Supertips good for Bullet Journals?
When it comes to faux calligraphy or lettering, Crayola Supertips are one of the most common markers to get started with. Honestly, I got started with them too, but I'm not a fan any more now that I know there are so many options out there. The only good part about Supertips is that you can literally walk into any store and buy a pack, but there are better options out there.
For me, even when trying to write with the thin tip, the lines are just too thick, and they don't behave like a brush pen. If you want to get serious about brush lettering in your bullet journal, then you really want to start out the right way – like with the Amazon Basics markers, they are a very cost effective way to get started with.
Can you use Crayola makers for bullet journal?
Crayola markers do not have the finest tip out there, so it really depends on the size of your bullet journal and your personal style. Crayola markers can be great for coloring in doodles and pages though, so you may choose to have some on hand.