When it comes to bullet journaling, I'm one of those people that likes to try everything. I had seen a lot about Archer and Olive on Instagram, so I decided to give it a try and see what the hype was all about.
Archer and Olive Review
Here's my review of everything I bought from Archer and Olive (and yes, I did go a little crazy).
This post may contain affiliate links. As an Amazon Associate I earn from qualifying purchases. For more information, see our disclosure.
The items I got were:
A Dot Grid Notebook
Acrylograph Markers
Calligrograph Markers
A Discounted Monthly Theme Box (May – Self Care, but I purchased it in September, hence the discount)
I figured I would get a little bit of everything to see what I liked!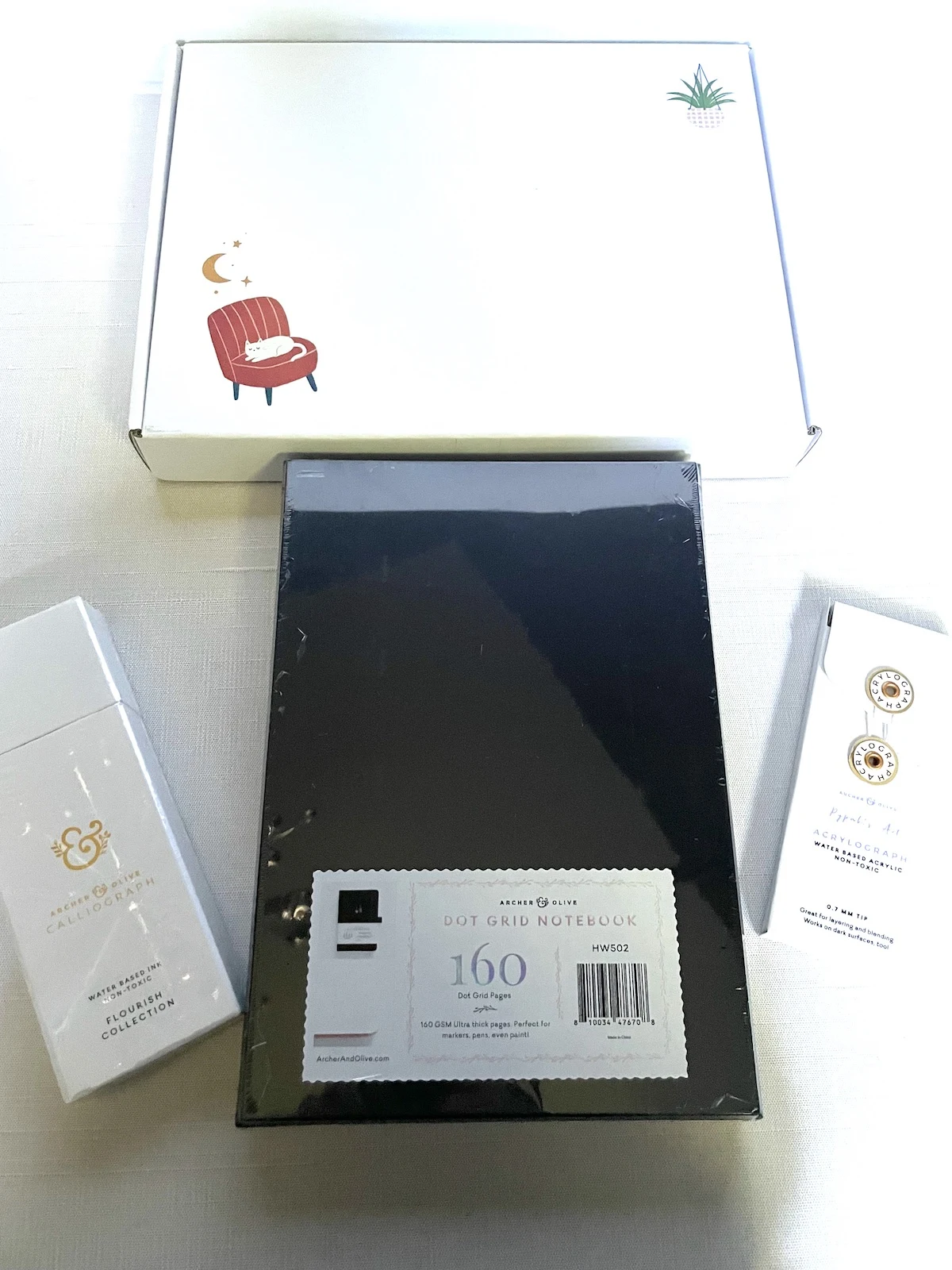 Archer and Olive Dot Grid Notebooks
The paper inside of Archer and Olive dot grid notebooks is really, really nice, however it is a bit on the thick side for me. I prefer thinner paper to write on, but although it is thick, it is very smooth to write on which is also very important.
What size are Archer and olive journals?
Archer and Olive journals come in a number of sizes:
I usually go with A5 everything, but decided to try something new and go with the B5 size, which is a bit bigger.
The bigger size and thicker paper makes it a great idea for those who are a little more artsy, or into junk journaling. I think next time I will try my classic A5 size though.
I also like the 8.5″ x 11″ option as well, since many of the notebooks I usually use don't offer that, and I use a pad of paper or copy paper quite a bit for notes.
The journal itself comes packaged in a nice box, has a thick cover, and this one has silver pages on the side.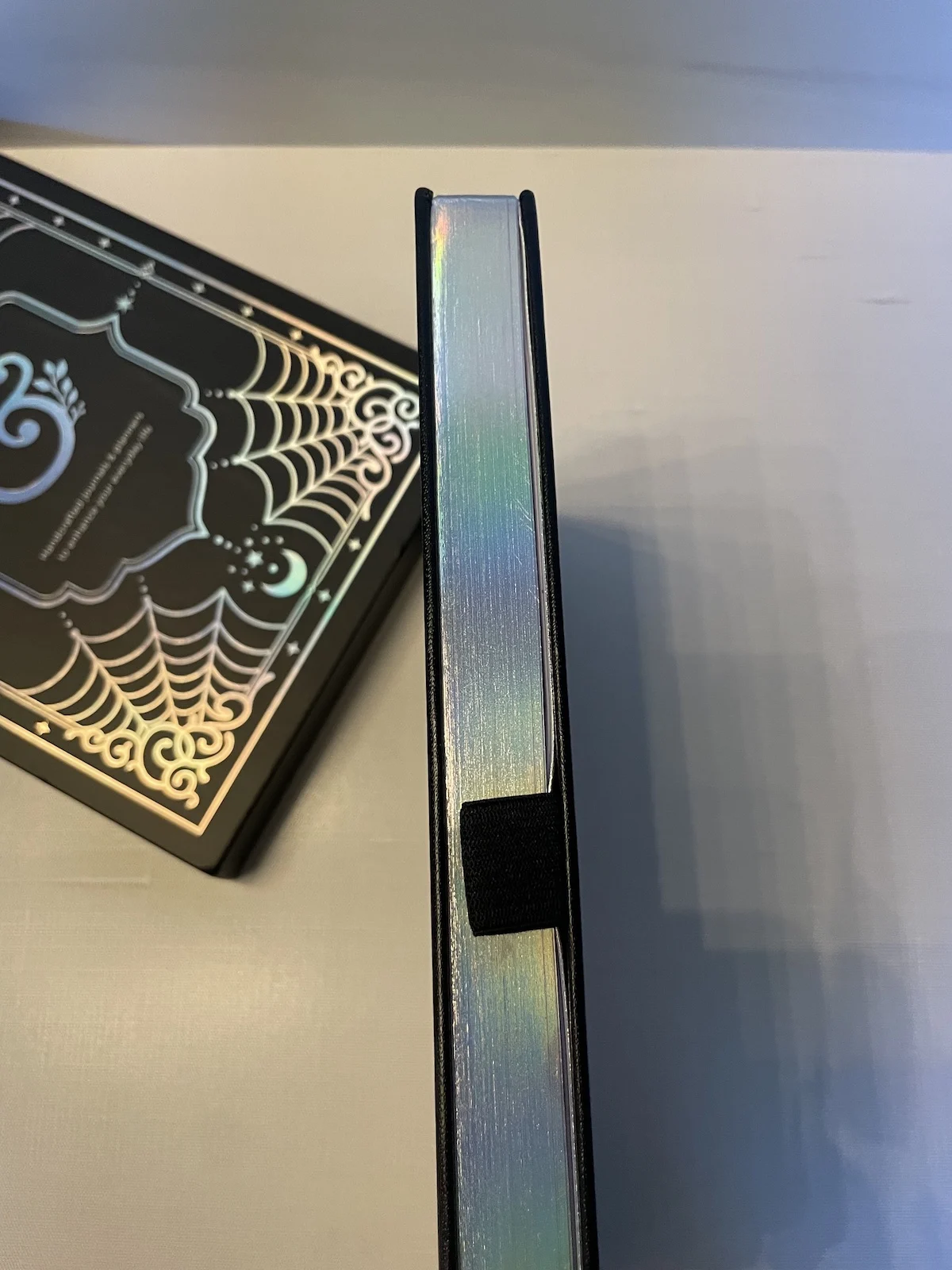 While the paper is thicker than I usually choose it is delightful to write on, and is fountain pen friendly as well. Let me tell you, as a fountain pen user sometimes some of the thinner papers can be a bit of a pain to write on, there is definitely a technique you need to follow. Not the case with Archer & Olive journals, so they are a great choice for beginner fountain pen users too!
Acrylograph Pens
I also picked up a pack of acrylograph pens because I've seen a lot of people talk about them. I don't have a ton of experience with paint pens, but let me tell you these are some of the best paint pens I've ever used. They are super smooth to write with, and easy to use after they are primed.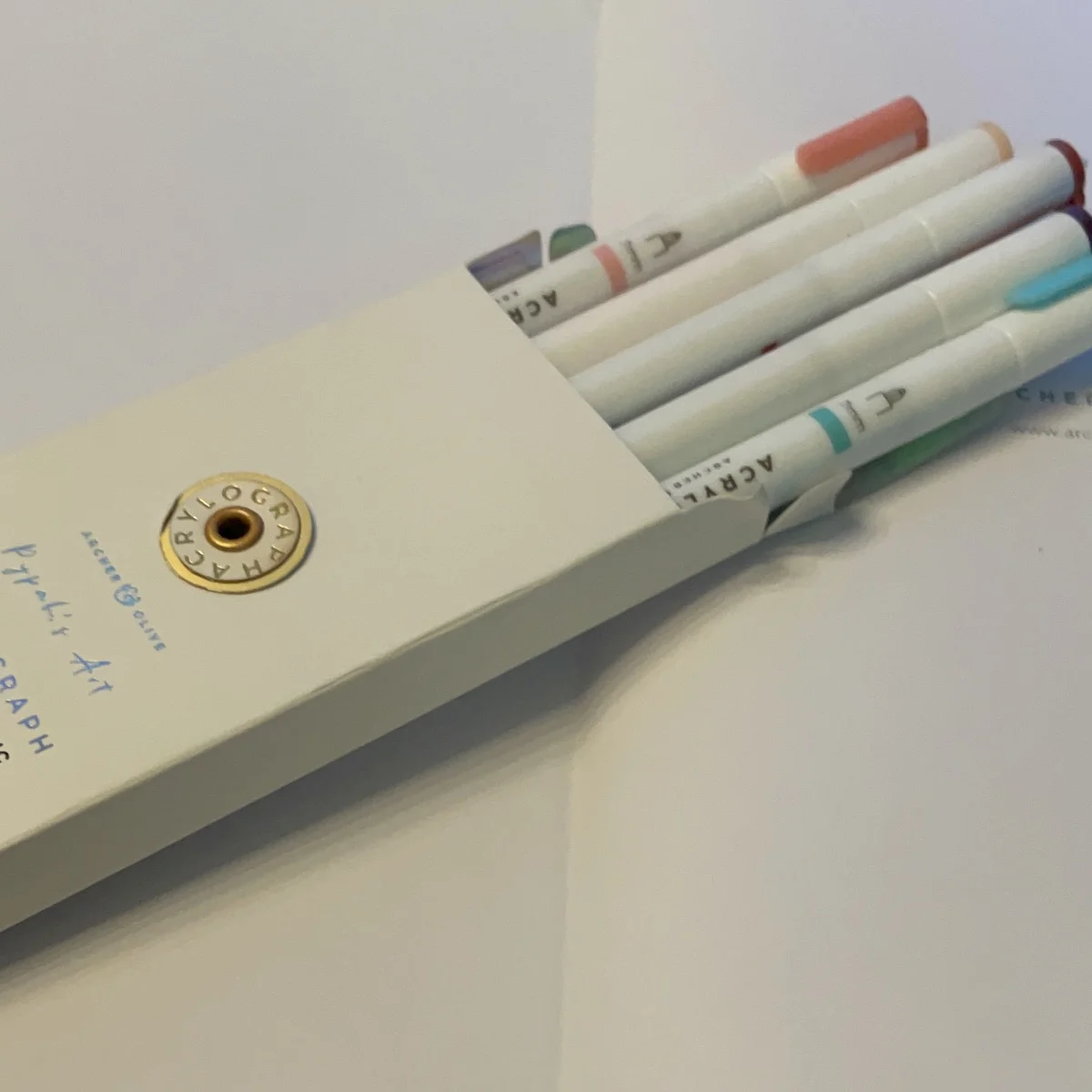 Do Acrylograph pens bleed through paper?
Acryolograph pens do NOT bleed through the paper of Archer & Olive journals, I tested it myself. This makes them a great choice if you are a really artsy journaler. You can even get blending pens to really create some beautiful artwork in your bullet journal.
Calligrograph Markers
The Calligrograph Markers seem to be Archer & Olive's answer to many other brans out there – the most famous bullet journal makers being the Tombow Dual Brush pens.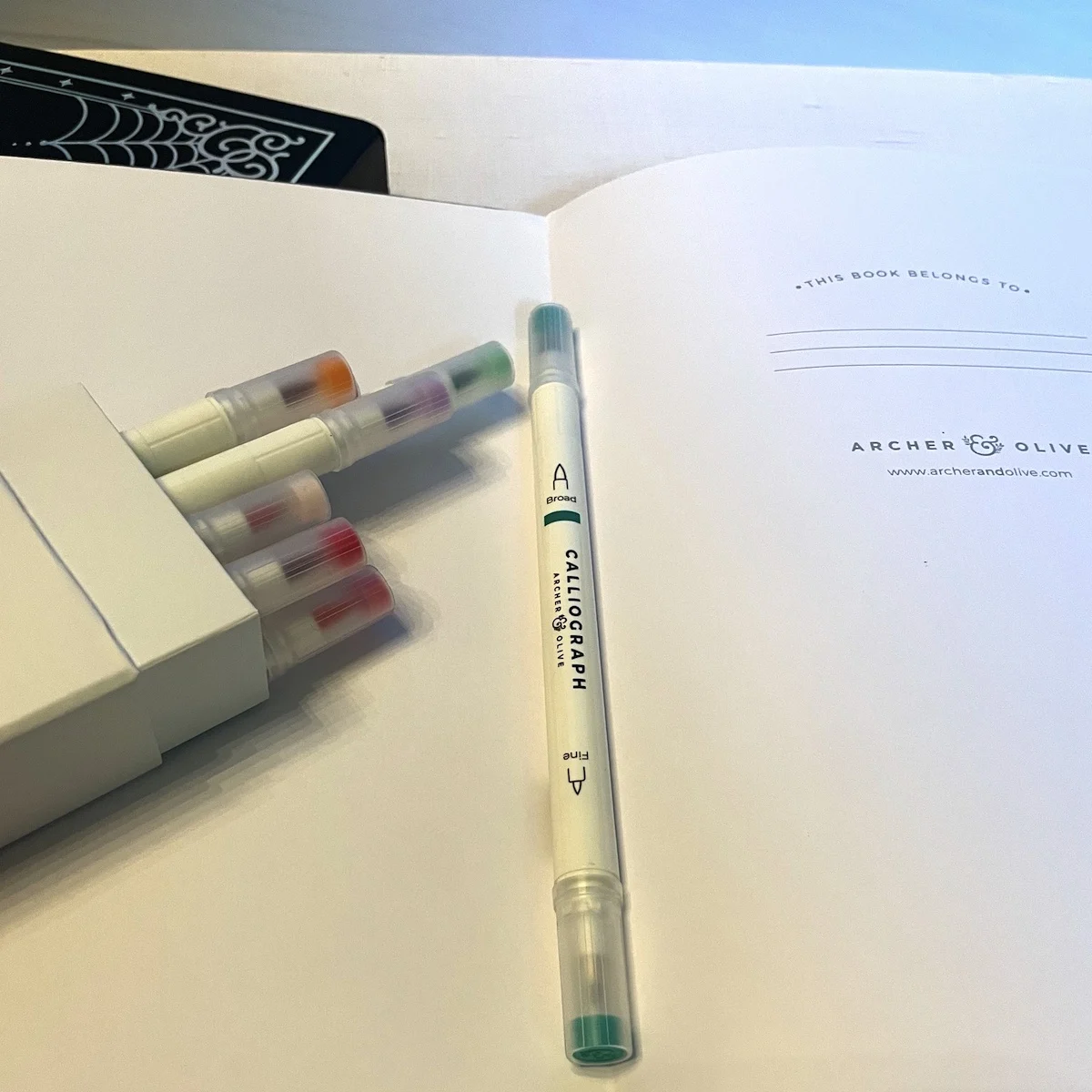 Honestly, I love them. They aren't cheap, but they are a worthy investment. They write so smoothly on the Archer & Olive paper, as well as thinner paper as well, like the Leuchtturm1917 which is 80 GSM vs Archer and Olive's 160 GSM.
Here's a quick test of these two pens. I didn't take a picture of the back side of the paper, but there was no bleeding through and you cannot see the ink at all.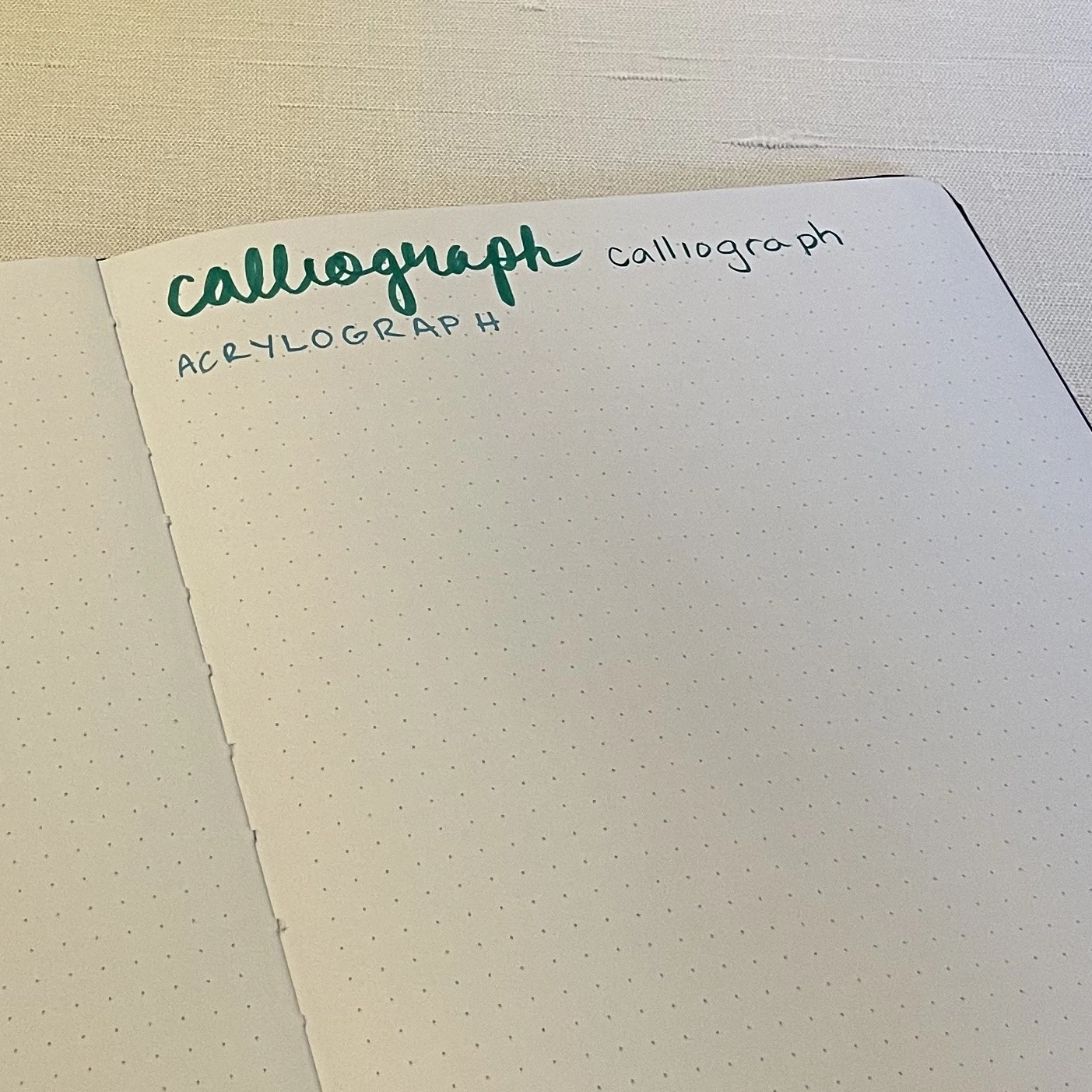 Archer & Olive Monthly Theme Boxes
I bought a discounted monthly theme box, and let me tell you, the temptation to go get another is huge.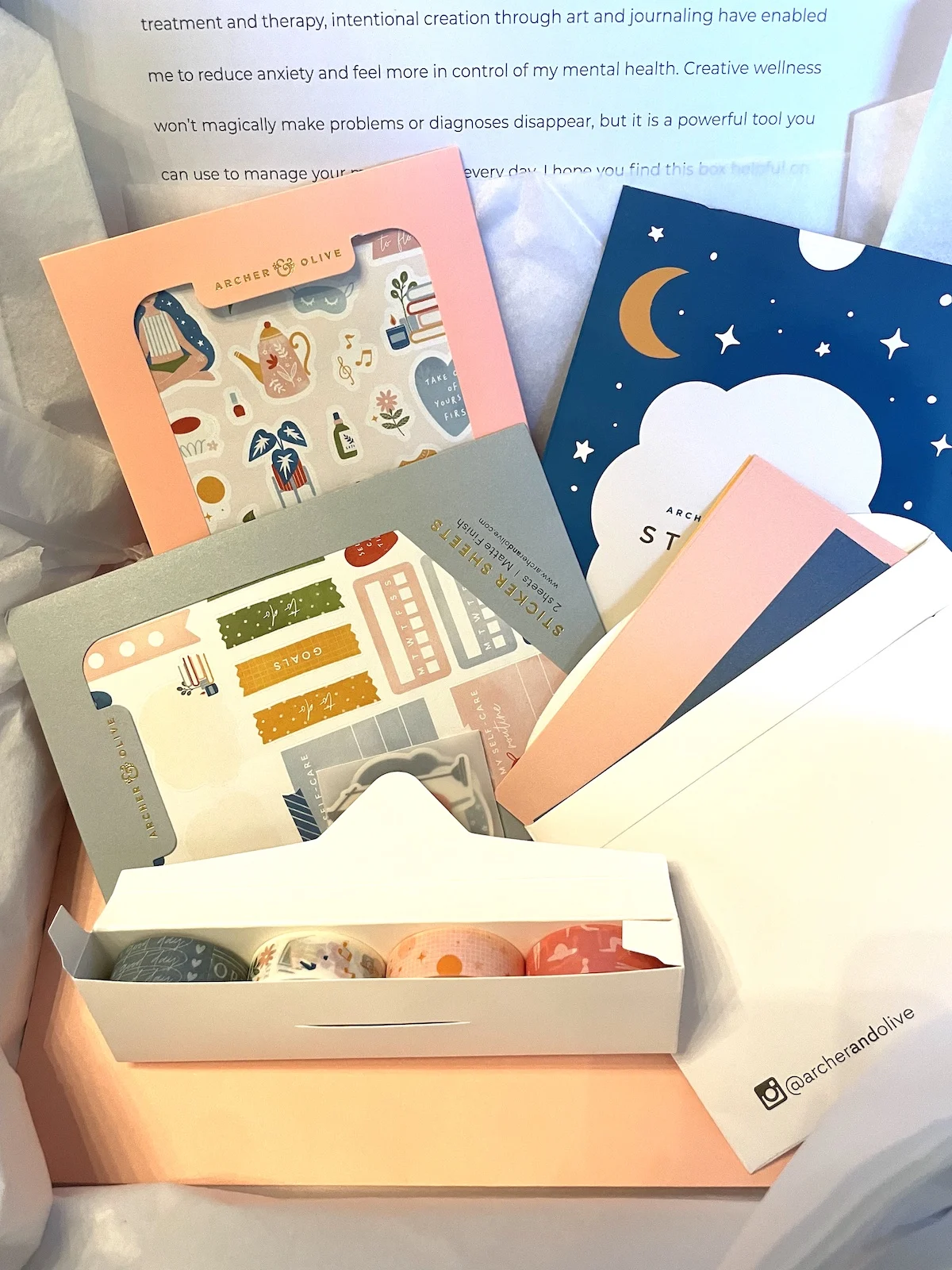 For me, bullet journaling is something I splurge on for myself, and this box is just full of goodies. The most pleasant surprise was this bullet journal stencil.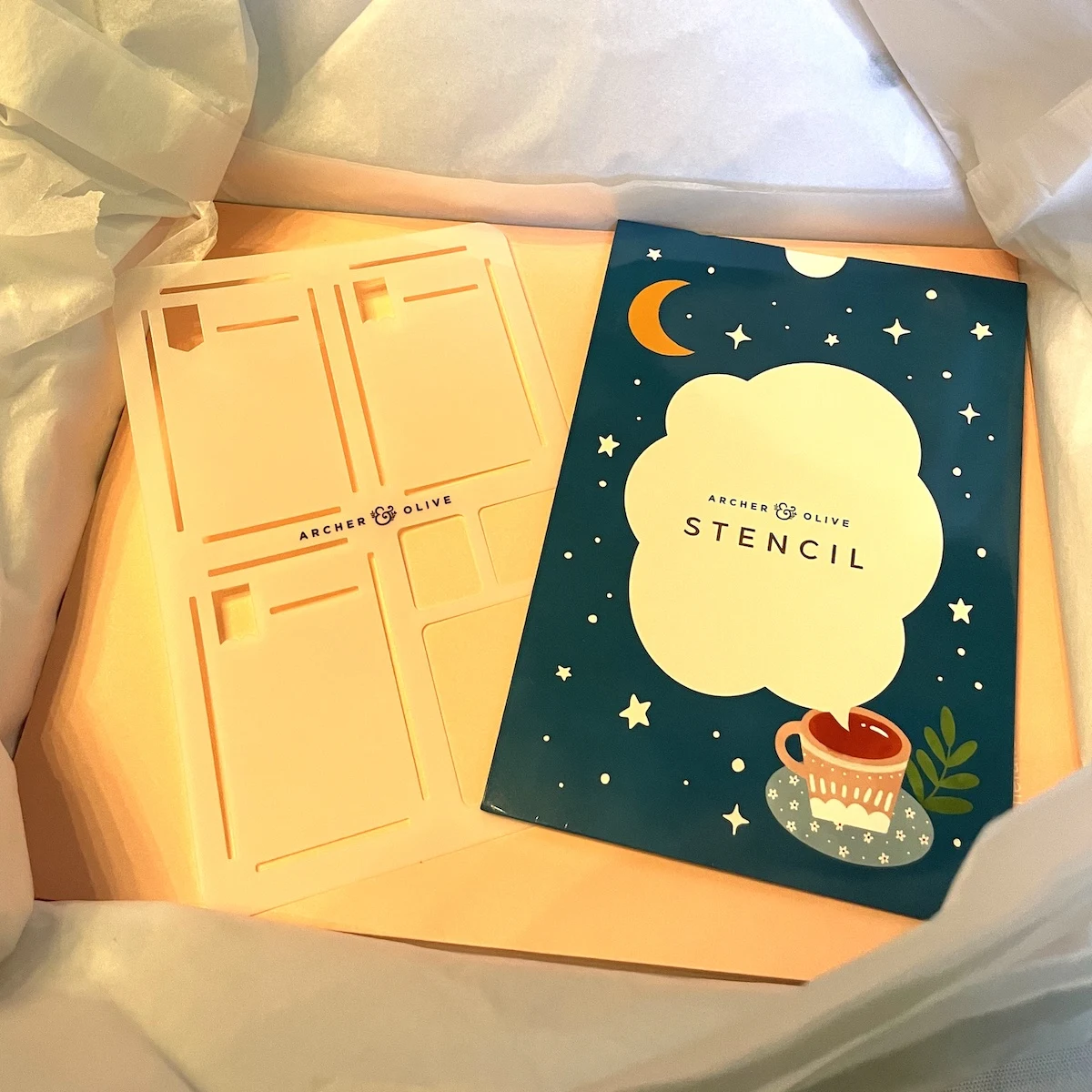 I'm not an artistic person, so bullet journal stencils really help me out.
There was only one item in the box that had the name of the month on it. I'm not sure I would splurge on these monthly, but you can pick up the discount boxes and use almost everything in them regardless of what month you pick.
Other Archer and Olive Products
There's a few more things I want to try from Archer and Olive the next time I splurge on myself.
First are Blackout journals. These are notebooks with black paper. I've always wanted one, and I think the time is coming to splurge!
An 8.5 " x 11″ dot grid notebook. I tend to write on a pad and lose my notes, it would be nice to have everything in a single notebook!
Is Archer and Olive worth it?
Archer and Olive is defiantly an investment. However, they always have a great sale section on their site to find lower priced products. It is most certainly a premium bullet journal, but sometimes we all like to splurge on ourselves.
Archer and Olive can also make a great gift for special birthdays and holidays if you know someone who is into journaling or very artistic.
Want to learn more about bullet journaling? Check out some of our favorite posts.