Ready for the newest and fun trendy board recipe to make its way around the web? This Cream Cheese Charcuterie is sure to be a hit for you and your guests. If you LOVE traditional charcuterie with different types of cheeses and meats, then you are going to fall in love with these cream cheese boards. So easy to make, in under 10 minutes and full of so much flavor, they're sure to be the topic of conversation around the table.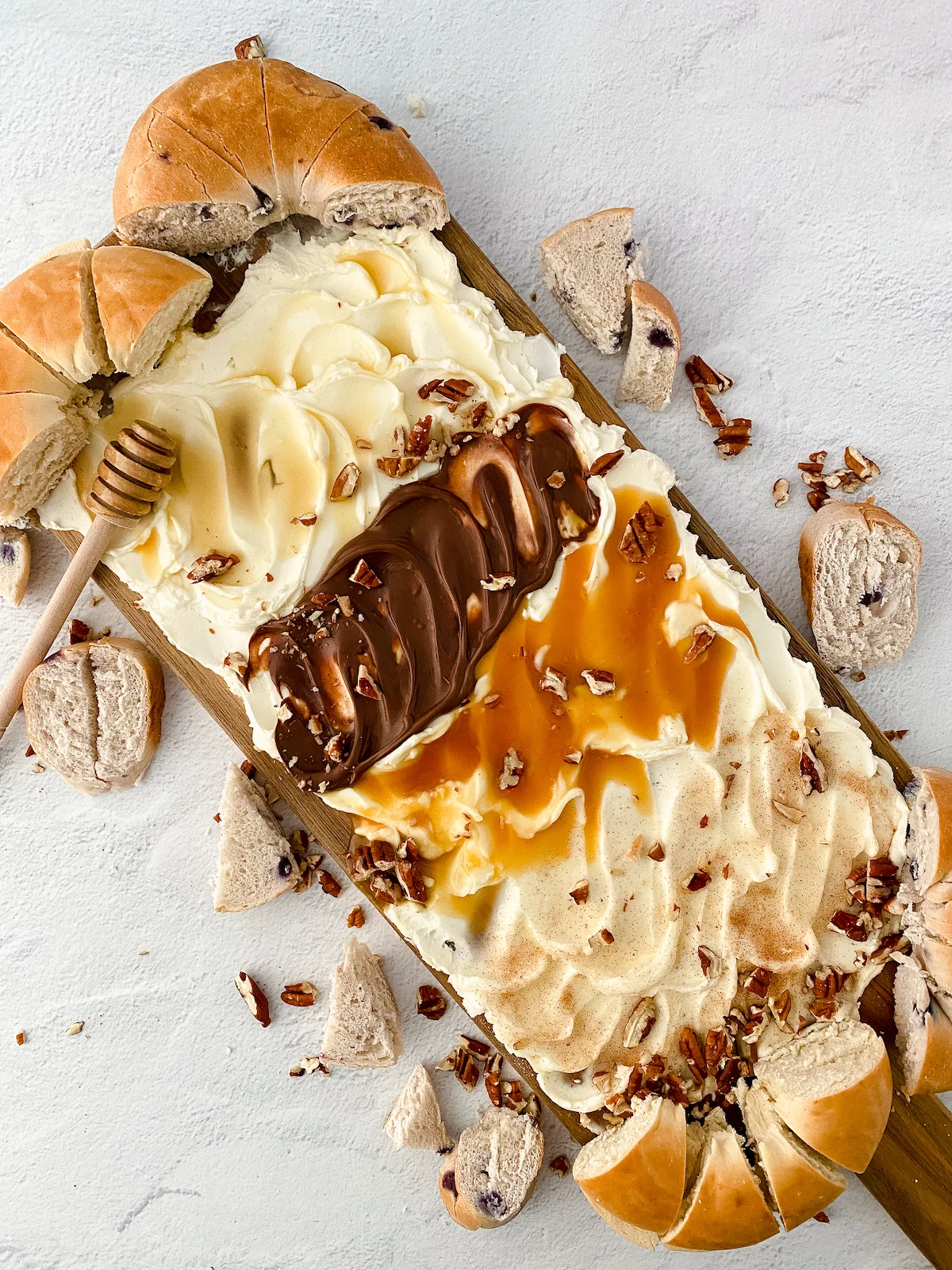 If you're a fan of this kind of appetizer or snack board, you have to try out our Butter Board! It's another perfect snack or appetizer to make when you're short on time and want something different than crackers and cheese to set out.
Why you'll love this recipe
Ready in under 10 minutes
Easy to customize
Made using ingredients you already have- no need to make another grocery store run
Can be used as a snack, appetizer, or even breakfast or brunch idea
Ingredients
This post may contain affiliate links. As an Amazon Associate I earn from qualifying purchases. For more information, see our disclosure.
This is a great recipe to build off of. Here's what we used to build our Cream Cheese Charcuterie Boards, but you can certainly trade things out or swap out flavors of different things to customize this to suit your tastebuds.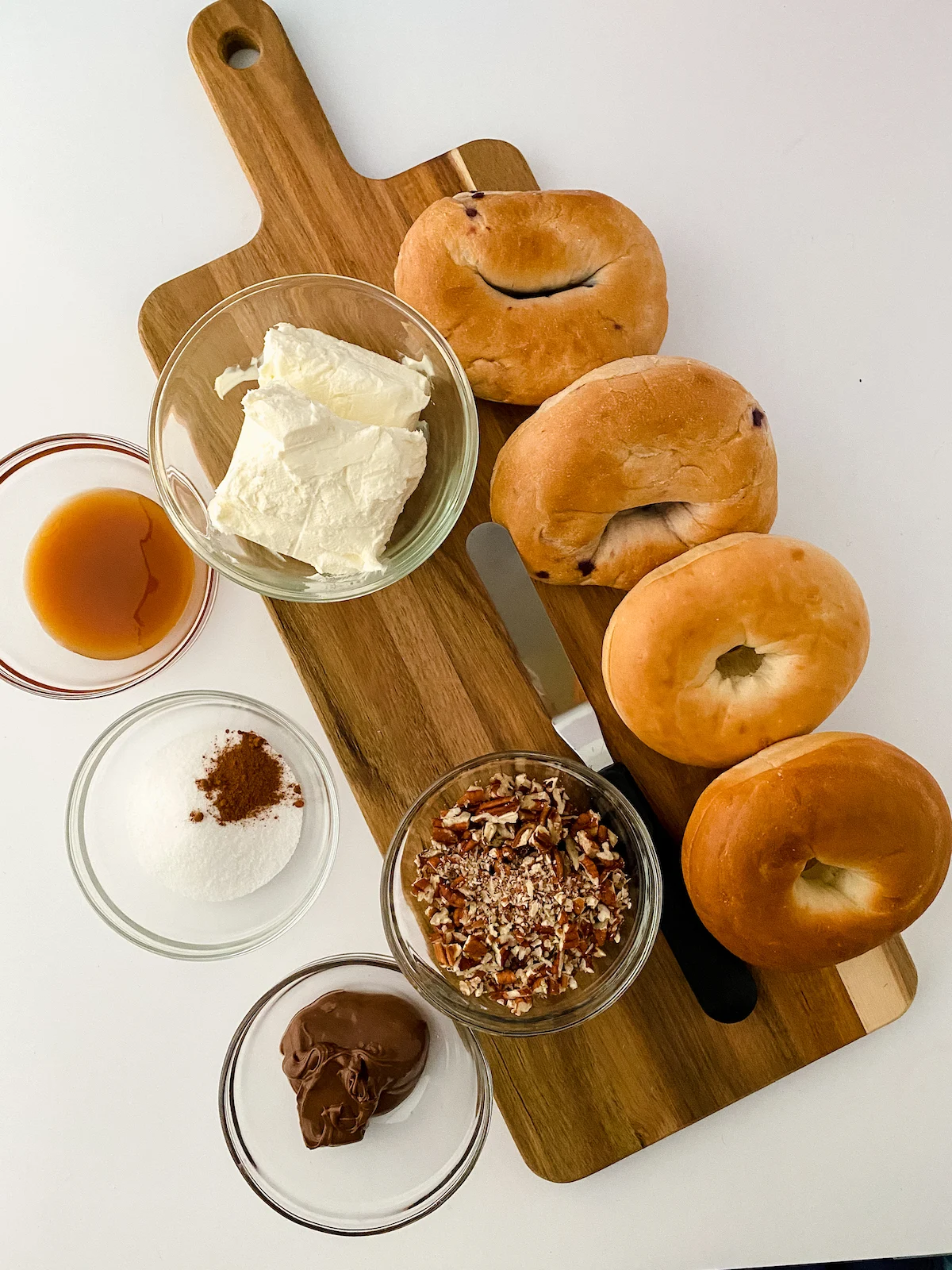 In our opinion, this is one of the best charcuterie board ideas out there!
Cream cheese block
Granulated sugar
Cinnamon
Nutella
Honey
Butterscotch or caramel sauce
Chopped pecans or walnuts
Bagels
How to Make Cream Cheese Charcuterie
Add dollops of cream cheese all over the board.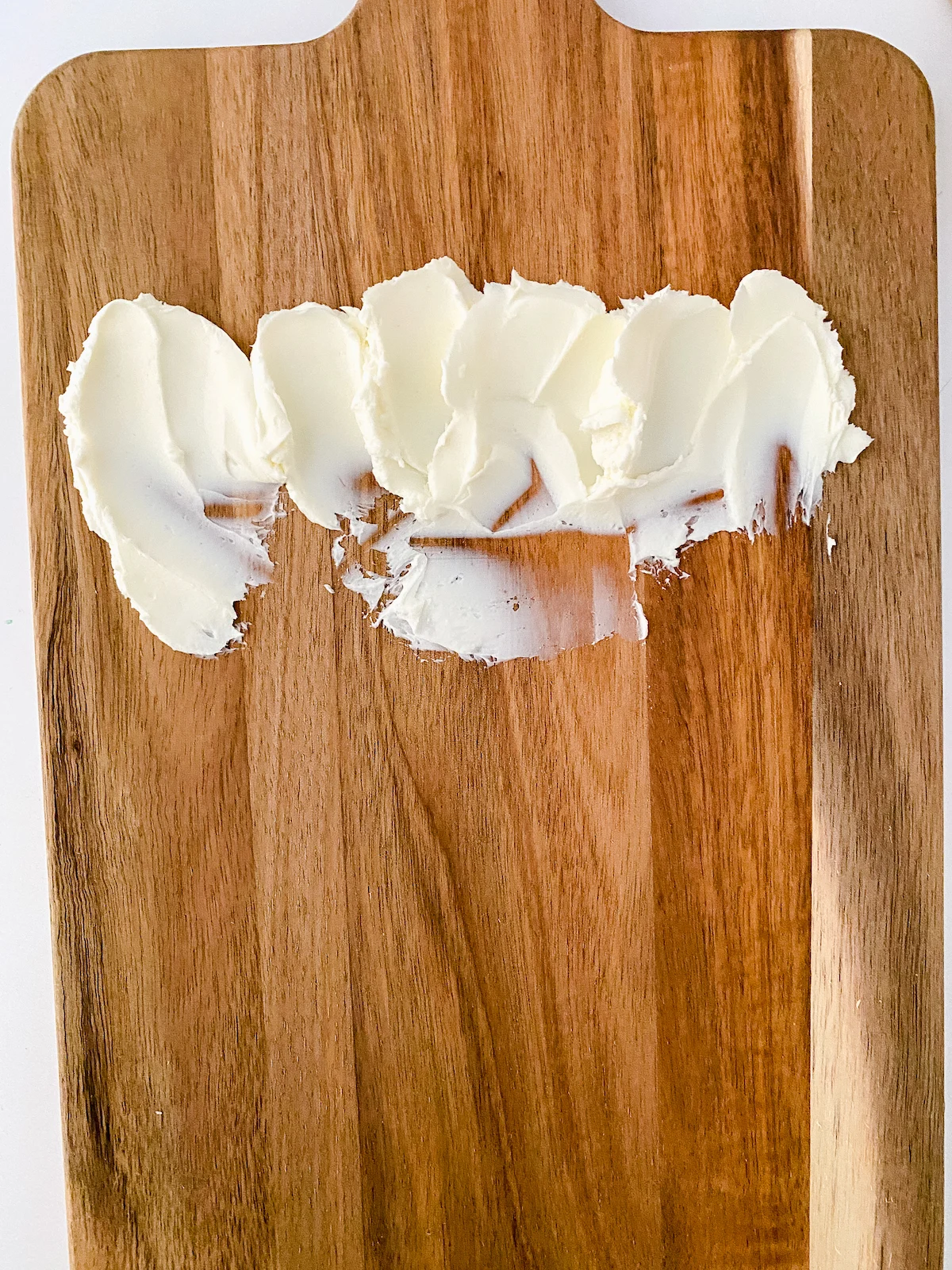 You can get really creative with it, and it is really simple to make it look great!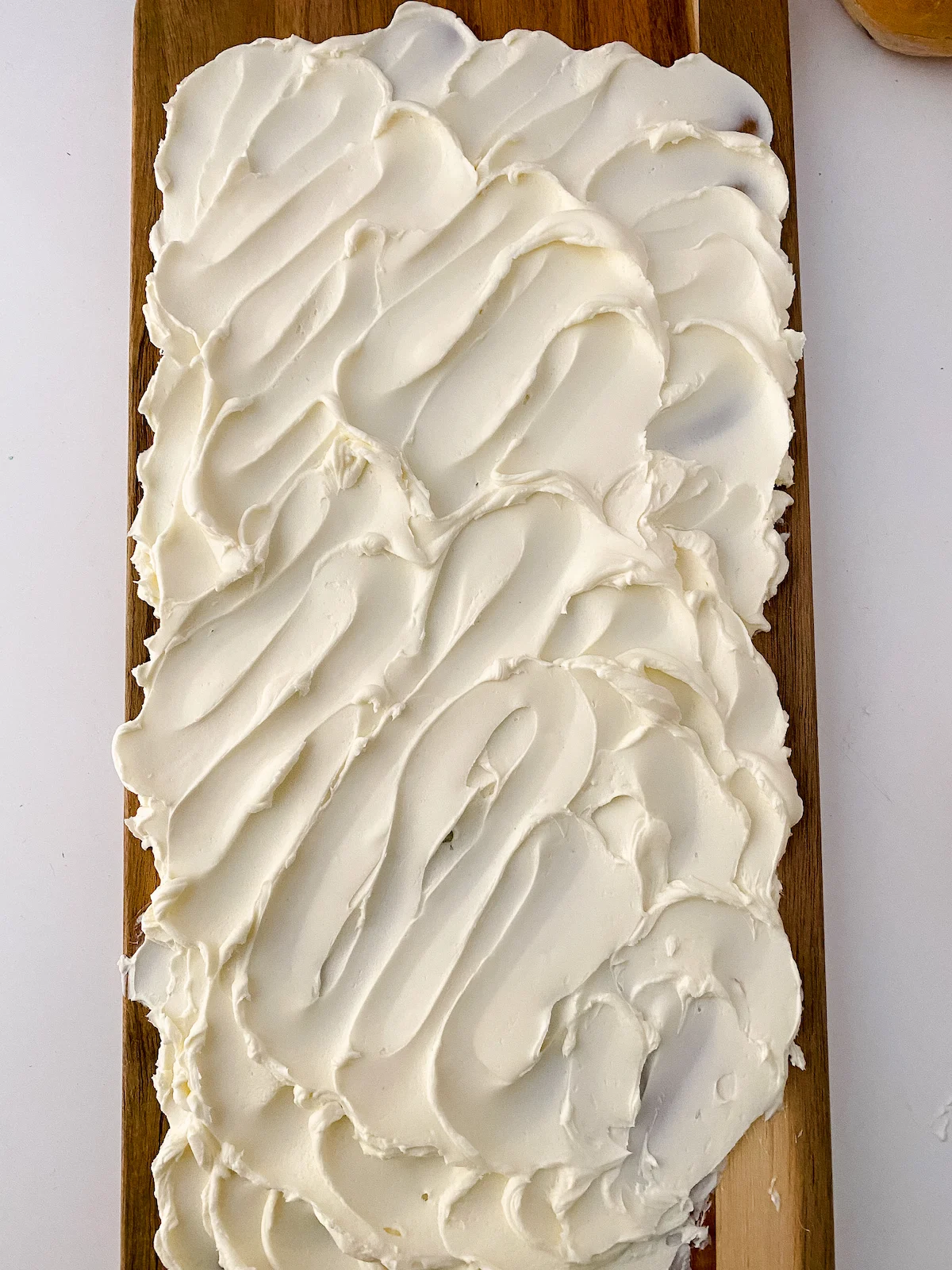 Sprinkle a cinnamon and sugar mixture onto the cream cheese dollops.
Add the Nutella and mix it into the cream cheese dollop .
To another dollop, add the butterscotch and mix it.
Finally, drizzle the honey over any remaining cream cheese.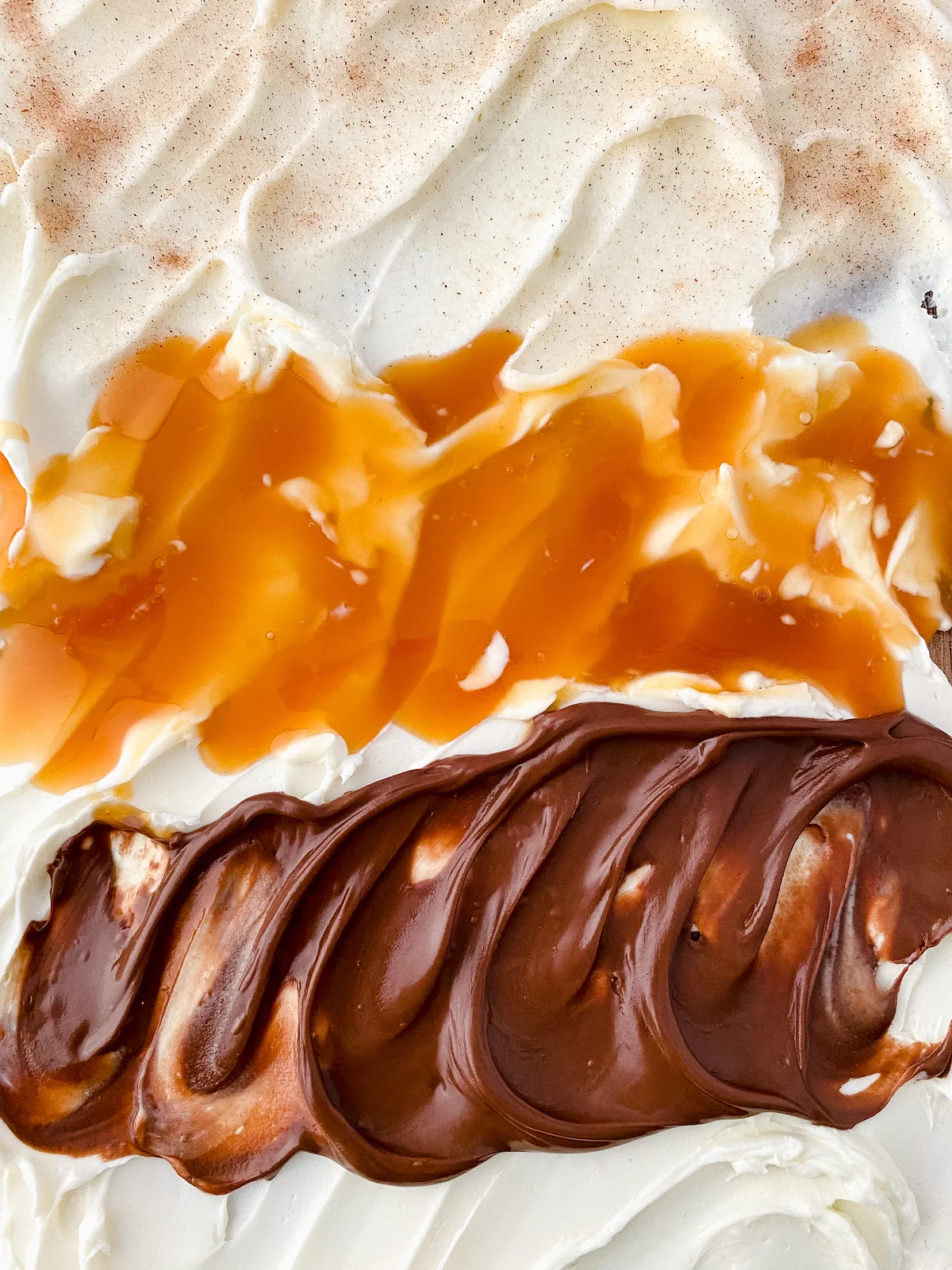 Sprinkle chopped nuts over the board.
Cut the bagels into 4 pieces and then cut them in half so you have very small, bite size pieces.
Place bagels all around the entire board.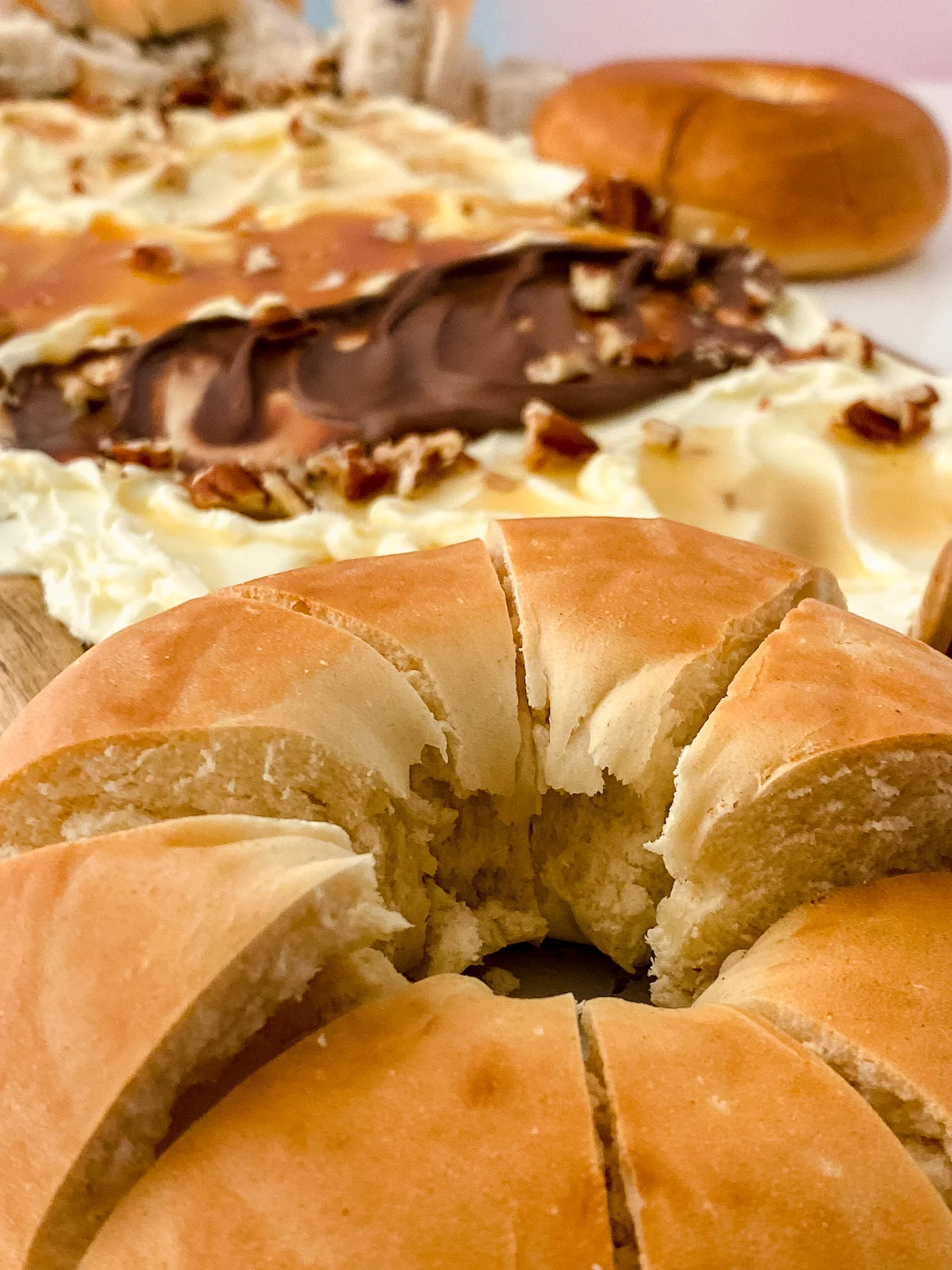 Serve and enjoy the perfect charcuterie board.
Storage
This charcuterie board is best enjoyed right when you finish making it. It should not be left out at room temperature for longer than 2 hours for food safety reasons. Ideally, it shouldn't sit out longer than a half hour for optimal cream cheese freshness.
If you must store leftovers, cover the cream cheese board and place it in the refrigerator until ready to serve again. A
Tips and Variations
This recipe is incredibly easy to scale and make more boards to feed a large crowd, helping make them the perfect appetizer or snack to serve at a dinner party this holiday season.
If you don't want to set out full size bagels, you can break them up into smaller bite sized pieces. Alternatively, you can use bagel chips as your dippable.
You should place a butter knife or cheese knife out so it's easy for your guests to smear their cream cheese on the bagels.
You don't have to use a wooden cheese board or cutting board to serve this cream cheese charcuterie on. You can use any serving platter.
If you don't want to get your cutting board or platter super messy, you can cut a piece of parchment paper to match the size and shape of your serving board and then spray it with some cooking oil to help it stick to the board. Then, simply build your board on the parchment paper and remove it when ready to wipe the board clean. Much easier this way.
You can toast your bagels before adding them to the board, or just leave them untoasted. It's a personal preference, whichever you prefer will work.
Can you use cream cheese for charcuterie board?
As you can see, yes, you can totally put cream cheese on your charcuterie board! In fact, we've made the whole board all about cream cheese. Forget the regular cheese platter charcuterie boards, this board is what you need to make! It's also a great way to use up things you have in the fridge or cupboards.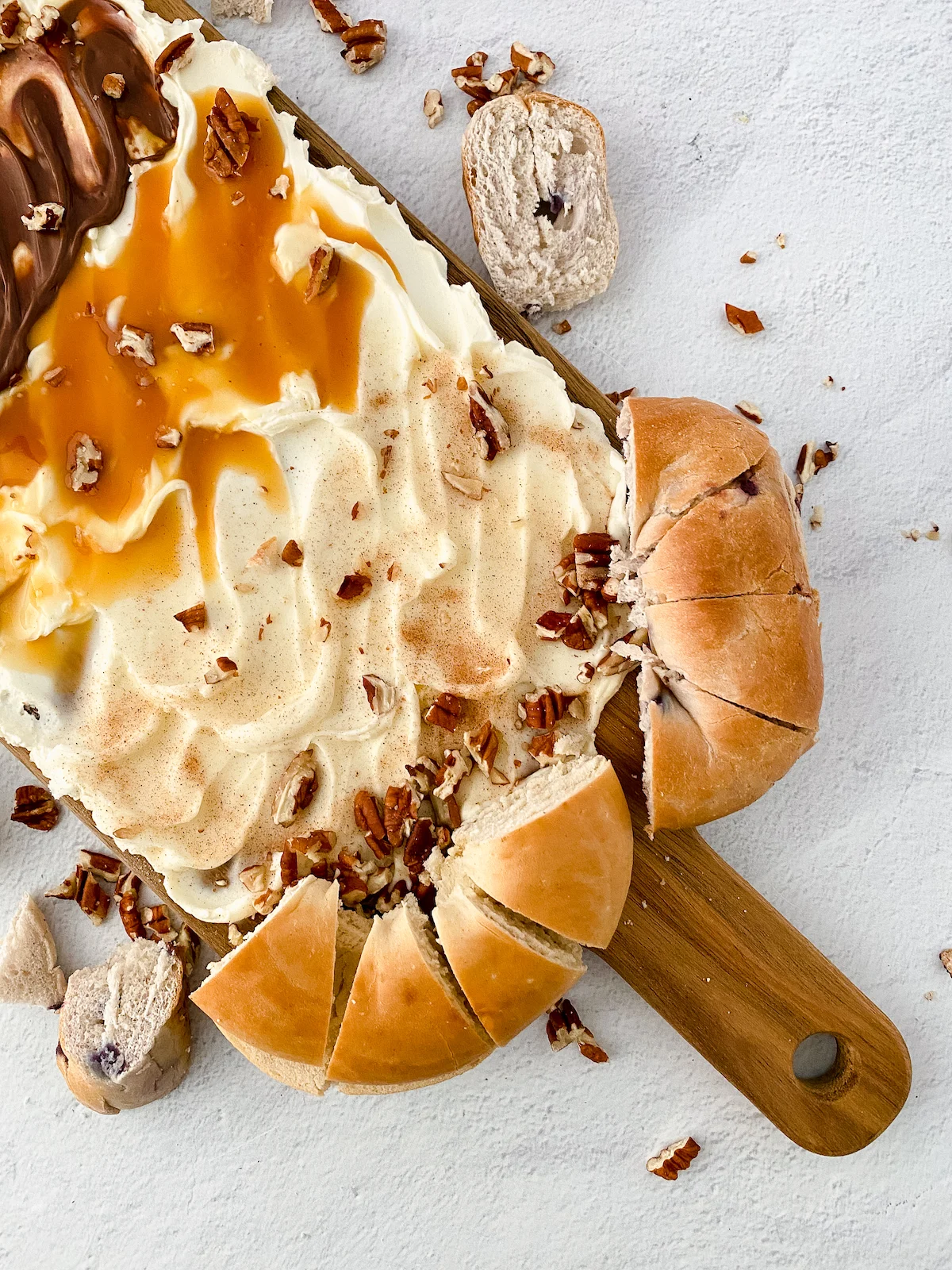 What else can I add in?
As we mentioned earlier, this is a great base to build off of, you can add anything you like to dip cream cheese into. Sweet peppers are a popular choice. Pretzels, pita chips, and crackers are also great options. Others like to add some red pepper jelly to flavor up the traditional cream cheese.
Can I change up the cream cheese?
The good news is, you sure can! We used plain cream cheese, but you can use flavored cream cheese options as well.
You could even make a whipped cream cheese board using the whipped versions of your favorite cream cheese.
Additionally, you can add some fresh herbs to your cream cheese blocks, like fresh rosemary. some fresh fruit
If you would like to change it up a bit more, mix some marshmallow fluff with the cream cheese to create a sweet dip to add to your board. Serve some fresh fruit by this sweet dip and have a fruit charcuterie board on your cream cheese board. It's another fun twist to try.
Now that you see how simple it is to make this Cream Cheese Charcuterie, you absolutely need to make it! You really don't need any special occasions to try making this for your guests. The next time you're looking for a snack to hold the family over before the main dish is ready, try making this Cream Cheese Board and see what everyone thinks.
Yield: 8 Servings
Cream Cheese Charcuterie Board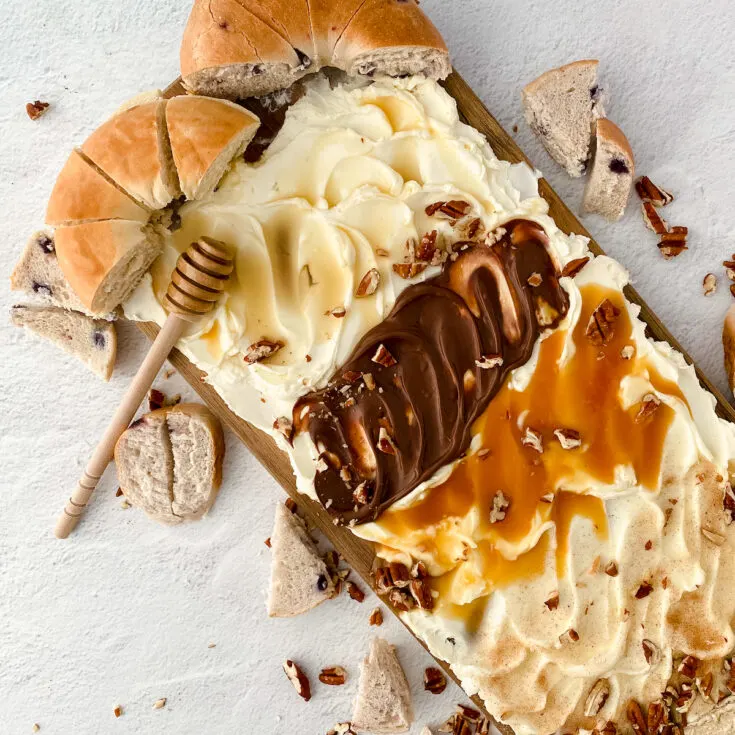 Looking for a fun way to enjoy cream chese and bagels? This cream cheese charcuterie board is a great way to enjoy some sweet fun with the whole family!
Ingredients
8 oz cream cheese block, softened
1/4 cup granulated sugar + 1 tsp cinnamon, mixed
1/4 cup Nutella
2-3 tbsp honey
2-3 tbsp butterscotch or caramel sauce
1/4 cup chopped pecans or walnuts
4 bagels
Instructions
Add the cream cheese in dollops all over the board
Sprinkle the cinnamon sugar mix over one part of the board.
Add the Nutella and mix it into the cream cheese
Add the butterscotch and mix into the cream cheese
Drizzle the honey on top of the remaining cream cheese
Sprinkle the chopped nuts over the top
Cut the bagels into 4 quadrants, the half each of the quadrants.
Set the bagels around the board and serve.

Notes
If you're worried about the cleanup, cut a piece of parchment and fit it to the size of your board. Spray the board with a tiny bit of cooking spray to get the parchment to stick to the board.
Feel free to toast the bagels or cut them however you would like! Any toppings would work well with this fun bagel breakfast board!