Have you seen those amazing Butter Boards all over Tik Tok and other social media channels? These things look incredible, delicious, and they look like so much fun to make! Made with butter, peppers, red onion, and your favorite herbs and spices, it's the best thing to whip up and serve with warm bread for friends and family.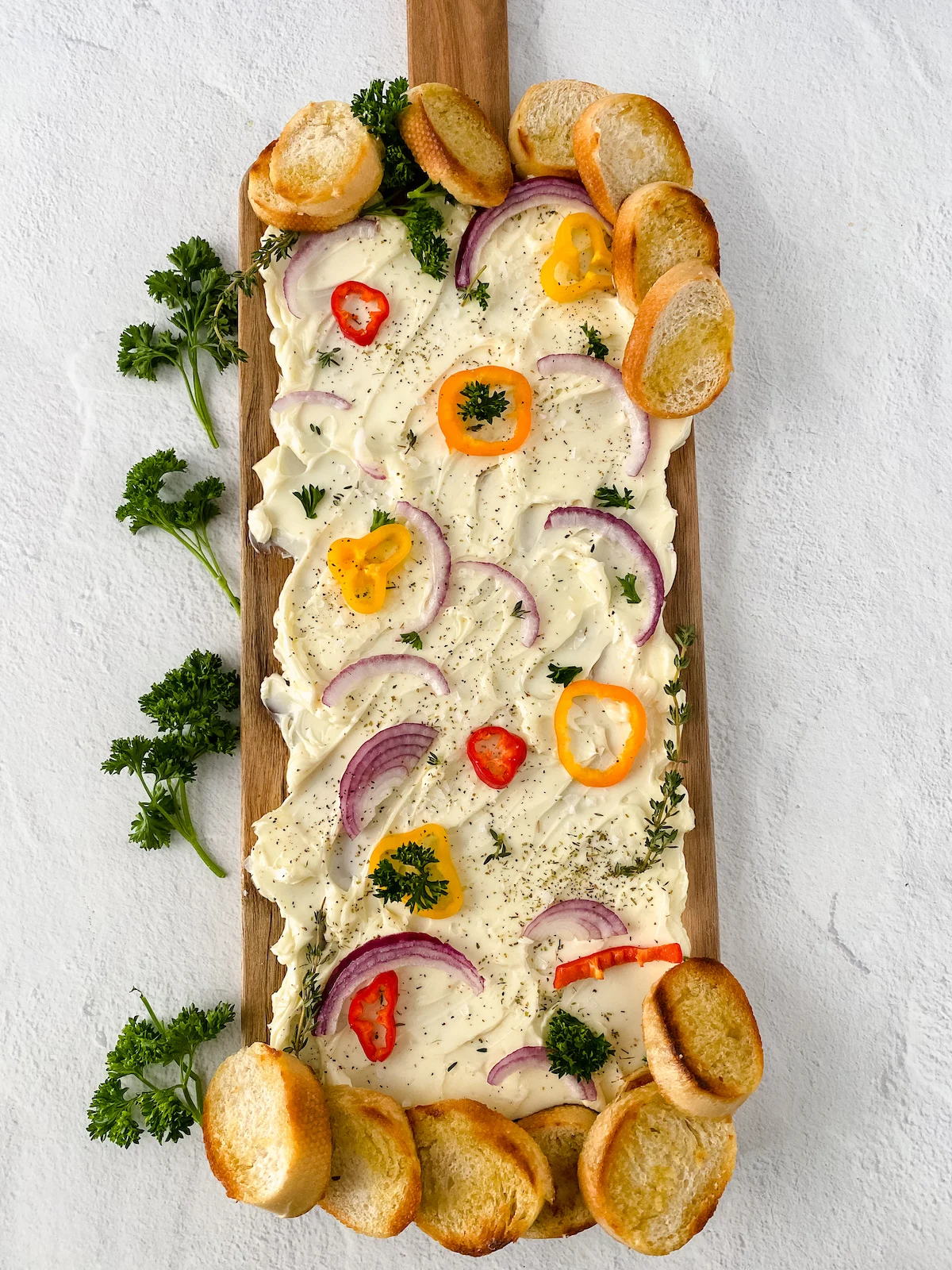 This is the easiest appetizer to make quickly when you have unexpected company or when you're throwing a last-minute party. It would also be a great option to offer to bring to potlucks or parties during the holiday season.
This post may contain affiliate links. As an Amazon Associate I earn from qualifying purchases. For more information, see our disclosure.
You might've seen all the cheese boards and charcuterie boards that have gone viral over the last couple of years, and this Butter Board has the same basic ideas as those kind of boards. If you love these themed boards, you'll enjoy this easy Butter Board and you'll be excited to know that we have another idea in the works- Cream Cheese Charcuterie. Trust me, you'll want to come back and check out the next charcuterie board trend for suret!
Why you'll love this
The perfect quick and gorgeous thing to serve at dinner parties
Stay on trend with this new charcuterie board inspired recipe
A fun way to serve an appetizer or snack for kids
Uses common ingredients and is ready in under 10 minutes
Incredibly easy to customize to fit your guests tastes
Ingredients needed
Just about anything goes that you love to snack on with bread for this butter charcuterie board, but here are some of our favorites.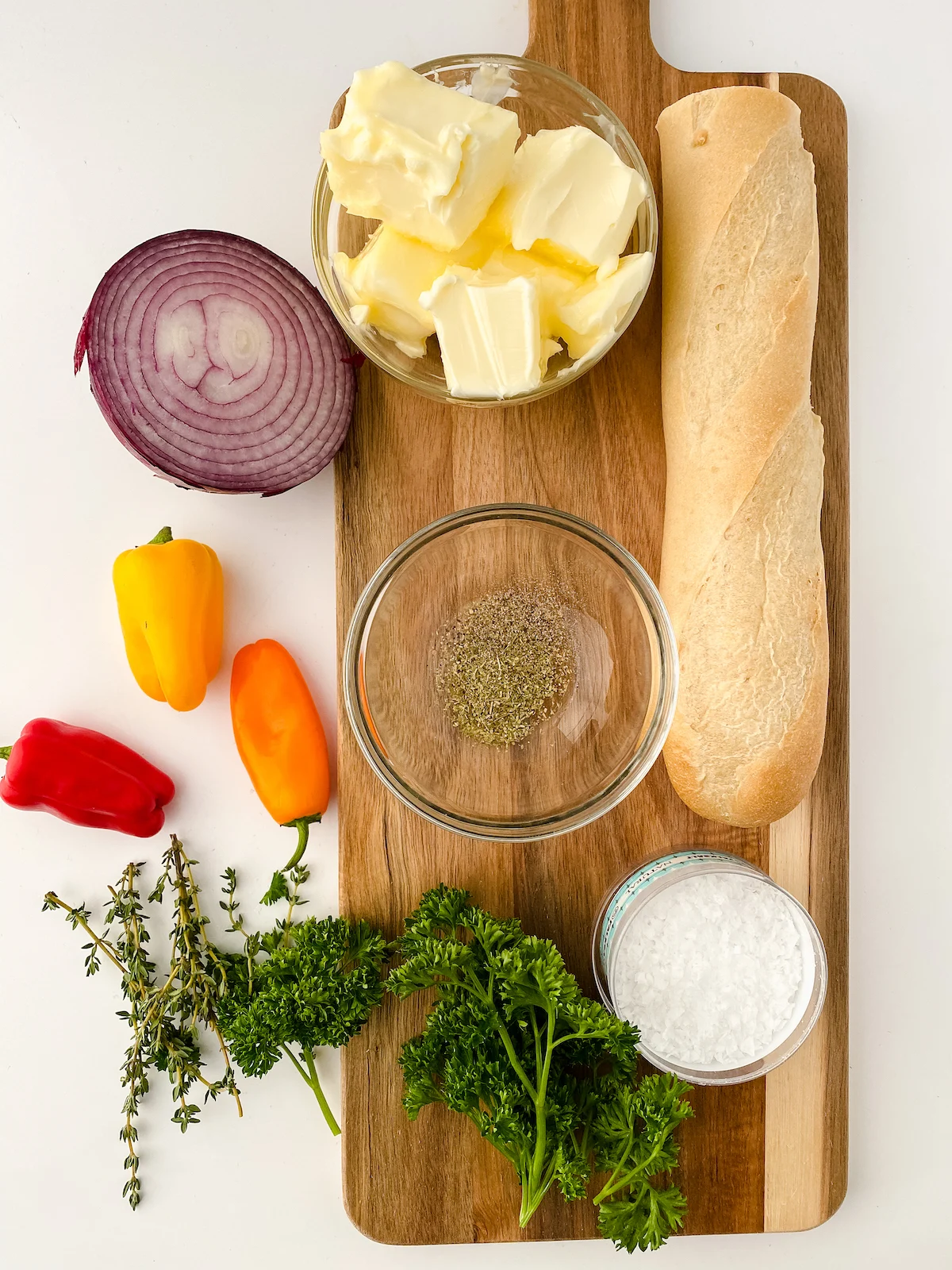 Unsalted butter (softened)
Sweet mini bell peppers
Red onion
Flaky sea salt
Herbes de Provence blend (get our recipe on that below)
Black pepper
Baguette
Extra Virgin Olive Oil
How To Make A Butter Board
Add dollops of your softened butter to the board in different locations and spread it out.
Use an angled spatula or an offset spatula to spread out the butter in a fun and appealing patter.
Sprinkle the flaky salt, Herbes de Provence, and pepper all over the butter.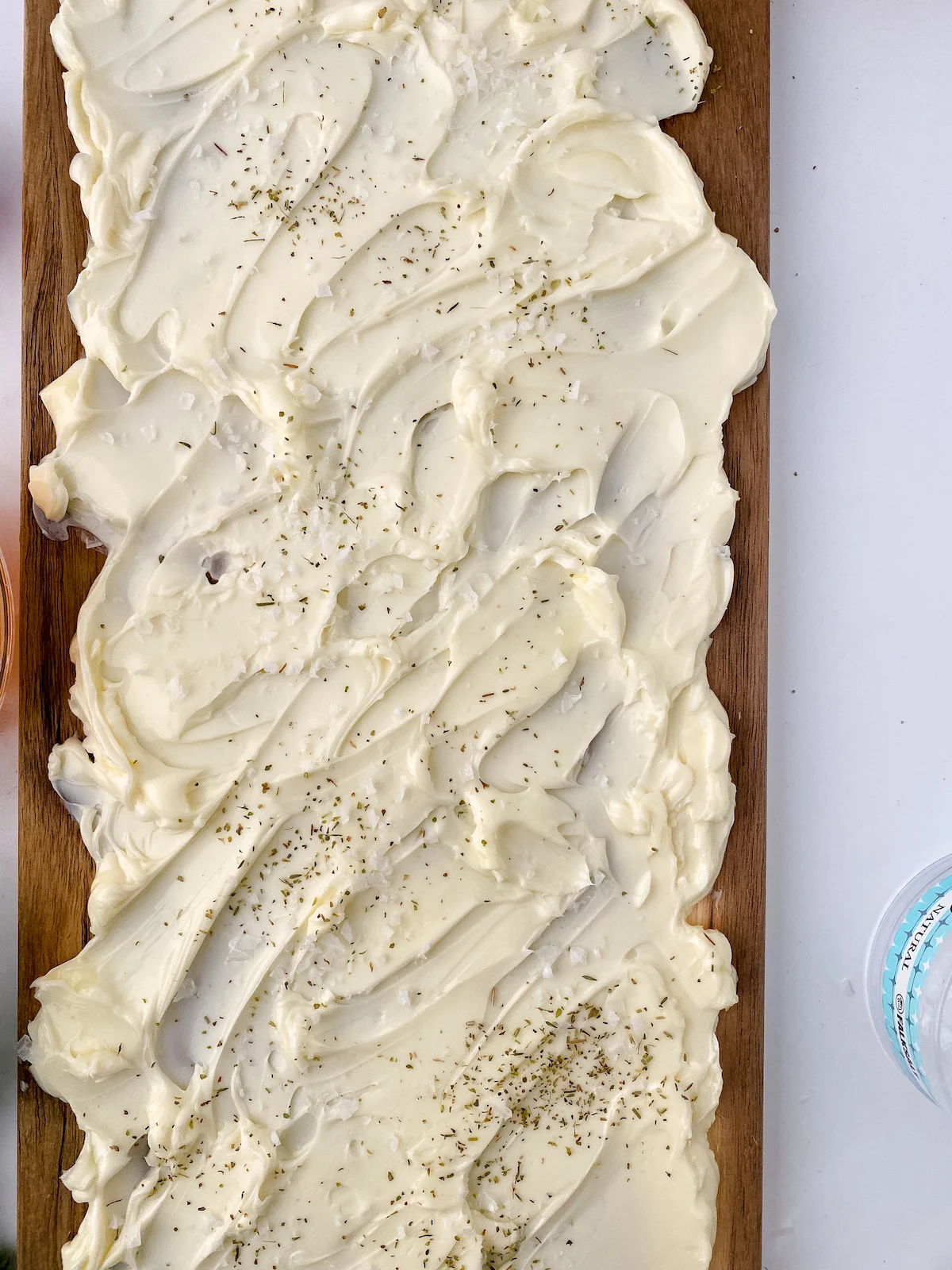 Place the onions and peppers on top.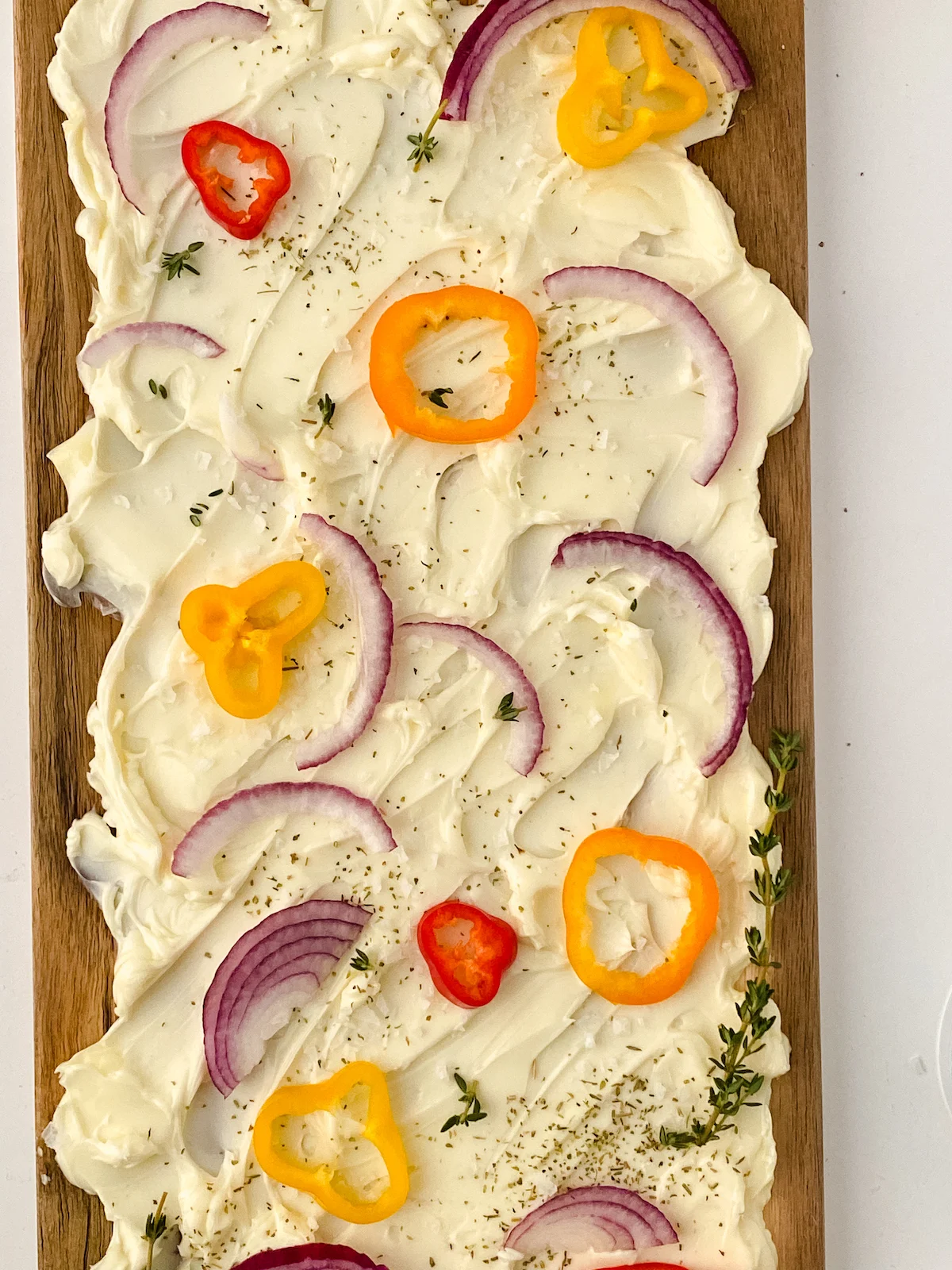 To a hot skillet add the oil
Lightly toast the slices of the baguette on both sides to be served with the butter board.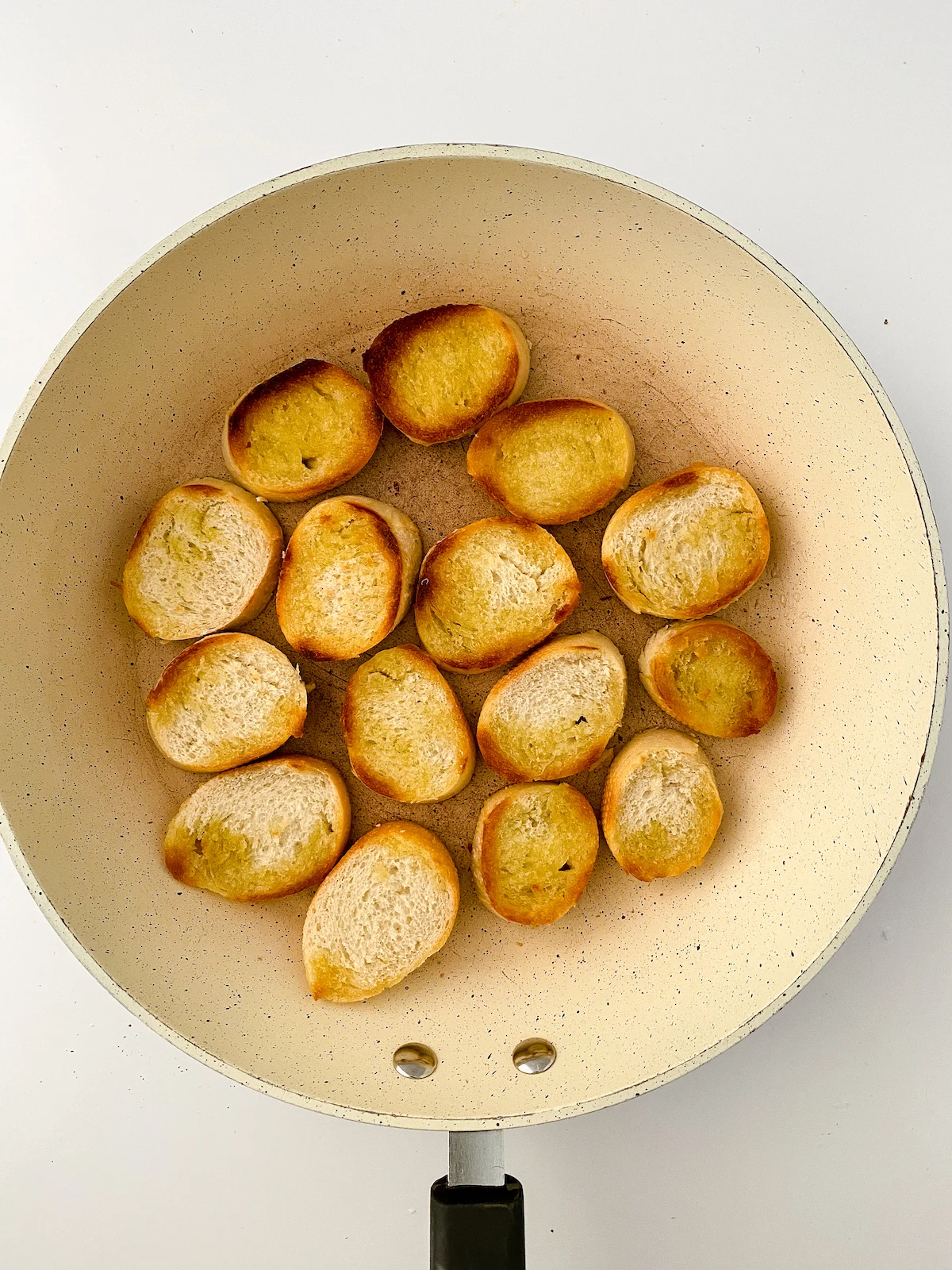 Serve and enjoy
Storage
Since butter is perishable, this butter board should not sit out longer than 2 hours. It should be covered and stored in the refrigerator when you are not serving or eating it. This kind of appetizer is best enjoyed the day that you make it. I don't suggest trying to keep leftovers for longer than a few hours, refrigerated of course.
Who made the Butter Board?
In 2017, Chef Joshua McFadden made a butter board to include in his cookbook, Six Seasons: A New Way with Vegetables. Justine Doiron shared her take on this recipe from the cookbook and created a viral trend on TikTok. But you can make your own butter board with this easy recipe.
How to Make the Herbes de Provence Blend?
If you need to make your own, simply combined these ingredients:
1 tsp fennel
1 tsp dried rosemary
1/2 tsp dried thyme
1 tsp dried marjoram
1/2 tsp dried tarragon
1/2 tsp dried basil
1/4 teaspoon dried mint
1/4 teaspoon dried lavender
What else can I add to this new butter board trend?
The options of things to add are really endless. You can get as creative or simple as you wish.
Feel free to serve your butter board with other kinds of bread or crackers. Basically, anything you like to spread butter on would be great options.
You can also choose to use different butter flavors at different parts of the board.
Add different things than crackers or bread, like smoked salmon, thin deli meat, etc.
This would be a fun thing to serve when you've created a mashed potato bar at a party.
We really like using crusty bread for this recipe but you can use anything.
What if I don't want to make it directly on the cutting board?
If you don't want to assemble your butter board directly on the wooden cutting board or platter, you can lay out a piece of parchment paper, cut it to fit the board you're using, then spray a little cooking oil on the back to help it stick to the board or platter easier. This makes cleanup a lot easier when you just have to pull off the parchment paper and then clean off the cooking spray. You don't have to worry about cleaning all the butter off the board.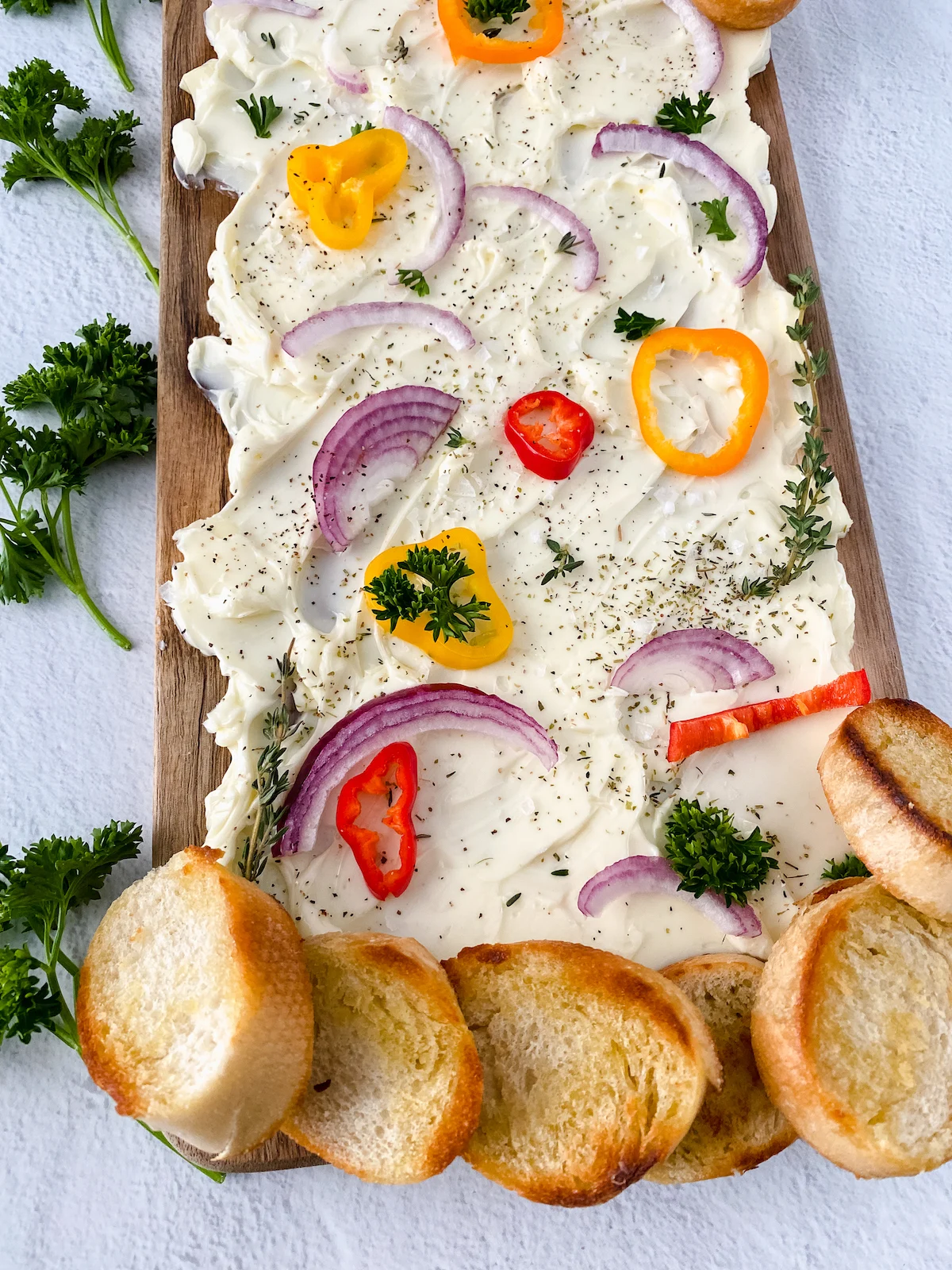 Tips and Variations
It is so crucial to make sure that you use soft butter. If you try to make these boards with butter straight from the fridge, it's not going to smear correctly. You must, must, must let your butter sit out at room temperature to soften first.
Use a butter knife to spread the butter and ingredients on a piece of bread when serving.
You can easily change the flavor combo of things by adding different flavors to the butter and serving with different breads, cracker choices, and other dippables.
To sweeten up your delicious spread, add a sprinkle of brown sugar or a drizzle of maple syrup.
If you're a fan of TikTok and are constantly wanting to try new TikTok trends, this is one you must try. The flavor combination is delicious and we love how simple it is to make this Butter Board using some simple ingredients. It also pairs well with our Pasta Charcuterie Board!
Yield: 8 servings
Butter Board Charcuterie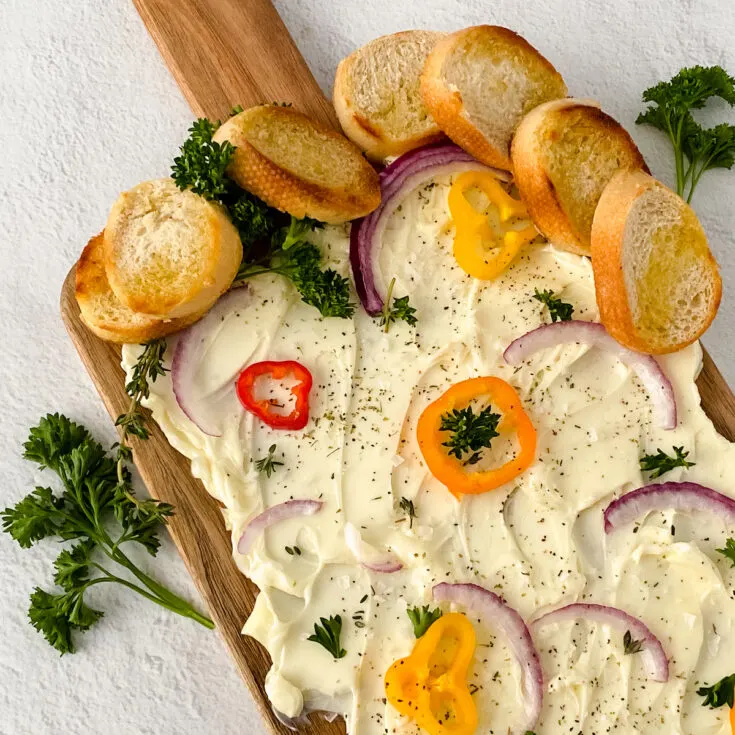 Are you looking for a fun twist on a classic appetizer? This butter board pairs great with dinner or as an afteroon snack!
Ingredients
2 sticks unsalted butter, softened
3 sweet mini bell peppers, sliced thin
1/4 red onion, sliced thin
1 tsp flaky salt
1 tsp herbes de provence blend
1/2 tsp black pepper
1 bagette, sliced
2 tbsp Extra Virgin Olive Oil
Instructions
Add dollops of the softened butter to board, spreading it out.
Use an offset spatula or spoon (something angled) to spread out the butter in a nice pattern.\
Sprinkle the flaky salt, herbes de provence and pepper all over the butter.
Place the onions and peppers on top.
To toast the bread slices, add oil to a hot skillet, and lightly toast on both sides.
Serve and enjoy!

Notes
Not feeling the baguette? This works well with any sort of crackers you enjoy, bagel chips, or pre toasted crostini.
If you do not want to put butter directly onto the board, cut a piece of parchment paper and fit it to the size of your board. Adhere with a little cooking spray then build board as instructed.
Feel free to add anything you would like to this!