Fall is fun for everyone including your dog. Read on for a list of festive activities to help you start celebrating fall with your furry friend.
Fall Fun for Your Dog
There are a plethora of fall activities for us humans to enjoy like eating pumpkin pie or carving a pumpkin. There are also plenty of fun fall activities for your dog. Here are some great ideas to start celebrating fall with your furry friend.
Leafy Adventures with Furry Friends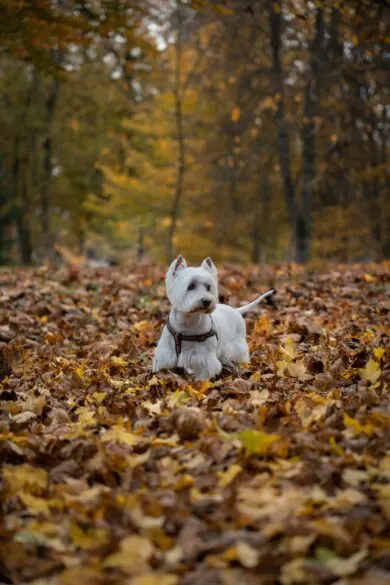 This post may contain affiliate links. As an Amazon Associate I earn from qualifying purchases. For more information, see our disclosure.
One of the greatest joys of raking leaves is also being able to jump in that pile of leaves. Your dog can't rake leaves for you but would probably enjoy a good jump in the pile with you after you've done your job.
Playing in a pile of leaves is a perfect way to celebrate fall with your dog. Of course you will want to be sure there aren't things in the pile that could harm your dog like a sharp stick, rock or other object.
Your dog might even joy chewing on some leaves. An occasional chewed on leaf shouldn't harm your dog. Yet, you may want to double check on the kind of leaves you are raking.
Pet-Friendly Fall Foods
There is so much to love about fall but fall foods has to be my favorite! Celebrating fall with your furry friend and food is a great idea.
As luck would have it pumpkin is safe for your dog to eat. He can enjoy some pureed pumpkin while you munch on your pumpkin cookie.
A Thanksgiving feast is full of foods your dog can devour. You could give your pup some turkey, cranberries, green beans or carrots. Having apple pie for dessert? Your dog can enjoy an apple slice (not pie, just the apple) as well.
Be sure to avoid feeding your dog things with onion, garlic, chives, chocolate or avocado. Also, as tempting as it might be to give your dog a bone from your Thanksgiving turkey it isn't a good idea. It can splinter when chewed and cause your dog all kinds of problems.
Hiking with Your Dog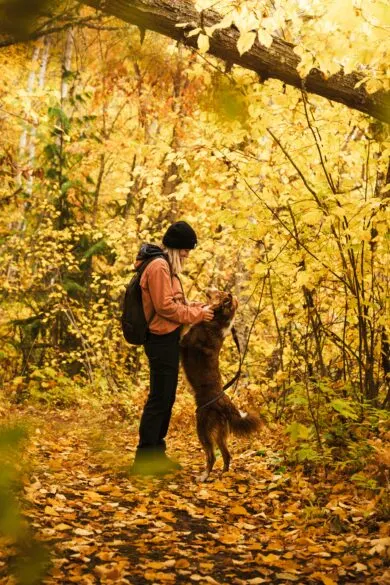 It's that time of year to go outside and see the leaves changing colors and enjoy the cooler air. Next time you go on a fall hike be sure to take your dog along.
Your pup can enjoy the new smells that come with autumn time. Leaves, pumpkins and the cool crisp air. Whether it's a short walk around the block or a hike up into the mountains your dog will appreciate the exercise and the quality time spent together.
Dressing Your Pet for the Season
As the temperatures drop you may want to add a layer of warmth for your pet. You could start with a nice jacket. The one pictured is from Amazon and is reversible so it serves two purposes, for warmth and to keep your furry friend dry.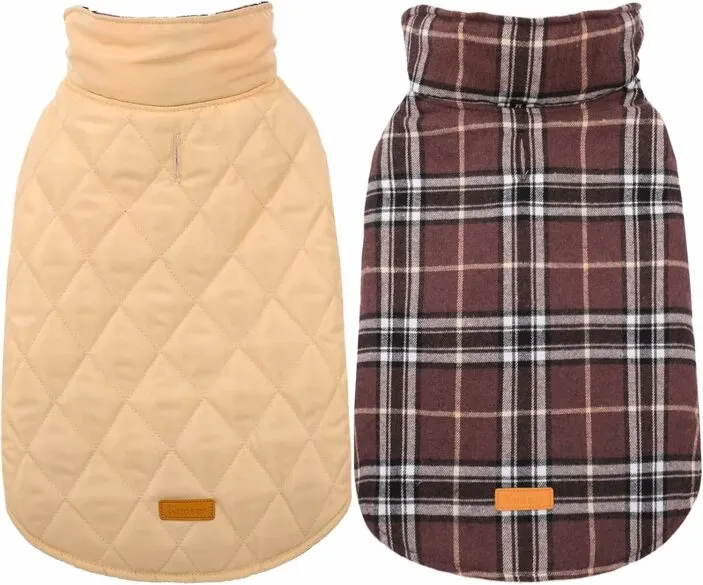 Want to be a fashionista this fall? Then its time to do some doggy clothes shopping. You can celebrate fall with your furry friend when both of you are sporting hoodies. This adorable dog hoodie even has the pocket on the back. Love it!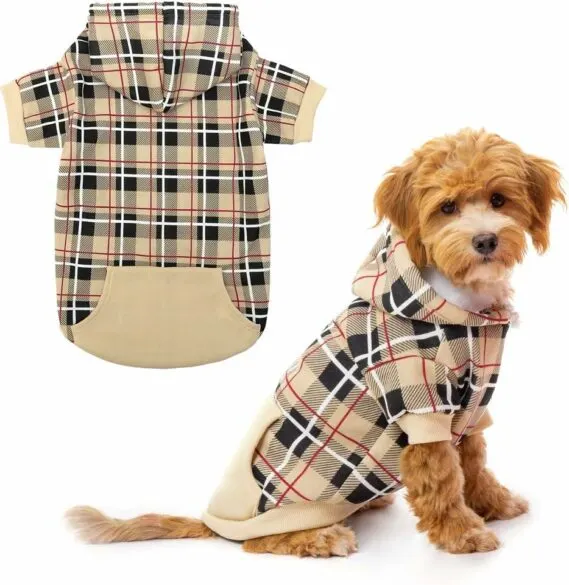 If a dress is more your dogs style then we have got you covered. Check out this adorable fleece fall sweater dress from Amazon.com. The color scheme is perfect for fall and the plaid sleeves and skirt are sure to be a hit. Not to mention the warm and cozy fleece on the outside and inside. I wonder if it comes in my size?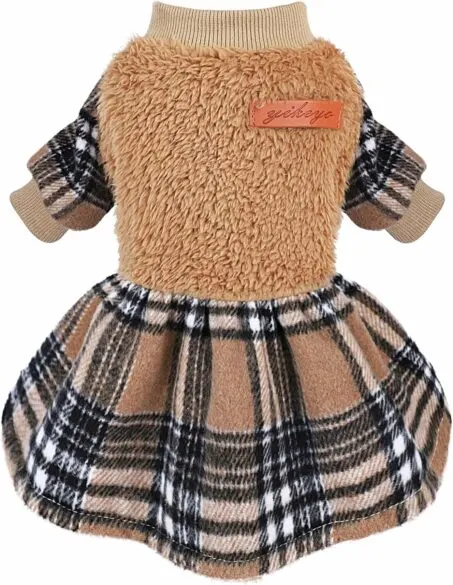 Indoor Activities for Rainy Colder Days
Along with the hayrides, pumpkin carving, and caramel apples comes rain, wind, and cooler weather. Don't be discouraged. There are still fun fall things to do with your furry friend when you have to stay indoors.
An inside day would be the perfect opportunity to have a photo shoot with your dog. Whether he's wearing his new fall hoodie or sitting next to your freshly carved pumpkin you can never have too many pics of your furry friend.
When it's cold outside, jump in the car! Is your dog is a fan of car rides? Then a cold day would be a great time to take your dog on a ride to see the changing color of the leaves in fall. If the weather allows for it then roll your window down and let your dog do his thing.
If your home has room for one more dog then you might consider a doggy play date. After all, fall is a great time to spend with friends and family. You can check out this Organized Mom post, "Keep Your Dog from Getting Bored" for more inside dog activities.
Celebrate "Howl"oween With Your Dog
One of my favorite things about having a dog is shopping for his Halloween costume. There are so many fun and creative dog costumes out there and finding one is a great way to celebrate fall with your furry friend.
If you want to go the extra mile try finding your dog a costume that compliments or matches your own. Have you ever done family themed Halloween costumes? Try incorporating your dog and his Halloween costume into the fun.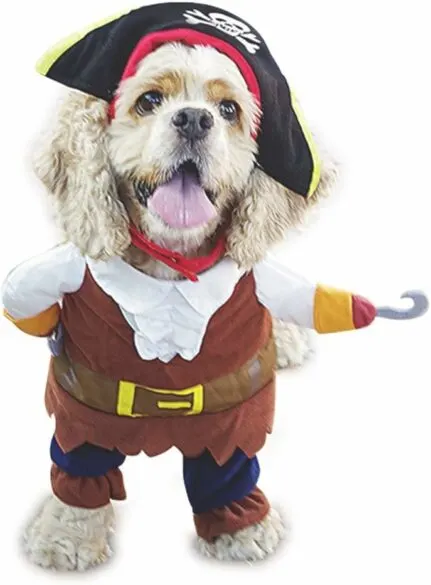 The dog Halloween costumes where it looks like your pet is standing on two legs are always entertaining. Also, the costumes where something is riding on their back never gets old.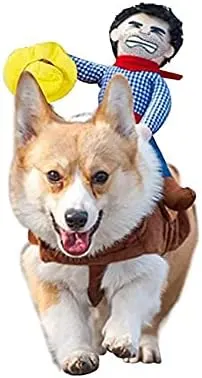 Fall is a fantastic time of year! The food, activities, holidays, and weather are just a few of the reasons.
This year remember to celebrate fall with your furry friend by playing in some leaves, going on a hike, finding their inner fashionista, spending some time doing fall indoor activities or hunting for a Halloween costume. Happy Fall!