If you're like most moms, you probably have a regular supply of cereal boxes being brought home from the store and promptly emptied by your hungry kids. From the first moment you set a few Cheerios on your toddler's high chair tray, cereal is a consistent part of most kid's diets. But did you know, rather than throw those empty boxes away, you can also organize with cereal boxes!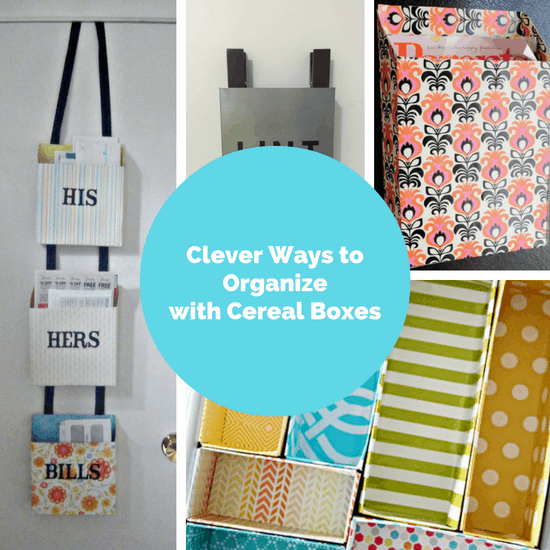 This post may contain affiliate links. As an Amazon Associate I earn from qualifying purchases. For more information, see our disclosure.
I am on a constant quest to control the clutter and keep my home organized. It's even better when I can do it cheaply and easily. Imagine my delight when I discovered I could use cereal boxes to help achieve some of my organization goals. Save some room in your recycling this week by checking out these clever ways to organize with cereal boxes.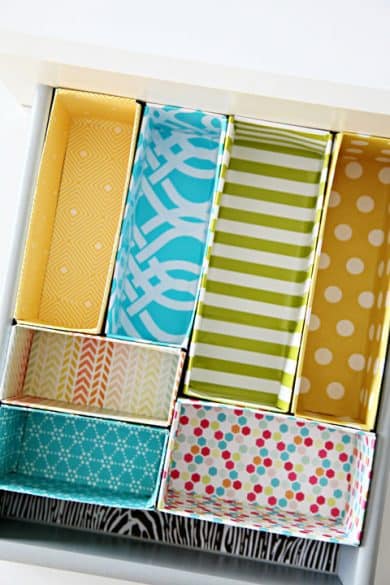 I can say with some certainty I am not the only person with a junk drawer in their kitchen overflowing with notepads, batteries, paperclips, and other miscellaneous items. Or a desk drawer brimming with disorganized supplies. Here is how I solved this problem by organizing with cereal boxes.
This project is so simple because you can measure the height of the boxes needed by setting the box in your drawer and cutting to fit. And you can make the drawer beautiful with your choice of wrapping paper around each cereal box drawer divider. I suppose you could leave the cereal boxes unwrapped, but the paper adds a more polished look. And if you're going to organize you might as well make things pretty.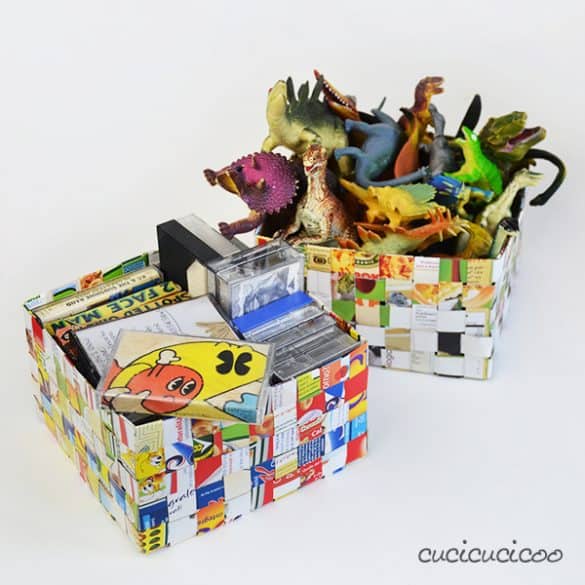 These colorful DIY baskets are one of my favorite ways to organize with cereal boxes. Since I seem to have an endless supply of cereal boxes being emptied in my kitchen every week, this is a great way to use them up. And when I need a basket I typically have all of these supplies on hand.
This project can be a little labor intensive but was easier once I got the hang of it. I love that you can actually see parts of the various cereal boxes but your basket doesn't look like a product placement ad. It looks colorful and fun.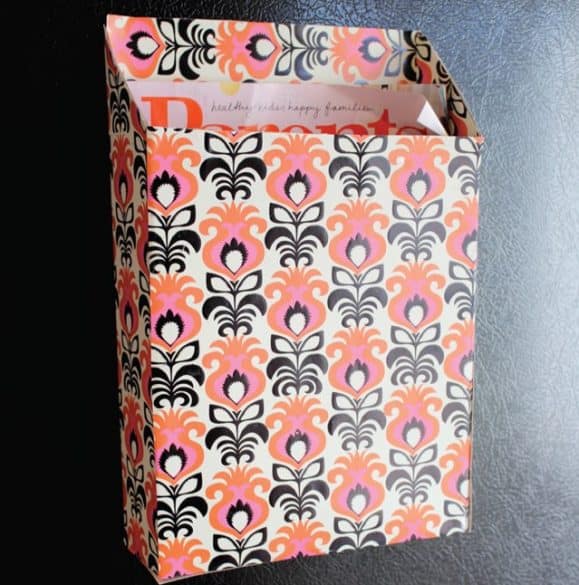 If you prefer simple DIY projects, it doesn't get much easier than turning a cereal box into a magnetic storage container. The link calls this a magnetic paper bin because you'll find cereal boxes are the ideal size for putting paper inside. But I have stuck these bins to the side of my fridge and stored art supplies, appliance manuals, and loose recipes very successfully.
This is a project you can do in under a half hour. And it has made a huge difference for me as far as keeping things accessible but getting them off the kitchen counter.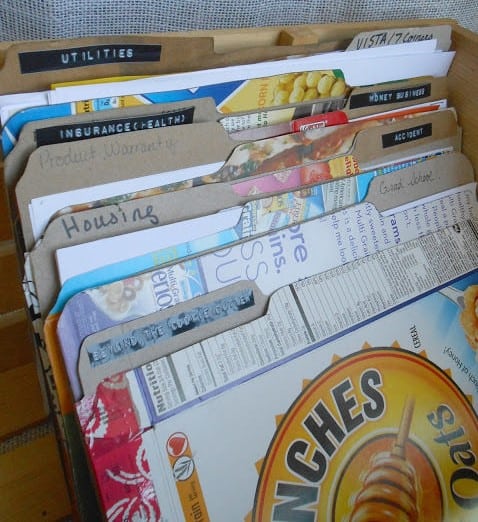 Because I run a small business out of my home and also keep my family's bills, records, and other important papers, I often need file folders for organizing. But I don't need as many as a larger office would and I never know when I might need one. How handy is it to be able to make my own out of a cereal box in under ten minutes?
It turns out, cereal boxes make great folders. They are durable, colorful, and cheap. I find myself enjoying the projects where you can actually see the old cereal box print, although you could definitely cover these with wrapping paper to create a more polished look. You could even get clever and use different types of cereal for different types of paperwork. As in, I use Cheerios for my tax records and Fruit Loops for my coupons. It makes for a unique filing system.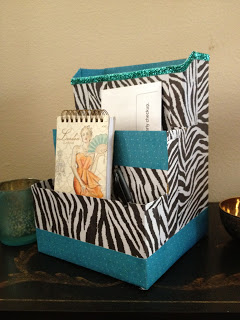 This cereal box organizer could be useful both at home or at the office. Without a desk organizer, my desk quickly becomes a mess of papers, notebooks, pens and post-its. This DIY cereal box desk organizer helped me clean off my desk and create a usable workspace. With the three separate tiers, I have places for everything I need and it's all neatly organized. As with the drawer dividers, you can cover the cereal boxes with pretty paper and put your own personal stamp on your desk organizer.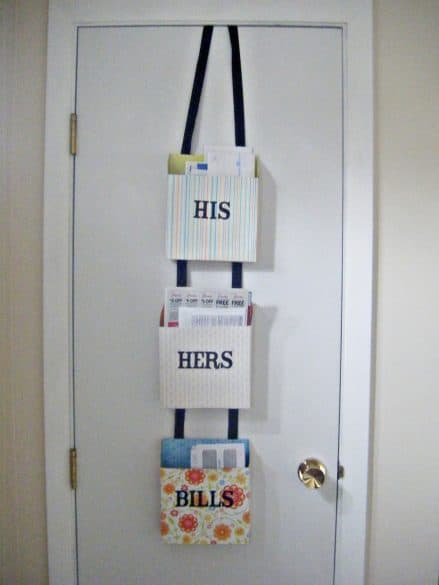 Confession time, until I made this hanging mail sorter, I threw my mail on the counter and hoped it eventually made it to the right bill pile or household member. This easy to make cereal box mail sorter probably saved my family a few lost pieces of mail. I put the mail sorter right where we come in so I am not tempted to toss the mail without sorting.
My hanging mail sorter is two boxes long because I only need to sort bills and then everything else. I find this mail sorter handy and it doesn't take up any of my counter space so I am happy about that too.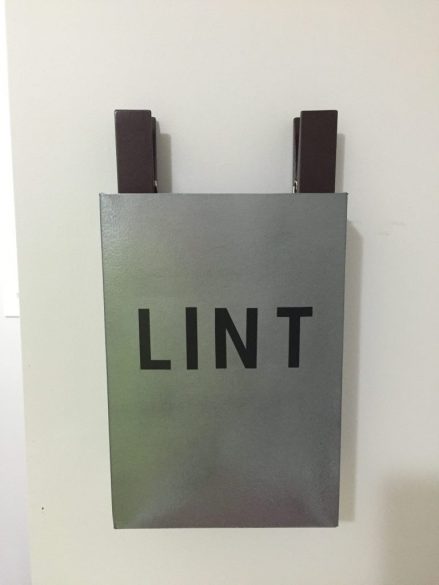 If the only thing keeping you from saving your lint is the lack of a lint holder, you need this cereal box lint holder. Lint can be useful to save if you're interested in DIY paper making projects or making papier-mache. It is also a great firestarter. I like having a lint holder because it keeps me from wadding it up, sticking it on top of the dryer and forgetting about it. My laundry room doesn't have room for a trash can, so a wall hanging lint holder is handy and saves me from a mess. I've seen other DIY lint holders, but this is certainly the least expensive and very simple to make.
Organize with Cereal Boxes
Deciding to organize with cereal boxes is a great way to upcycle something you normally throw in the recycling bin. It's eco-friendly and very inexpensive. Plus, I love a fun DIY organization project. It's amazing how many different ways there are to organize with cereal boxes. I hope you find these ideas useful and that they inspire even more organizational creativity.