During a recent thrift store visit, I spotted this tragic paper towel holder shaped like a cactus. The 90's style peach paint job was definitely not chic, but I knew it had potential. Cactus decor is a huge trend right now, and maybe by next year we'll all be sick and tired of them – but being from Arizona, I'm still feeling it. Give me all the cacti! So I couldn't resist purchasing this ugly little guy. I knew I wanted to detach the cactus from the paper towel holder, and maybe place it in a container to re-purpose it as decor rather than a kitchen accessory. So I also purchased a classic white pot. Both pieces cost me about $4.00 total.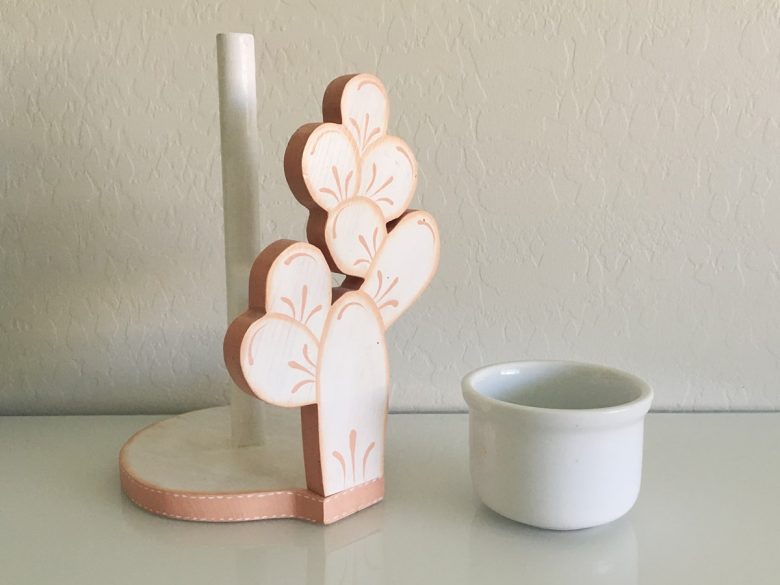 This post may contain affiliate links. As an Amazon Associate I earn from qualifying purchases. For more information, see our disclosure.
When it comes to DIY projects, I like to keep it as simple as possible. What's the point of doing it yourself, when all your project supplies end up costing more than if you would have just bought a finished product from the store? In this case, I only used two supplies – green spray paint and a black Sharpie marker.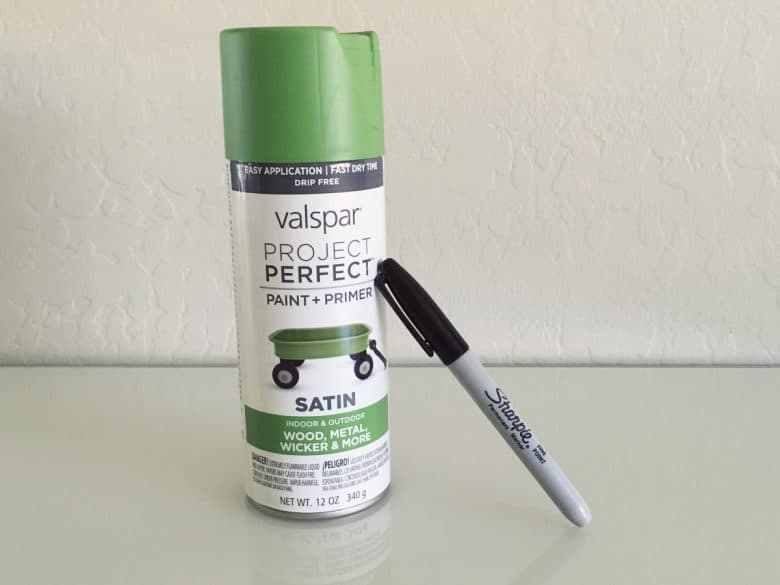 I detached the cactus shape from the paper towel holder using a screw driver. Then I lightly sanded it to get rid of any texture created by the existing paint job. Next I gave it two coats of green spray paint. Once dried, I drew on the details with the black Sharpie. Super easy!
I placed the finished cactus in the white pot and filled it with white rocks to stabilize it. Now I have a cute and one-of-a-kind cactus accessory that cost me next to nothing!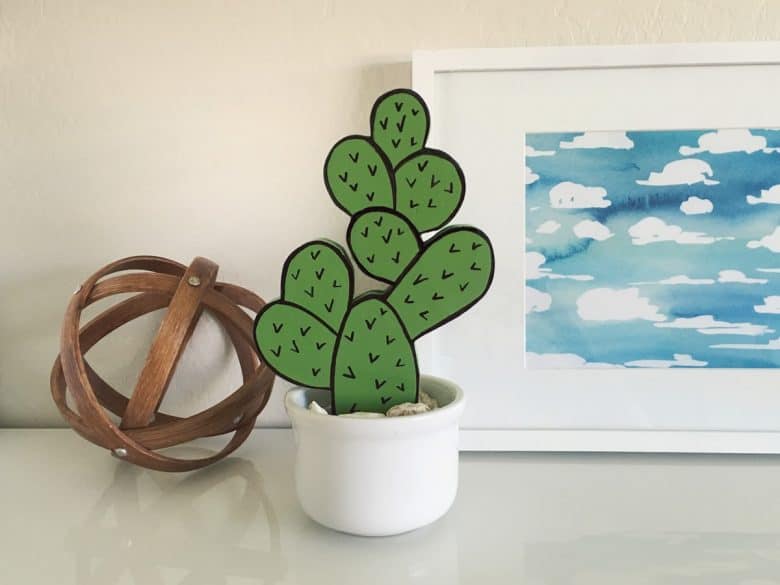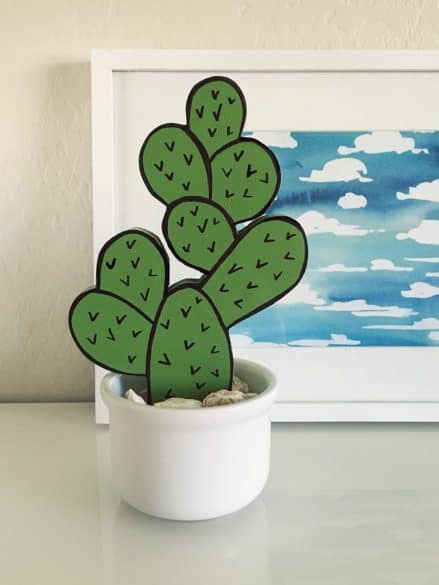 Ready to makeover your own thrift store treasure? Here are my tips for finding the perfect piece:
Don't go to the thrift store with something specific in mind. When I found this cactus I certainly was not looking for cactus decor, I wasn't looking for anything in particular, which keeps my mind open to all the possibilities.
Focus on quality rather than aesthetics. Look past the bad paint job of an object and check out what it's made of and how well it's put together. This cactus was solid wood which I knew would make it perfect for re-purposing. If it had been made of flimsy plastic, I would have passed.
Don't take on too much, or you'll never do it. I once bought a side table at a thrift store that was in pretty bad shape. The wood was chipped, the hardware needed to be polished, the whole thing needed a heavy sand job and multiple coats of new paint. It only cost $10.00 and was a cool shape so I went for it. Well, it sat in my garage for a year untouched because I was too overwhelmed by all the work it needed. Plus by the time I got done buying wood filler, sanding supplies, paint supplies, and possibly new hardware – would it really be worth it? Make sure you realistically assess how much money and work a project will require.
Good luck and happy thrifting!