Died and Gone to Heaven French Bread. This stuff might not make it to the dinner table. Not only is it delicious, but it's easy as pie and only requires one rise and then it's into the oven to get golden and delicious.
This post may contain affiliate links. As an Amazon Associate I earn from qualifying purchases. For more information, see our disclosure.
If you are like me, one of the things that keeps you from making bread is the rise time. Let's be honest, the thought of a fresh loaf of bread hits around the time when you are getting dinner ready to roll, not 4 hours earlier when you would actually have time for a couple rises and shaping. This French bread changes all that! In fact, I can get this bread started at 5:00 and have it on the table at 6:30. It's perfect because as it rests and rises, I just work on the rest of dinner and even have some time to clean up.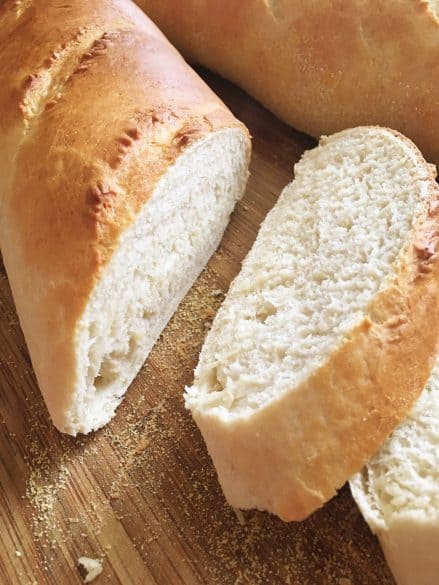 In this french bread recipe, I use instant yeast. From what my fellow cooking colleagues tell me, instant yeast scares people. I feel quite the opposite! I have never had a yeasted baked good not turn out when I use instant yeast. But there have been times when active dry yeast has done me wrong. Instant yeast cuts out extra rises and gets your dough in the oven faster. I prefer to use SAF Instant Yeast. I can find it in my grocery store, but I have also found it on Amazon. Be sure to store your yeast in the freezer so it doesn't have any excuse to wake up and lose it's rising power.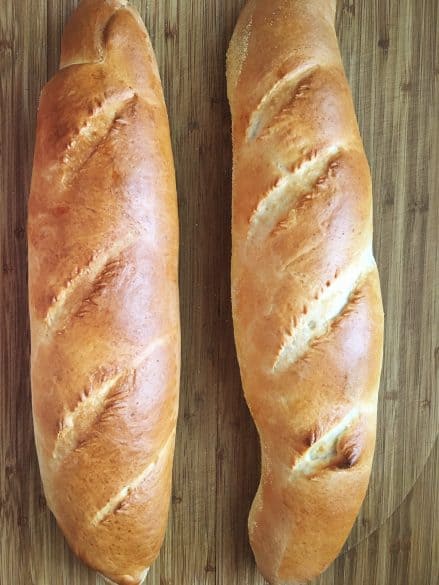 You are going to love this French bread. You will feel like you have died and gone to heaven! Get the salted butter ready and get this bread going!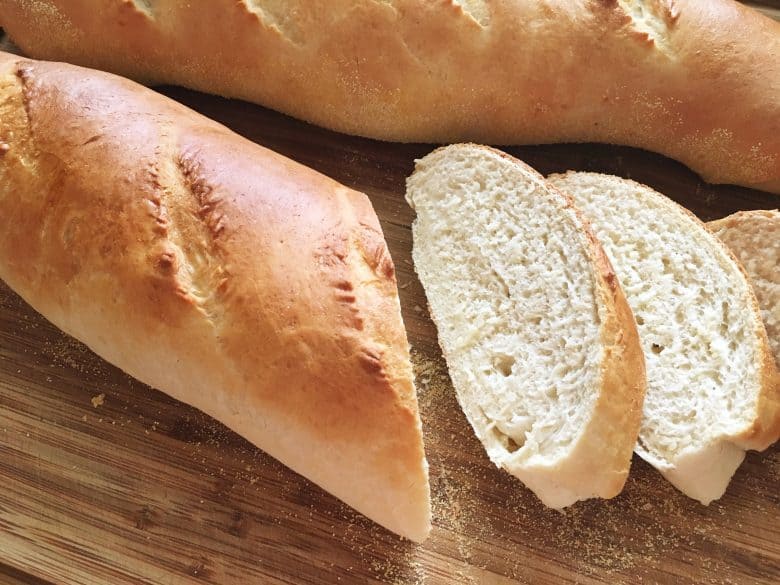 Yield:
Heavenly French Bread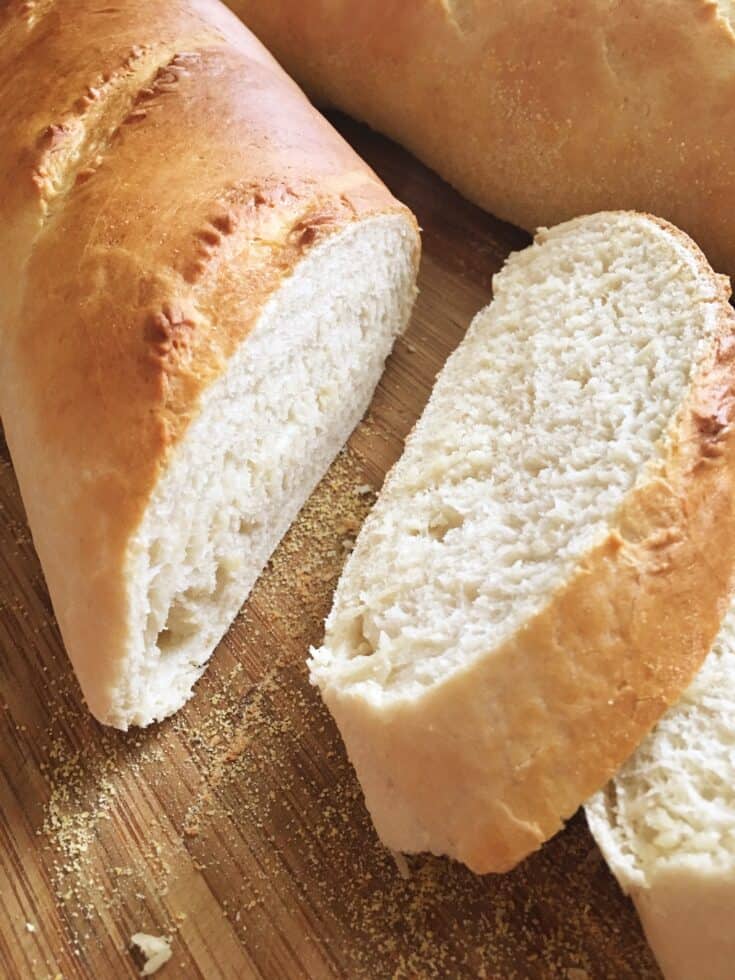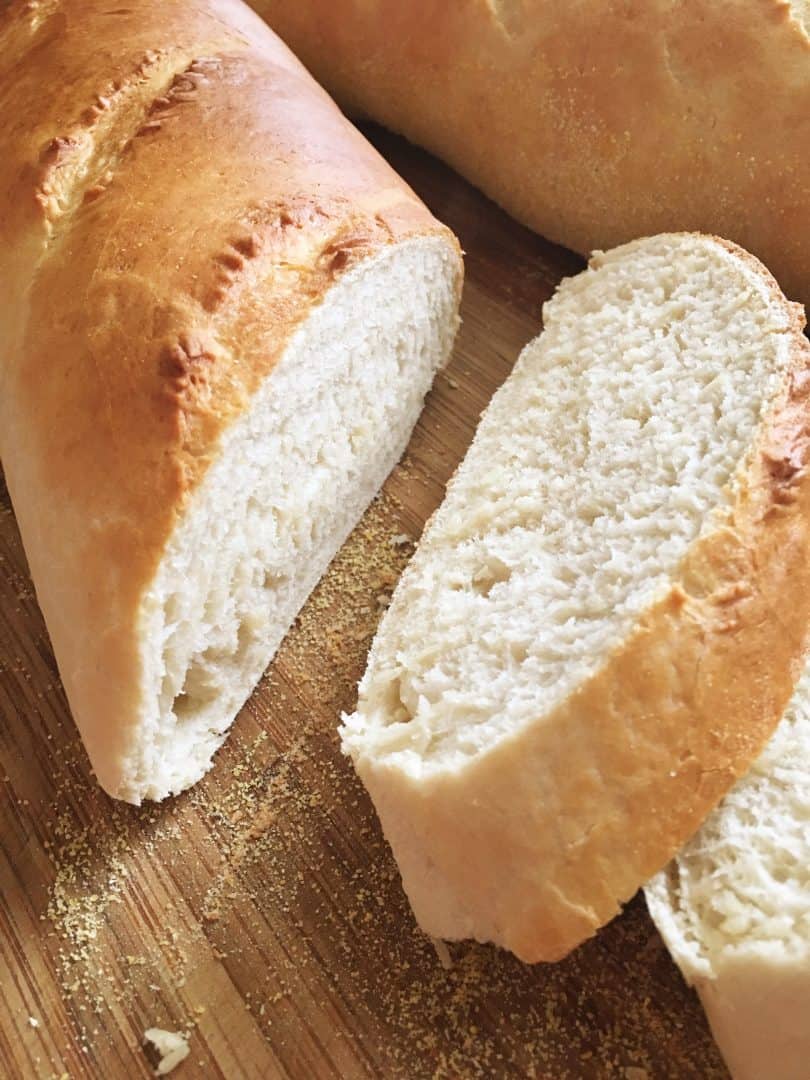 This french bread is easy to make, and a crowd pleaser!
Ingredients
5½ cups all-purpose flour
2 tablespoons vital wheat gluten
1 tablespoon sugar
1½ tablespoons instant yeast
1 teaspoon kosher salt
2 cups hot water, between 120 degrees F and 130 degrees F
1 tablespoon cornmeal
1 egg white
Spray bottle filled with water
Instructions
In the bowl of a mixer fitted with the paddle attachment, add flour, vital wheat gluten, sugar, yeast and salt. Mix well and then switch to a dough hook. Add water and mix until the dough comes together in a loose ball. Set mixer to medium speed and knead until a soft dough forms, about 5 minutes. Remove the dough hook, cover the bowl and mixer with a towel and let dough rest for 10 minutes.
Spray a baking sheet with non-stick spray and sprinkle cornmeal over the top. Remove dough from bowl and cut in half. Spray your kitchen counter with non-stick spray and roll dough half into a 10x15 inch rectangle. Roll up the dough from the top down and pinch off the ends into a taper. Set on baking sheet and then repeat with the other half of the dough. Cover loaves with a lightweight towel and let rise for 30-40 minutes.
Once risen, set oven to 425 degrees F. Slash tops of loaves with several cuts . In a small bowl, add egg white and a splash of water. Mix and then brush over loaves. Bake loaves for 10 minutes and then spray with water. Bake for 17-20 more minutes, until bread is golden brown. Allow to cool a bit before serving.
SHARE