Getting your house organized doesn't have to be expensive. In fact, you can bring order to every room in your home with just one trip to the dollar store! Most dollar stores carry a surprisingly thorough inventory of bins and baskets in a variety of colors, shapes and sizes that are great storage solutions. Here are a few of our favorite dollar store storage products, and how to use them.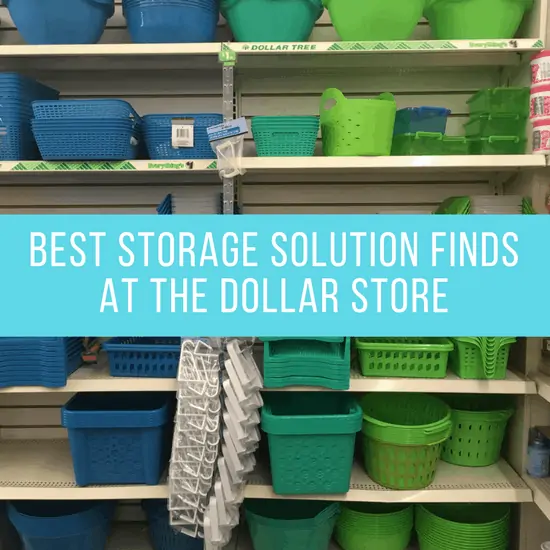 1. Plastic Boxes with Lids
This post may contain affiliate links. As an Amazon Associate I earn from qualifying purchases. For more information, see our disclosure.
These versatile boxes can be used in every room in your house. They're stackable, easy to label, and translucent – so it's easy to identify what's inside. Use them to store craft supplies, toys, out-of-season shoes, snacks in the pantry, or bathroom toiletries under the sink. The possibilities are endless with these handy fellas.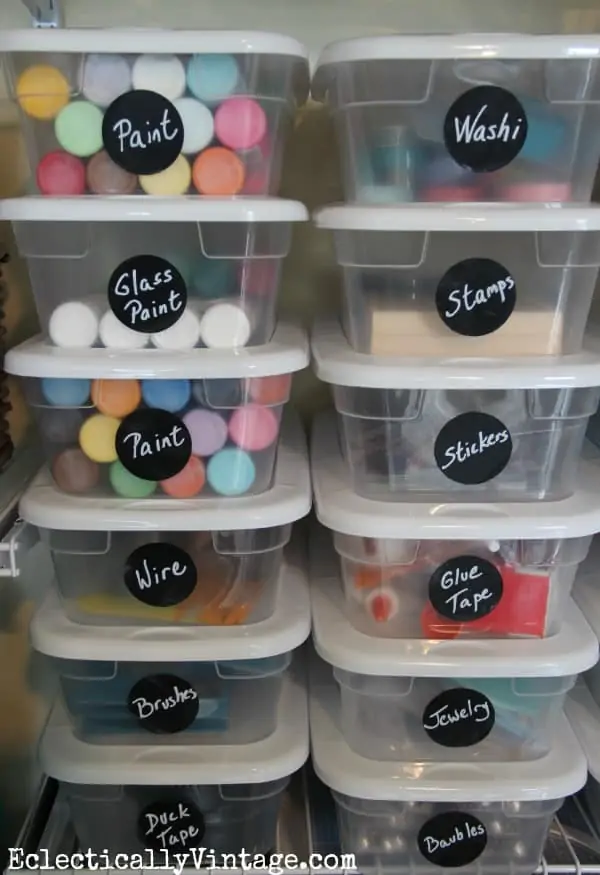 Source: Kelly Elko
2. Shallow Baskets
We love these shallow baskets because they're perfect for drawer organization. They come in a couple of different sizes, making it easy to mix and match until you get the perfect combination to fit your particular drawer. Great for organizing kitchen drawers, bathroom drawers, or the always elusive junk drawer.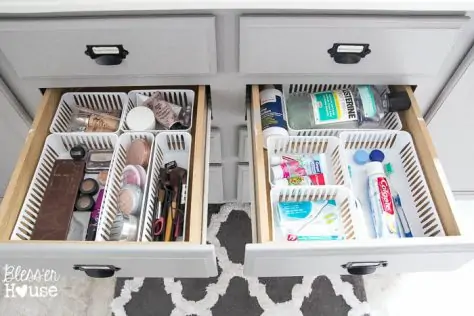 Source: Summery Umbrella
3. Tote Baskets and Tubs
These plastic tote baskets and tubs are great for outdoor toys, because they're sturdy plastic and easy to clean. If you're using colorful storage items, be sure to stick to only one or two colors for a cohesive look. Too many different colors will just make your space look cluttered.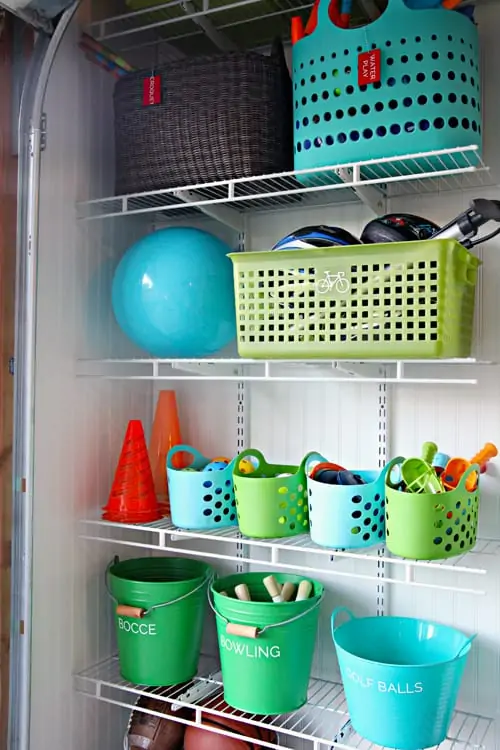 Source: I Heart Organizing
4. Pantry Organization
If you have a substantial project to tackle like a large pantry, fear not – the dollar store can still help you! Choose one color scheme and purchase a variety of baskets, bins, and boxes. You'll be sure to find a solution for every item. The result is a streamlined and easy accessible pantry. And you're still only spending a minimal amount of money!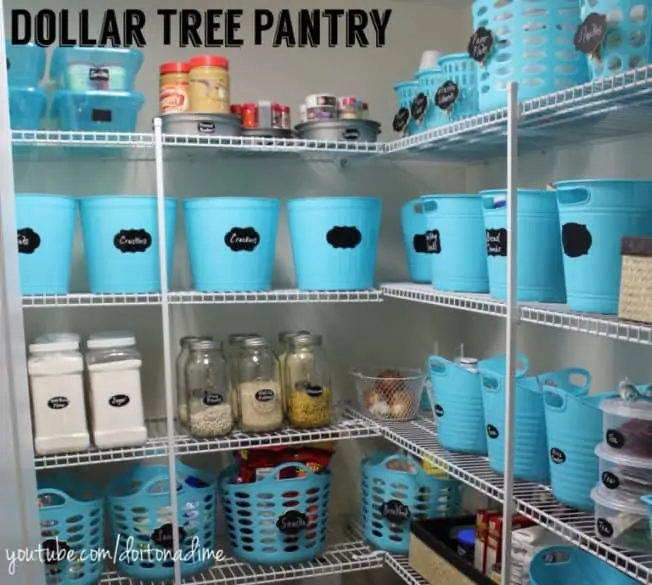 Source: Do it on a Dime
5. Under the Sink
The space under the bathroom sink is one of the most difficult areas to keep tidy. We love this solution of using dollar store baskets, but with the added bonus of a DIY plywood organizer. If you're not afraid of a couple of power tools, this is a great solution that brings those dollar store baskets to the next level.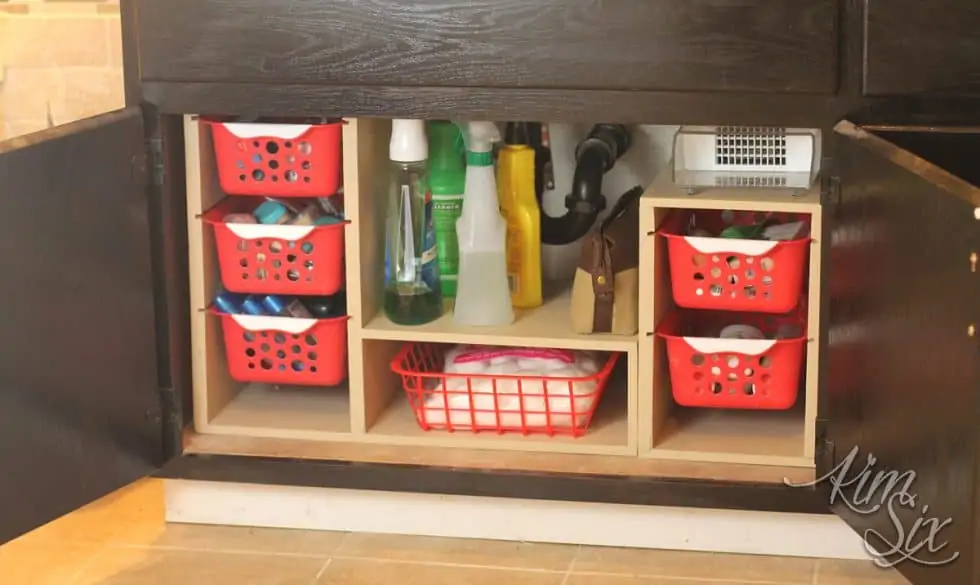 Source: The Kim Six Fix
6. Glass Vases
Don't be afraid to venture outside of the baskets and bins for even more storage solutions. You can repurpose dollar store items to fit your organizational needs. These markers are beautifully organized with glass flower vases.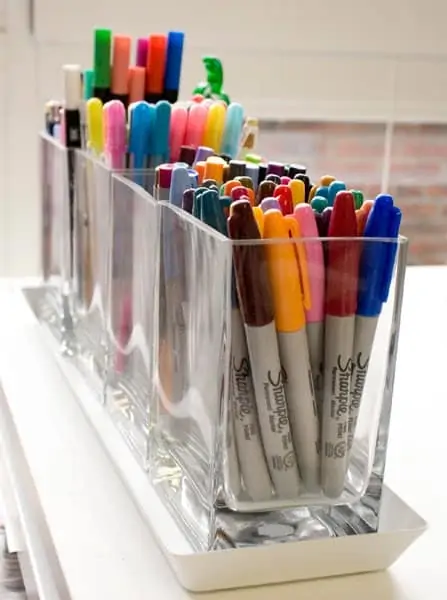 Source: Crafty Storage