With football season right around the corner, it's a great time to start gathering recipes for your game day festivities. From entrees to appetizers, I hope this article will give you a few new recipes to try.
Here are some of my favorite game day recipes.
Instant Pot Pulled Pork
If you are a pulled pork fan, I think you will fall in love with this version. It has just the right amount of tanginess and is super tender and juicy.
This post may contain affiliate links. As an Amazon Associate I earn from qualifying purchases. For more information, see our disclosure.
Ingredients
3 lbs. boneless pork roast, cubed
2 tablespoon olive oil
1/3 cup apple cider vinegar
1 cup barbecue sauce
1 ¼ cup chicken broth
½ teaspoon cumin
2 teaspoons onion powder
1 teaspoon pepper
2 teaspoons garlic powder
1 teaspoon salt
2 teaspoons paprika
1 tablespoon brown sugar
Hamburger buns
Extra barbecue sauce for serving (optional)
Crispy fried onions (optional)
Sliced cheese (optional)
Coleslaw (optional)
Directions
Mix cumin, pepper, salt, onion powder, garlic powder, paprika, and brown sugar in a small bowl.
Season meat with spices by rolling meat in the spice mixture.
Mix vinegar, barbecue sauce, and 1 cup chicken broth.
Set instant pot to saute mode and heat olive oil.
Brown pork on all sides. Depending on the size of your instant pot, you might have to do multiple batches.
Turn the instant pot off and use remaining ¼ cup broth to de-glaze the bottom of the pot.
Add back the meat and vinegar, barbecue sauce, and broth mixture.
Seal and cook on manual high pressure for 40 minutes.
Allow pressure to release for 10 minutes.
Shred meat and add some juices from the instant pot until it is as juicy as you want it.
Serve on hamburger buns.
Add extra barbecue sauce, crispy fried onions, cheese, or coleslaw if desired.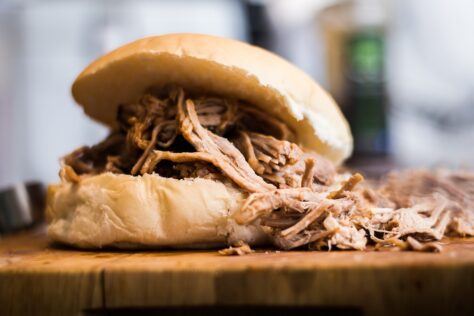 Artichoke Dip
Yummy dip feels like a staple that should be at every watch party! Not everyone likes artichoke dip, but for those that do, this is a recipe that is sure to please!
Ingredients
1 6-ounce jar of marinated artichoke hearts, drained
¼ cup fresh parsley leaves
1 medium clove garlic, peeled
2 tablespoons lemon juice
1 ½ cup sour cream
Salt
Cayenne pepper
Directions
Place the artichoke hearts, parsley, garlic, and lemon juice in a food processor. (If you don't have a food processor, a blender will also work.) Blend until the ingredients are finely chopped.
Add sour cream and blend until smooth.
Place dip into a serving bowl and stir in salt and cayenne pepper to taste.
Cover and refrigerate for at least one hour before serving.
Serve with crackers, toast, or raw vegetables.
Garlic and Herb Cream Cheese Spread
For all the garlic lovers! This dip is super quick and easy to make, making it a perfect late addition to your gathering.
Ingredients
1 ½ tsp. garlic, finely minced
¾ tsp. Italian seasoning
½ tsp. salt
1/8 teaspoon onion powder
1 12-ounce container whipped cream cheese
Directions
In a medium bowl, combine garlic, Italian season, salt, and onion powder.
Add cream cheese and gently fold in seasonings.
Store in an airtight container at least 1 hour.
Stir once before serving with crackers or chips.
Quick Chili for Game Day
Chili is a classic game day recipe. This favorite can be made an hour or two before the game and kept warm in your slow cooker.
Ingredients
1 pound hamburger
Dash of pepper
1 medium onion, diced
Can tomato soup
1 tablespoon onion salt
½ teaspoon salt
1 can chili beans (buy a spiced variety for extra flavor)
1 can kidney beans
Chili powder
1 can stewed tomatoes (optional for those who like chunkier chili)
Directions
Brown meat in soup pot.
Add onion, onion salt, salt, and pepper to the meat as you brown it.
Then add tomato soup and 1 ½ cup water (use less water if juice from beans is used).
Add strewed tomatoes if desired.
Season with chili powder to desired taste.
Simmer for 30 minutes.
Add beans and heat through.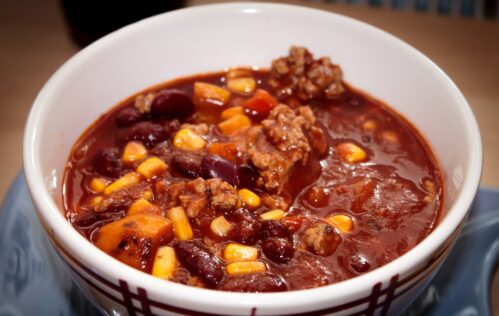 Sweet n' Sour Meatballs
Meatballs make both a great main dish and a yummy appetizer. The meatballs and sauce in this recipe are full of flavor.
Meatball Ingredients:
2 pounds hamburger
1/2 teaspoon salt
1 cup bread crumbs
3 eggs
½ cup minced onion
¼ cup grated parmesan cheese
½ teaspoon pepper
Dash of garlic salt
½ teaspoon worcestershire sauce
Meatball Directions
Mix all ingredients.
Form into small balls.
Roll in flour and brown in oil until cooked through, adding a dash of garlic salt to the oil.
Sauce ingredients
1 cup brown sugar
2 tablespoons cornstarch
2 cans pineapple chunks
2/3 cup vinegar (or a little less)
2 tablespoons soy sauce
Green peppers (add as many as you would like)
Dash to ¼ teaspoon ginger
Sauce directions
Combine all ingredients in a sauce pan.
Cook on medium heat, stirring frequently until sauce thickens.
Add sauce and meatballs to a crock pot to keep warm.
Serve on noodles or as an appetizer.
Puppy Chow
It tastes better than it sounds, trust me! This was one of my favorite snacks my mom made as a kid. I think it would make the perfect addition to your game day recipes! The peanut butter, chocolate, and powdered sugar combine for a delicious sweet treat.
Ingredients
9 cups Rice Chex
1 cup semisweet chocolate chips
½ cup peanut butter
¼ cup butter or margarine
1 teaspoon vanilla
1 ½ cup powdered sugar
Directions
Measure cereal into a large bowl.
In a one-quart microwavable bowl, microwave chocolate chips, peanut butter and butter uncovered on high for 1 minute.
Stir and cook 30 seconds longer or until mixture is smooth.
Stir in vanilla.
Pour mixture over cereal, stirring until evenly coated.
Pour into a 2-gallon resealable plastic bag.
Add powdered sugar and shake until well coated.
Spread on waxed paper to cool.
Store in an airtight container in refrigerator.
Caramel popcorn
This crunchy favorite is another dessert-like snack. The best part? It only takes minutes to make, so another batch can easily be made if you run out.
Ingredients
7 large marshmallows OR 2 tablespoons light corn syrup
1 stick margarine
½ cup brown sugar
¼ teaspoon baking soda
9 to 12 cups popped popcorn
Directions
Cook marshmallows, butter, and brown sugar in microwave on 100 percent power for 3 minutes.
Add baking soda and stir.
Cook additional 30 seconds or until marshmallows are melted.
Pour over popcorn and stir while sauce mixture is warm and easily mixed.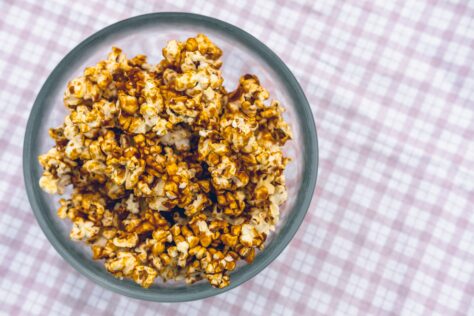 Enjoy your game day and these game day recipes! Hope your team brings home a victory!