Toddlers are notoriously busy little people, jumping from one activity to the next. It can be really fun to watch their new sense of independence and exploration grow, but it also can be a challenge to keep them entertained, since they tend to have shorter attention spans. We have some great activities for 2-year-olds that will help.
Here are several fun activities for 2-year-olds.
Playing with Play-doh
There is a reason why Play-doh is a staple in many households. It is cheap and most kids love playing with it! The only downside? It can get a bit messy, especially with little ones, so find a non-carpeted area of your home to set up your play-doh area.
This post may contain affiliate links. As an Amazon Associate I earn from qualifying purchases. For more information, see our disclosure.
Another thing you can do to help with clean-up is buy a large plastic place mat to use underneath the play-doh or tape down some freezer paper onto the table. This can be your toddler's work zone.
Play-doh is quick and easy to make at home as well. Here is a simple recipe:
Ingredients:
1 cup flour
2 teaspoons cream of tartar
1/3 cup of salt
1 cup water
1 tablespoon vegetable oil
Few drops of food coloring
Directions:
Add flour, cream of tarter and salt to a 2-quart saucepan.
Add a few drops of food coloring (gel kind works great!) to water and stir into flour mixture, along with vegetable oil.
On low/medium heat, cook and stir until the play dough starts to solidify. (Lumps at this stage are ok.)
Keep stirring. Dough will become thicker.
When the dough starts to gather around the spoon, this will indicate it is done. This may take up to 2 minutes, depending on how hot your stove is.
Remove dough from heat and scrape it out onto some wax paper. When it is cool enough to touch, knead the dough to eliminate any remaining lumps.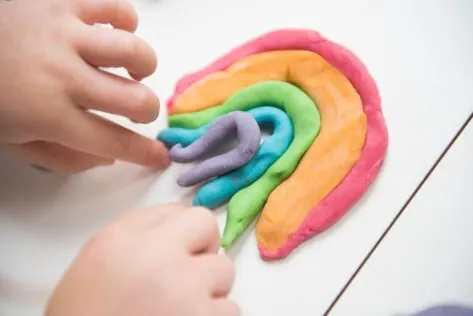 Building with Mega Bloks
Mega Bloks (or any kind of larger Lego or building block) are the perfect size for little fingers. They are easy to put together and easy to tear apart. Your 2-year-old will have lots of fun building tall towers and knocking them down, over and over again!
Exploring new playgrounds
If you live in a town with multiple playgrounds, try out a new one! This is a great way for your little one to be around other kids their age. And you might just make a new mom friend while you are at it! (I met one of my closest mom friends at a park when our kids were toddlers.)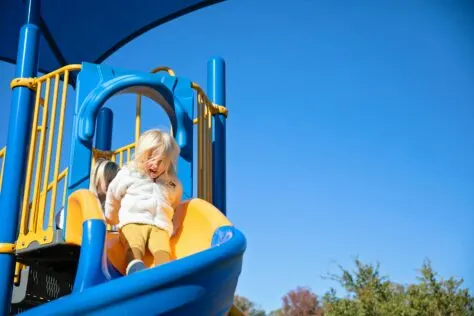 Story time at the library
Check out your local library to see if there are toddler story times. This is another great way for little ones to socialize with other kiddos their age. Along with listening to a story, toddler story-times often involve songs and movement activities. Librarians know 2-year-olds can't sit still for long!
Treasure hunting Activities
Fill a plastic kiddie pool with sand. (You can find bags of sand at most landscaping or large home improvement stores.) Then bury various objects within the sand and let your little pirate dig for buried treasure with plastic shovels or their hands. Expect some sand to land outside of the pool, so put it in on the grass or place that will provide easy clean-up.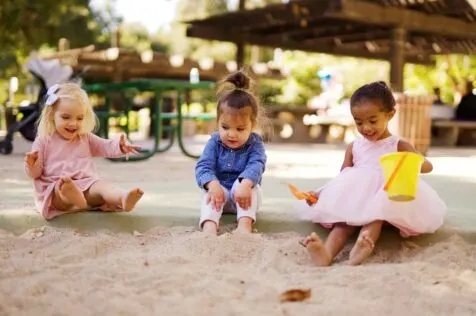 Going to a splash pad
These are a great alternative to swimming pools because you don't have to worry about the depth of the pool! Contact your local Park Department to see if your town has any public splash pads. This is a great sensory activity for young kids, as they explore the various ways the water comes out of the play structures.
Visiting a zoo
This one might be a worth a road trip if you don't live close to a zoo. Just remember there will be a lot of walking involved so be sure to bring a stroller, plenty of snacks, and allow time for a nap if needed.
One tip I will give from my own experience—let your child dictate the pace. Don't go into it thinking you will get to see all of the animals, because you probably won't. The last thing you need is a power struggle next to the monkey exhibit because you are trying to hurry from one animal to the next. With that said, a trip to the zoo is one of the BEST activities for 2-year-olds.
Creating a masterpiece with finger paints
Yes, they are messy! But little kids love finger paints! And the good news is that you can buy finger painting kits that are a lot easier to clean up than the ones we had growing up. An art smock or an old t-shirt is recommended for this activity.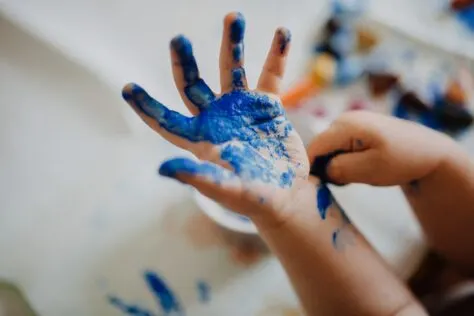 Riding bikes
Tricycles will always be a well-loved starter bike for 2-year-olds, but you might also consider a strider, or balance bike. These bikes don't have pedals and are specifically made to fit little bodies. Both of my boys started on strider bikes and when they were ready to switch to bigger bikes, they had the balance thing totally down!
Building puzzles for Toddlers
Puzzles are truly great at any age. There are so many puzzles tailored specifically for toddlers these days, that finding them won't be hard, but they can be a little spendy. You might try checking out your local consignment stores, thrift shops, or garage sales. Or do a puzzle swap with other local moms when you kiddo is ready for a new challenge.
Building an indoor fort
Gather pillows, blankets, and a couple of chairs (or use other furniture) and design an indoor fort with your 2-year-old. They will love to have snuggle and story time with you inside this cozy little area.
Ice cube painting
On a hot summer day, grab ice cubes out of the freezer and let your toddler "paint" a picture with them on the sidewalk. The heat from the sidewalk will melt the ice as your toddler paints and it is completely mess free! If the ice is too cold for your toddler's hands, let them wear a pair of gloves.
I hope this list provided you with some new fun activities for your 2-year-olds. Even though this age can be a bit trying as a parent, it can also be loads of fun. And there is nothing like re-experiencing the world through the eyes of a child!