There is a lovely little holiday known as St. Patrick's Day, sandwiched between Valentine's Day and Easter. Whether you are of Irish descent or not, St. Patty's Day is celebrated in the U.S. by many people across the nation with love and a magical sense of fun that comes on March 17th every year. Many people dress in green, eat traditional Irish dishes, and kids hear tales of leprechauns and pots of gold at the end of rainbows. One fun way to celebrate the holiday is by making festive desserts for your celebration, your kids' school or to enjoy at home. Here are a few neat ideas:
Green Cake with Fun Sprinkles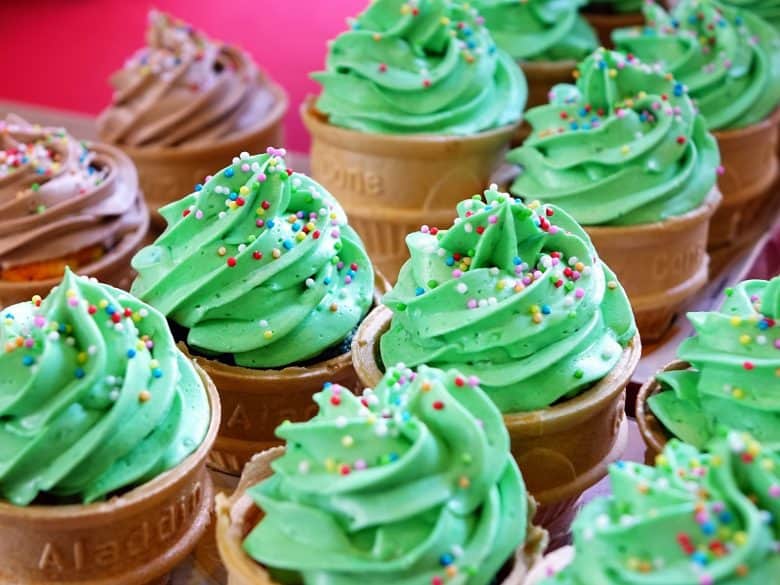 Probably the most simple and tasty dessert you can make for your celebration would be to make a white or vanilla cake and add some green food coloring to the mix before baking. You can add as many drops of green food coloring as you'd like until you get the shade of green you want – from mint to evergreen.  You should keep in mind that the shade may change a bit after being baked! This will give you a yummy cake with the signature color of St. Patrick's Day.
Top it off with your favorite frosting (vanilla works well with this cake) and some fun St. Patty's themed sprinkles and voila! You can apply the same steps to cupcakes! Some grocery stores even sell holiday-themed cupcake wrappers too! If you prefer a different flavor of cake, trying making the frosting green instead. You can easily have a chocolate cake with green vanilla frosting and still pull off the theme.
Key Lime Pudding or Jello cups
Key lime or green jello cups will make a festive and easy dessert for any St. Patrick's Day celebration. Key lime pudding is really easy to make! All you will need is some sugar, flour, butter, lime juice, limes, eggs, and milk. Key lime pudding can be topped with whip cream and even small pieces of chocolate chips or small nuts.  If you'd prefer, pudding can be swapped out for lime green jello, which can be easily made with premixed packets at home. You purchase small individual disposable plastic or Styrofoam bowls to serve either of these in or mix it up and serve them in an edible bowl made out of waffle cones or graham crackers.
Mint Chocolate Brownie Goodness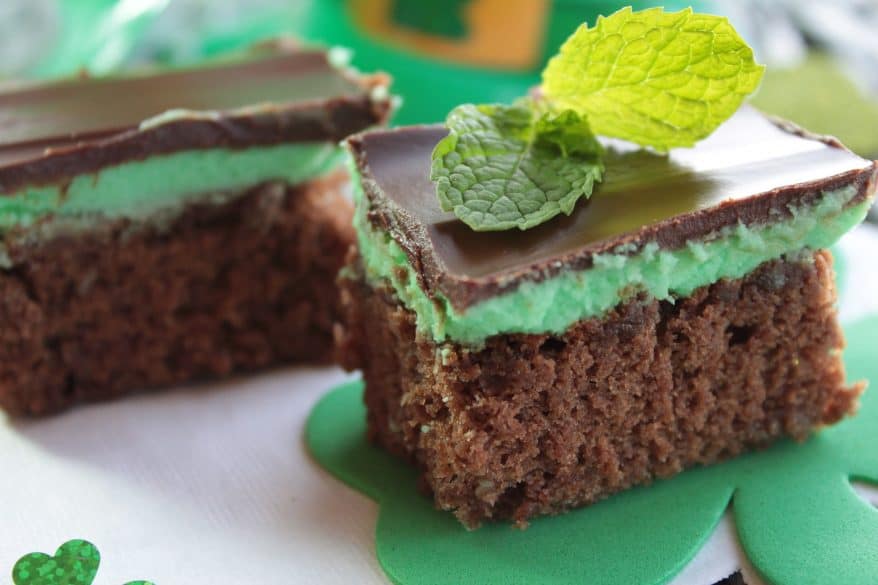 Mint is a fun green food that you can add to so many traditional desserts. It is especially yummy with any form of chocolate. Why not cook up a few batches of your favorite brownies and purchase your favorite mint chocolate chip ice cream and make some one of a kind sundaes?  You can top sundaes with whip cream and white, green, and golden sprinkles to go along with the holiday too.
Another fun option is to add some green food coloring to whipped cream.  Add even more of the festive color to this yummy treat! Or layer two pieces of brownie between some of the green vanilla frosting mentioned above. Either way, your family will devour them.
Some other ideas: Green grape and kiwi skewers, green sugar cookies, chocolate cookies with pistachio pieces crumbled on top, and homemade glazed donuts with green frosting.