The 2020 school year is going to be unlike any other we've seen before. In the wake of the COVID-19 crisis, many school districts have been forced to reevaluate how children are taught. Some will be remotely, a hybrid model or a traditional one. This leaves parents with many questions and concerns that they in turn have to explain to their children. If you are finding yourself in need of getting ready for school in 2020, try a few of these tips on for size.
Present the Facts
This post may contain affiliate links. As an Amazon Associate I earn from qualifying purchases. For more information, see our disclosure.
Since the initial outbreak, parents have had to talk to their children about COVID-19. They have had to explain why schools across the United States had to shut down this past spring and are still going to not be fully open this fall. The best way to get your kids ready for an unconventional school year is to remind them of the severity of the disease and why communities are being extra cautious in the wake of the ongoing pandemic.
For younger children, break down the ways in which corona virus is spread. Be sure to be careful when explaining the virus to younger children, as there is a fine line between telling them how dangerous it is, and scaring them from living their every day lives. For older children, it's okay to be a little more clear on what the entomology and prevention methods are with COVID.
Making Hard Choices
Whether you are choosing to send your children to school, or going for more of a virtual learning strategy, it is imperative that you and your child discuss a game plan for the year. No matter which route you choose, it is likely that the plan may change as the pandemic continues on. To help your child prepare for the possibility of schools closing again, talk about a fallback option and the possibility of having to switch back to remote learning. Allow your child to have as much of a say in this matter as possible.
The New Normal
While this school year may be different than those in years past, there are many ways you can keep things somewhat normal for your kids. Maintaining typical schedules, spending time with familiar friends and filling the gaps with activities will help provide this. For example, if your child's recess time has changed because of the need to limit a lot of kids in one area at a time, try taking them to the park as soon as they are done with school. Giving children the opportunity to get the necessary exercise that they'd normally get at school can make a big impact on this new form of learning.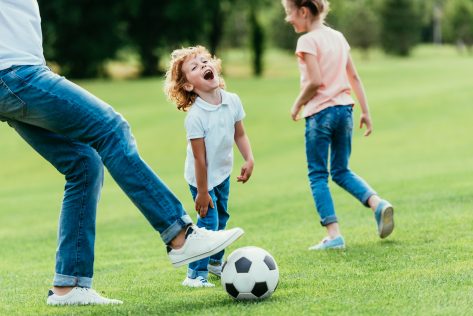 Also, try talking to your child's teacher and school administrators for suggestions on ways that you can help with these transitions. Maybe bringing your child out to eat once a week can help them learn the social skills they might otherwise learn in a cafeteria, which may be off limits for this school year. Get creative and take initiative with creating new habits and routines that can help make this untypical school year as manageable and uplifting as possible.