Recently our state employees went from a 5 day work week, to working 4 ten hour shifts a week. As I was counseling employees on eating healthier, they always tell me there is just not enough time after a ten hour workday to get a healthy meal on the table. Often they will stop on the way home to "pick something up" as an alternative. Whether you work out of the home, or in, here are some suggestions to getting a healthy meal on the table every night!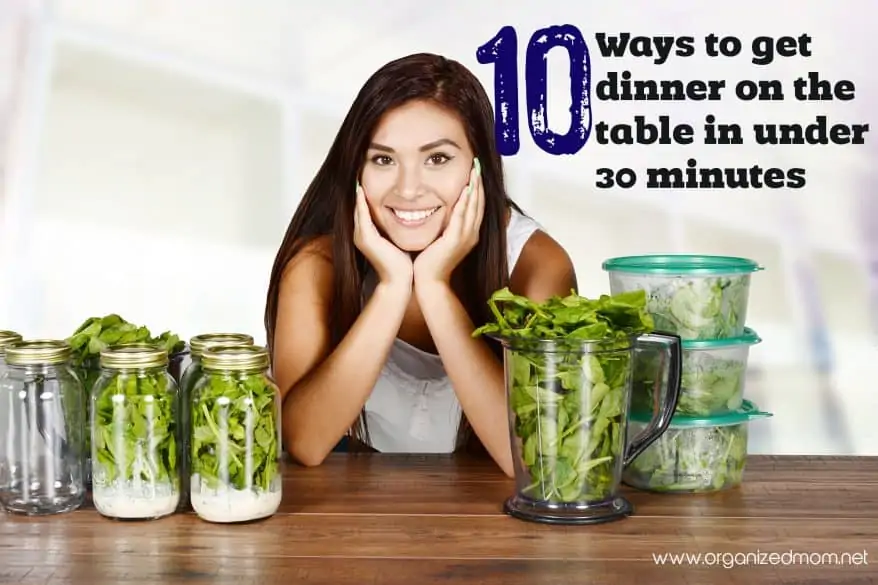 Access your Go-To quick meals! Make a list of your quickest, under ten minute meals. (this is my list) These can be your go-to meals when you get home late, and the family is starving. The favorites for our family is angel hair pasta with broccoli and Parmesan cheese. Stir-fry vegetables and rice. Spaghetti or a big salad.
Meal plan. And don't worry about planning weeks or months at a time. Just plan a day at a time. Scan your fridge to see what's available before you go to bed. By morning decide what will be for dinner that night and make all preparations for it before 9am. Thaw and cut meat, chop vegetables. Put items in crock pot. Etc. If the prep work is done, getting a meal on the table is inevitable. (pre-written meal plans for kids here!)
Enlist the kids help. They can do many of the tasks involved with making a meal. It may seem easier to plop them in front of the TV while you prep for dinner, but in the long run, it will be easier when they know how to do much of the work you are doing yourself.
Prep once a week. Once a week, I will prep any dinners coming up for the week. Whether it's marinating meat, cooking rice, or chopping veggies, it gets done on Saturday, so the actual days we eat meals are simple.
Shop with intention– I like to keep the food on hand that can be put together in a snap! Canned beans, rotisserie chicken, pasta, rice, and loads of potatoes. Having staples such as these make it possible to put something together, and helps avoid extra trips to the store.
Start with a clean kitchen. A meal can be prepared much more quickly when you aren't spilling on homework or if there is a sink full of dishes. Check out these kitchen cleaning hacks here.
Have a pantry basket– A big game changer for me has been to keep pantry ingredients that I will need for a specific meal in a "Do Not Eat Basket". Do you know how many times someone in my family has eaten a key ingredient, making it impossible to make my planned meals? Too many to count! Having the do-not eat basket helps tremendously, and I've been able to follow through on the meal plan with much better success.
Know your substitutions. Be prepared to follow through with your planned meal, even when it means substituting an ingredient for another. Once, I wanted to make chili. We didn't have kidney beans, although I thought we did. So we used Chickpeas instead! Tasted just fine!
Learn quick cooking methods- Our best purchase was a pressure cooker! I cook potatoes, rice, or other grains in minutes, where it used to take more than 30! A pressure cooker is a fabulous way to get the cooking finished in record time.
This post may contain affiliate links. As an Amazon Associate I earn from qualifying purchases. For more information, see our disclosure.
Getting a meal on the table every night doesn't need to be complicated. Keep it simple, plan ahead, prep in the morning, and you won't need to hit the drive-thru every night.