When you make a choice to take over your child's education, it is incredibly empowering. As parents, we want to be sure we're giving our children the best head start and that their education will help them succeed. So how do you choose the best homeschool workbooks for high school?
Pre-K and middle school homeschooling is often taught via workbooks, but high school providers often use online lessons. You can still buy workbooks to help your child understand and practice the skills they need for tests. Workbooks will cover core concepts in different high school subjects.
This post may contain affiliate links. As an Amazon Associate I earn from qualifying purchases. For more information, see our disclosure.
As exciting as homeschooling your teenager can be, it is also potentially scary and overwhelming. You know you're making the right choice when teaching your pre-K and middle school students. But high school is much more complex, and you might wonder what homeschool workbooks to use.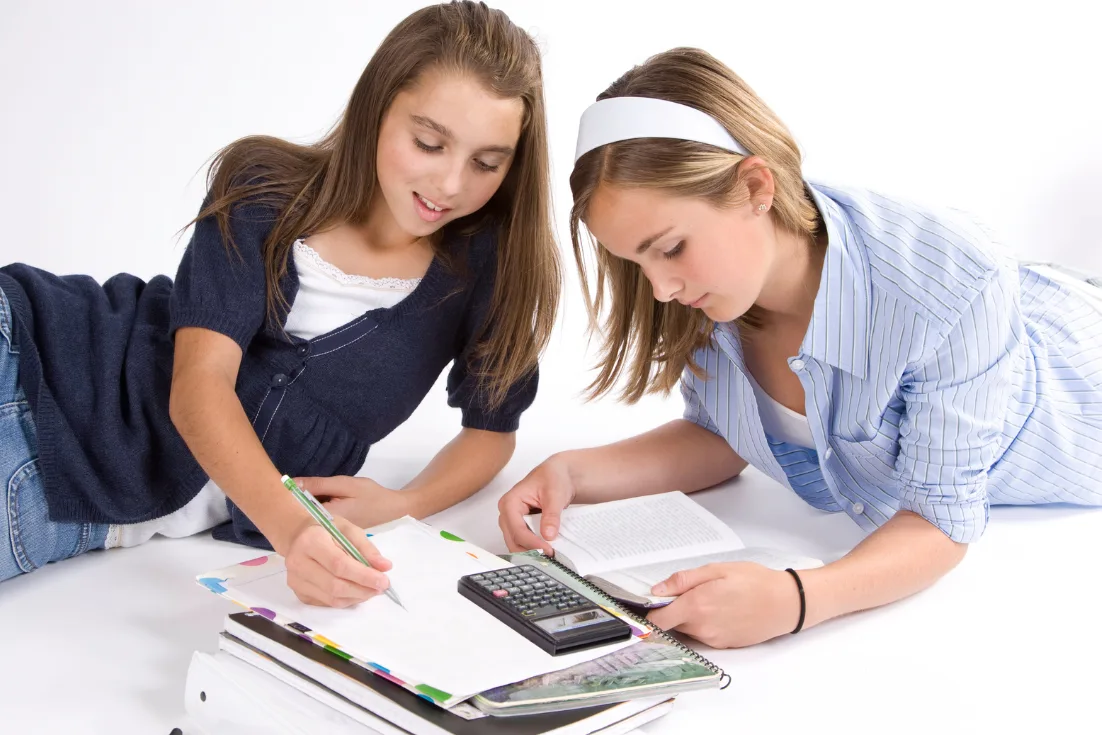 Homeschool Workbooks For High School
As your kids move on from middle school education, their work will become much more complicated, and their school load will increase.
There is so much new information to take in. At this stage, high school students need to prepare for standardized tests such as the SATs, and many worry about their Grade Point Average.
While many providers use online content to provide quality lessons, you can also use workbooks to expand on subjects. This is particularly helpful in weak areas.
We've compiled a list of supplemental workbooks for high school students. Use these collections of worksheets to revise and practice necessary skills.
High School Math Workbooks
Algebra 1
High School Math Algebra 1 is a workbook to help students revise and master Algebra 1 concepts. Use the workbooks to spot gaps in your algebra knowledge and correct them.
Designed by math education experts, this workbook aims to provide additional help for coursework and to prepare students for their standardized tests.
Core concepts covered in the workbook include
Real numbers

Arithmetic and Polynomials

Building and Interpreting Functions

Linear, Quadratic, and Exponential Models
The Algebra 1 workbook will improve your teenager's high school math performance with practice tests, answer keys, and frequently asked questions.
Algebra 2
High School Math Algebra 2 leads on from the previous workbook. Educators and expert math teachers designed this workbook will help your child understand Algebra 2 topics. With self-practice, students can revise weak areas and understand core concepts like:
Algebra

Functions

Geometry

Number and Quantity

Statistics and Probability
Students will be able to prepare for taking the SAT, ACT, and PSAT.
Trigonometry
The McGraw-Hill Education Trigonometry Review and Workbook is an excellent supplemental workbook for high school trigonometry. It will allow students to improve their trig skills by clearly explaining each concept.
As they work through the 500 practical review questions, they will strengthen their understanding of each concept. This workbook is aligned with the Common Core Standards and was created to help students excel on standardized tests.
High School Biology Unlocked
The High School Biology Unlocked workbook helps improve your child's understanding of biology by working through foundational concepts. Each chapter will explain concepts in straightforward, understandable ways.
The workbook uses walk-throughs and guided examples of problem-solving to prepare the student for their practice. Over q100 practice questions are included in the workbook, and all answers are fully explained.
The workbook includes the following:
Cells and Cellular Energy

The Human Body

Plants

Ecology
High School Physics Unlocked
By working through High School Physics Unlocked, students will improve and grow their understanding of the core physics concepts. The workbook uses self-assessment to reveal gaps in your knowledge and explains the concepts in easy-to-follow ways.
Every part of high school physics is explained, along with practice questions from mechanics to magnetic fields to help nail down foundational concepts. All answers are clearly explained to help improve understanding.
Included in the workbook are the following concepts:
Energy and Momentum

Waves and Sound

Thermodynamics

Light and Optics
This workbook from McGraw-Hill aims to help students excel at the Social Studies section of the GED tests. It uses drills, review questions, and skill-building exercises to provide your child with knowledge that covers all the test topics.
Use the pre-tests and post-tests to build confidence in taking the Social Studies tests. You can also use a linked flashcard App to review course concepts.
Mark Twain American History Workbook
The Mark Twain American History Workbook covers coursework from 6th-12th grade. It introduces your student to American history from 1865 to the present day. It provides entertaining and factual history lessons and uses activities to help inspire additional learning.
Track their progress with included tests, and use additional online resources to expand their knowledge.
Educators and history professors created this workbook on world history to provide lessons for high school students. The studies ask questions and get students to connect to people and places by examining primary texts.
The lessons help students to consider people and their culture through the ages and approach the essential questions of humanity by thinking like historians.
Grammar for High School
Grammar for High School: A Sentence Composing Approach is a work text that gives students the tools they need to understand sentence construction. The workbook breaks down grammar concepts using sentence composition from famous novels.
Students learn how to utilize grammar to improve their creative work and are given tools and activities to help them.
Complete Guide to English Language Arts (ELA)
The Complete Guide to English Language Arts (ELA) is a thorough workbook covering all the primary high school English concepts. It includes practice questions and tests to prepare students and teaches them test-taking strategies.
The workbook covers reading comprehension, speaking and listening, and grammar and writing skills. The book is well-organized and comprehensive, making it invaluable as an English workbook for students preparing to take their exams.
Conclusion
Many modern homeschool curriculums of good quality will supply online lessons and utilize workbooks and textbooks to improve student understanding. Providing the correct books will be difficult without a curriculum.
As high school work becomes more complex, you may need more resources. However, you can find many additional workbooks to help your child in areas of their schooling where they struggle.