Entertaining a crowd and need a fun way to serve your finger licking good chicken wings and other yummy finger foods? This Chicken Wing Charcuterie Board is the perfect answer you've been looking for. Full of flavor and crispy chicken wings and chicken tenders, this Chicken Wing Board is what chicken lovers dreams are made of!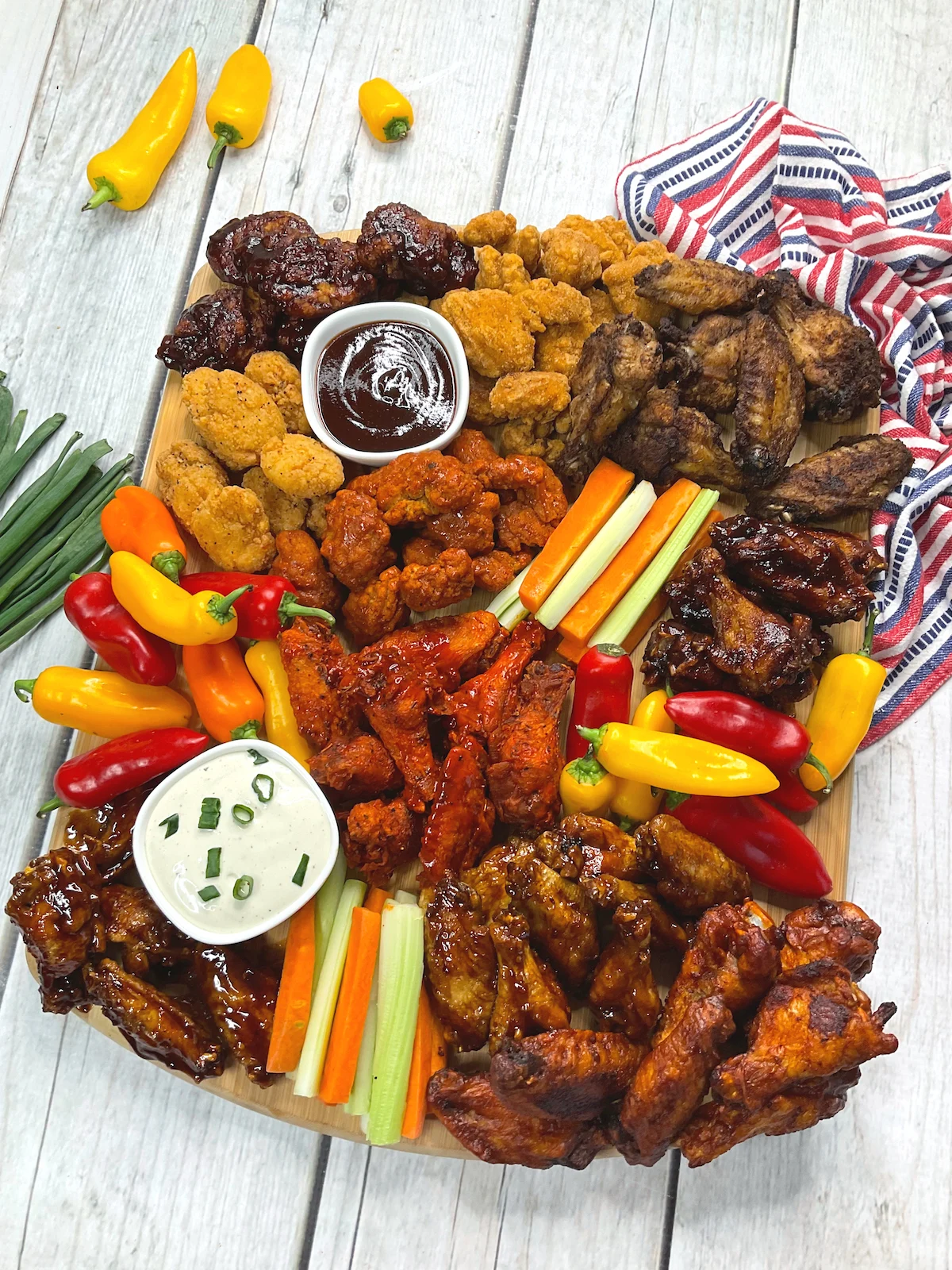 This post may contain affiliate links. As an Amazon Associate I earn from qualifying purchases. For more information, see our disclosure.
You can make a chicken wing board for just about anything! Ditch the wings from your favorite restaurant and make your favorite chicken fingers and buffalo wings for the Super Bowl, or when you're watching any other sports game with your family and friends.
It's also a great appetizer to serve at parties, or big family get togethers. And, if you have any teenagers in the house, they're sure to go crazy when you bring out this charcuterie board.
If you are into these fun charcuterie boards where they are more than just meat and cheese, we have a few other awesome ideas just for you! Try out the Breakfast Charcuterie Board, or this fan favorite Cream Cheese Board!
Why You'll Love This Appetizer Board
It's the perfect game day charcuterie board to whip out when entertaining a crowd and watching the big game
Easy to make and scale for more people or less people
Versatile- you can make and serve various flavors of wings
The whole chicken charcuterie board is ready in under an hour
Ingredients Needed
Chicken Wings
Jerk seasoning
Honey BBQ Wing Sauce
Spicy BBQ Sauce
Korean BBQ Sauce
Caribbean Wing Sauce
Buffalo Wing Sauce
Teriyaki Sauce
Bag of Frozen Chicken Nuggets
Garlic Parmesan Wing Sauce
Mini Peppers
Celery
Baby Carrots or Carrot Sticks
Ranch
BBQ Sauce
How to Make A Chicken Wing Charcuterie Board
Use paper towels to pat the chicken wings dry. Set the wings aside and make the spices and sauces for the various different wings for your chicken wing platter.
We'll work on the Jerk spices first. Add the baking powder and jerk spice to a large bowl with a lid, and use a whisk to mix.
Add 8-10 pieces of chicken wings to the mixture and toss to ensure that they are evenly covered with seasoning.
Place bowl in the refrigerator for 25 minutes.
Preheat the oven to 425 degrees F.
Line a baking sheet with aluminum foil or parchment paper and place wings evenly on it.
Bake for 50 minutes flipping halfway thru to make sure they cook evenly. Arrange the chicken wings on a baking sheet lined with foil or parchment paper.
Remove from the oven and cover the chicken wings to keep them warm until ready to assemble with the rest of your board.

All Other Wings:
Add your baking powder to another large bowl with a lid and toss the wings to coat.
Preheat the oven to 425 degrees F.
Line another baking sheet with foil or parchment paper and arrange the coated chicken wings.
Bake wings for 30 minutes, remove from oven and set aside.
In a deep skillet over a pot over medium-high heat, heat oil to 350 degrees F.
Carefully, add 8-10 pieces of chicken to the oil and fry for 6-8 minutes or until they are golden and crispy.
Transfer to a wire rack to drain.
Brush each batch of wings with the various wing sauces on all sides.
Tenders:
Bake the chicken tenders as directed on the bag or package.
Separate the chicken tenders by thirds.
Place 1⁄3 of the tenders in a bowl and add buffalo sauce, toss to coat the tenders.
Place another 1⁄3 of the tenders in a separate bowl and add the garlic parmesan sauce and toss to coat the tenders in the sauce.
Charcuterie Board Assembly:
Place the small bowls on the board. Fill one small bowl with ranch dressing and another with barbecue sauce.
Start to place the chicken wings on the board separating each flavor in different areas on the board.
Add the peppers, carrots, and celery sticks to the board.
Fill in all remaining space with the 3 types of chicken tenders.
Serve and enjoy.
Storage
Just like any other good charcuterie board, the items on the board should all be stored separately. This is really important, especially for the tenders and wings that already have sauces, spices, and other flavors. You don't want to mix them all together.
Then the vegetables can be stored in containers or bags and sauces can be stored in airtight containers. All should be refrigerated and will last a day or two. This is best enjoyed when you first make it.
Tips and Variations
Serve these different types of wings and tenders with any of the sauces and veggies to make a light delicious meal. Try adding some cherry tomatoes and a small side salad to round it out.
Add some blue cheese dressing to dip your hot wings, tenders, and vegetables in.
Serve this epic appetizer with plenty of napkins since these wings and chicken tenders can get messy easily.
Do I have to pat the wings dry?
Yes, patting the chicken wings dry is essential. It helps the wings get nice and crispy and helps the sauces and spice rubs stick to the chicken wings.
How many chicken wings per person?
Great question! The answer to this will totally depend on if you're serving this as an appetizer or as a main dish for the family.
If this is an appetizer and is meant to hold your guests over until the main meal is served, you'll need less chicken wings per person.
In general, if serving as an appetizer, we suggest using 3-5 wings per person you plan on feeding. We also suggest having 2-4 vegetable pieces for each guest also.
However, if you're serving this wing bar as the main meal. we suggest you increase the wing count to 6-10 wings per person and about 4-6 pieces of vegetables for each guest. Keep in mind that this has some tenders on it, so we can count those as "wings" in this serving suggestion.
If you have a crowd who loves wings and you aren't serving other appetizers with these wings, make sure to throw a few extra on there to make sure everyone gets enough.
What are some other appetizers to serve with this board?