We have the perfect Breakfast Charcuterie Board Ideas to put together a fun and easy breakfast board for Christmas morning. It's simple enough to make that you can use it for any everyday breakfast or brunch.
A breakfast charcuterie board is kind of like a breakfast buffet all on one serving platter. Choose your favorite options from the main dish and enjoy!
This post may contain affiliate links. As an Amazon Associate I earn from qualifying purchases. For more information, see our disclosure.
If you've seen the other popular boards, like a traditional charcuterie board, a cream cheese board, butter board, pasta board, or dessert board, you're going to love this breakfast board packed full of all your favorite breakfast items. You just need to gather your breakfast food items and assemble a breakfast or brunch board!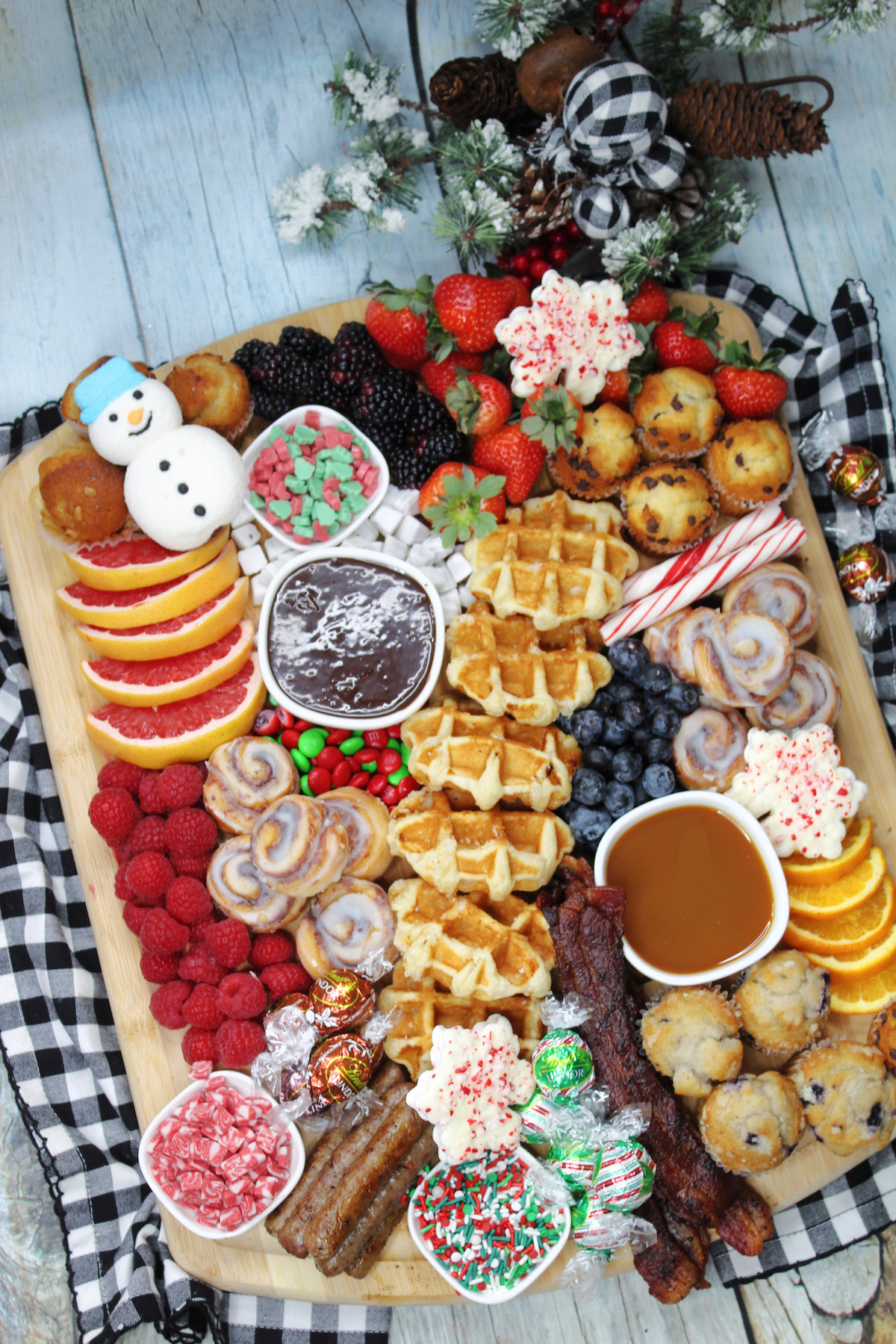 Why You'll Love This Board
Takes all your favorites and puts them all together in one serving
Easy to make for entertaining a large crowd and is sure to be a crowd favorite
Simple to customize and scale to serve more, or even less if needed
It's a great option and is fun for all ages, super great for any breakfast fan
Relatively quick to toss together and a great way to use up any fresh fruit or other ingredients that need to be used quickly
Ingredients Needed
While these are the ingredients we used to create our boards, the best part is that you can change them up with your favorite breakfast foods to suit your needs.
Mini Waffles
Fresh Strawberries
Blueberries
Blackberries
Raspberries
Oranges
Grapefruit
Caramel sauce
Fudge sauce
Bacon strips
Breakfast sausage links
Mini muffins: Chocolate Chip, Blueberry and Banana Nut
Mini Cinnamon rolls
Christmas Sprinkles
Peppermint Baking Chips
Cinnamon Sticks
Peppermint Sticks
Lindt Truffles
Red & Green M&M's
Cinnamon Roll Truffle Baking Chips
How to Make A Breakfast Charcuterie Board
Here are the super simple instructions on how to craft the perfect breakfast charcuterie board.
Grab a large board that you usually use for traditional charcuterie boards and if it has a rim that's even better.
Add your empty small bowls to the board and put the caramel and fudge sauces in them.
Start adding the larger items first to the board, like waffles.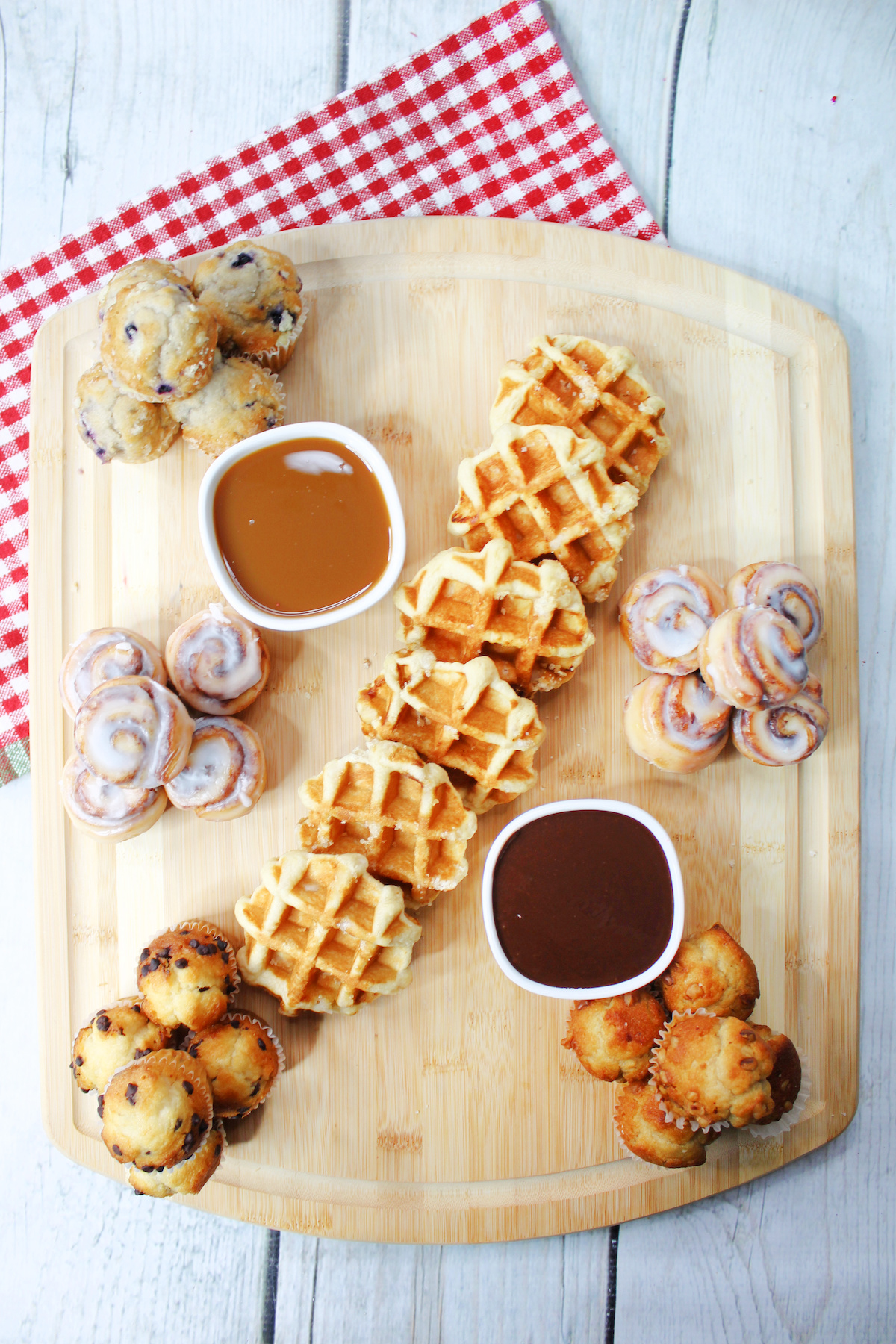 Work your way down in size, muffins and cinnamon rolls next.
Then add on the meat items and then finish with the fruit and any other smaller items.
Add garsnishes to the board to fill in any holes or open spaces.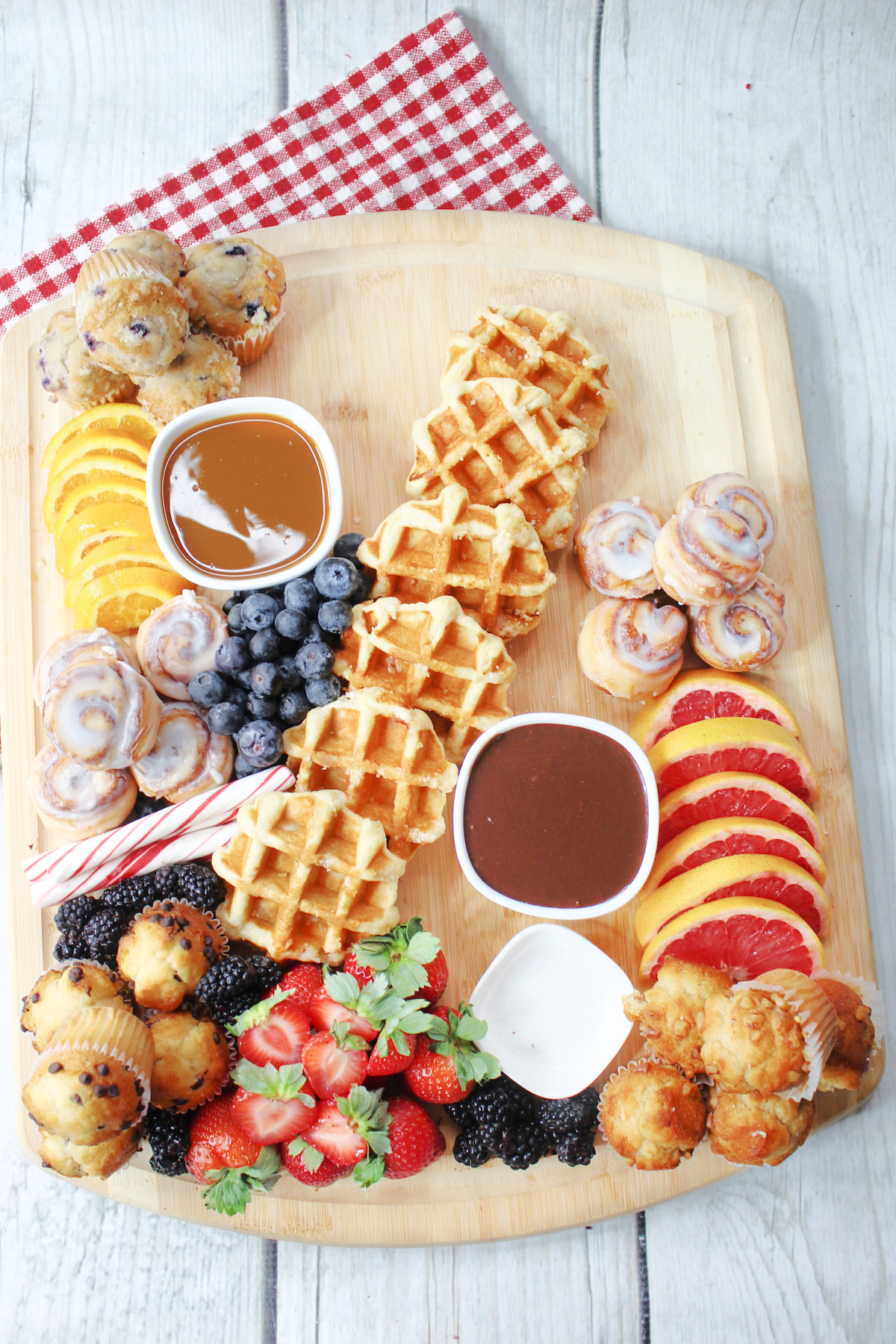 Serve and enjoy.
Storage
Any leftover breakfast favorites from the easy charcuterie board should be stored in their own airtight container and kept in the refrigerator if it needs refrigeration, or left on the counter if not. Different items will last different lengths of time.
What are some other ideas to add on your board?
If you're looking for some more great ideas to add to this delicious charcuterie board that can be made for any special occasion, try any of these sweet treats and ideas:
Mini pancakes
French Toast sticks
Mini bagels
Hard-boiled eggs
Any other seasonal fruits
Donut holes
Crispy bacon strips
Chocolate chips
White chocolate chips
Peanut Butter drizzle sauce
Nutella drizzle
Maple syrup
Honey for drizzling
How do you keep breakfast warm on a charcuterie board?
This is a great thing to consider when you go to create your board and make your items. Even if you make the warm food earlier, you can keep it warm, in the oven on the warm setting until you are ready to assemble and serve your breakfast charcuterie board.
The easiest way to keep everything that needs to be warm, warm is in the oven on a low or warm setting. If you need to, you can microwave things as well, you can in order to make sure everything is nice and toasty on your breakfast brunch charcuterie board.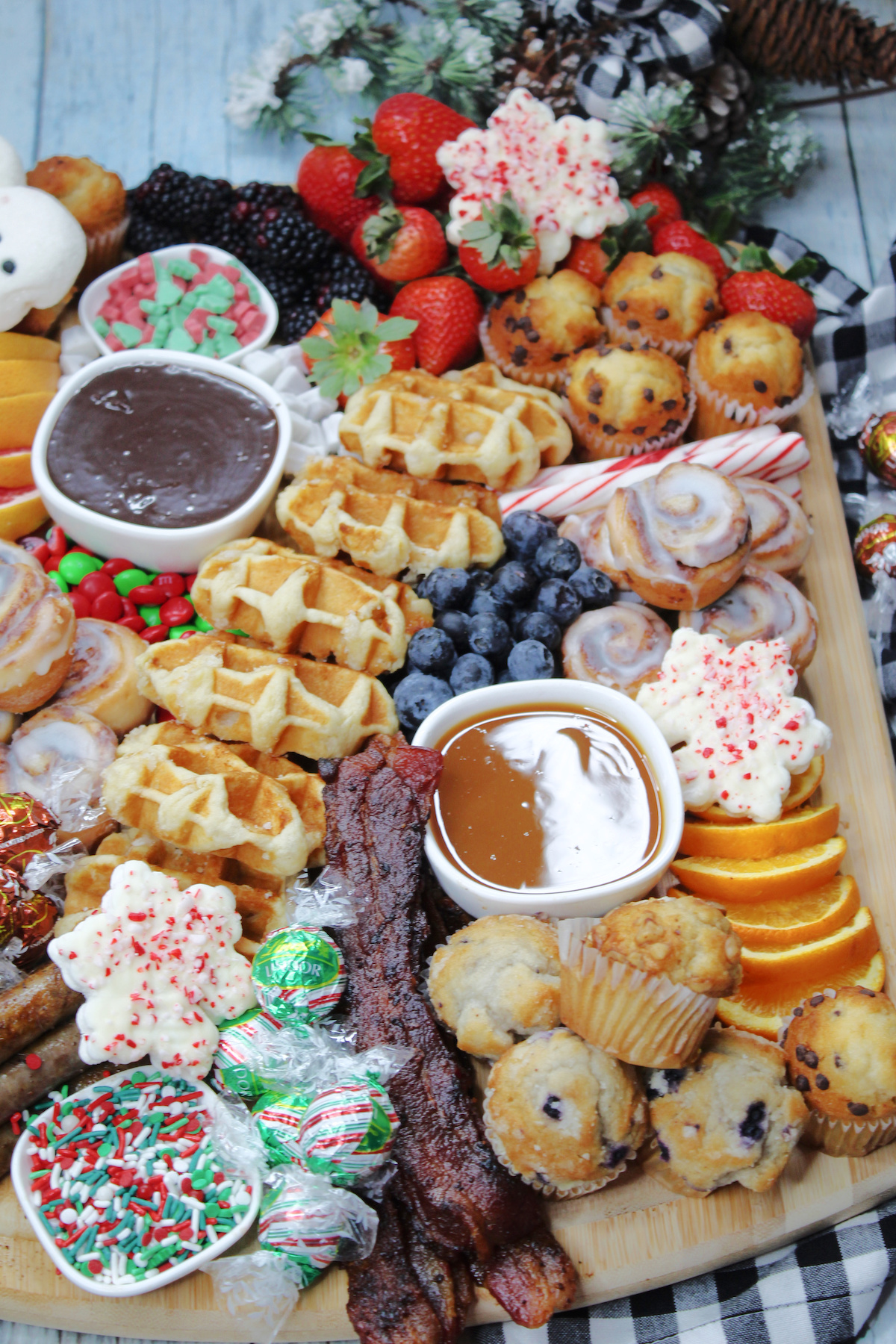 Tips and Variations
When you're making your waffles and other baked goods, try to make sure they are the roughly the same size so they look even when you place them on the charcuterie board.
If you don't have a charcuterie board, you can use a rimmed baking sheet.
You can trade out any of the items to other breakfast foods. thatmake your taste buds happy.
This is a wonderful way to use up any leftover food or food that you need to use before it goes bad.
These easy breakfast charcuterie board ideas are a fun way to serve breakfast to your friends and family.
They're so easy to make and can be very budget friendly if you use ingredients and breakfast food options that you already have at home in your kitchen cabinets.
Looking for something really special to pair it with? Try this hot chocolate board on a cold Winter morning!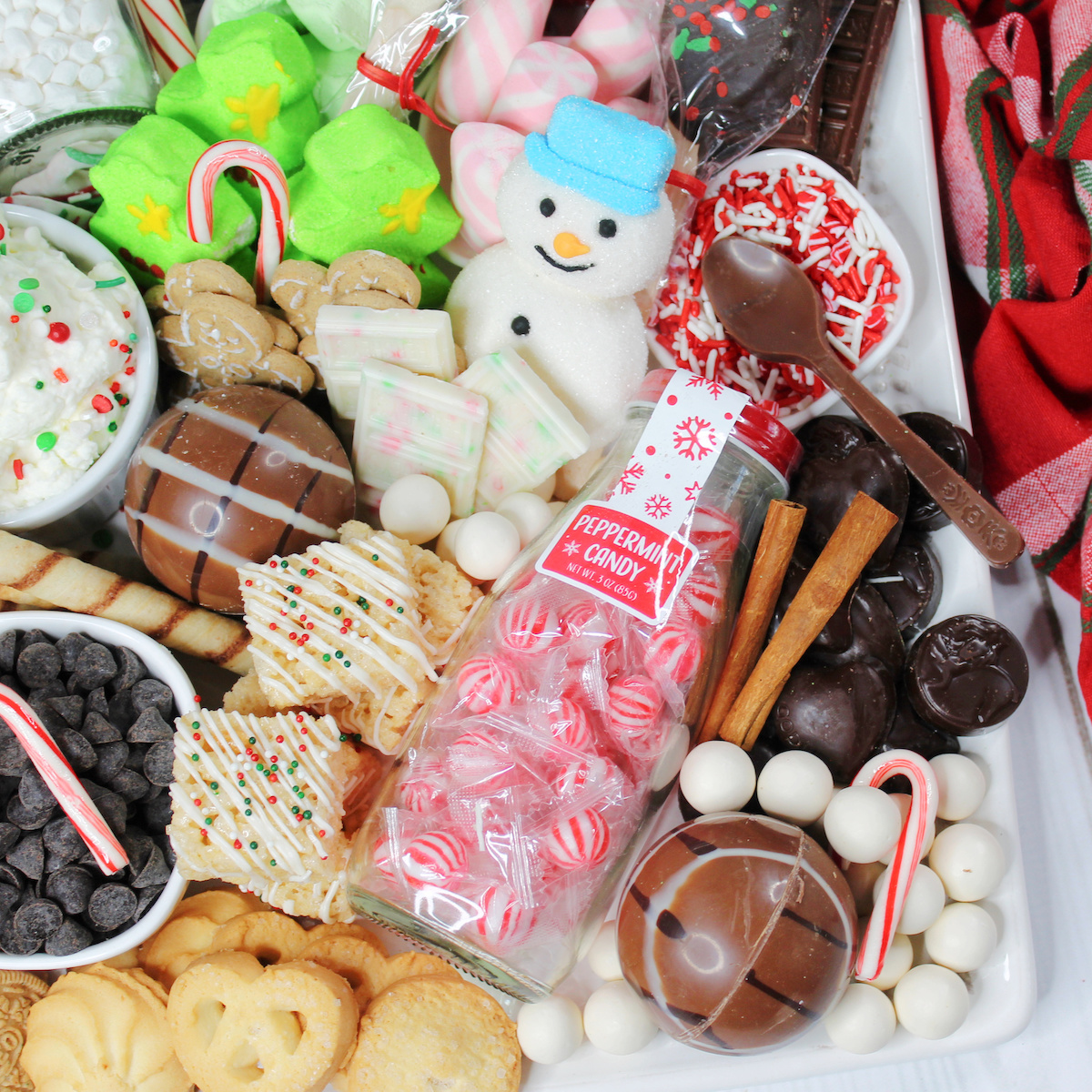 We shared a ton of breakfast charcuterie board ideas above,w what ideas are you most excited about adding to your boards?