Make a batch of these colorful cake pops to serve at your next get together, party, or occasion where you need something sweet. Cake balls filled with whatever cake flavor is your favorite and coated in any color candy melt, these cake pops are a breeze to make and will go with any theme or type of party!
Getting ready to plan a birthday celebration or throwing some kind of party or special event where serving cake pops would be a hit? Then you must check out these adorable colored cake pops, perfect for any and all special occasions.
This post may contain affiliate links. As an Amazon Associate I earn from qualifying purchases. For more information, see our disclosure.
It doesn't matter if are throwing a baby shower, mermaid party, Encanto party, super hero party, or Lego party (or any other party theme out there!), these cake pops are sure to be a hit at your dessert table. They are super easy to customize so you can make them any color to match any theme of a party or event that you are planning or hosting.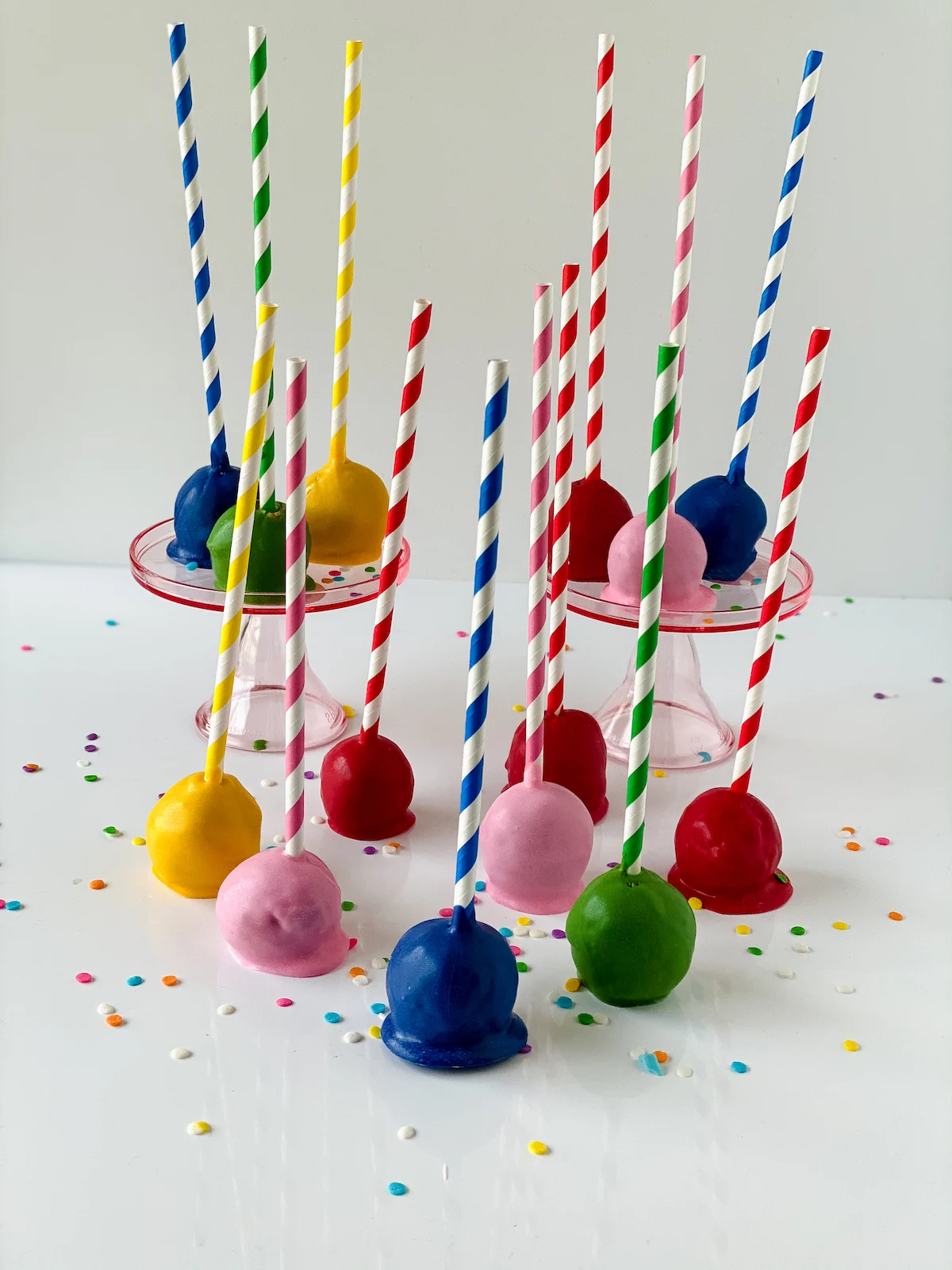 Once you see just how easy it is to make cake pops you'll be wanting to whip up a batch for every upcoming holiday or special occasion!
Why You'll Love These Cake Pops
Super versatile and can be changed to match anything
These are loved by all kids and adults
Easy and fun to make this bite-sized dessert
Best part is, you only need 3 types of ingredients
This dessert recipe a great way to use up leftover cake
Ingredients Needed
Prebaked cake, cooked and crumbled up ready to use. You can use any flavor that you prfer
Frosting of your choice for color and flavor
Candy melts in whatever decor colors you have chosen
Helpful Tools or Equipment to Make Cake Pops
Large bowl
Tablespoon, cookie scoop, or cake pop scoop
Parchment lined baking sheet
Cake Pop Pans or molds (which makes shaping so much easier)
Plastic gloves, optional
Straws or lollipop sticks
How to Make Cake Pops
Make your cake according to the package instructions and crumble with a spatula in a mixing bowl until you have fine crumbs.
Add one tablespoon of frosting and mix into the cake mixture well.
Use your cookie scoop or table spoon to gather the mixture.
Using your hands, form the ball and roll into ball. Altenernatively, you can use the cake pop mold to make the ball of cake into a half circle and then connect the two to make a round circle. Or just use the mold to hold the balls of cake.
Place balls on top of a baking sheet lined with parchment paper.
Place them in the refrigerator for 10-15 minutes while you melt the chocolate.
Follow the package directions on the candy melts to accurately and efficiently melt your chocolate coating.
Dip each lollipop stick into the melted candy melts and stick the sticks directly into the cake pops so it acts as a glue.
Let the pops dry for 2-3 minutes.
Carefully hold the cake pop sticks and dip the entire thing into the chocolate to coat evenly.
Be sure to rotate the cake pop to completely coat it!
Gently shake the cake pop to remove any excess melted chocolate and place them back on a parchment lined baking sheet. (See tips below for another method)
Let the cake pops dry for at least an hour before storing in treat bags, cake pop boxes or decorating with curling ribbon if you are using any of those display ideas. Otherwise, serve and enjoy!
How Can I Display the Cake Pops?
Some options for displaying your beautifully decorated cake pops:
Place them in treat bags or clear cellophane bags and use a party themed sticker on the packaging if desired.
Get cake pop boxes with the party theme on them to display them in.
Get different colored curling ribbon to use to tie onto the cake pop sticks to match your party or event theme.
Place the finished pops in a mason jar or other glass jar for display.
Use a painted styrofoam block to push the sticks into to hold the pops upright.
Storage
For best results, store your perfect treat in a cool, dry area. You do not need to refrigerate them and you should not place them under direct heat or out in the sun or the chocolate coating could start to melt off.
If you aren't worried about the display, you can place all of your completed pops in an airtight container for later.
I do not recommend trying to freeze these cake balls or trying to refrigerate them overnight. This can cause them to expand once they warm up to room temperature again which will cause them to change the texture and crack.
Tips
You may need to tilt the bowl to fully coat the whole pop. It may also be necessary to spin the cake pop as you tilt the small bowl to cover it.
Instead of placing the chocolate covered homemade cake pops back on the parchment lined baking sheet, you can stick the sticks into a styrofoam block to let them dry. This way, no chocolate has to be pressed against the sheet making the cake ball flat on one side and you don't have to worry about the cake pop trying to stick to the paper.
You can use storebought cake, or use a boxed cake mix to make your cake ahead of time before you want to make the cake pops with this easy recipe.
Make sure to let your baked cake cool down before crumbling it up.
Be sure to keep your finished cake pops in a cool area so they don't start to melt.
Variations
Change up the colors and decorations of the candy wafers to melt and use on the pops to match your party theme.
Swap out the frosting choice. For a really fun flavor, try using cream cheese frosting or some chocolate frosting.
Choose any cake flavor you want, the options are endless, some of our favorites are: chocolate cake pops, vanilla cake pops, and red velvet cake pops.
How do you dip a cake pop without it falling off the stick?
Make sure to make cake balls that aren't too heavy or they'll fall off the stick when you're trying to dip them in the melted candy melts. Don't forget to dip the stick in the frosting or melted candy melts before placing in it in the cake ball as well. This helps try to hold them together once the candy dries inside.
If you find that the balls are falling off of the lollipop stick then you are making them too big or you have added too much frosting to your cake mixture making them too heavy.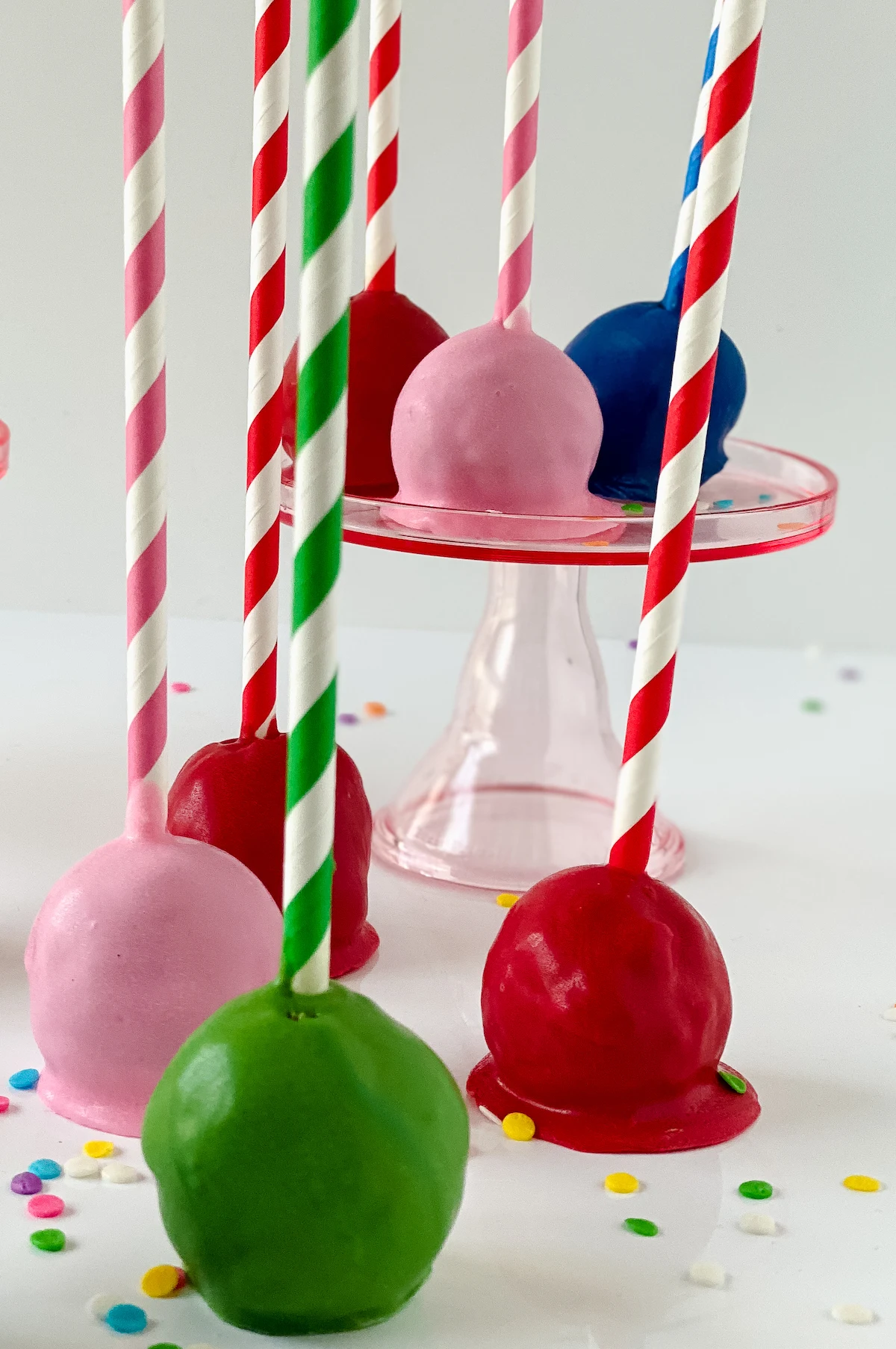 How far in advance can you make cake pops?
If you want to make these easy cake pops in advance, I have an important tip. Wait to dip them in the chocolate.
Want to make these ahead of time? Just make the cake and turn them into balls and refrigerate them for up to 2 days. Then, bring them to room temperature, be careful as the texture may change a bit, and then melt the chocolate, dip them and move on.
If you store them in the refrigerator after you dipped them, be careful as this can cause them to crack once they come to room temp again later.
Why do my cake pops crack when I put the stick in?
If your cake mixture and frosting were too warm when you tried to ball them and put the end of the cake pop stick in, they will most likely crack. It's also common for the cake pops to crack once you've covered them in melted chocolate if the cake balls were too hot or too cold when you dipped them in. It's important to find that happy medium.
Cake Pops for Parties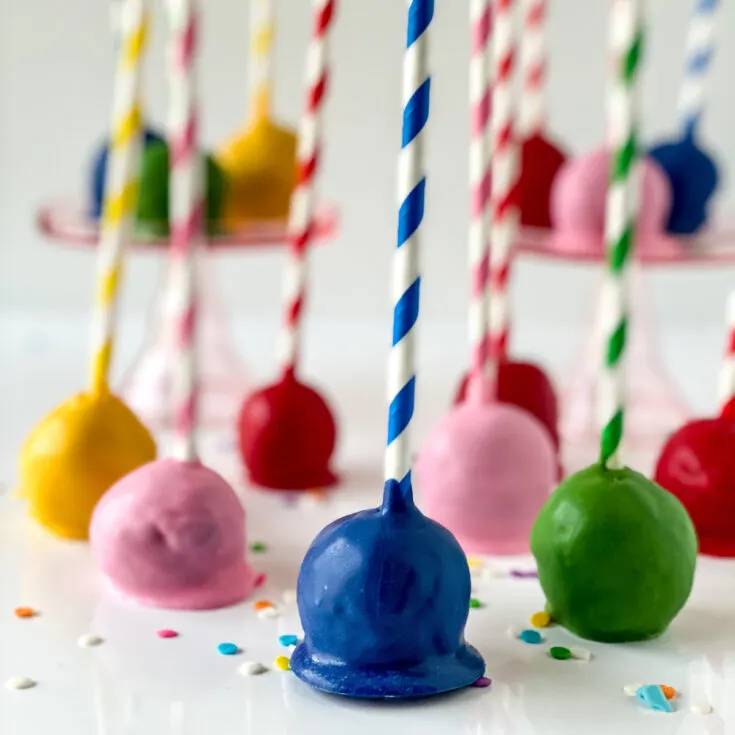 Looking to make a delcious treat to celebrate any occasion? Cake pops for parties are simple to make and can easily match any party theme by selecting the coordinating colors with candy melts.
Ingredients
Prebaked cake, cooked and crumbled
1 tbsp frosting
Candy melts in decor colors
Instructions
Crumble the cake with a spatula until fine.
Add one tablespoon frosting Mix well to bring together.
Use a small cookie scoop or tablespoon to gather up the mixture
Roll into balls, you can use a cake pop mold or cake pop scoop to help.
Place on parchment lined baking sheet
Let sit in fridge for 10-15 min while chocolate melts
Follow instructions on candy melts bag for the most accurate melting instructions.
Dip stick or straw into melted chocolate then directly into cake pop
Let dry for 2-3 min
Dip entire cake pop into chocolate, tilting the bowl of necessary to fully coat the entire ball in chocolate.
Be sure to turn the cake pop in order to properly coat it.
Gently shake off any access chocolate and place on parchment lined baking sheet.
Let dry at least one hour or more before bagging, If not bagging display standing up in cupcake cups.
Notes
Looking for some fun display ideas for your cake pops?
bag the cake pops and place themed stickers on them
Display in cake pop boxes.

Add curling ribbon to the sticks.

Here are some more helpful tips for making cake pops for partiesL
If your cake pops crack: the balls were too cold and expanded once they came to room temperature which is why I don't recommend freezing the balls or leaving them to chill over night.
Keep them cool (not cold) so the chocolate doesn't melt, especially if doing this in warmer month
Recommended Products
As an Amazon Associate and member of other affiliate programs, I earn from qualifying purchases.
More Birthday Party Treats