Chocolate covered Decorated Pretzel Rods have become a go-to dessert at every party! They're the perfect sweet treat to serve. Crunchy, salty pretzel rods dipped in chocolate and drizzled with more melted chocolate, you can easily customize these to fit any special occasion theme.
Ready in no time and super simple to make match any party theme, these colored pretzel rods are sure to be the star of your dessert table! Kids and adults love pretzel snacks and desserts, they're always a serious crowd-pleaser.
This post may contain affiliate links. As an Amazon Associate I earn from qualifying purchases. For more information, see our disclosure.
Pretzels sticks aren't just for chocolate fountains anymore!
If you need more dessert table ideas, you should totally check out these other fantastic party treats: Rice Krispie Treats, Cake Pops and Candied Popcorn. Just like these pretzel rods, those dessert ideas are perfect for customizing to fit any special event theme.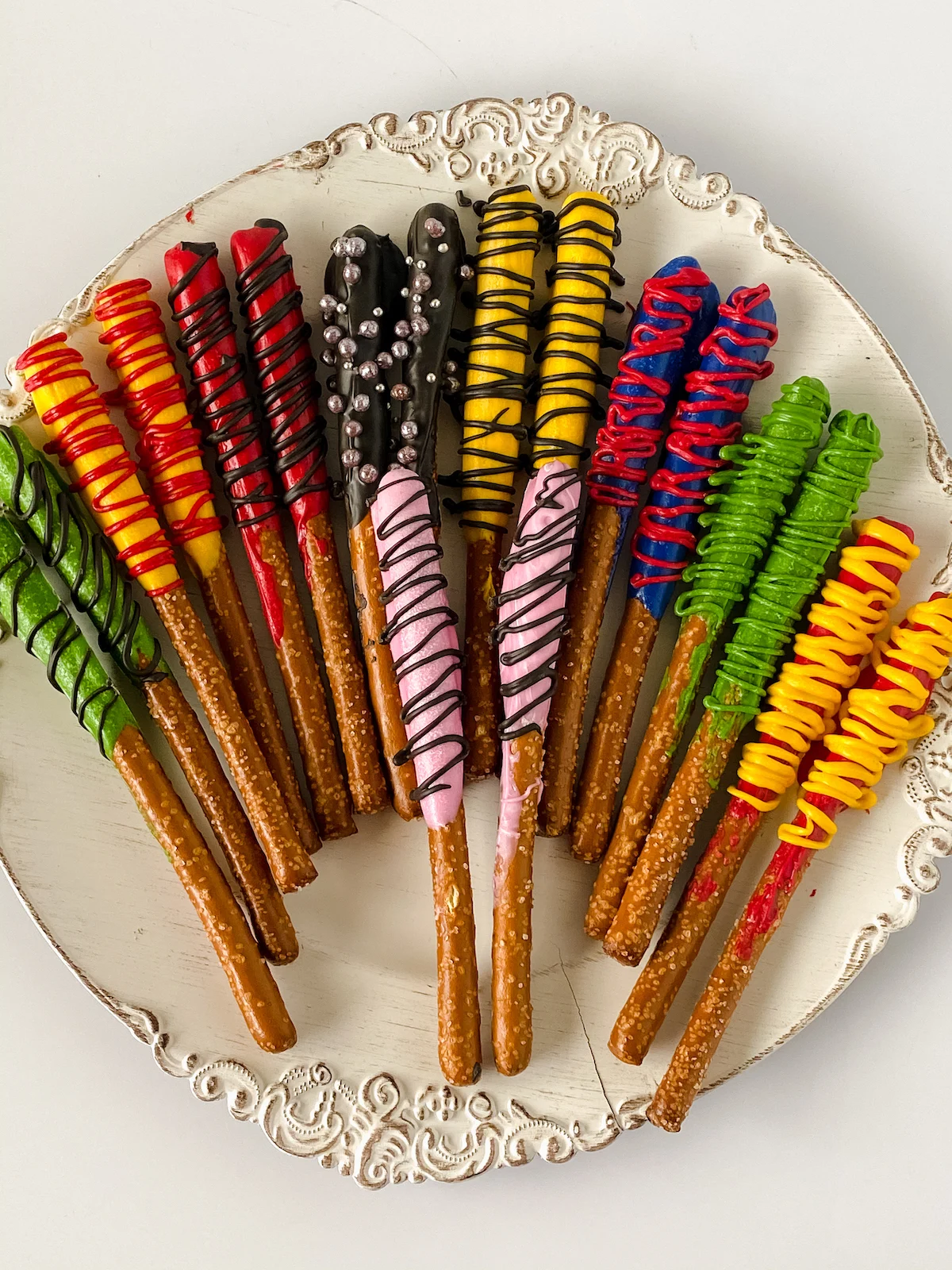 Why Your Dessert Table Needs These
Incredibly easy to make
Easy to change colors
The perfect snack to munch on while setting up a party
An easy dessert that the whole family will love
These make great gifts for the foodie in your life
Ingredients Needed
You only need 2 simple ingredients to make these easy chocolate pretzels.
Pretzel rods
Candy melts or other chocolate melts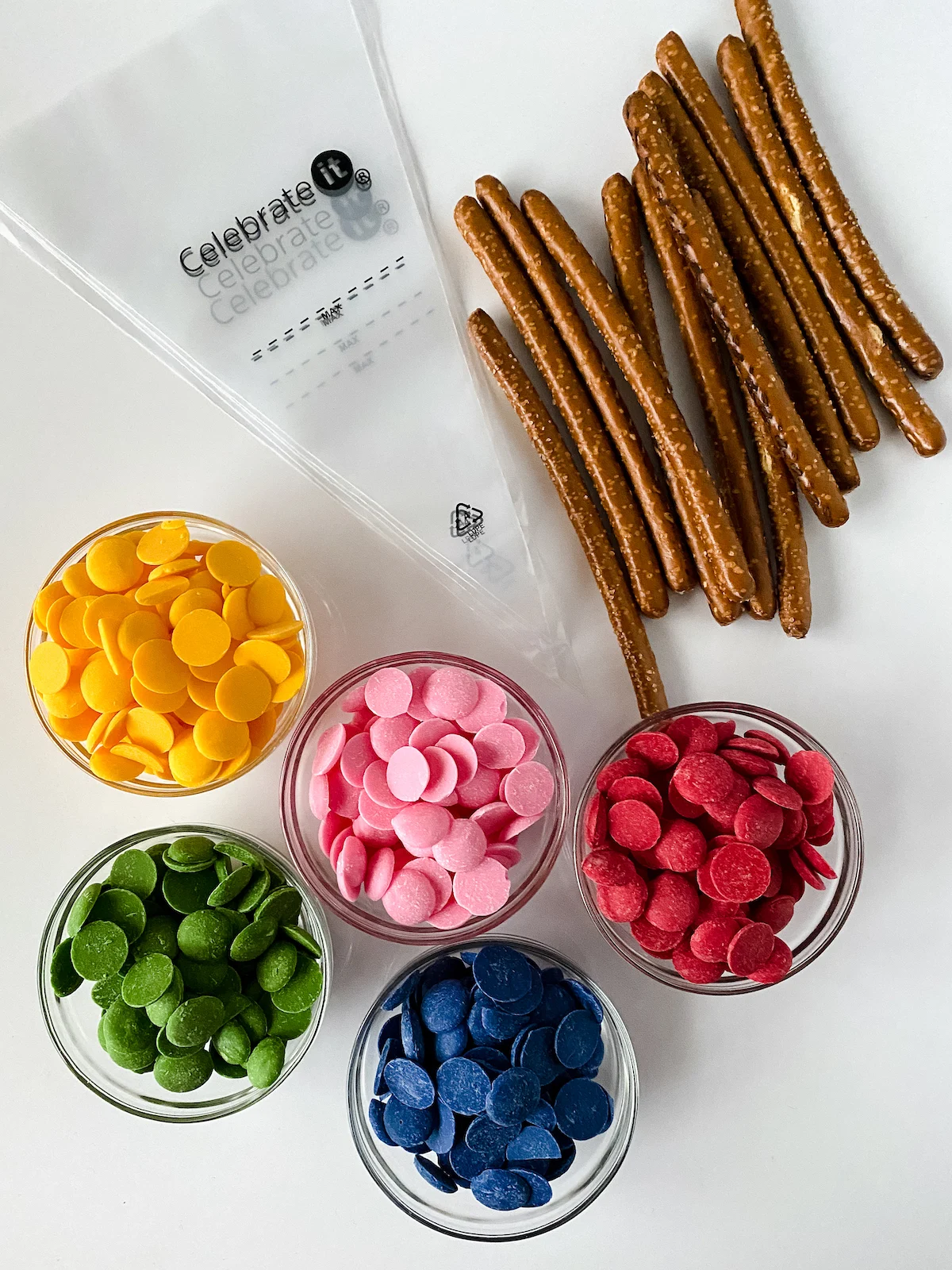 How to Make Chocolate Covered Pretzel Rods
Add a cup of chocolate candy melts to a piping bag and place it in the microwave.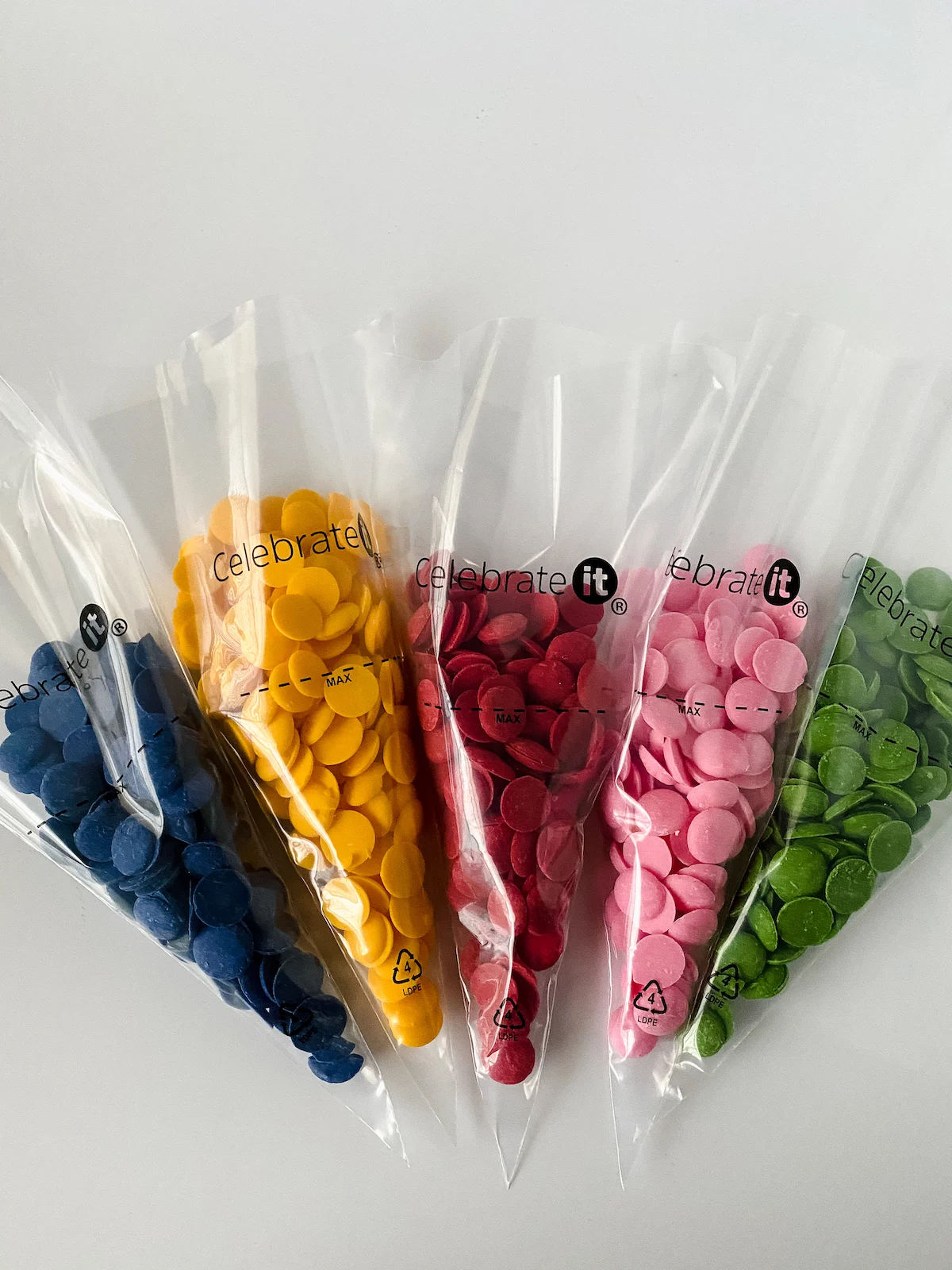 Microwave the bag for 30 seconds and flip the bag over.
Microwave the bag for another 30 seconds.
Use your fingers to press the chocolates in the piping bag to ensure they're all melting.
Place the bag back in the microwave for another 30 seconds
Make sure all of the chocolate is melted and place the bag in a glass. If they aren't, microwave for an additional 10- to 15-second intervals until the chocolate is melted, but be VERY careful not to burn it.
Drape the flap of the piping bag over the top of the cup.
Carefully, dip each pretzel rod in the melted chocolate.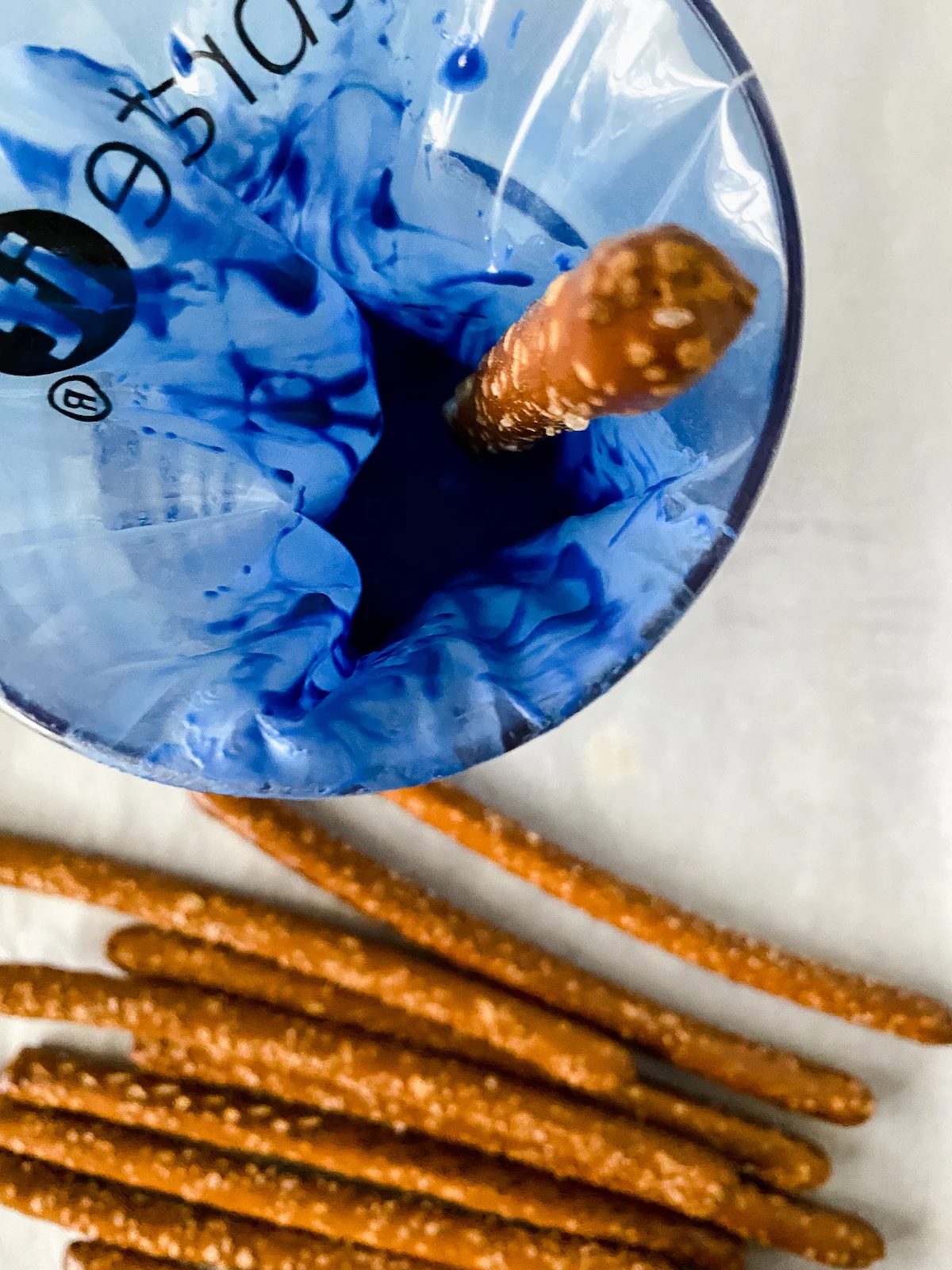 Place it on a baking sheet lined with parchment paper.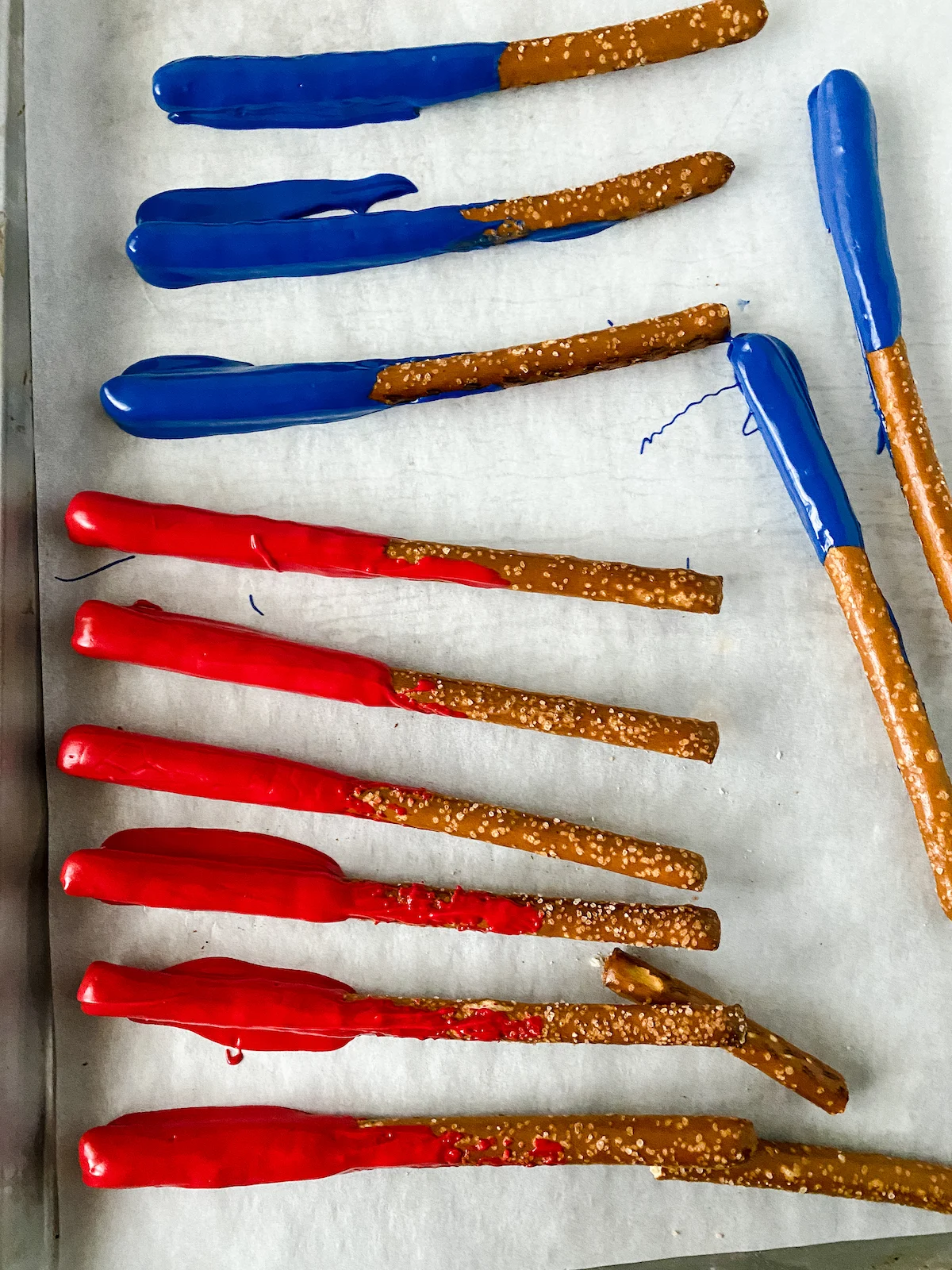 Let the pretzels set for 20-30 minutes at room temperature.
If decorating with chocolate drizzled on top in another color, melt the colored chocolate in a different piping bag, snip the end off and drizzle the chocolate on.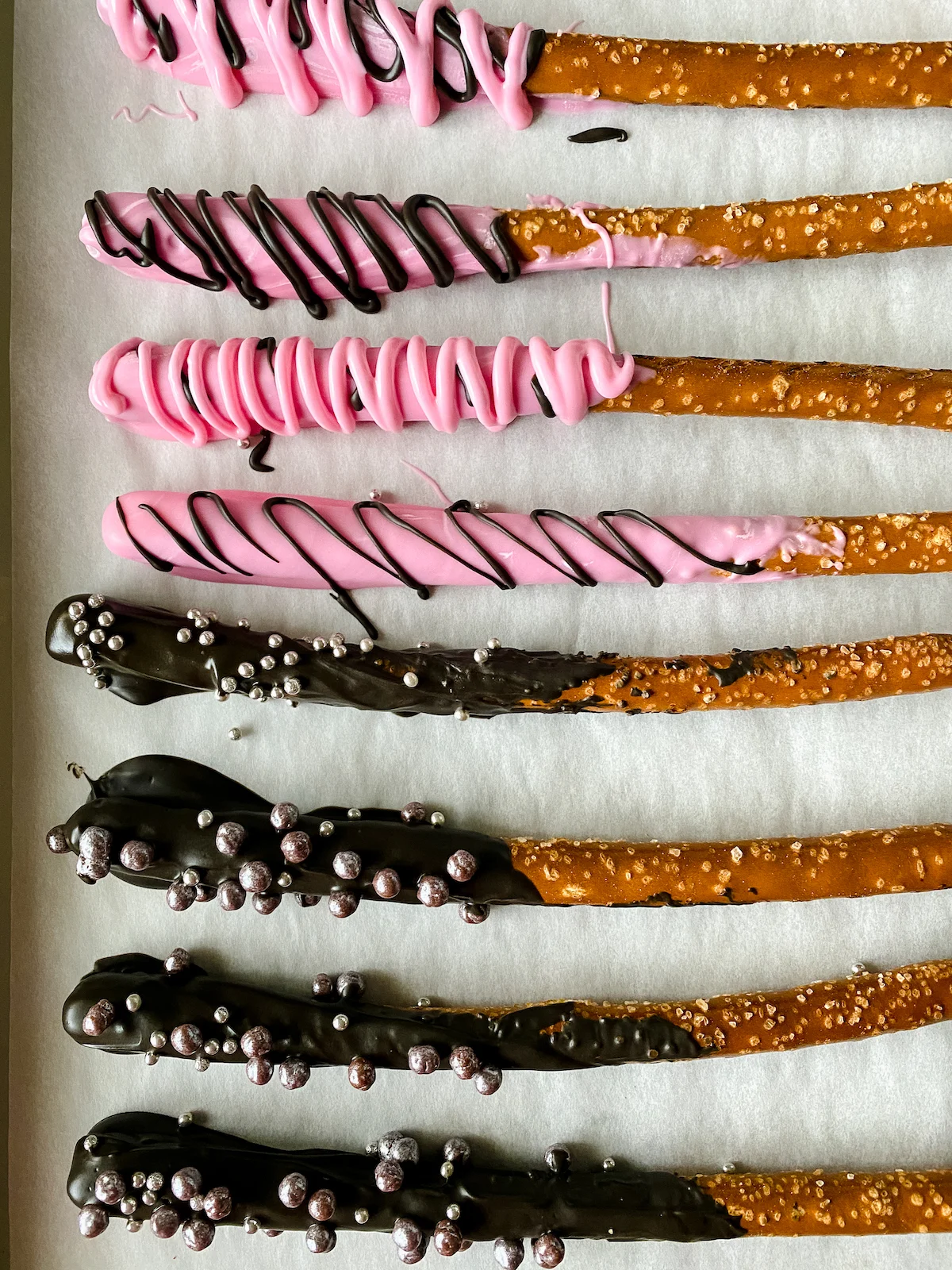 You can also add your favorite decorative sprinkles!
Storage
The easiest way to store leftover decorated pretzel rods is in an airtight container or zip top bag at room temperature for up to 2-3 days. You can refrigerate this easy treat if needed, but be careful because the chocolate may crack when coming back to room temperature.
We don't recommend freezing this perfect treat, especially once you have added your fancy drizzle on the chocolate-covered pretzel rods.
Tips and Variations
If you don't want to use melting chocolate and don't need a specific color of your colored candy melts, you can melt milk chocolate, dark chocolate, or semi-sweet chocolate chips to cover the pretzels with. See if your type of chocolate choice has any melting suggestions on the product packaging. You can even melt almond bark or your favorite chocolate bars to coat the pretzels in. Any kind of chocolate will work.
You can use a double boiler, small saucepan on the stovetop or a microwave-safe bowl in the microwave to melt the chocolate in.
If you don't want to use traditional pretzel rods with the classic taste, you can use pretzels in any unique shape for these chocolate-covered pretzels.
If you want more than just chocolate pretzels, you can add different sprinkles or any of your other favorite toppings to the sides of the pretzels.
Be sure to wipe any excess chocolate off your pretzel sticks once you cover them in the chocolate filled piping bags.
You can also serve these decorated pretzel rods during the holiday season with any of your favorite holiday sprinkles or other choice of sprinkles.
What if I live in an area with more moisture?
If you happen to live in an area with more moisture in the air or you find it raining when you make these, you'll need to allow for more drying time. If you don't have the time, you can use a fan to help speed up the process.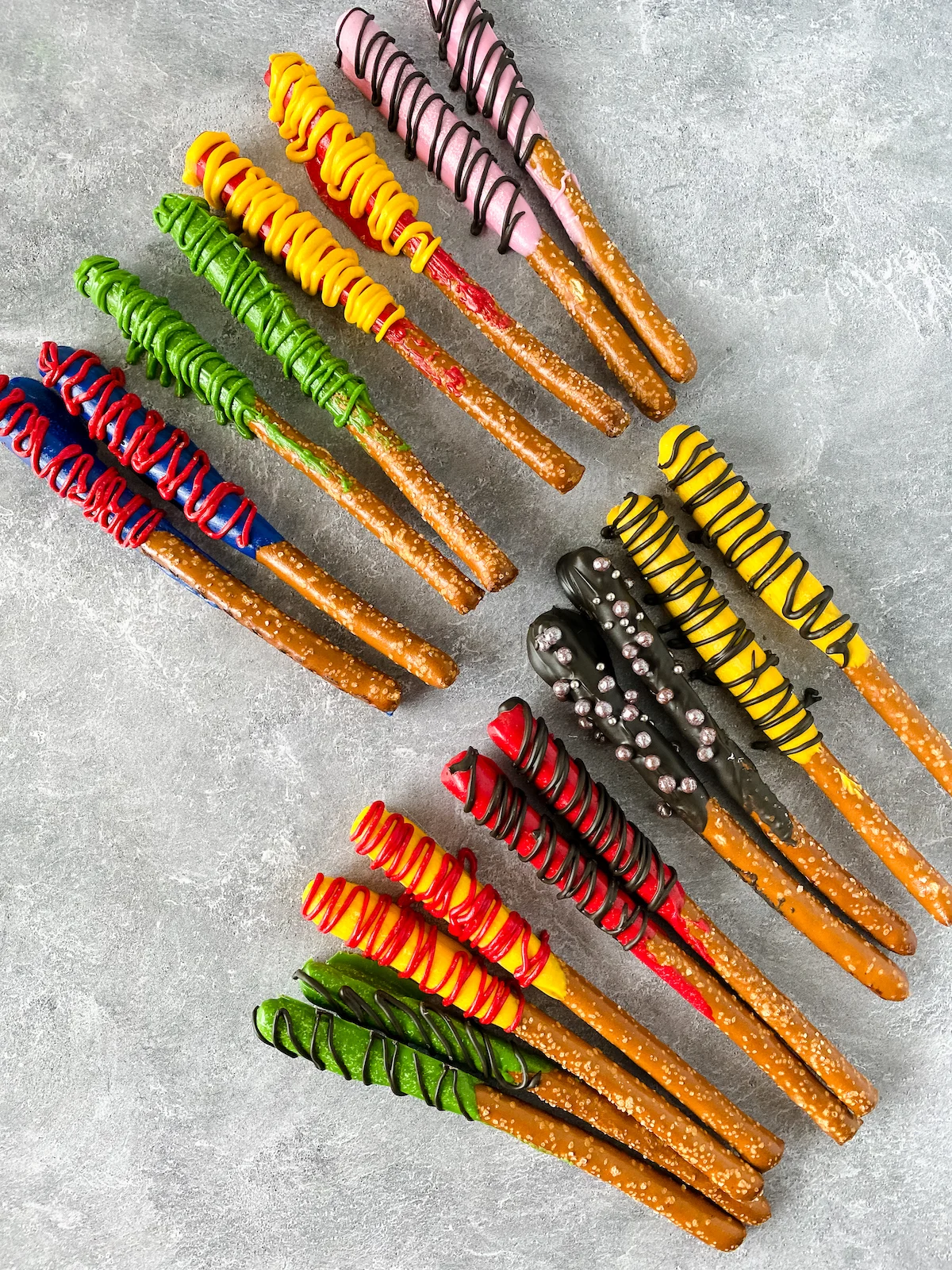 Can I make these ahead of time?
Yes, you can make these decorated pretzels ahead of time. We like to make these decorated pretzel rods earlier in the day so we can check other things off our party checklist as the party time gets closer.
Once we have made the pretzels, we can either store them temporarily in an air-tight container or bag, or you can store them upright in a mason jar, a vase, or another vertical serving dish to help hold them up until others have had the chance to check them out and enjoy eating them.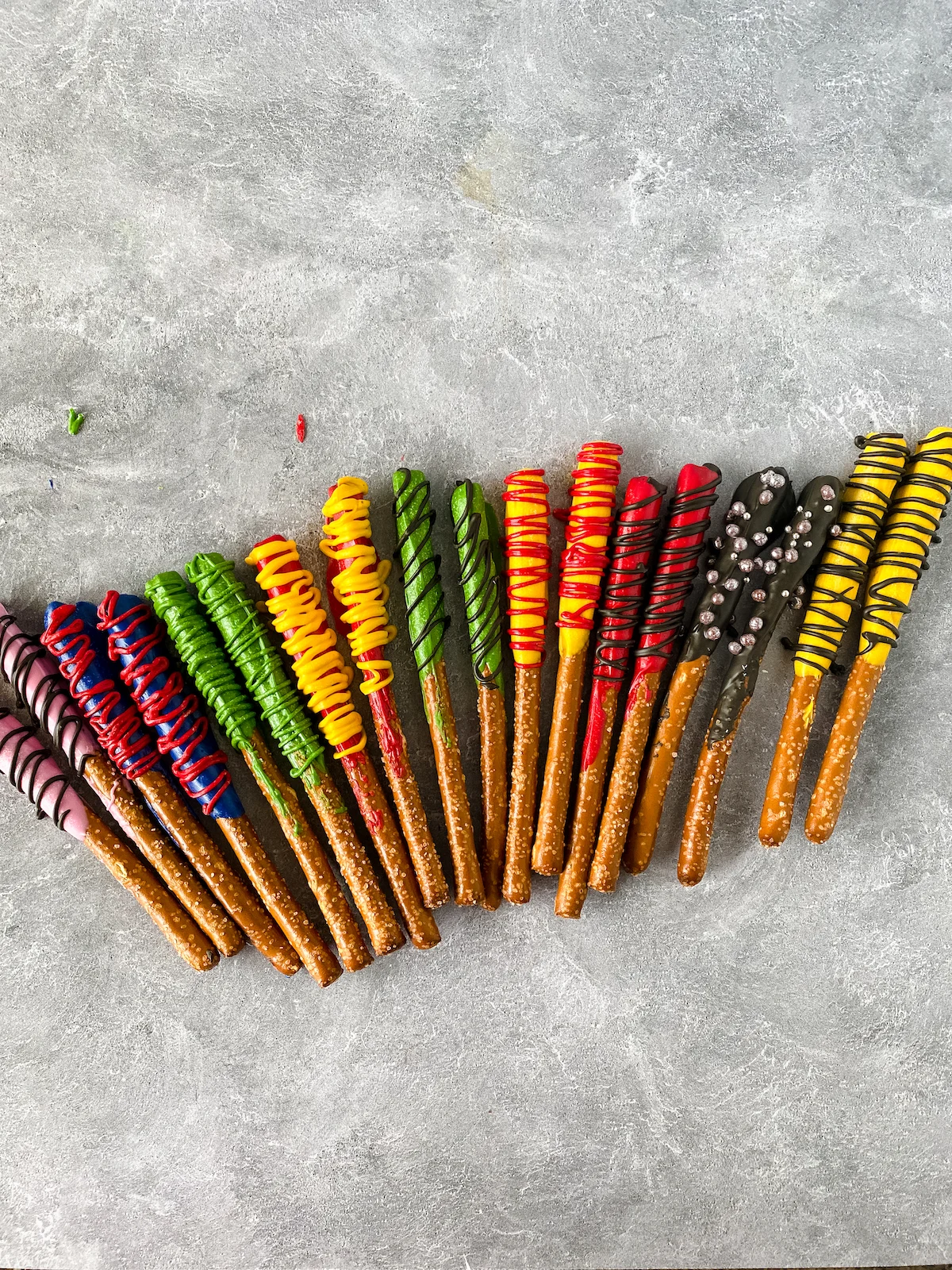 More Delicious Recipes for a Party
Here are a few more easy desserts for your party to pair with your pretzels rods:
Now that you see just how simple it is to make Chocolate Covered Pretzels, we hope you decide to add them to any and all of the upcoming parties that you are planning or hosting in the future. The next time you find yourself with extra pretzel rods, consider practicing making a gorgeous a batch of these delicious pretzel treats.
Decorated Pretzel Rods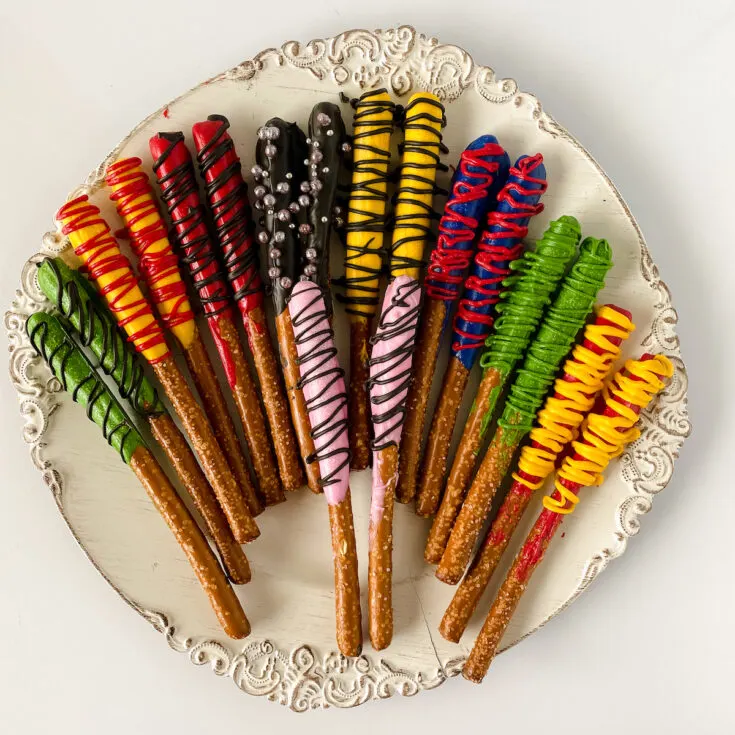 Decorated pretzel rods are one of the simplest and most delicous party treats you can make. All you need is candy melts in your themed party colors!
Ingredients
Pretzel rods
Candy melts to match your party theme
Instructions
Place about a cup of candy melts into a piping bag. Place in the microwave.
Microwave for 30 seconds.
Flip the bag over.
Microwave another 30 seconds.
Mash the chocolate in the bag to make sure it's all melting.
Return to microwave for 30 more seconds.
Place in a tall cup/glass draping the top flap over the top of the cup.
Dip pretzel rods and place onto parchment lined baking sheets.
Add decorative sprinkles, or drizzle with candy melts to decorate more.
Allow to set at room temperature, about 20-30 mins.
Recommended Products
As an Amazon Associate and member of other affiliate programs, I earn from qualifying purchases.