Extremely versatile, and bursting with flavor this Candied Popcorn recipe is perfect for any of your entertaining needs. Bright, color, and silly simple to make, this flavored popcorn recipe will become a party staple in every single upcoming holiday party or event you will be hosting.
If you're throwing a birthday party, or really, any kind of event, party, or special occasion, you can make this popcorn to fit any and every party theme out there.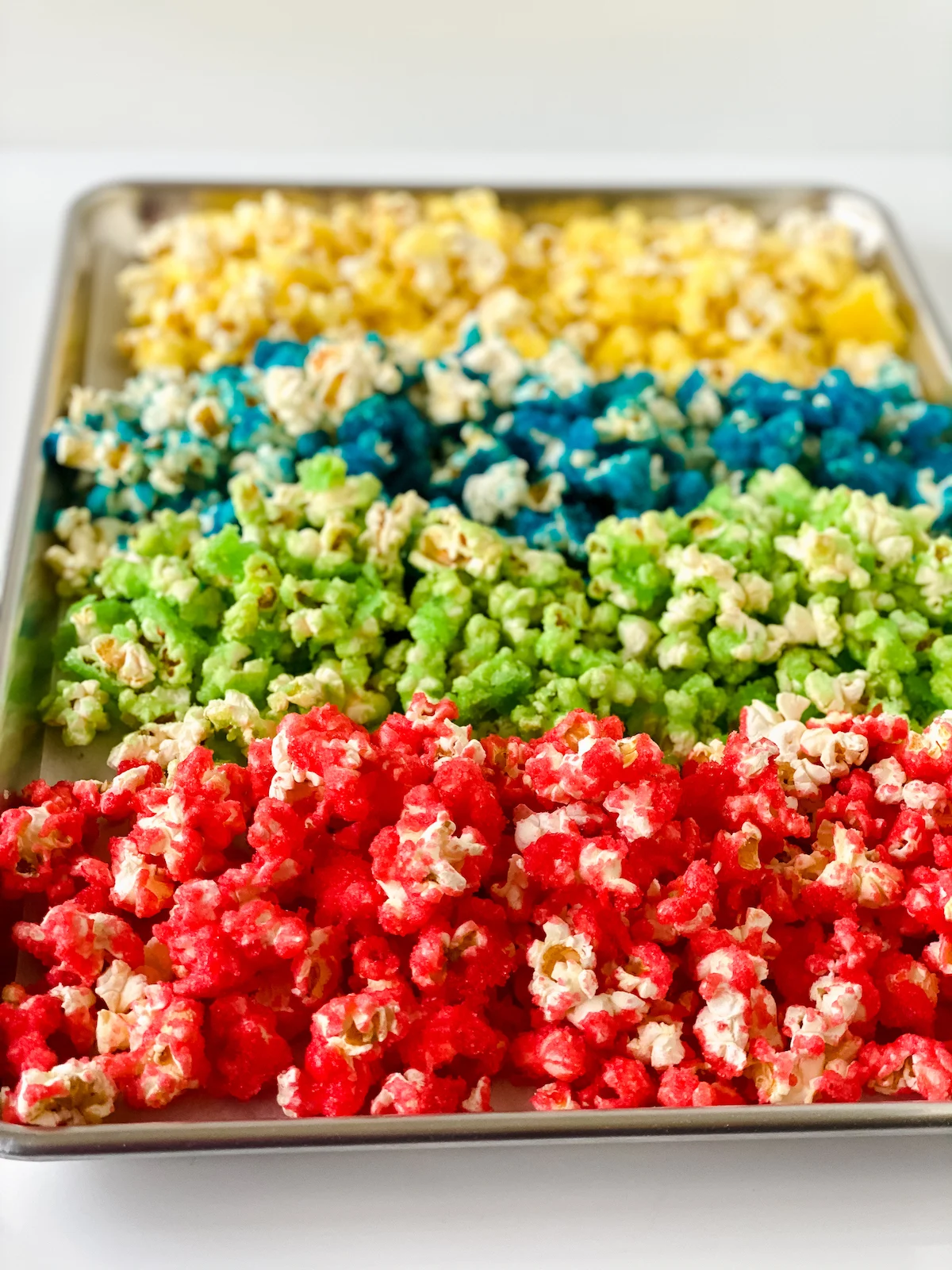 This post may contain affiliate links. As an Amazon Associate I earn from qualifying purchases. For more information, see our disclosure.
All you have to do is change the color theme to go with the rest of your party decor and you will have a unique and delicious dessert to serve.
Why You'll Love This Recipe
So easy that the kids can help you make it
Easily customizable in both color and flavor
Doesn't require a lot of ingredients
Ingredients Needed
bags of popped popcorn
unsalted butter
sugar
Jello packets, one of each: strawberry Jell-O, Lime Jell-O, Pineapple Jell-O and Berry Blue Jell-O
water
corn syrup or honey
food coloring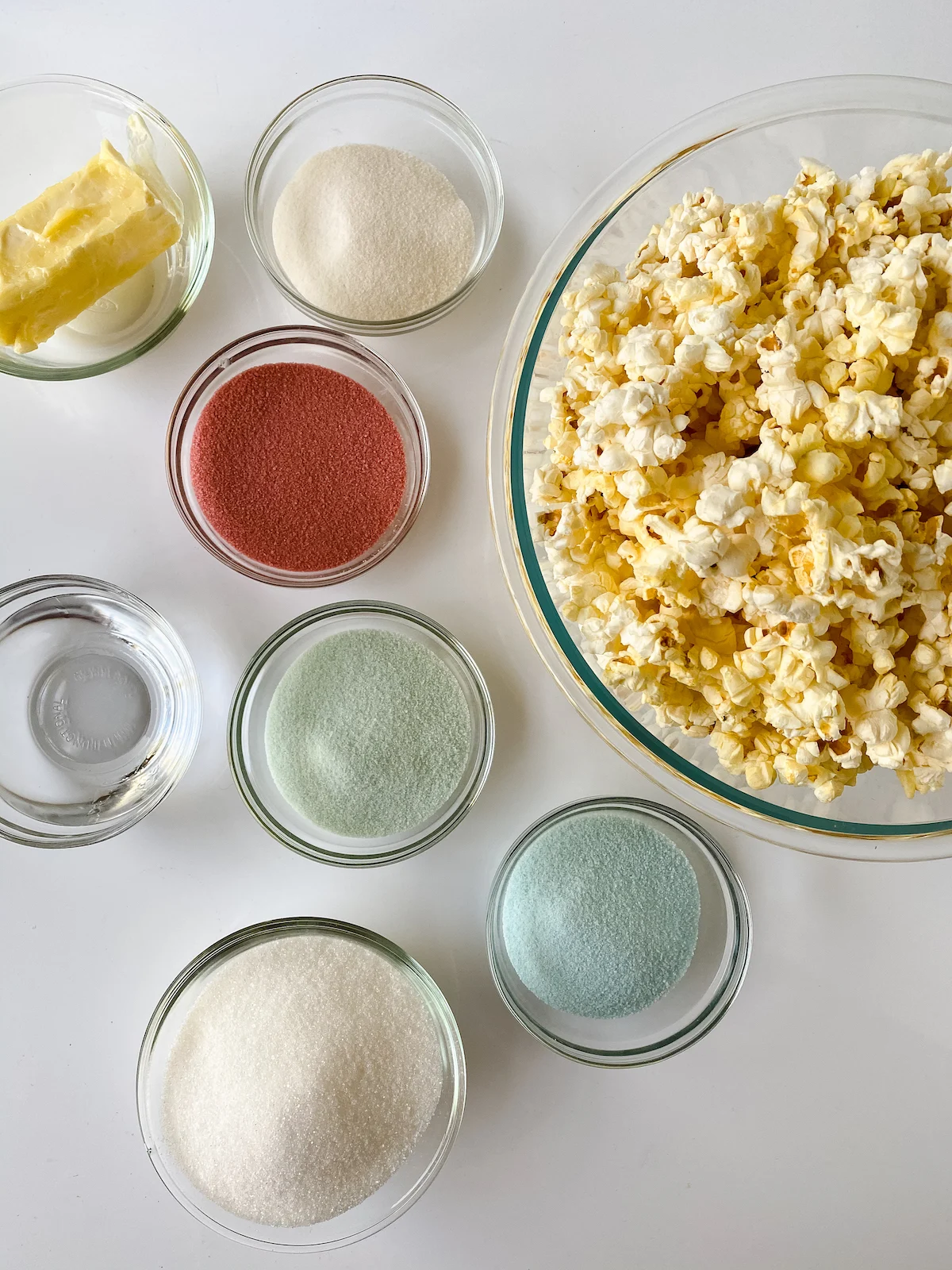 How to Make Candied Popcorn
Candied popcorn is super simple to make.
Preheat the oven to 300F while lining 4 baking sheets with parchment paper.
Spread out your 4.5 cups of popped popcorn out evenly on each cookie sheet in an even layer and set aside.
Spread 4.5 cups of popped popcorn out on an even layer on each cookie sheet and set aside.
Melt 1 stick of butter in a medium saucepan and add 1 cup of sugar, 2 Tablespoons of either corn syrup or honey and 1 packet of Jello. Add a tablespoon of water if the mix is too thick.
Pour the mixture over the baking sheet of popcorn and stir to coat all the popcorn.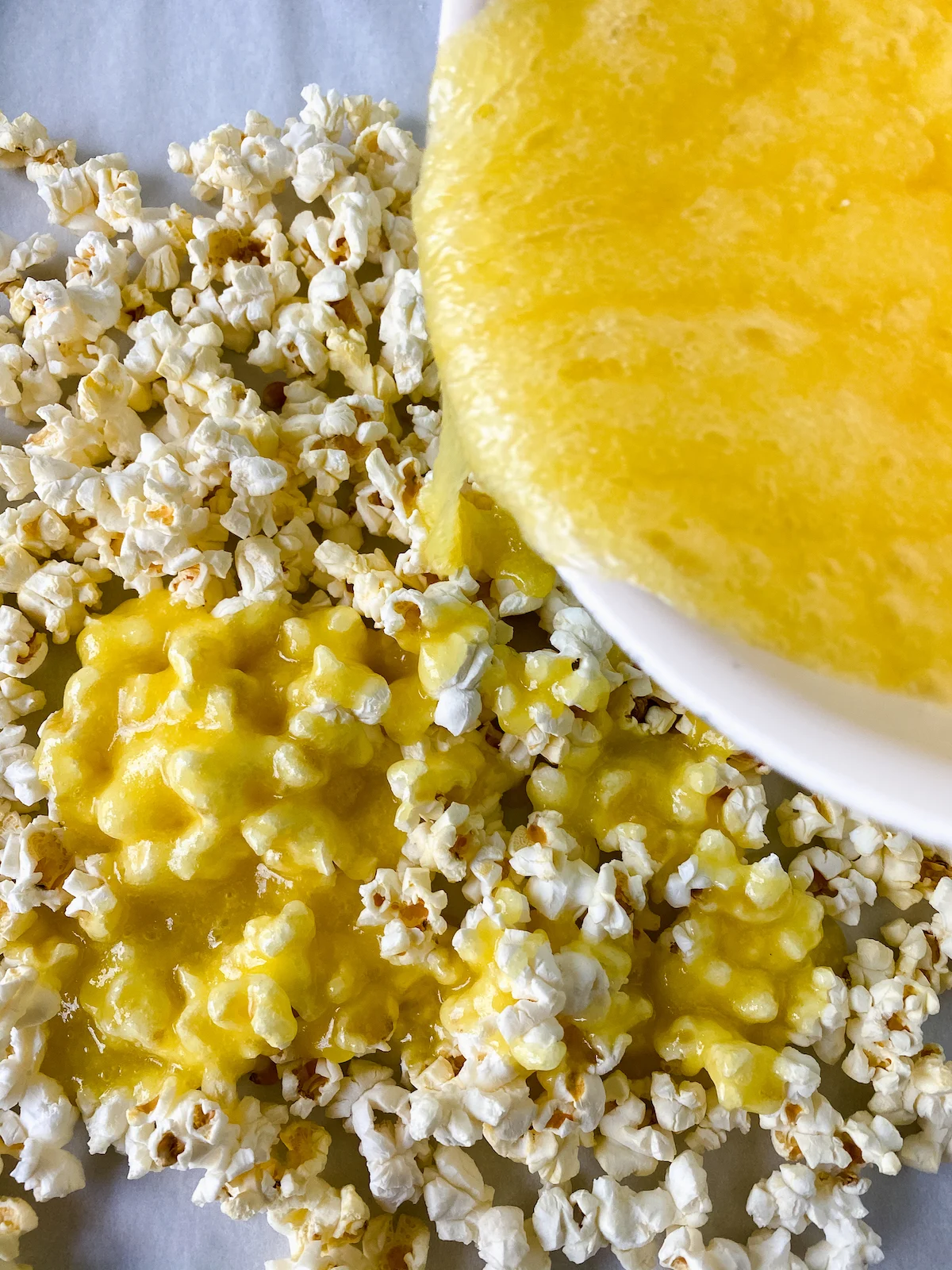 Place the candy coated popcorn in the oven for 5 minutes. Stir the popcorn around with a wooden spoon.
Bake popcorn fo an additional 5 minutes.
Repeat with the rest of the colors of Jello until all the sheets of popcorn have been colored and baked.
Let sweet popcorn cool and then serve.
Storage
Any leftover popcorn should be stored in an airtight container or gallon bags at room temperature for up to 2 days.
Tips
For even more flavor, add a sprinkle of brown sugar over the trays of popcorn.
You can use any microwave popcorn, bagged popcorn, or even caramel corn.
Use whatever your favorite flavors of Jello are to make this candied popcorn mixture.
Stir the jello sugar frequently when it's cooking on the stove. You want it to dissolve properly so you don't end up with color clumps.
To make lighter shades of your colors of choice, add more water.
For a brighter pop of color on your popcorn, you may want to use some gel food coloring instead of the liquid food coloring which tends to give more muted colors in comparison. In the photos of the popcorn, you'll see the green and blue are brighter because of the food coloring, but the red and yellow were colored just using jello powder.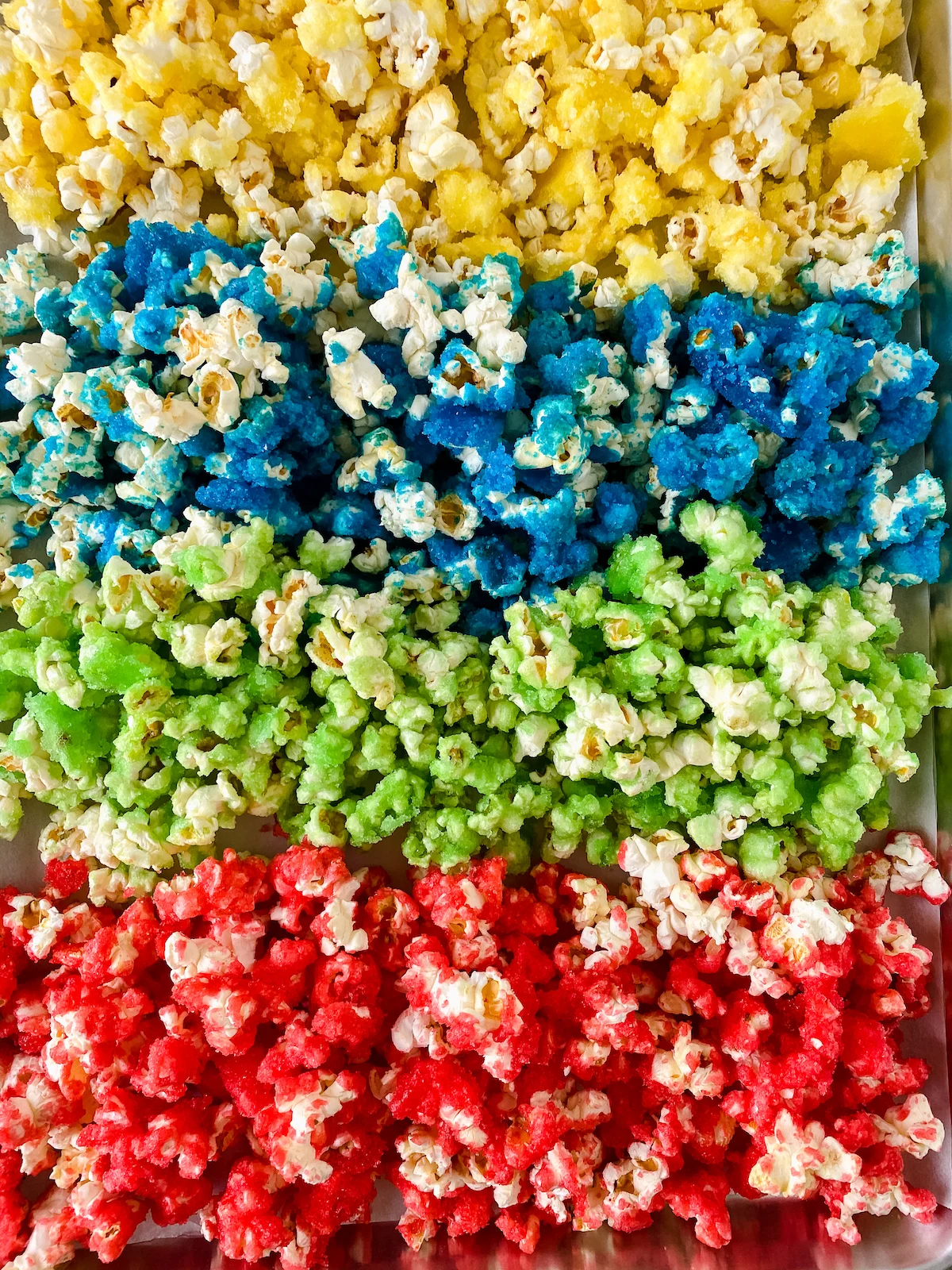 Where can I serve this popcorn?
Basically any special events! Here are a few of our favorite times to serve this sweet treat:
At a baby shower in a cute bag as party favors (thanks for popping by our shower!)
At any birthday party – easy to customize the color to match any theme, but our colors we used in the pictures would be great for a Lego party or a Superhero party!
At a retirement party
At a Christmas or other holiday party
During your next movie night
Other Party Food Ideas
Candied Popcorn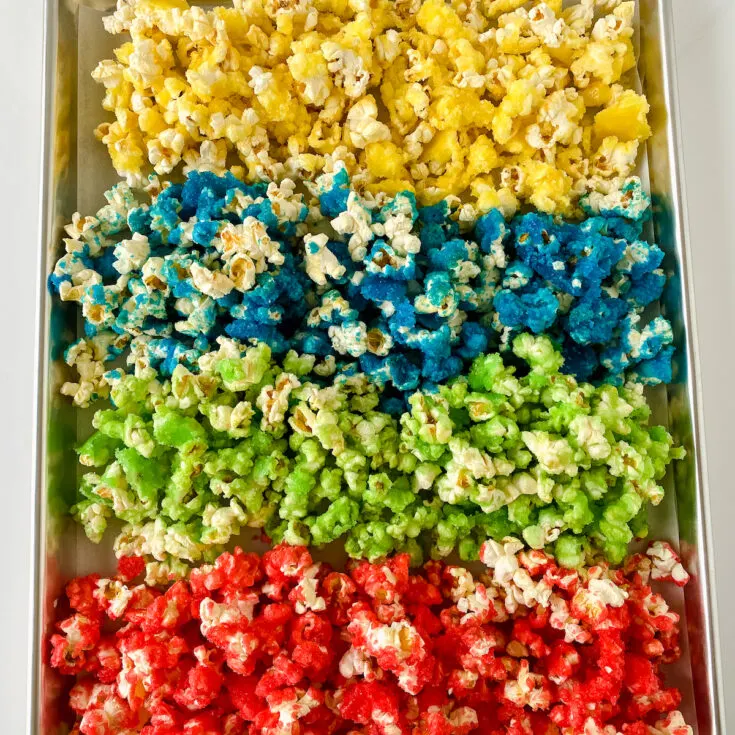 Looking for a fun and easy party treat? Try this candied popcorn recipe which can be made with your favorite color cobination by using different flavors of Jell-O
Ingredients
3 bags (27 cups) popcorn, popped
4 sticks unsalted butter
6 cups sugar
1 packet (4 tbsp) each: strawberry Jell-O, Lime Jell-O, Pineapple Jell-O and Berry Blue Jell-O. 2 tbsp water, as needed
8 tablespoons corn syrup or honey
Food coloring as needed
Instructions
Preheat the oven to 300
Line 4 baking sheets with parchment paper.
Spread 4.5 cups of popped popcorn out on an even layer on each cookie sheet and set aside.
For each color, repeat the following process:
In a medium saucepan melt 1 stick of butter.
Add 1 cup sugar, 2 tablespoon corn syrup or honey and 1 packet jello.
Add in 1 tbsp water if the mixture is too thick.
Pour the candy mixture over the prepared baking sheet of popcorn. Stir to coat all the popcorn. Place in the oven for 5 mins.
Stir then bake an additional 5 mins.
Notes
We want the sugar to dissolve when it's cooking in the stove. Stir frequently so that you can see when this happens. Not allowing the sugar to fully dissolve will result in clumpy colors. Adding too much water will result in a diluted color. Adding gel food colors gives a brighter pop of color then liquid food coloring, we did this for the blue popcorn. The others were just colored and flavored with jello.