Decorated Rice Krispie Treats are the perfect thing to make for any upcoming party. A classic and family favorite, you can decorate your sticky, crunchy krispy treats to match any party theme.
Everyone remembers the craze of classic Rice Krispie Treats when they first came out and they've withheld the test of time over the years. They're still so much fun to make and still loved by anyone and everyone.
This post may contain affiliate links. As an Amazon Associate I earn from qualifying purchases. For more information, see our disclosure.
If you're looking for more fun ideas for your upcoming birthday party, you're in the right place! We've been sharing all sorts of easy peasy desserts to make for any events you are hosting. Try our pretzel rods, candied popcorn and these adorable cake pops.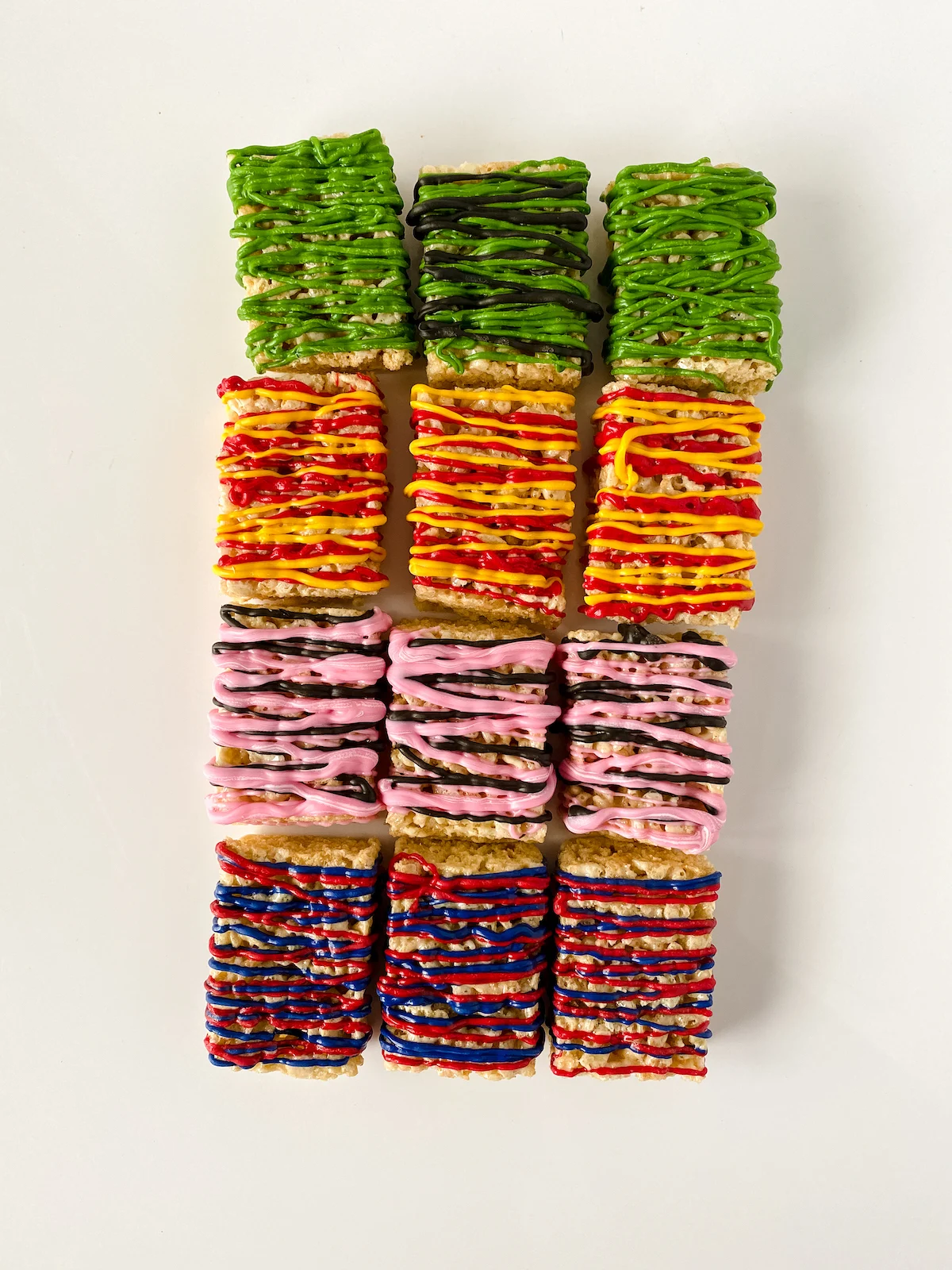 Why You'll Love These Decorated Rice Krispie Treats
So simple to make
Easily customizable to fit any decoration theme
Great to make for holidays too
Loved by kids of all ages and adults too
Ingredients Needed
Pre packaged or homemade Rice Krispy cereal treats
Candy melts that match your party decor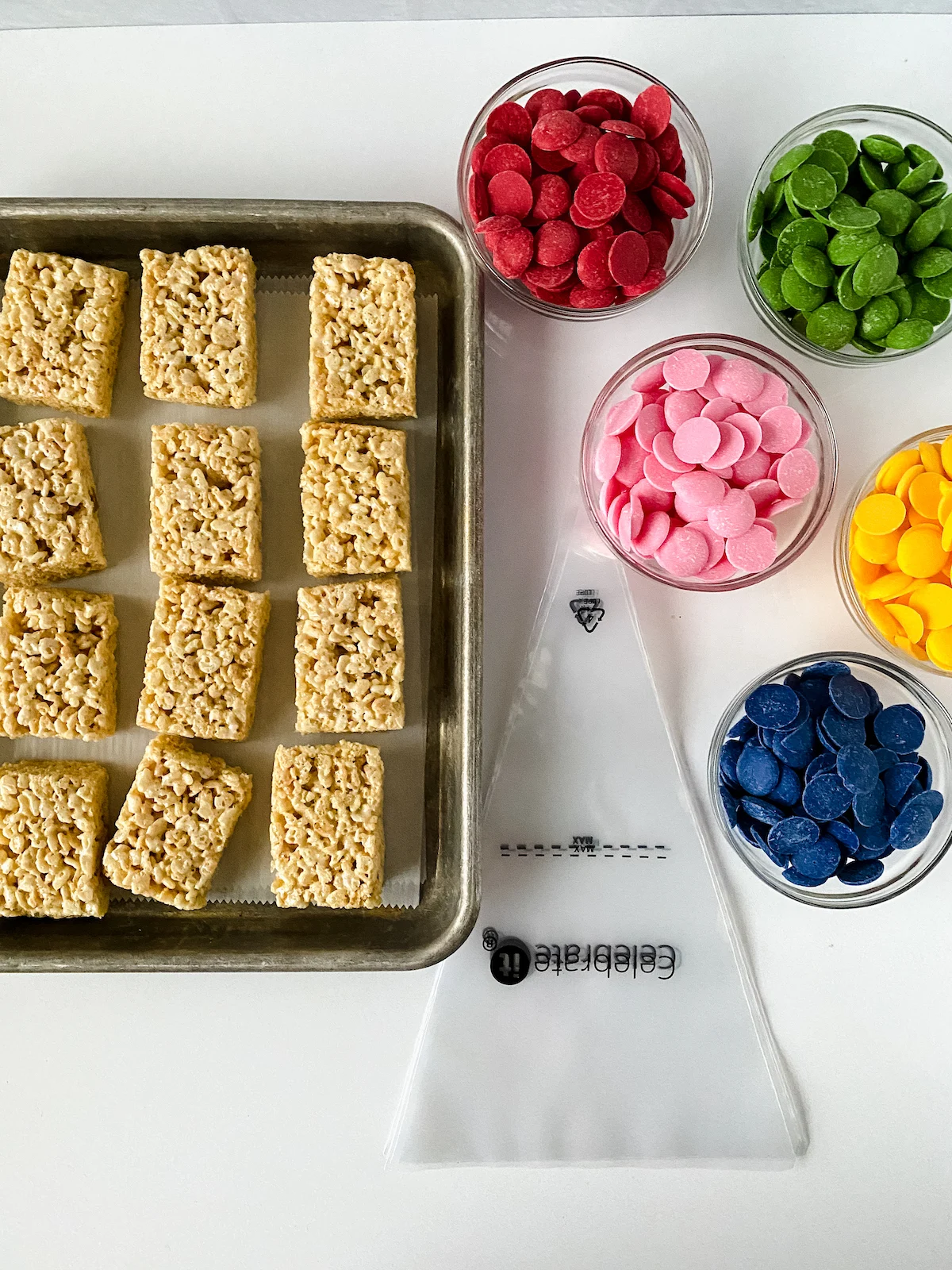 How to Make Decorated Rice Krispie Treats
Line a baking sheet with parchment paper and place your fun treats on it.
Add melting chocolate melts to a piping bag for easier clean up.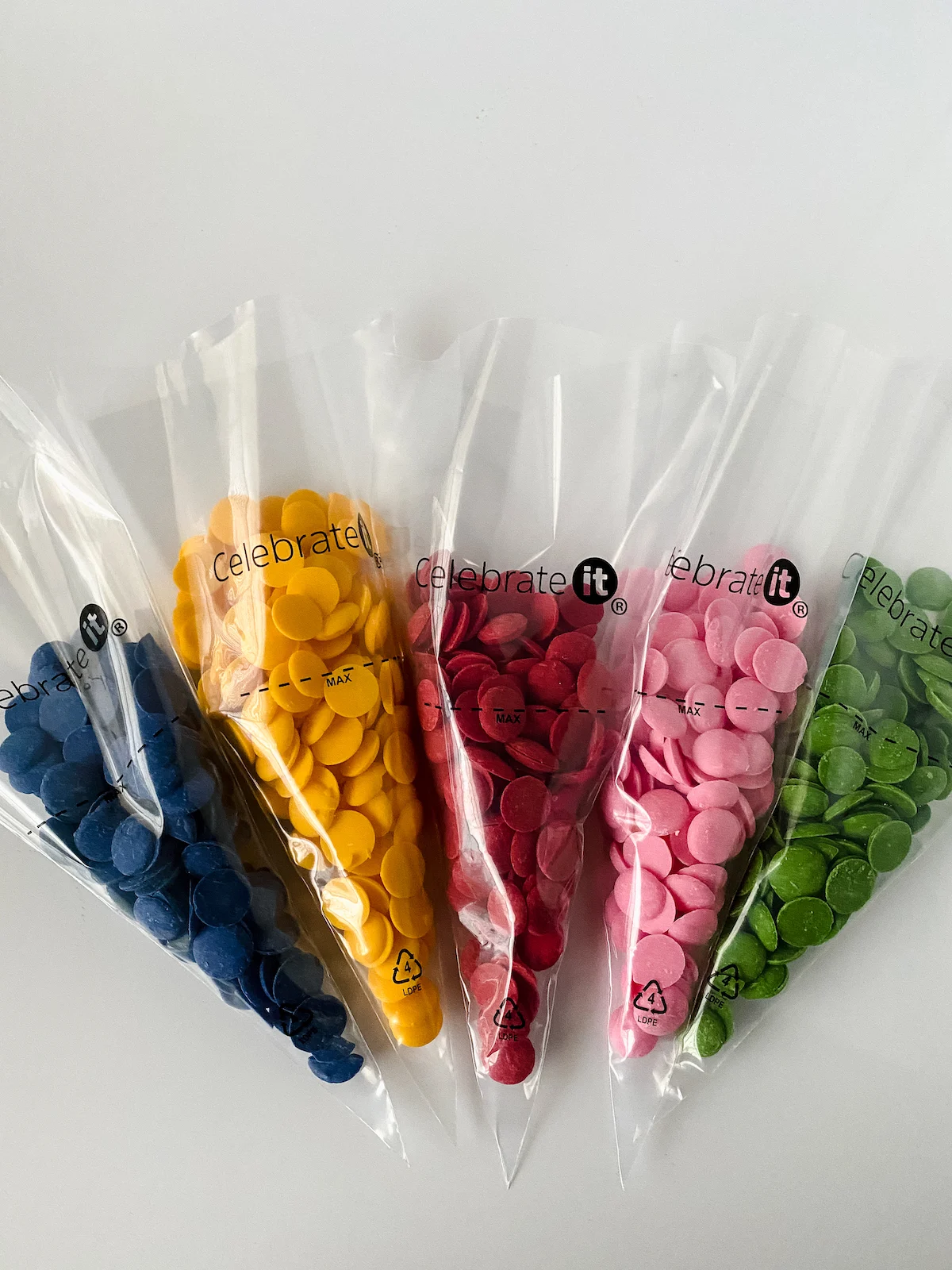 Place bag with candy melts in the microwave to melt for 30 seconds. Flip it over and melt another 30 seconds.
Use fingers to maek sure all melts have melted together. Melt candy for another 30 seconds. If all has melted, move on.
Cut off the tip of the bag and drizzle melted chocolate on treats. Repeat if using other colored candy.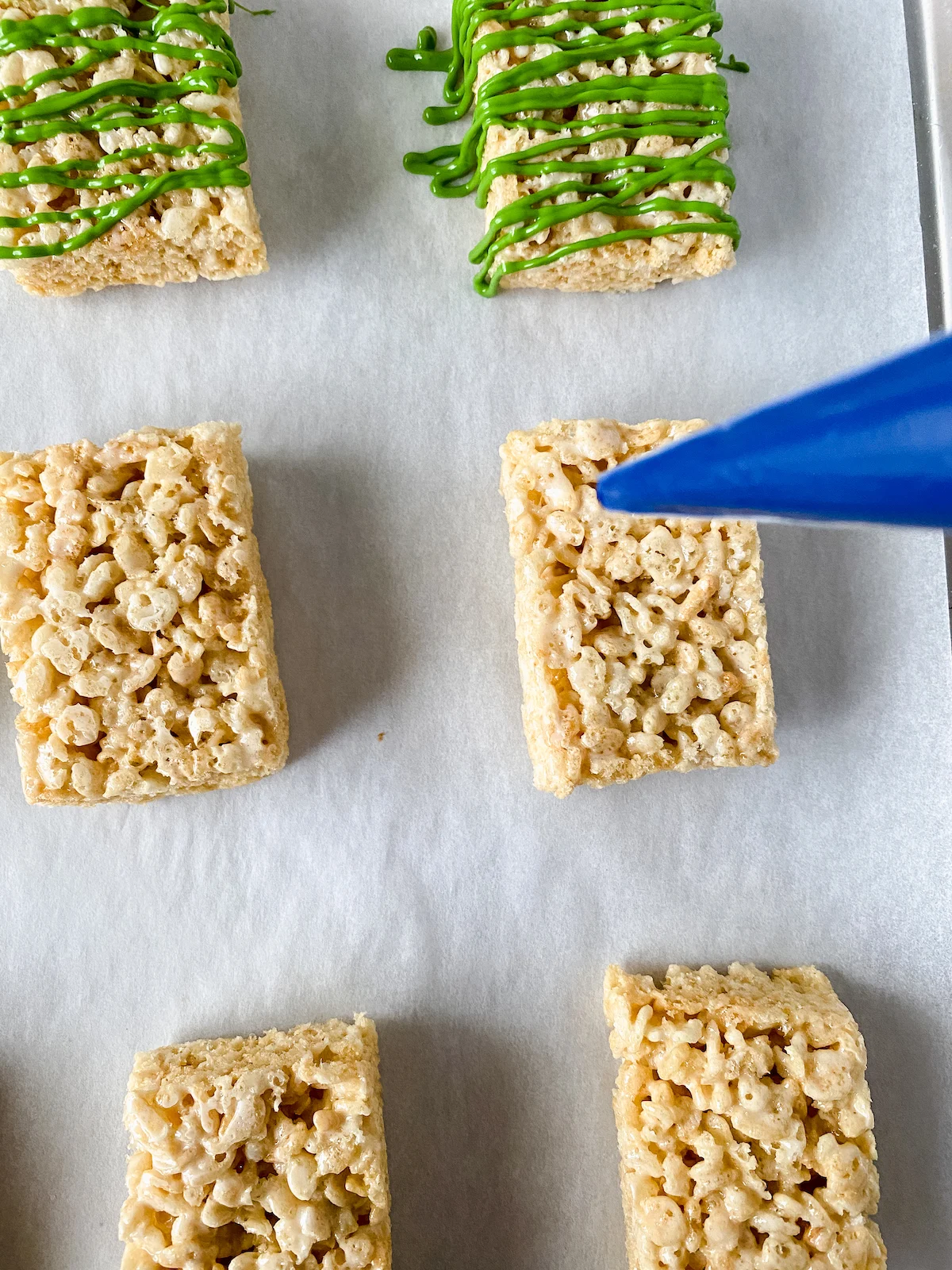 Let treats sit for 20 minutes or until chocolate has completely hardened.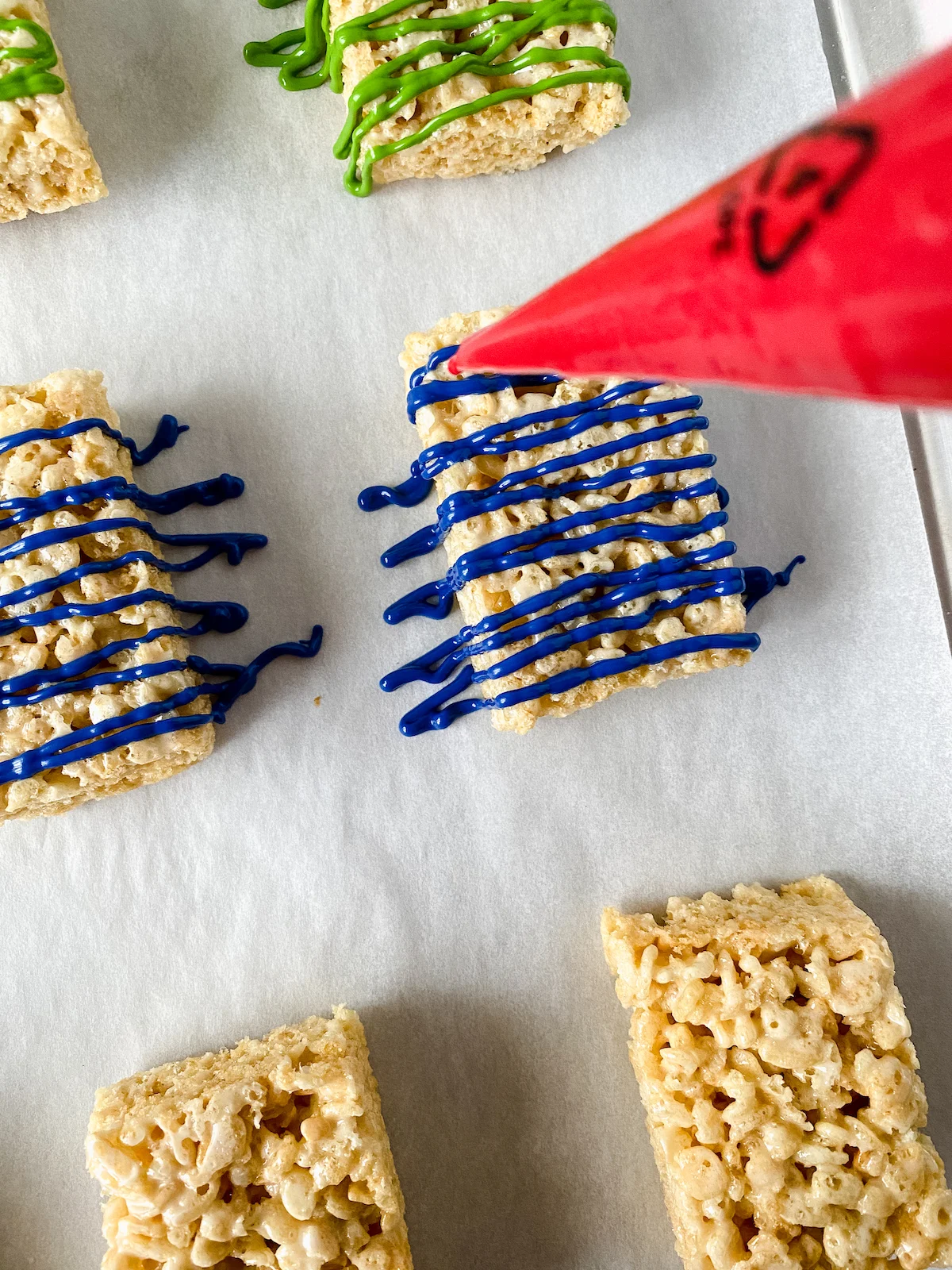 Do I have to drizzle with chocolate?
No, if you don't want to drizzle the melted chocolate we have another way to decorate them.
Alternatively, you can melt the chocolate in small mixing bowls. Add one teaspoon of either coconut oil or vegetable oil to the bowls of candy until nice and smooth. Then just dip the front of the treat in the melted chocolate and decorate with sprinkles. Let set for 30-45 minutes or until hard.
Storage
Leftover treats should be stored in an airtight container and should be kept at room temperature for up to 2 days. You do not need to refrigerate the crispy treats.
If storing them in a container in layers, you should use a piece of wax paper or parchment paper in between the layers to help prevent the sweet treats from sticking together or rubbing the chocolate off another treat.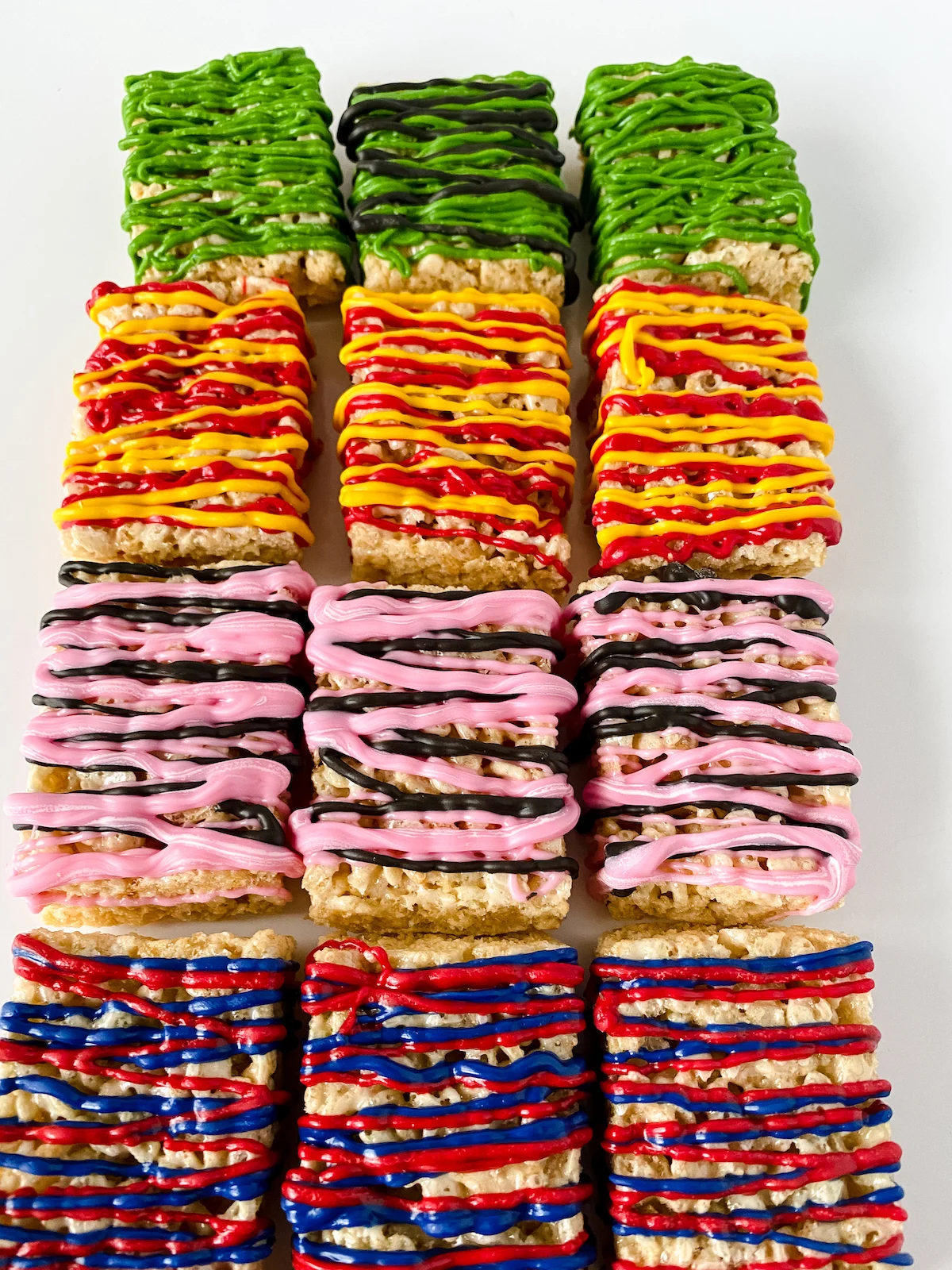 Variations
Shapes. Feel free to use any cookie cutter to cut your rice krispie treats into shapes other than rectangles. If serving around the holidays, this is an easy way to use your fun cookie cutters- think trees, candy canes, pumpkins, leaves, and more. If using for party themes, think stars, hearts, and more.
Add toppings. If you want to make this traditional dessert with other themes you can. Add different sprinkles, Lucky Charms, Fruity Pebbles, mini marshmallows, a cup of chocolate chips, or other crushed treats on top to help fit your theme.
Make homemade rice krispie treats pops. Place each treat on a popsicle stick when making the cereal mixture and decorating them.
Change the chocolate colors to fit your theme. Decorate each delicious treat to fit your party decor. This great recipe is so easily customized to fit any theme.
Looking for more great party treats?
Tips
We like to use the Wilton Candy Melts, but you can use any candy wafers to make this fun dessert.
In our opinion, these treats are best right when you first make them. But, if you need to make them ahead of time you can, maybe a day or so in advance as long as you store them properly. But just know we think the better way is to make them the day you plan on serving them.
Now that you see just how easy it is to take regular rice krispies and jazz them up with melted candy, we hope the next time you're planning a party that you can add this fun twist to your party planning meal plan. Watch how easy this no bake dessert becomes a favorite recipe in your house!
Decorated Rice Krispie Treats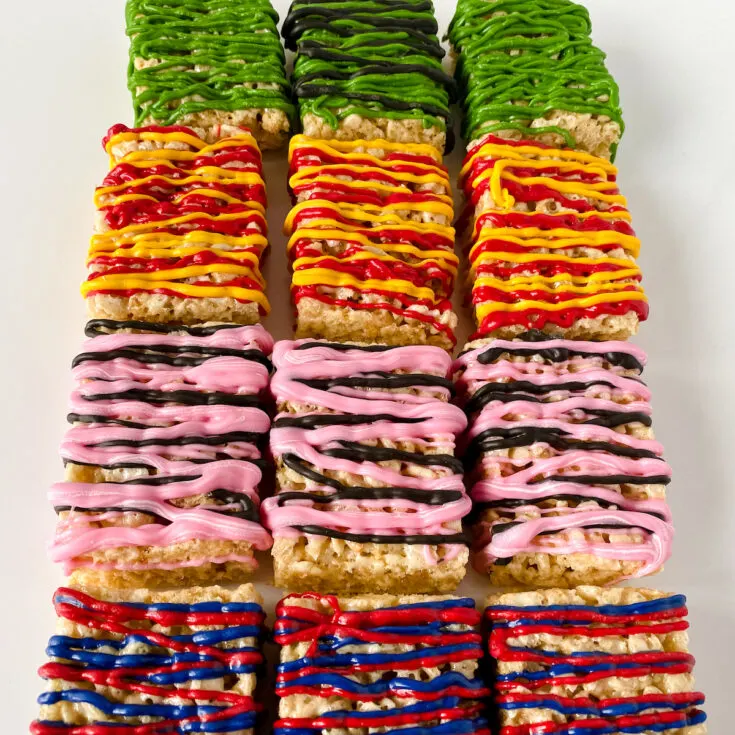 These decorated Rice Krispie Treats are a fun way to celebrate any occasion, just simply make use candy melts to match your theme colors!
Ingredients
Pre packaged or homemade Rice Krispy treats
Candy melts that match your decor.
Instructions
Line rice Krispy treats up on a parchment lined baking sheet.
Melt chocolate in piping bags for easy clean up and less mess.
Melt for 30 secs, flip over, melt another 30 seconds.
Remove and mash the chocolate around. Melt for 30 more seconds.
Cut a small hole in the top of the bag and go back and forth across the rice Krispy treats. Let set for at least 20 mins or until completely hardened.
Notes
Here's another quick and easy method for decorating Rice Krispie treats:
Melt the chocolate in bowls. Add 1 tsp of vegetable oil or coconut oil at a time until smooth. Dip the entire front of the rice Krispy treat in chocolate and add sprinkles. Let set completely about 30-45 mins.
Recommended Products
As an Amazon Associate and member of other affiliate programs, I earn from qualifying purchases.